San Francisco Cherry Blossom Festival: 2023 Event Details

by Jill Loeffler  •

Updated: January 4, 2023
The Japantown neighborhood comes to life in the spring when the cherry blossoms start to bloom. This is also when more than 200,000 people flock to this little district for the annual Cherry Blossom Festival.

The San Francisco Cherry Blossom Festival started in 1967. Since then, it's grown to be one of the largest cherry blossom festivals in the US.
The 2023 festival will be held on two weekends, April 8 - 9 and April 15 - 16.
This celebration includes traditional music, dance, and other cultural activities.
During the festival, you can sample a variety of Japanese and Japanese-American culinary treats. These include popular dishes such as fresh sushi, tempura, and chicken or beef teriyaki.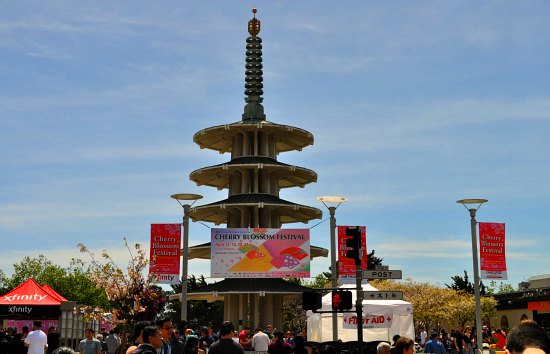 Most of the San Francisco Cherry Blossom Festival events are held on Post Street between Laguna and Fillmore Streets.

Disclaimer: I receive a small commission from some of the links on this page.

Events at the 2022 Festival (Details TBD for 2023)

Taiko Drum Performances

This is one my favorite things to see each year at the Cherry Blossom Festival.
The taiko drum was originally used as a way to ward off evil spirits and pests from harming the crops. Over the years, it was used less frequently in the Japanese culture and this art faded away.
However, in recent years, taiko drum enthusiasts began a revival effort and now it's performed in Japanese cultures throughout the world.
Here are a few pictures of them in action.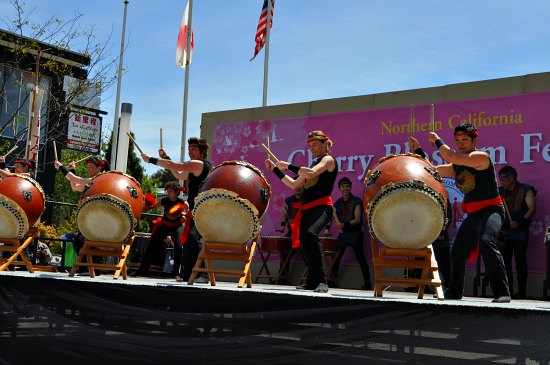 Chanoyu - The Tea Ceremony

Another traditional Japanese art is the Tea Ceremony. Throughout the San Francisco Cherry Blossom Festival, you'll get the chance to watch and learn more about this well-known Japanese ceremony.

Japanese Music and Dance

Another highlight of the festival is the traditional Japanese music and dance. You will get the chance to listen to the music from a koto, or Japanese harp. This is one of the most popular Japanese musical instruments.
You also get the chance to see minyo, a traditional Japanese folk dance and song that has been handed down from generation to generation and has evolved over the years.
They usually have several performances both weekends.
Sanrio Kids Corner

Every year, there is also a special game and craft area for kids. The Sanrio Kids Corner features Hello Kitty and her friends.

Some of the games here in past years have included the Hello Kitty Spin & Win and Characters Sand Painting. Usually there is an extra charge for this, around $10 per child.

Schedule of Events on the Main Stage

Below you will find the schedule for the first weekend on the Peace Plaza Stage. This is where many of the largest performances are held and they are very popular.
Saturday, April 9, 2022
11:30 am: San Francisco Taiko Dojo
12:30 pm: Opening Ceremony
1:10 pm: Honoring George Yamasaki Jr. 
1:30 pm: Naginata Federation, Tendo Ryu Naginata
2:00 pm: Kendama
3:00 pm: Karaoke Kay Rengokai
4:00 pm: World Oyama Karate
Sunday, April 10, 2022
12:30 pm: Festival Greetings
1:00 pm: 2022 Queen & Court Introduction
1:30 pm: Sakura Minyo Doo Koo Kai
2:30 pm: Oshiro Karate

3:00 pm: Anime Cosplay Showcase
3:30 pm: Ko Ishikawa
4:00 pm:  Ensohza Minyoshu + Joshua Tree

4:30 pm: Suio Ryu Iai Kendo
Here is the 2022 schedule for the Peace Plaza Stage for the second weekend (April 16 & 17):
Saturday, April 16, 2022
12:00pm: Wesley Ukulele
1:00pm: Queen Program and Visting Courts
1:30pm: Rosa Parks Elementary School JBBP
2:00pm: Zanshin Dojo

2:30 pm: SF Okinawa Kenjin Kai
3:00 pm:  Kazanami Yosakoi Dance Showcase
4:30 pm: Nishikawa Ryu
Sunday, April 17, 2022
11:00 am: SF Kendo
12:30 pm: Yosakoi

1:00 pm: Genryu Arts
2:00 pm: Sakura Ren
3:00 pm: Okinawa Kenjin Kai
3:30 pm: Shorin Kempo SF
4:00 pm: Jiten Daiko
4:30 pm: NCCBF Raffle Drawing
You will find dozens of other performances at this year's event. Visit the official Cherry Blossom site for a full schedule of events.

San Francisco Hotels

Are you still looking for a hotel for your stay? Here are several recommendations based on budget, amenities, and neighborhood.

Booking: Find great deals all around San Francisco for your upcoming stay! 

TripAdvisor: What's the #1 hotel in San Francisco? Read reviews & find hotel deals on TripAdvisor!
VRBO: In addition to hotels, you'll also find some great places to stay locally through VRBO. Book an apartment or a room and feel more like a local. Find some great places to stay on VRBO here. 
Tips for Visiting Japantown

Are you looking for other things to do in Japantown? Do you need a hotel near the festival?
On this page, you'll find out about other top activities, top hotels, and some of my favorite restaurants in this SF neighborhood. You will also find the best public transportation options to get to the festival.
Learn More: Japantown
More Fun Events in April

SF Giants: The San Francisco Giants kick of their season in early April. Get ready to watch exciting games at Oracle Park in SF's SoMa District! Click here for additional details.
SF Theater: Every month in SF, you will find a variety of theater productions. They range from well known shows such as the The Lion King and Hamilton, to smaller performances in intimate settings. Click here for ticketing details and the full theater calendar for this April.
Free SF Events: Did you know that SF has dozens of free events every week? You will find events large and small all year long. To make it easier to find the most popular, I created a list of the 101 best free events in SF. Click here to learn more!