San Francisco Giants Schedule 2023


by Jill Loeffler  •

Updated: September 4, 2023
The San Francisco Giants are back in action at Oracle Park in 2023. Here, you will find the San Francisco Giants schedule that includes all regular season home games this year.
Each year, they host other National League teams, such as the Chicago Cubs, the New York Mets, and their rival Los Angeles Dodgers.
On this page, you will also learn more about where to find tickets, tips to enjoy a game at Oracle Park, and a brief history of the Giants. 

Click the links below to jump ahead to a specific topic.

Disclaimer: I receive a small commission from some of the links on this page.

2023 San Francisco Giants Schedule

Here is a detailed schedule for all the home games at Oracle Park. They are listed for Pacific Time (the time in San Francisco), but exact details might change at the last minute if the game is picked up by TV. 
Tickets are always in high demand, so make sure you purchase them as soon as your plans to visit SF are locked down. The main gate opens two hours before the games. Other gates will open 90 minutes before game time.
Here is the information for Giants games today, tonight, and for the rest of the season.
September 2023
9/8 - 9/10: Colorado Rockies, find tickets
9/11 - 9/13: Cleveland Guardians, find tickets
9/25 - 9/27: San Diego Padres, find tickets
9/29 - 10/1: Los Angeles Dodgers, find tickets
More Fun Things to Do Around San Francisco
October 2023
9/29: - 10/1: Los Angeles Dodgers, find tickets
Oracle Park

Oracle Park is a great place to watch a San Francisco Giants game. The park is still fairly new and sits directly on the San Francisco Bay waterfront in the South of Market District.
The park is also easy to get to from the rest of San Francisco. There are also several great restaurants and bars within two or three blocks of the stadium.
What to Wear During the SF Giants Games

One of the things to be aware of before heading to a game at Oracle Park is that it gets cool at night in San Francisco. Even in the heart of the summer, San Francisco night temperatures will dip down into the mid to upper 50s.
Due to its location, Oracle Park also gets a small breeze off the San Francisco Bay. This means you need to come prepared for cool weather during the game.
It's a tricky balance as some of the seats are in the sun - and quite warm until the sun goes down. It then gets cool pretty quickly.

I typically bring a sweater and a light jacket for night games. I also like to wear shoes with socks so I can keep my toes warm.

Head over to the what to wear in San Francisco page to learn even more about what the weather is like during baseball season. On this page, you will also find my tips on what to wear for each season.

Where to Enjoy Three Innings Free

Did you know you can catch up to three innings of San Francisco baseball for free? Many visitors are not aware that the San Francisco Giants offer a small viewing area near McCovey Cove where you can see part of the game for free.
This area is standing room only and offers a decent view for around 100 people at a time. The area is tightly monitored by the San Francisco Giants staff, and they turn it over the area to a new group of people after the third, sixth, and ninth innings.
The picture below shows what one of the three viewing area windows looks like. It also gives you a quick glimpse of what you'll see in the game.

There's usually a line to get in for almost every game. However, if you have a little extra time or just want to watch for a bit, this is a fun way to see the 2014 World Champion San Francisco Giants play.
The map below shows you where to find this area outside the stadium. You'll either see people standing in line to get to this section or San Francisco Giants staff waiting in this area to help visitors.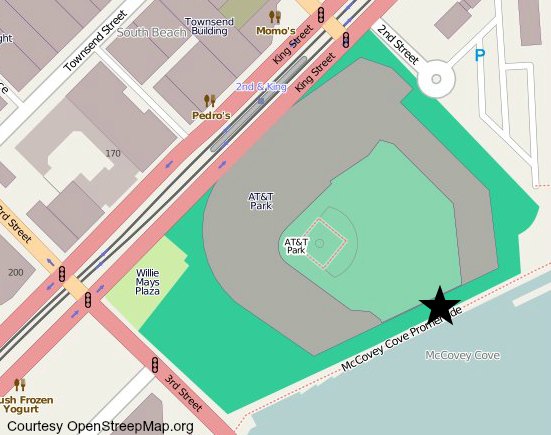 Tips to Get to the Park

It's really easy to get Oracle Park from the rest of San Francisco. And, if you love to walk, it's only about a mile from Union Square.
You can also take the K, T, or N Muni trains from Market Street. All three drop off right in front of the stadium.
Another option is to take a cab, Uber or Lyft. On game days, the streets right in front of the stadium are closed. Your ride won't be able to drop you off at the stadium, but there is a designated drop-off point just a block north of it.

If you do get a ride, remember where they dropped you off. This is also the location where cabs will line up again after the game.

Where to Grab Drinks or Food Before/After the Game

I love going to baseball games, and I also have a lot of fun grabbing a couple of drinks or food before or after the game. Here are some of my favorite places to go for food or drinks near the stadium.

The 21st Amendment
21st Amendment: This is one of my favorites. It's a fairly large bar, restaurant, and brewery (for San Francisco standards). It also attracts a number of local San Francisco Giants fans. While you're here, you will want to make sure you try the Watermelon Wheat Beer - it's the perfect summer drink. 563 2nd Street. More great breweries around SF. 
Momo's: This restaurant and bar is right across the street from Oracle Park. They cater to the San Francisco Giants crowd with a huge outdoor area and drink specials on game days. 760 2nd Street
>> Find additional great options around China Basin

Food at the Stadium

There are also a few restaurants and bars right inside Oracle Park. The Public House is one of the most popular and is on the northwest corner of the stadium. You can only access it from the outside. They have great food and drink specials on game days.
Once inside the stadium, there are also a number of great places to eat. Two of my favorites are the Slice House by Tony Gemignani (five locations inside the park) and Sheboygan Bratwurst (you will find a few locations on the Field and Club levels). 
Another favorite is Gilroy Garlic Fries. Here, you can get some of the most amazing garlic fries in the stadium. They offer 10 locations inside Oracle Park.
Something I love about Oracle Park is that there is always something different to eat here. So, if you are feeling adventurous, I suggest you check out The Lumpia Company in Section 117. If you've never had Filipino food, you are in for a treat!
If it's a cold night, another great place to stop is Pier 44 Chowder House. It's behind center field, and here you can get the famous clam chowder in a Boudin Bakery sourdough bread bowl.

Annual Fan Fest

If you happen to visit before the season starts, the San Francisco Giants throw a big celebration and festival at Oracle Park. It's a time for the fans to meet some of the players, get their autographs, and pick up gear for this year's season.
You can also grab a bite to eat, get your picture taken with the three World Series trophies, visit the Giants Highlight Theater to watch last season's highlights and play catch on the field. Single-game tickets will also be on sale.
This annual event is every February. It lasts from 10 am to 3 pm.
>> See my February event calendar for details
SF Hotels

While there aren't many hotels near Oracle Park, Union Square and Downtown SF are just a quick walk or ride away. Here are quite a few recommendations based on price, neighborhood, and amenities.

Brief San Francisco Giants History

The Giants moved to San Francisco from New York for the start of the 1958 season. For years, the team played at Candlestick Park on the southern end of San Francisco. In 1999, they moved to their current home at Oracle Park.

World Series

One of the most memorable moments in San Francisco Giants history was Game 3 of the 1989 World Series against the Oakland Athletics. An earthquake hit the area a few minutes before the game started, and they had to postpone the game.
It caused over 5 billion dollars in damage. Because of that, the Loma Prieta Earthquake was quickly dubbed the "World Series Earthquake."
They lost that year but went on to win the World Series in 2010, 2012, & 2014. 
Barry Bonds Records & Controversy

In recent years, the club has had a number of incredibly talented players. One of the most famous - and most controversial - is Barry Bonds. During his time with the SF Giants, he became the first person to hit 73 runs in a season (2001), and he also hit 762 home runs in his career which, is the current all-time record.
His power numbers allowed him to rack up all kinds of awards, including being voted the Most Valuable Player seven times (the next closest is 3 times).
However, mystery and doubt followed him for years during his career afterward, as many speculated that he was using performance-enhancing drugs as he bulked up quite a bit over a short period of time.
The controversy heated up in 2011 when Bonds was put on trial. In April of that year, Bonds was acquitted of any wrongdoing and walked away a free man.

More SF Giants History

I've compiled a really brief look at some SF Giants' recent history here. If you want to learn more, take a stroll around Oracle Park either before or after a game. 
On the stadium's north side, you will see the Giants Hall of Fame. Here are just a few of the plaques here.
On the south side, near McCovey Cove, you will see several plaques in the cement that showcase the SF Giants Top Awards. Here are just a couple of them.

More Things to Do
Oakland A's: If the Giants aren't playing during your stay, you can check out the Oakland A's. They play just across the bay in Oakland, and it's easy to get back and forth to the stadium from San Francisco. Find out more here. 
SF with Kids: Are you looking for some additional fun things to do with kids in San Francisco? My list of 25 ideas will keep your entire family entertained during your stay. Find out more fun activities here. 
Downtown SF: Planning to spend some time in downtown San Francisco? On this page, you will find 18 fun things to do with tips on where to stay and how to get around. 
Comments? Questions? Suggestions?
I would love for you to join me in my private Facebook group! 
It's a great place to interact with me and others who know the area well.
You can ask questions, get advice for your upcoming stay, and then share your photos and advice with others when you return home. It's a great community and the fastest way to get answers to those nagging questions about your visit!