Golden State Warriors Tickets 2022: Schedule & Tips to Find the Best Seats in San Francisco

by Jill Loeffler  •

Updated: May 16, 2022
The Golden State Warriors NBA team is back in action this season in their home in San Francisco, the Chase Center. The 2017/2018 NBA Champs start their preseason in October with their regular season games starting later that same month.
Their regular season runs through mid-April with post game play starting in late April.
Here you will find information on tickets, their home schedule and tips to attend a game.

If you happen to be in the area during basketball season, then I highly recommend heading over for a game!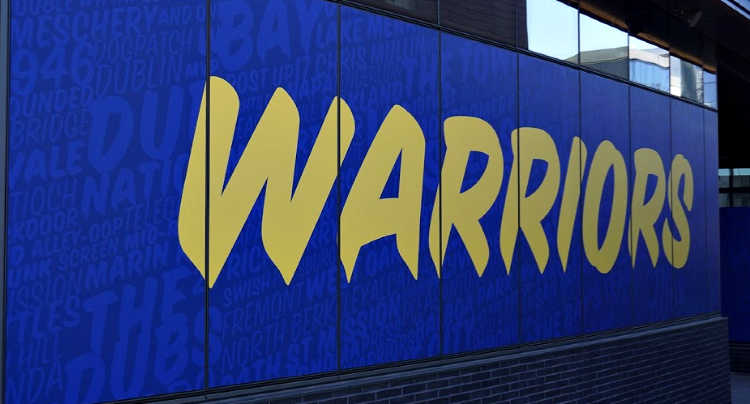 Disclaimer: I receive a small commission from some of the links on this page.

2022 Golden State Warriors Home Games 

Post Season Play
NBA Western Conference Finals vs. Dallas Mavericks
Game 1: Wednesday, 5/18 at 6 pm, find tickets
Game 2: Friday, 5/20 at 6pm, find tickets
Game 5: Thursday, 5/26 at 6 pm (if necessary), find tickets
Game 7: Monday, 5/30 at 5pm (if necessary), find tickets
Chase Center Entry Requirements
The Chase Center no longer requires fans to show proof of vaccination or a negative test to attend in person games. 
*Note: Policies can change at anytime, so make sure to check the link below for the latest details! 

>> Visit their site for the latest updates on attending a game
Where to Get Golden State Warriors Tickets 

Ticketmaster.com: The first place to look for tickets is on Ticketmaster. They are the official retailer for Golden State Warriors tickets. If you are buying way in advance, this is where you want to look.
Click here to find tickets to Warriors games on Ticketmaster.
TicketLiquidator.com: If the games are sold out or you want better seats than what's available on Ticketmaster, then the next place to look for Golden State Warriors tickets is on TicketLiquidator.
They are a ticket reseller that offers amazing seats to the game. Keep in mind, though, that seeing these NBA Champions up close can be pricey.

Check out the selection of tickets on TicketLiquidator.com. 
Best Hotels Near the Chase Center

The Chase Center is located in SF's Mission Bay District. The new facility is right on the water and is just being built up. There are no hotels right around the facility, but here are a few that are easy to access via public transit or by car. 
Hyatt Place SF Downtown: This hotel is in the China Basin District, which is just a couple of stops away on public transit. It's about a mile walk too, if you prefer to explore on foot on your way to a game. This 3-star hotel has a bar/restaurant on site as well as free internet and breakfast. Some of the rooms have amazing views of the city and/or waterfront area. It's at 701 3rd Street. Find room rates and availability on Booking.com.

Hotel Via: Just a few doors down from the Hyatt Place is Hotel Via. This 4-star hotel has soundproof rooms, suites, and a rooftop terrace. It's another great find that is relatively close to the Chase Center. It's at 138 King Street. Find rates and availability on Booking.com.

Hotel Vitale: A little further down the Embarcadero near the Ferry Building is the Hotel Vitale. It's a great option as it's right on the train line that takes you to the games. This 4-star hotel is a beauty. It's right on the waterfront, so most rooms have great views. There is also an in-house spa as well as a wonderful onsite restaurant. It's located at 8 Mission Street. Find room rates and check for availability on Booking.com.

Tips to Get to the Games

The best way to get to the game is to take public transportation. Muni has a station right across the street from the Chase Center, making it an easy walk from there. The stop is UCSF/Chase Center and is serviced by the T line. You can pick up the T anywhere along Market. You can also pick it up along the Embarcadero at all stops south of Market Street (the first one is Embarcadero & Folsom). 
In addition to the Muni light rail line, there will also be shuttles taking people from downtown BART Stations. There will also be a game and concert only ferry service that runs from Larkspur, Oakland, and Alameda to Mission Bay (just north of the stadium).
Driving & Parking

Driving is an option, but is going to be a real challenge at the new stadium. There are a limited number of parking spaces and not nearly enough to meet the needs of all attendees. There is also little parking in the neighborhood, so I highly recommend taking public transit to get here.

Brief Golden State Warriors History

The Bay Area's beloved NBA team was first established in Philadelphia in 1946, then relocated and became the San Francisco Warriors in 1962. Later the name changed to Golden State, suggesting that the team represented all of California (they had been playing home games in SF, Daly City, Oakland, San Jose, and even San Diego). 
In 1972, the Oracle Arena became the team's exclusive home court and remains so today. Now the popular Warriors are affectionately known as the "Dubs." 
NBA Championships

For the last five consecutive years, the Warriors have made it to the NBA Finals against the same team, the Cleveland Cavaliers, winning in 2015, losing in 2016, and winning a second title in three years in 2017.
They then won their third title in four years for the 2017/2018 season. During the 2018/2019 finals series the Golden State Warriors suffered some season ending injuries and ended up losing to the Toronto Raptors in 6 games.
In total, the franchise has reached a total of eleven NBA Finals and won six championships: 1947, 1956, 1975, 2015, 2017, and 2018. 
Other Awards

The Warriors hold the NBA record for best regular season with 73-9 wins. In recent years, the team has enjoyed the on-court leadership of stars Steph Curry, Klay Thompson, and Draymond Green, among others. Curry is one of the few NBA players in history to win back-to-back MVP honors.
Other Warriors Hall of Famers include Wilt Chamberlain, Rick Barry, and Nate Thurmond.
More Bay Area Sports Teams

In addition to Golden State Warriors games, you can easily attend other professional sporting events in the Bay Area year-round. 
Oakland A's: The Oakland A's baseball team plays at the Coliseum from April to September. They often have 10 to 12 games a month at home. Click here for details on attending one of their games.
SF Giants: The San Francisco Giants baseball team plays all of their home games at Oracle Park in SF--about a dozen each month between April and September. Find the full schedule for this year, plus more about this popular local team.
SF 49ers: The SF 49ers are the other Bay Area football team. They play from August to January at Levi's Stadium in Santa Clara. Click here to learn more about them and tips to attend a game.

All Bay Area Sports: In addition to the teams mentioned above, you will find many other teams and information on sporting events--including hockey, soccer, and popular college teams--on this page. Click here to learn more.