San Francisco Events in June 2023


by Jill Loeffler  •

Updated: June 5, 2023
Get ready for summer fun with these San Francisco events in June 2023. This month, you will find dozens of festivals, SF Giants baseball, concerts, and comedy shows.
Top festivals this month include North Beach, Haight Street, and Pride. You can also have fun watching the comedians at local comedy clubs, watch or participate in the Escape from Alcatraz Triathlon, and enjoy a theater production of Harry Potter and the Cursed Child.
June is also the month to spoil your dad. Discover the best things to do for Father's Day on our special page dedicated to this special day.
Read on for more events and activities this month in SF.

Disclaimer: I receive a small commission from some of the links on this page.

Sporting Events
Baseball game at Oracle Park in San Francisco in June.
SF Giants Baseball

Dates: 6/2 - 6/4, 6/9 - 6/11, 6/19 - 6/22, 6/23 - 6/25
Location: Oracle Park in the South of Market District 
Tickets: Ticketmaster | StubHub
This month, the SF Giants have 13 exciting home games scheduled.
Head over to the gorgeous Oracle Park by the water in the SoMa District to watch them take on the Baltimore Orioles, Chicago Cubs, San Diego Padres, and the Arizona Diamondbacks.

>> Find more info & ticketing details for Giants baseball games
Oakland A's
Dates: 6/12 - 6/15, 6/16 - 6/18, 6/27 - 6/29, 6/30 - 7/2
Location: Oakland Coliseum
Tickets: Ticketmaster | StubHub
Head across the SF Bay to see the Oakland A's in action. This month, they play 10 games at home. They play host to the Tampa Bay Rays, Philadelphia Phillies, New York Yankees, and the Chicago White Sox.
>> Learn more about watching a game
Escape from Alcatraz Triathlon
Dates: 6/11
The Escape from Alcatraz Triathlon is an annual event that starts with a 1.5-mile swim from Alcatraz Island to the shores of San Francisco. It continues with an 18-mile bike ride and finishes with an 8-mile run through the city's hills. 
This race attracts World Champions and Olympic Medalists, as well as the best amateur athletes from the US and all around the world. If you aren't interested in participating, I recommend heading down to the waterfront first thing in the morning to watch this amazing act of athleticism.
The race is on Sunday and the free festival runs both days along the Marina Green.
>> Visit their site for registration information

Museums: Free Days & Exhibits
Piece of modern art at the SF Moma
Free Museum Admission Days: Enjoy the permanent collections at SF's top museums during their free admission days. Toward the beginning of the month, you have the opportunity to visit attractions such as the Asian Art Museum, the Conservatory of Flowers, and the de Young Fine Arts Museum without spending an arm and a leg. See which days are free admission days in June. 
Exhibits at SF Museums: Most of SF's top museums are open and welcoming visitors daily. You will also find some interesting temporary exhibits on display all month long. My top picks this month include Nampeyo and the Sikyatki Revival at the de Young, Cara Levine: To Survive I Need You to Survive at the Contemporary Jewish Museum, and Accion Latina at the Museum of Modern Art. Find a full calendar for this month here. 
Nightlife at the California Academy of Sciences: One of the best options at night is Nightlife at the California Academy of Sciences. These 21+ over themed parties includes drinks, music, and a chance to check out the exhibits when fewer people are around. It's every Thursday night from 6 pm to 10 pm. Learn more about visiting this museum. 
Exploratorium After Dark: In addition to the California Academy of Sciences, you will also find an 18+ event every Thursday night at the Exploratorium. Here you can also sip on cocktails as you enjoy some of their interactive exhibits. Each week, After Dark also features food, weekly performances and art installations. It's a great way to meet other science loving adults! Learn more about visiting the Exploratorium.
Father's Day Events & Activities
Golden Gate Bridge from the southern, San Francisco side
Date: 6/18
Spoil your father this year with a visit to San Francisco. Some of the top San Francisco events in June this weekend include cruises around the bay, several restaurants serving up wonderful brunch and lunch menus, and plenty of other activities to make Dad happy. 
You can also head up to wine country for a fun wine tasting tour, stroll through Muir Woods, and catch a baseball game. Don't miss out top free walking tours this weekend as well! 

>> Full list of fun this Father's Day in San Francisco
Theater and Performing Arts
Book of Mormon

Dates: 5/23 - 6/18
Tickets: Find tickets to all June performances
Catch a performance of Book of Mormon at the Orpheum Theater. This hilarious musical is about a pair of missionaries with very different ideas about life as they make their way through an unfamiliar part of the world.
The show runs for two hours and forty-five minutes with one intermission.
>> More about seeing a show at the Orpheum Theater
SF Symphony
All month long, you'll find concerts and live music with the San Francisco Symphony at Davies Symphony Hall.
This month, there are more than a dozen shows. Some of my top picks include Manfred Honeck & Beatrice Rana (6/1 - 6/3), Igor Levit Plays Beethoven (6/15 - 6/17), and Esa-Peeka Salonen & Julie Bullock (6/29 - 7/1)
It's a great way to spend the evening in San Francisco this June.
>> More about seeing a show with the SF Symphony
Concerts & Live Music
Dates: All concerts are on hold for now, they will resume once the city has determined it is safe to reschedule
Are you looking for a night of live music during your stay in SF? If so, then check out my concerts calendar. 
It includes performances at some of the best venues in SF, including the Independent, the Fillmore, and the Bill Graham Civic Auditorium. 

You will also find some great shows all around the SF Bay Area in Oakland, San Jose, and beyond.

>> Find a full concert calendar for SF
Pride Festival & Parade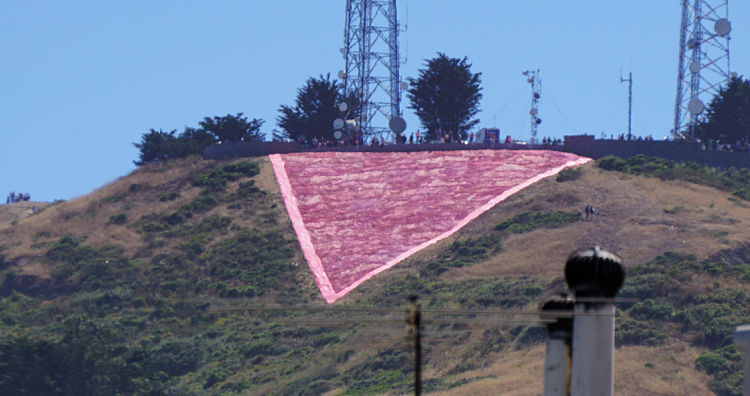 Pink Triangle on Twin Peaks in San Francisco. This is an annual installation that you will also see in June 2022.
Dates: 6/24 & 6/25
One of the largest San Francisco events in June each year is the Pride Parade & Festival. This event is always the last weekend in June. This year, it falls on June 24 and 25.
It includes a large festival with live music, dancing in the streets, and gourmet goodies in the Civic Center District.
The largest draw is the colorful parade on Sunday morning. It starts at 10:30 am and makes its way from Market & Beale to Market & 8th Street.
>> More about this year's Pride Parade & Festival
Festivals & Street Fairs 2023
Every summer, you will find dozens of street fairs and festivals. This June is no exception. Here are some of the top festivals this month.
Golden Gate Bandshell Concerts (Several Dates in June): Spend some time in Golden Gate Park this June enjoying free live music at the Golden Gate Bandshell. These all age concerts run through November. You'll find Folk/Rock on Wednesdays, Jazz/Soul on Fridays, Cultural/Community Performances on Saturdays, and Reggae on Sundays. Find the full calendar here.
North Beach Festival (6/17 & 6/18): Spend the weekend in San Francisco's North Beach District at their annual festival and street fair. This year's event includes live music, plenty of street food, local vendors, and more. The event runs from 10 am to 6 pm both days. More about this year's event.
Festa Coloniale Italiana (6/3): Held right in the heart of the North Beach neighborhood (SF's Little Italy), this free street festival is a great family and cultural event. Head over to Stockton Street, just across from the famed Washington Square Park, to enjoy delicious Italian food, a pizza toss, specialty Italian handicrafts, wine tasting, and live performances featuring Moreno Fruzzetti.
Stern Grove Festival (6/18 - 8/20): This free outdoor concert series has happened every summer (until 2020) since 1938. This year's concerts start in mid-June and runs August. The festival is on Sunday afternoons at 2 pm. You must book your tickets in advance for all performances. More details.
Juneteenth Festival (6/17): Each year, San Francisco commemorates the abolition of slavery in the US with a street fair for the whole family. As we mark the anniversary of the Emancipation Proclamation, head over to Fillmore Street to enjoy the activities,  live music, and fun for the kids. Find out more about what to expect at the Juneteenth Festival.

Yerba Buena Gardens Festival: The Yerba Buena Gardens Festival is a free ongoing event that offers entertainment every week during the summer through October. Live outdoor performances include music, dance, and theater, and feature both well-known and emerging artists. Discover the 2023 Yerba Buena Gardens Festival details.
San Francisco Jazz Festival (6/7 - 6/18): This year marks the 40th Annual SF Jazz Festival, offering over a week of incredible music from acclaimed jazz musicians, including those such as Gregory Porter, Christian McBride, Dianne Reeves, and more. Find out more on the SF Jazz Center site.

Sunday Streets (6/4): The June edition of Sunday Streets this year takes place in the Tenderloin District. This is a monthly street fair that rotates among districts, bringing together the community to enjoy free activities for the whole family, live music, and streets closed to traffic so people can run, bike, and play in the area. Find out which weekends to visit which neighborhoods.
World Ocean Day Celebration (6/8): This evening celebration takes place at the Aquarium of the Bay at Pier 39. Enjoy music, entertainment, and refreshments as you explore the exquisite exhibits of local marine life and take in the bay views that remind us of the ocean's importance. Discover more about the event. 
>> Find a full calendar of festivals in June

>> Discover the full festival calendar for each month in SF
Comedy
Dates:  All Month Long
Every month in San Francisco, you will find hilarious live performances at the top comedy clubs in the city. Some of the biggest names in standup tend to frequent the Punch Line and Cobb's comedy clubs. 
In addition, you'll see the best of local comedians every Sunday night at the Punch Line's SF Showcase. And if you're still looking for laughs, check out SF's variety of local improv troupes.

>> See the full comedy schedule and ticketing info
Daytime Summer Cruises on the SF Bay

Ferry cruise on the SF Bay
Summer is a fun time to head out on the SF Bay. These San Francisco events in June run several times each day and are a great way to check out the bay front attractions.

Each cruise heads under the Golden Gate Bridge, near Sausalito, around Alcatraz and more. 

The 60-minute bay cruise is the most popular and it runs almost a dozen times each day. Another popular options is the Bridge to Bridge cruise, which takes you under both the Golden Gate Bridge and the Bay Bridge. It runs just once a day, several days a week.

All bay cruises leave from and return to the piers in Fisherman's Wharf. Here are just some of the top picks for this month.

More SF Bay Cruises

Wine Tours to Napa & Sonoma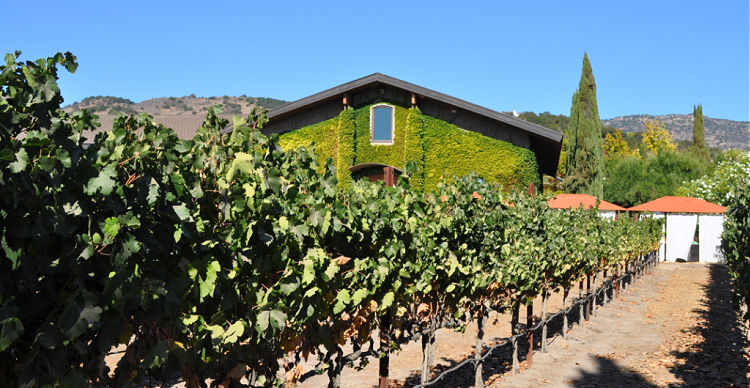 Winery and vineyard in Napa Valley, a wonderful place to visit in June
June is also a great time to head up to wine country. Napa Valley is a well known region with some of the best Cabernet Sauvignon wines in the world. You will also find some great Chardonnay here too.

Sonoma County offers several wine country regions including Sonoma Valley, Dry Creek Valley, Russian River, Alexander Valley as well as several others. Due to the different climates throughout Sonoma, you will find a wide range of wines here from Pinot Noir to Zinfandel to Sauvignon Blanc.

You can head up on your own or let someone else do the driving by heading north on a guided tour. Here are a few of the most popular tours.

More Fun Day Trips
Additional Tips to Visit San Francisco in June
Top Activities, Attractions, and Things to Do in June: In addition to the large range of special San Francisco events in June, check out my tips for SF's tricky summer weather and how to make the most of your trip at this time of year. Some of the best things to do include cruises, guided tours, street fairs, and a variety of dining and shopping options. Find out what else you can do on your June trip to SF.
What to Wear in June: Do you need some advice on what to pack for your visit in June? Check out my June weather page for information on average highs and lows as well as a few ideas on what to bring along with you for your stay. How to pack and prepare for your visit.
Other SF Bay Area Events in June 2023
Outdoor Concerts Around the SF Bay

The San Francisco concert calendar heats up every Summer and you will find plenty to do within the city. However, it's also the time of year when several large outdoor concert venues around the SF Bay offer up a schedule of fun outdoor shows. 

Some of the top picks include the Greek Theater in Berkeley, the Shoreline Amphitheatre in Mountain View, and the Mountain Winery in Saratoga. They feature several shows a week through the Summer and early Fall months.
With little rain in the bay this time of year, you are almost guaranteed an amazing night under the starts.
subZERO Festival in San Jose

Dates: 6/2 & 6/3
This two-day festival starts at 5 pm and lasts until 11 pm each night. This festival is a bit different than most festival since it is more of an experimental event where geek meets street.
There are outdoor stages, performers and artists among other exhibits.
This festival is free so check it out and enjoy an event unlike any you'll see anywhere else.
Livermore Rodeo

Date: 6/10 & 6/11
The Livermore Rodeo is one of the only SF Bay Area events in June where you will get up close and personal of some real cowboys and buckin' broncos! This two-day event, located in the East Bay city of Livermore, is always a rip roaring time for the whole family. 
Not only are the more roping and riding events than you could imagine, there are also a Cowgirl Luncheon, Family night, a Princess and Queen competition. If you want to kick up your heels, there is also live music. 

StreetLow San Jose Car Show & Concert

Date: No Event in June 2023
Low Rider cars are in full view for all that attend the amazing StreetLow San Jose Car Show & Concert. This one-day event features Low Riders that cruise and hop using their suspensions, low rider bikes that can be just as exciting, and cool, as the cars. There is live music, great food and lots of entertainment for everyone. The doors open at noon and the event ends at 7 pm. 
Temescal Street Fair in Oakland

Date: No Event in June 2023
Oakland's Temescal Street Fair is located in one of the upcoming and coming areas of the city. It has a lot of local flavor and there is so much for kids, and kids of all ages, to experience when they go to this fair. 
The street is closed down so you can walk around and check out everything it has to offer including lots of local bands, a low rider bicycles showcase, and over 150 booths featuring all the arts and crafts you could ever imagine.
Starting at noon, this 10 block festival will allow your family to enjoy yourself through 6 pm. 

Healdsburg Jazz Festival

Dates: 6/17 - 6/25
The Healdsburg Jazz Festival is a 10-day event that will make you want to boogie. You will find music at venues throughout the quaint town of Healdsburg.
It's the perfect stop that any music lover will enjoy and treasure their experience. Some of the top local, and world, talent come to Healdsburg every year.
This is also an exploration of different types of jazz as they regularly have smooth jazz, Latin jazz, and swing type jazz. 
>> More Sonoma events this month

Dia de Portugal in San Jose 

Date: 6/10
If you are Portuguese, or just want to experience some of this amazing culture, then Dia de Portugal in San Jose is a must attend of the SF Bay Area events in June.
This festival has everything Portuguese that you could ever imagine including museum exhibits, live entertainment, food, drinks, music, and parades for both adults and kids.
It is located at the History Park San Jose at Kelley Park and is always on the second Saturday of the month. This year's festival is on June 11th and starts at 10 am and ends at 5 pm.
Napa Valley Jazz Getaway

Dates: 6/8 - 6/10
I can't think of a better place to getaway and enjoy some smooth jazz than the Napa Valley wine country. For three days, starting on the 8th and continuing through the 10th, you will get a musical experience you will enjoy like no other. Performances are at different venues, and artist from all over the world will be playing different types of jazz. 
There is also top quality food, craft brews, cigar events and, of course, incredible wines from across Napa Valley. There are numerous different tickets, and passes, so make sure to choose what is right for you. 

>> More events this June in Napa

Make Music San Jose: SF Bay Area Events in June

Date: 6/21
Another one of the top SF Bay Area events in June is the free Make Music San Jose Festival. This event is at venues throughout the city and you will get to enjoy music in halls, theaters and even on people's porches! Performances start at sunrise and continue straight through to sunset.
One of the reasons that this festival is so beloved by the community, and visitors alike, is that you are welcome to be a participant and join the bands as you see fit. It is a perfect way to a part of the crowd while also being a part of the performance. Tickets are $20 for general admission.

Monterey Wine Festival

Dates: 6/3 & 6/4
There really isn't any place better to go wine tasting than the gorgeous city of Monterey. Famous for the aquarium, and Jack London's Cannery, the views and the location are magnificent.
Add a two-day wine festival, and you are set for the weekend! Being that this is right on the edge of the Pacific Ocean, the food will include everything from lobster to crab to clam chowder and more. 
The wines are the center of the festival and you will not be disappointed as more than 60 wineries will be present with their best vintages for you to taste and enjoy.
Tickets vary depending on days and tasting so make sure to check and see which is your best choice if you want to go to one of the best SF Bay Area events in June. 

>> More events this month in Monterey and the surrounding towns

Danville Summerfest

Dates: TBD
Danville is about 30-45 minutes east of San Francisco and a beautiful city to visit when you are on vacation and looking for something different from the big city hustle and bustle. Danville has everything you want without being crowded and busy. That is why so many people enjoy the Danville Summer Fest every year. 
There will be live music, arts and crafts and a car show during this lively two day event. There is an emphasis on kid's events so bring the whole family and have a great day or two! Saturday and Sunday both start at 10 am and end at 5 pm.

San Jose Fountain Blues & Brews Festival

Dates: 6/17
Our list concludes with the last, but definitely not the least, of the SF Bay Area events in June being the Fountain Blues Festival in San Jose. The doors to this one day event open at 11 am, the music starts at 12 noon and ends at 8 pm. 
This festival is located at San Jose's Plaza de Cesar Chavez Park and is always a great way to spend the day listening to some of the top blues musicians from all over the United States.
There are both general admission, and the VIP (Very Important Patron of the Blues) tickets, so you will want to see which one fits your mood for the day. 

Sausalito Pride

Dates: 6/29 - 7/1
This quaint coastal community across the bridge from SF has a long history of being queer friendly. In fact, as you cross the Golden Gate going northward to Sausalito, you'll pass under the rainbows of the Robin Williams Tunnel.
In 2023, Sausalito officially becomes part of the Bay Area's LGBTQ+ Pride Celebration. This weekend-long inaugural festival offers several events, including Pride Night at Jazz and Blues by the Bay in Gabrielson Park.
The goal of this celebration is to showcase and support Sausalito's vibrant queer community, culture, and history.
Comments? Questions? Suggestions?
I would love for you to join me in my private Facebook group! 
It's a great place to interact with me and others who know the area well.
You can ask questions, get advice for your upcoming stay, and then share your photos and advice with others when you return home. It's a great community and the fastest way to get answers to those nagging questions about your visit!