San Francisco Events in June 2018
Enjoy Street Fairs, Father's Day Activities & More this Month
Get ready for summer fun with these San Francisco events in June 2018. This month, you will find dozens of festivals, SF Giants baseball, and free walking tours every day.
Top festivals this month include North Beach, Union Street, and Pride. You can also have fun watching the comedians at Colossal Clusterfest, watch or participate in the Escape from Alcatraz Triathlon, and enjoy a Broadway theater production of The Humans.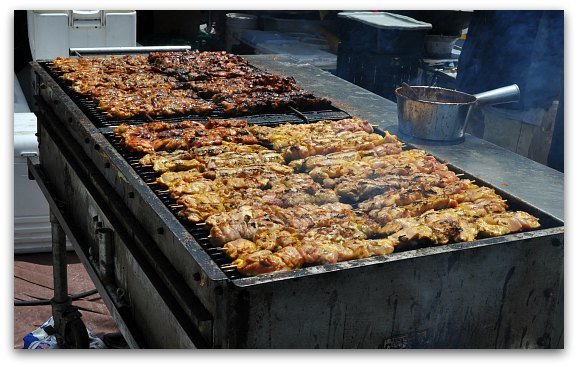 June is also the month to spoil your dad. Discover the best things to do for Father's Day on our special page dedicated to this special day. Read on for more events and activities this month in SF.
For some of the links on this page, I receive a small commission when you purchase. You don't pay more when you buy through me and it gives me the chance to offer you all this great content for free!
The Humans at the Orpheum Theater
The 2016 Tony Award® winner for Best Play, The Humans, is coming to the Orpheum Theater this June. Watch what happens during Thanskgiving Dinner as the family talks about life. They each discover the others' fears, dreams, and so much more.
Dates: 6/5-6/17
Tickets: On sale now
More: Find a full calendar of theater performances in June in SF
Half-Priced Tickets
I recommend taking a look at the great deals on Goldstar.com before booking any tours or San Francisco events in June. They offer a variety of tickets at up to 50% off for activities such as bay cruises, walking tours, theater performances, and more.
Here are a few of their most popular tickets this month.
60-Minute Bay Cruise: Cruises around the bay, leaves from Fisherman's Wharf, several cruises a day, Full price $32, Goldstar price $16*


Segway Night Tour: Ride around SF's top districts and see their beauty at night, starts with a 45 minute training session so you are comfortable before you go, ride around Fisherman's Wharf, North Beach and Chinatown, starts at 5pm and lasts about 3 hours (including the training session), Full price $75, Goldstar $37.50*


Twilight Cruise: Spend your evening on the SF Bay, light appetizers and one drink per ticket (additional drinks available for purchase), 2-hour cruise that heads under the Golden Gate Bridge, around Alcatraz, Full price $68, Goldstar $40*
*Small service fee at checkout.
Summer Festivals
Every summer, you will find dozens of street fairs and festivals. This June is no exception. Almost every weekend this month, you will find a major event, such as the North Beach Festival, Union Street Festival, and the Haight Street Fair. Click the link below for details on these and other festivals this June 2018.
Dates: Most weekends in June
More: Discover the full festival calendar
Colossal Clusterfest
One of the most anticipated San Francisco events in June is the Colossal Clusterfest, brought to you by Comedy Central. This three-day festival is a dream come true for comedy and pop-culture junkies. You'll have the chance to watch the best comedians in the business and to dance to concerts by several cool bands.
Head over to the Bill Graham Auditorium and the Civic Center Plaza to enjoy all of this entertainment on an array of outdoor and indoor stages.
Dates: 6/1 - 6/3
More
:
Read more details on the event web page
SF Beer & Music Festival
Spend the day sampling the best local and regional beers and listening to live music. This event will be at the SOMA Streat Food Park at 428 11th Street. Local food trucks will be on site as well selling their best gourmet goodies. This 3-hour event lasts from 7pm to 10pm.
Date: TBD
More: Additional SF festivals this month
Concerts in June
Are you looking for a night of live music during your stay in SF? If so, then check out my concerts calendar. It includes performances at some of the best venues in SF, including the Independent, the Fillmore, and the Bill Graham Civic Auditorium.
More: Find a full concert calendar for SF
SF Giants Baseball
This month, the SF Giants have 16 exciting home games scheduled. Head over to gorgeous AT&T Park by the water in the SoMa District to watch them take on the Philadelphia Phillies, Arizona Diamondbacks, and Colorado Rockies.
Dates: Several in June
More: Find more info & ticketing details for Giants baseball games
SF Summer Opera
This June, you'll have the chance to catch The Ring. This four-part opera spectacular will be performed in full three times this month. Cycle One is from June 12 - 17, Cycle Two is from June 19 - 24, and Cycle Three is from June 26 - July 1. All performances are at the War Memorial Opera House in the Civic Center District.
Dates: Several in June
More: Find a full SF Opera schedule
Save with the SF CityPASS
Did you know that you can save big on your trip to SF with a pocket-sized discount pass? The CityPASS gives you free admission to the Aquarium of the Bay, either the Exploratorium or the SF Museum of Modern Art, and the California Academy of Sciences.
You'll also get to ride on a 60-minute bay cruise, and all of the city's cable cars and buses, for free.
Tickets: Get your ticket to big savings on SF's best attractions now!
Union Street Festival
Of all the San Francisco events in June, the Union Street Festival is one of the largest neighborhood celebrations. For two full days from 10am to 6pm, this cute commercial strip in the Marina District comes alive with live music, samples from local restaurants and shops, and three pavilions offering craft beer and wine. Browse the unique offerings from the more than 100 boutique vendors on hand.
Dates: 6/2 & 6/3
More: Get more details about the Union Street Festival
San Francisco Jazz Festival
This year marks the 36th Annual SF Jazz Festival, offering over a week of incredible music from acclaimed jazz musicians, including those such as Lizz Wright, Stanley Clarke, Bokane, Con Brio, and more.
Date: TBD
More: Get festival details on the SF Jazz website
Rhone Rangers Wine Tasting
The 19th Annual Rhone Rangers Wine Event celebrates the Rhone variety of wine grapes and the US wineries that produce them. The event begins with a Winemaker Dinner and Auction on Friday night, and continues with a Seminar Series and Grand Wine Tasting on Saturday. Head over to the Golden Gate Club in the Presidio to enjoy and learn more about the remarkable spread of red and white Rhone wines.
Dates: TBD
More: Get details about this wine event and the wine itself
San Francisco Free Folk Festival
The annual San Francisco Folk Festival is free and offers a variety of dance and music shows, as well as workshops. Guitar, ukelele, waltz, Irish step, and Argentine tango are just a few of the genres you will hear and dance to. In addition, there will be crafts, vendors, and fun activities for the whole family.
Date: 6/9
More: Get festival details here
Film Night in the Park
What could be more summery than heading to the park on a lovely evening to share an outdoor movie screening with some friends? Film Night in the Park takes place at three locations in SF: Union Square, Washington Square Park, and Dolores Park. There are six movies on this year's schedule.
Dates: TBD
More: Get this year's schedule of films and locations
Escape from Alcatraz Triathlon
The Escape from Alcatraz Triathlon is an annual event that starts with a 1.5-mile swim from Alcatraz Island to the shores of San Francisco. It continues with an 18-mile bike ride and finishes with an 8-mile run through the city's hills. This race attracts World Champions and Olympic Medalists, as well as the best amateur athletes from the US and all around the world. If you aren't interested in participating, I recommend heading down to the waterfront first thing in the morning to watch this amazing act of athleticism.
Date: 6/3
More: Visit their site to learn more
Sunday Streets
The third edition of Sunday Streets this year takes place on June 13 in the Sunset/Golden Gate Park/Great Highway area. This is a monthly street fair that rotates among districts, bringing together the community to enjoy free activities for the whole family, live music, and streets closed to traffic so people can run, bike, and play in the area.
Dates: 6/3
More: Find out which weekends to visit which neighborhoods
Free Walking Tour of Chinatown
Stroll through one of the most fascinating districts in San Francisco with a free walking tour of Chinatown. This "city within a city" offers an interesting history full of dark secrets and interesting stories. On this two-hour walk, you will explore its back alleys, learn more about historic events that took place here, and uncover some of the best places to stop for a bite to eat. You will also learn all about its top attractions and temples. The tour runs every Monday at 10am and 1:30pm and every Saturday at 10am.
Dates: Every Monday and Saturday in June
More: Find the starting point for the tour & details on other free SF walking tours
More: Additional fun, free things to do in SF in June
Discover the Best Hotel Deals
Booking: Find great deals all around San Francisco for your upcoming stay!
TripAdvisor: What's the #1 hotel in San Francisco? Read reviews & find hotel deals on TripAdvisor!
Free Museum Admission Days
Enjoy the permanent collections at SF's top museums during their free admission days. Toward the beginning of the month, you have the opportunity to visit attractions such as the Asian Art Museum, the Conservatory of Flowers, and the de Young Fine Arts Museum without spending an arm and a leg. Click the link below for a full list of dates for June 2017.
Dates: Several in June
More: See which days are free admission days in June
Juneteenth Festival
Each year, San Francisco commemorates the abolition of slavery in the US with a street fair for the whole family. As we mark the 152nd anniversary of the Emancipation Proclamation, head over to Fillmore Street to enjoy the activities, including a job fair, car show, live music, and fun for the kids.
Date: 6/16
More: Find out more about what to expect at the Juneteenth Festival
Phono del Sol Music & Food Festival
One of the San Francisco events in June that really screams "summer" is the Phono del Sol music and food festival held in the Mission District's Potrero del Sol Park. The popular event offers a great lineup of bands and artists, beer, face paint, games, and SF's best food trucks. Come and enjoy a fun summer day outdoors.
Date: TBD
More: Discover more festival info including the full lineup
Presidio Kite Festival
One of the best family-friendly events this month in SF is the Presidio Kite Festival. This one-day free event includes a build-your-own-kite workshop (kites free while supplies last), kite flying lessons, Taiko drumming, and more. All events are at the Main Parade Ground between noon and 5pm.
Date: TBD
Northern California Soy and Tofu Festival
This unique festival celebrates these essential and healthy ingredients of Asian cuisine and brings them to a wider market. It features vendors of soy and tofu products, a tofu eating contest, a dessert competition, and live entertainment from local groups of Taiko drummers and lion dancers. Many well-known Asian American performers will grace the stage for this event.
Date: TBD
More: Find out more on the festival website
Crafts Spirits Carnaval
Sample some of the best craft spirits at this year's event. The Crafts Spirits Carnaval features a weekend of trying the best whiskey, bourbon, vodka, tequila, grappa, and more. The event runs for two days on Saturday, June 9 (4pm to 8pm) and Sunday, June 10 (1pm to 5pm).
Dates: 6/9 & 6/10
More: Find out additional information for this year's event
Father's Day
Spoil your father this year with a visit to San Francisco. On this special day (and throughout the weekend), you will find fun cruises around the bay, several restaurants serving up wonderful brunch and lunch menus, and plenty of other events to make Dad happy.
Date: 6/17
More: Full list of fun this Father's Day in San Francisco
SF Symphony
Some of the best San Francisco events in June are shows by the SF Symphony at the beautiful Davies Symphony Hall in the Civic Center. Top performances this month include: Susanna Malkki and Nikolaj Znaider (6/7 - 6/9), MTT Conducts Mussorgsky's Boris Godunov: A Semi-Staged Event (6/14 - 6/17), and Trifonov Plays Rachmaninoff with the San Francisco Symphony (6/21 - 6/24).

Dates: Several in June
More: Find this month's calendar of performances
Stern Grove Festival
Every summer since 1938, it has been a San Francisco tradition to offer stellar music performances by renowned artists with a variety of styles, for free, each Sunday at 2pm in Stern Grove Park. It's a beautiful spot to picnic while you watch the concert. This weekly festival kicks off with the annual Big Picnic.
Dates: 6/17 & 6/24
More: Get the Stern Grove details and plan your visit today
Comedy Shows
Every month in San Francisco, you will find hilarious live performances at the top comedy clubs in the city. Some of the biggest names in standup tend to frequent the Punch Line and Cobb's comedy clubs. In addition, you'll see the best of local comedians every Sunday night at the Punch Line's SF Showcase. And if you're still looking for laughs, check out SF's favorite musical comedy Beach Blanket Babylon or the variety of local improv troupes.
Dates: Several throughout the month
More: See the full comedy schedule and ticketing info
Union Square Live
Head on over to Union Square to enjoy free live performances throughout the summer. The festival boasts a variety of dance, music, circus, theater, movies, and more, and the performances will continue every week through September.
Dates: Several from April - September
More: See Union Square Festival details and schedule
Self-Guided Tour of North Beach
If you love to explore on your own, then check out my One-Day Self-Guided Tour of North Beach. In one day, you will see the best of this district including Coit Tower, the Beat Museum, and the Vesuvio Cafe. You will also find the best places to grab some lunch, dinner, or both.
Dates: Any day in June
More: Find the full itinerary here
Pride Parade & Festival
One of the largest festivals each year is the Pride Parade & Festival. This event is always the last weekend in June. This year, it falls on June 23 and 24. It includes a large festival with live music, dancing in the streets, and gourmet goodies in the Civic Center District. The largest draw is the colorful parade on Sunday morning. It starts at 10:30am and makes its way from Market & Beale to Market & 8th Street.
Date: 6/23 & 6/24
More: Find all the details here
Japan Day Festival
Head over to Japantown for a day full of traditional performances, ceremonies, and workshops led by master Japanese artists. Activities include calligraphy, taiko drums, and an Obon Odori ceremony honoring those who have passed and celebrating the wonderful people around us today.
Date: TBD
More: Tips on how to get to the festival and where to stay and eat in the area
Exhibits at SF Museums
Make sure to catch one of these amazing exhibits at our top SF museums this month: Traces of the Past & Future: Fu Shen's Paintings and Calligraphy at the Asian Art Museum, Contraption: Rediscovering California Jewish Artists at the Contemporary Jewish Museum, and The Future of the Past: Mummies and Medicine at the Legion of Honor.
Dates: All throughout the month
More: Plan your museum visits for this month
Yerba Buena Gardens Festival
The Yerba Buena Gardens Festival is a free ongoing event that offers entertainment every week during the summer through October. Live outdoor performances include music, dance, and theater, and feature both well-known and emerging artists.
Dates: Several from May - October
More: Discover the 2018 Yerba Buena Gardens Festival details
Even More Things To Do in SF in June
In addition to the large range of special San Francisco events in June, check out my tips for SF's tricky summer weather and how to make the most of your trip at this time of year. Some of the best things to do include cruises, guided tours, street fairs, and a variety of dining and shopping options.
More: Find out what else you can do on your June trip to SF
What to Wear in June
Do you need some advice on what to pack for your visit in June? Check out my June weather page for information on average highs and lows as well as a few ideas on what to bring along with you for your stay.
Info: How to pack and prepare for your visit
More Events Around the SF Bay Area
SF Bay Area Calendar | Napa Valley
Other Fun Activities in SF