San Francisco Nightlife
Enjoy the SF Nightlife Like a Local
San Francisco nightlife is as varied as its residents. From grabbing a drink or two at a local bar to catching a performance at the theater, you will always find something unique and interesting each night in the city.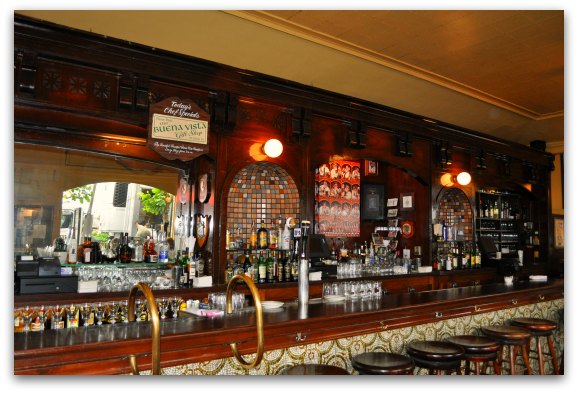 Here you will find recommendations for a variety of nightlife activities. Find recommendations for everything from the top bars and dance clubs to guided night tours.
Bars
Heading out for a drink or two is a popular San Francisco nightlife option. You can find hundreds of different bars throughout the city. However - which ones should you check out?
Click through to find my 17 favorites. In addition, you will discover a list of my favorites for each SF neighborhood.
Learn More: Bars
Guided Night Tours
Another popular San Francisco nightlife option is a guided tour. Take a ghost walking tour through one of the historic San Francisco hotels or mysterious SF neighborhoods. Watch the sunset on an SF Bay Cruise. Grab drinks with a local at one of the SF pubs once frequented by famous San Francisco residents of the past.
Learn More: Night Tours
Dance Clubs
Dance clubs are another popular San Francisco nightlife option. I LOVE to go dancing and I always think it's tough to find a great dance club when I'm visiting a new city. Here you will find some recommendations - so you can mix with locals as you dance the night away!
Learn More: Dance Clubs
Theater
Another one of my favorite San Francisco nightlife options is the theater. Although it's nothing compared to New York - you can still find a theater performance almost any night of the week. SF theaters also attraction large shows such as The Wizard of Oz, Wicked and The Book of Mormon.
Calendar: Theater
Top San Francisco Nightlife Tickets at Up to 50% Off
Are you looking for some great deals on San Francisco nightlife tickets? If so, then head over to Goldstar for a look at their tickets to concerts, theater performances, and other fun things to do at night.
You will find tickets at up to 50% off, which gives you the chance to see and do even more. Click the links below for details on these activities and to find more fun San Francisco nightlife tickets today!
Craft Cocktail Tour: 3-hour walking tour of local cocktail establishments, tour starts with a hands on bitters making class, you will then walk around downtown and sample local drinks, Full price $119, Goldstar $83*


Sunset Cruise: 2-hour evening cruise with 2 drinks (beer, wine, soda, water) included with every ticket, leaves once a day from Pier 39, Full price $60, Goldstar price $45*


Segway Night Tour: Cruise around the streets of San Francisco on this 2.5 hour night Segway Tour, ride through Fisherman's Wharf, Chinatown, and North Beach, it starts with a 45 minute training session, so you are comfortable before you leave the parking lot, Full price $75, Goldstar $37.50*
*Small service fee at checkout.
Museum Events at Night
The California Academy of Sciences is the most visited SF Museum. Every Thursday night starting at 6pm, they host an adult only mixer. Buy your tickets in advance to enjoy unlimited cocktails, a one hour behind the scenes tour and a VIP pass to access the four story rainforest. Your advanced ticket allows you to skip the line when you arrive and includes a reserved pass for the 8:30 pm Planetarium show. The event lasts until around 10 pm and it's one of the best ways to see the museum in a slightly different light.
Find Advanced/Skip the Line Tickets: California Academy of Sciences
Wine Bar Recommendations
San Francisco nightlife wouldn't be complete without wine tasting. With our proximity to Napa and Sonoma, the wine bars here have easy access to some of the best wines in the world. Many of the wine bars feature several local wines as well as wines from top international regions. Discover details for some of my favorite wine bars throughout the city.
Learn More: Wine Bars
Concerts
Live Music in San Francisco is another popular SF nightlife option. San Francisco hosts many popular bands every year. You can find a great show almost any night of the week.
Click through for live music recommendations as well as a calendar with some of the top performances scheduled for the next few months.
Learn More: Live Music
Concert Calendars by Month
Click the links below for a full concert calendar for each month.
January | February | March | April | May | June
Symphony
The Symphony is a world renowned company with more than a hundred performances every year. Each performance showcases the groups amazing talent along with their conductor Michael Michael Tilson Thomas.
On this page, you will find their current calendar. You will also find a few tips for attending a performance including where to find the best tickets, what to wear and top restaurants near Davies Symphony Hall.
Learn More: SF Symphony Calendar & Tips to Attend
Comedy Clubs
Comedy Clubs are another favorite. In SF, you can catch a show almost any night of the week. In addition to world class comedians, the city also has a number of long running comedy theater performances including Beach Blanket Babylon and BATS Improv Theater.
Learn More: Current Comedy Show Schedule
Other Noteworthy Stops
Buena Vista Cafe in Fisherman's Wharf | Vesuvio Cafe in North Beach
10 Best Happy Hour Spots
San Francisco offers hundreds of spots to grab a drink for happy hour. However, which ones are the best? Click the link below to find a list of my ten favorites. They include everything from the drink and pizza specials at Olive in the Tenderloin to the afternoon long happy hour specials at Fly Bar.
Learn More: 10 Best Happy Hour Spots
More Fun Things to Do at Night in SF
Are you looking for additional ideas for your stay? Check out my recommendations on other things to do at night. SF is great during the day, but it's really special because of all of the fun events, activities, and more at night.
More: Fun things to do each night
Top Attractions
Home

>
Nightlife Recommendations