SF Symphony 2023 & 2024


by Jill Loeffler  •

Updated: November 29, 2023
The SF Symphony is one of the best in the world. With more than a hundred events every year, it's easy to find one that you will enjoy.

The San Francisco Symphony also invites a number of guest performers and conductors. In the past, artists such as Judy Collins and Natalie Cole performed alongside the symphony.
In addition, they also host a number of large events every year. This includes their popular New Year's Eve Masquerade Ball. They also perform at the annual Black and White Ball.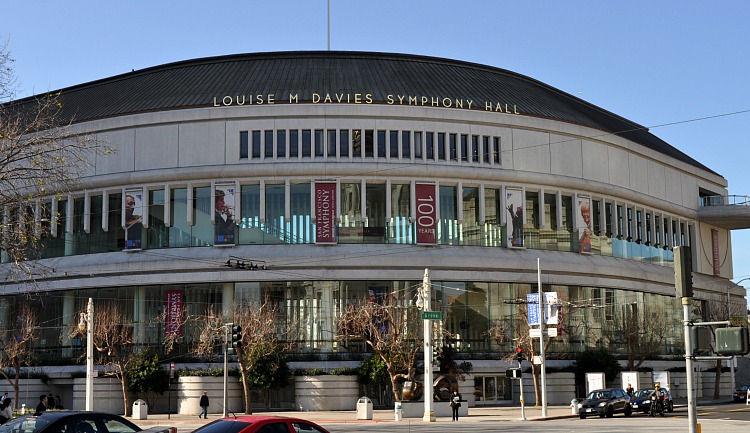 Almost all of the events are held at the beautiful Davies Symphony Hall in San Francisco's Civic Center neighborhood (shown in the picture above). This gorgeous neighborhood is also just steps from San Francisco's City Hall. 
If you love the symphony or are looking for something a little different to do during your stay, then I recommend attending one of their premier events. I always have an amazing time at these performances.
Disclaimer: I receive a small commission from some of the links on this page.

Performance Schedule for 2023
December 2023
Jonathan Cohen - Handel's Messiah, Dec. 8 and 9

SFs Youth Orchestra: Peter And The Wolf, Dec. 10
Mariachi Sol De Mexico De Jose Hernandez, Dec. 10
Esa-Pekka Salonen, The Colors of Christmas, Dec. 13 & 14
Edwin Outwater - Holiday Gaiety, Dec. 15
Thiago Tiberio - Love Actually, Dec. 16
Chamber Music At Davies Symphony Hall, Dec. 17
Lawrence Loh - A Charlie Brown Christmas, Dec. 20, 21, 22, & 23
Edwin Outwater - Holiday Brass, Dec. 21
Home Alone in Concerts, Film with Live Orchestra, Dec. 22 & 23
January 2024
1/11 - 1/13: Van Zweden Conducts Beethoven
1/18 - 1/20: MTT & Seong-Jin Cho
1/21: Itzak Perlman: In The Fiddler's House
1/25 - 1/27: MTT Conducts Mahler 5
1/28: Chamber Music At Legion Of Honor
1/28: Chamber Music At Davies Symphony Hall
1/31: Shenson Spotlight Series: Eric Lu
February 2024
2/2 - 2/4: Blomstedt Conducts Beethoven 7
2/8 - 2/9: Casino Royale
2/10: Bugs Bunny At The Symphony
2/15 , 2/16 & 2/18: Inspirations: Letters/Legacies
2/17: Lunar New Year: Year Of The Dragon
2/21: Gabriel Martins
2/23 - 2/25: Mtt & Julia Fischer
2/23 - 2/24: Soundbox: Thomas Ades
March 2024

3/1 - 3/3: Duke Bluebeard's Castle
3/6: Alexandra Conunova
3/8 - 3/9: Soundbox: Esa-Pekka Salonen
3/9: Music For Families
3/10: Sf Symphony Brass
3/14 - 3/16: Salonen: All Sibelius
3/17: Youth Orchestra
3/23: Carmina Burana
3/24: Ray Chen Violin Recital
April 2024

4/2: Yo-Yo Ma & Kathryn Stott
4/5 - 4/6: Carol Reiley
4/6: Teen Night
4/7: Joshua Bell & Academy Of St Martin In The Fields
4/11 - 4/13: The Lord Of The Rings: The Fellowship Of The Ring
4/18 - 4/20: Canellakis Conducts Strauss & Ravel
4/21: Chamber Music At Davies Symphony Hall
4/21: Yefim Bronfman Piano Recital
4/25 - 4/27: Inspiration: Film/Classical
May 2024

5/1: The Wizard Of Oz
5/2 - 5/4: Star Wars: The Empire Strikes Back
5/7: Evgeny Kissin Piano Recital
5/10 & 5/12: Mendelssohn's Scottish Symphony
5/15: Yuja Wang Piano Recital
5/16 - 5/18: Ryan Bancroft & Joshua Bell
5/19: Youth Orchestra
5/22 - 5/23: Gladiator Live
5/24 - 5/25: Encanto
5/26: Chamber Music At Davies Symphony Hall
June 2024
6/2: Chamber Music At Legion Of Honor
6/7 - 6/9: Alonzo King Lines Ballet & Peter Sellars
6/13 - 6/15: Esa-Pekka Salonen & Sheku Kanneh-Mason
6/16: Chamber Music At Davies Symphony Hall
6/21 - 6/23: Esa-Pekka Salonen & Yefim Bronfman
6/26: Stella Chen & George Li
6/28 - 6/30: Salonen Conducts Mahler 3
Where to Buy Tickets
Ticket prices for the SF Symphony range from $15 to more than $400 a ticket. Some performances sell out quickly, while others are sold at a discount to fill the seats.
Ticketmaster offers tickets for all SF Symphony performances. They are first run tickets, so you aren't buying on discount or from someone else. It's great for all performances. 

TicketLiquidator is a great place to find the best seats or tickets to sold out performances. Here you will be able to select the best seat and the price point that works for you.

Rush Tickets are available for certain SF Symphony shows. These tickets are sold on the day of the show only at the ticket booth at Davies Symphony Hall and are just $25 a piece (limit of 2 per person).
It's another great way to pick up some discounted tickets for performances.
To see if they have Rush Tickets available, contact them at 415-503-5577 or stop by the ticket booth in person.

Seating Chart for Davies Symphony Hall

Here is the seating chart for Davies Symphony Hall. The image is courtesy of SFSymphony.org and will give you an idea on the best seats for these shows.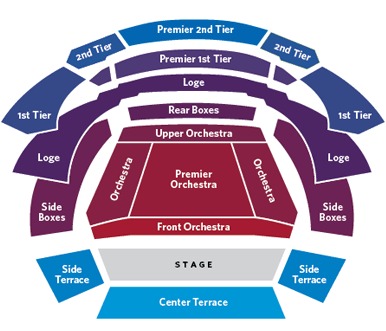 Here is a look at the stage from the 2nd Tier.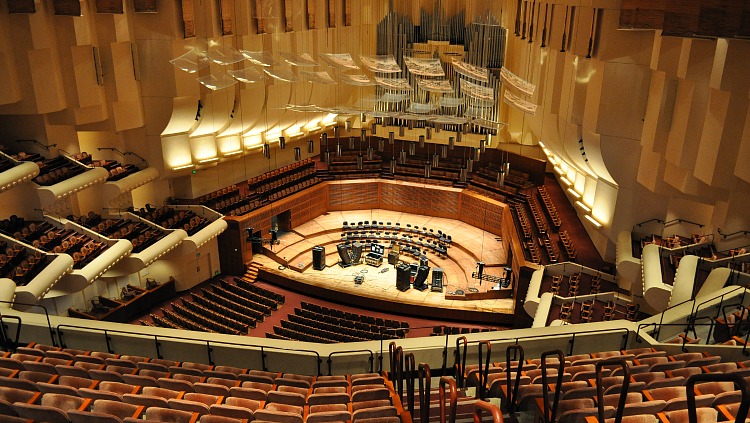 San Francisco Symphony Box Office

If you would prefer to buy your tickets in advance or have tickets at Will Call, you can stop by the Box Office. Will call tickets are available starting the day after you purchase them or the day of the performance, which ever time frame is sooner. 
The Box Office is open the following hours.
Monday to Friday: 10am to 6pm 

Saturday: Noon to 6pm

Sunday: 2 hours prior to concerts

They are closed on major holidays if they do not have a performance.

Parking Near Davies Symphony Hall

You will want to park your car in a garage when you attend a performance. Street parking is tough in this neighborhood and there are strict regulations on how long you can keep your car in one spot.
Here are a few parking garages near the performances.
Performing Arts Garage: Located at 360 Grover Street, it is only about two blocks away from the Davis Symphony Hall (on Grover between Van Ness and Franklin). Rates range from $5 to $40 per event.

Fox Plaza: Located at 1390 Market Street, this valet only lot is just four blocks away. Rates range from $7 to $19 an hour, no overnight parking allowed.

Opera Plaza: Located at 601 Van Ness Avenue, this one is just four blocks away from Davies Symphony Hall. It's a large parking garage with 400 spaces. Rates range from $18 to $26 per show.

Note: Parking rates may change at any time. The prices above are estimates to help you decide which lot is best. However, they may increase or decrease their prices at any time.

Find pricing and other details for this and other SF parking garages in the Civic Center & Hayes Valley neighborhoods.

What to Wear to a San Francisco Symphony Performance

Most people associate SF Symphony performances with formal dresses or attire. While they do request this dress code for special performances, you'll find most attendees dressed in semi-formal or business casual attire. They also invite you to come as you are which means if you are more comfortable in jeans, then come in what makes you comfortable.
If a more formal dress code is desired, you'll find this information when purchasing your tickets. They usually request formal attire for their annual New Year's Eve Masquerade Ball and special opening-night performances to kick off the season.
Restaurants Near the SF Symphony

What are the best restaurants near the SF Symphony? Davies Symphony Hall is just steps from the Hayes Valley neighborhood. Right now, it has some of the best restaurants in the city.
Lately, it seems like there's a new restaurant opening in this neighborhood almost every week. This provides you with a large selection. 
Here are just a few of my favorites. 

Since this neighborhood is quite busy on the night of any performance, I recommend planning ahead and booking a table in advance. Otherwise you might have to wait for an hour or more to get a table.

I also let them know that I'm attending a performance, so they know I need to be done at a certain time. Typically, the wait staff at these restaurants will ask you if you're attending a performance. However, if they don't, let them know and they'll do their best to ensure you have plenty of time to get to the show.

Hotels Near Davies Symphony Hall

If you decide you want to stay the night in this neighborhood, there several two and three-star options. They range from smaller bed-and-breakfasts to medium-sized hotels.
Inn at the Opera: 3.5-star hotel just two blocks from the SF Symphony, free wifi, kitchenettes, and close proximity to all San Francisco performing arts and Civic Center activities, 333 Fulton St, read recent review and get a room at the Inn at the Opera.
Days Inn Civic Center: 2-star hotel with few amenities, but a great location, motel that offers parking, free wifi, and easy access to the rest of SF, 465 Grove St, read guest reviews and book a room at Days Inn Civic Center.

Proper Hotel: 4-star hotel just a few blocks east of the SF Symphony on Market Street, rooftop bar, comfy beds, 1100 Market St, read more about the Proper Hotel and find a room.

Find additional hotels around Davies Simony Hall.

Other SF Symphony Shows

SF Symphony July 4th Fireworks Performances

Every year, the SF Symphony plays at Shoreline Amphitheater in Mountain View for Fourth of July. They perform classics as well as modern favorites. The show starts at 8pm and is followed by a fun fireworks display.
>> More about Fourth of July in SF
Annual Performance at Stern Grove Festival

You can also catch a free performance by the SF Symphony at the annual Stern Grove Festival. This event runs from mid-June to mid-August with different performances every Sunday at 2pm.
The symphony typically plays the first or second weekend in July. 
>> Find this year's Stern Grove schedule of performers

Family-Friendly Shows

For most performances, they recommend that you only bring along children 12 and older. Most shows are long and most kids will get bored with it before it's over. It allows everyone to be able to focus on this award-winning music.
However, they want to bring music to the entire family, so offer several family-friendly shows. These Music for the Families performances are on Sundays.
In addition to the kid-friendly music, they also offer interactive components to keep the entire family entertained. They recommend these shows for those 5 and older.

Other Tips for Getting to the SF Symphony

If you don't want to deal with the parking in this neighborhood, there are several public transportation options.
From Union Square:
BART: The fastest and most direct route from Union Square is by taking the BART train. The closest stop is near Market and Powell streets. From here, it's just one stop to the Civic Center station. Davies Symphony Hall is about a six or seven block walk from the station.
21 Hayes: This bus has several stops along Market Street. It will take you all the way to the Civic Center and Hayes Valley neighborhoods.
If you are grabbing dinner in Hayes Valley before the performance, take the bus all the way to the Hayes and Franklin Street stop.
If you're heading directly to the symphony performance, take the bus to the Hayes Street and Van Ness Avenue stop. This is less than a block from Davies Symphony Hall.
From Fisherman's Wharf:

F Streetcar: An easy way to get from Fisherman's Wharf over Davies Symphony Hall is on the F Streetcar. Pick up the street car in Fisherman's Wharf and take it all the way to the Van Ness and Market Street stop.
47 Caltrain: Another public transportation option from Fisherman's Wharf is the 47. This bus picks up at several places along North Point Street - which runs along the southern end of Fisherman's Wharf. 
If you're on the eastern side of Fisherman's Wharf, you can pick up this bus at the North Point and Mason Street stop. 
If you're closer to the western side of Fisherman's Wharf, you can pick this bus up at the North Point and Hyde Street stop.
History of the SF Symphony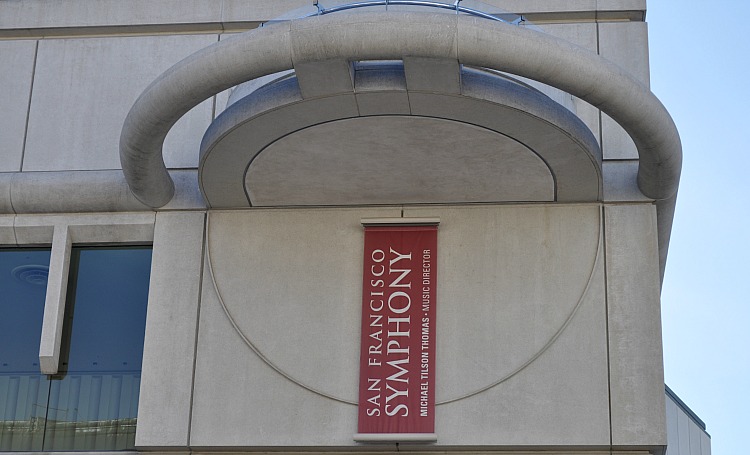 The SF Symphony started in 1911. In addition to the main company, there is also a youth orchestra (founded in 1981) and a chorus (founded in 1972).
There have been 10 conductors over the years including the current conductor Michael Tilson Thomas. Well known conductors included Micheal Tilson Thomas (1995- 2020),  Herbert Blomstedt (1985-1995), Seiji Ozawa (1970-1977), and Pierre Monteux (1935–1952).
This decorated company has won dozens of awards. They won the Pulitzer Prize for Music in 2001, 15 Grammy Awards, and the Peabody Award in 2007.

About Davies Symphony Hall

Davies Symphony Hall is a beautiful structure in the Civic Center district just a few blocks away from the hip Hayes Valley neighborhood. This beautiful structure sits across the street from SF's City Hall. It's just one of the buildings in the San Francisco War Memorial and Performing Arts Center. 
You will find it at 201 Van Ness Avenue.
It was finished in 1980 and offered the SF Symphony their first permanent home. Before this, they shared a space with both the opera and ballet. Their new home now allows them to offer year around performances.

Davies Symphony Hall seats just over 2,700 people. The building is also home to the Wattis Room (a dining hall for large donors), offices, and other facilities for the musicians.

While you are here, don't miss your chance to gaze out it's floor to ceiling windows at City Hall across the street. The best view is from the second floor.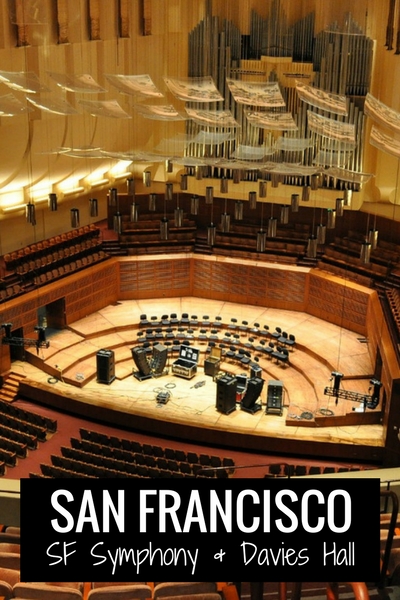 Comments? Questions? Suggestions?
I would love for you to join me in my private Facebook group! 
It's a great place to interact with me and others who know the area well.
You can ask questions, get advice for your upcoming stay, and then share your photos and advice with others when you return home. It's a great community and the fastest way to get answers to those nagging questions about your visit!