San Francisco Parking & Transit
Tips for Parking, Public Transportation, SF Ferries & More
San Francisco parking is a constant headache for both locals and visitors. It's not easy to find spots - and most options are quite pricey.
Here you will find some of the best options and pricing estimates. In addition, I've included many alternatives to driving, so you can easily decide which option is the best for you.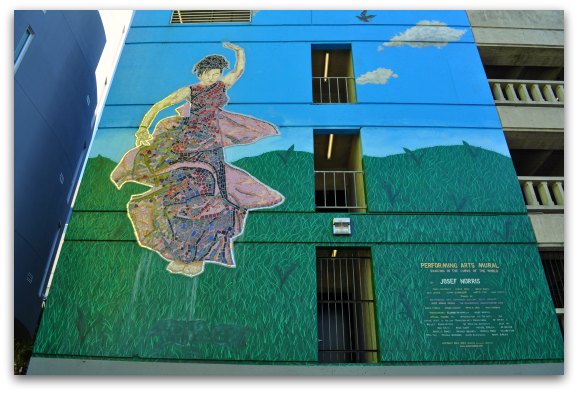 SF is a colorful place - and that extends to the garages. This mural is on the western side of the Performing Arts SF garage in Hayes Valley/Civic Center.
San Francisco Parking & Garages
If you decide to brave the parking scene, there are a a few options in the city. Parking on the street is the cheapest option, but it is tough to find. It's also hard to find a spot that isn't limited to only those with parking permits.
The best option is to find a parking garage. There are a number of garages in Union Square and Fishermans Wharf. You can also park at your hotel, but all of these options can be expensive.
Garages in Union Square will run around $20 to around $40 a day. Garages in Fishermans Wharf are also pricey and will run you around $20 to $35 a day. Most hotels will charge anywhere from $20 to $50 a day, but these spots are more secure than a standard parking garage.
Learn More: Find a List of Parking Garages Throughout the City
Other SF Transportation Options
Other great options to get around the city include taxis, ferries and the city transportation system called Muni. You can also have a little fun on the historic streetcars or the popular cable cars.
Taxis
Taking a taxi is the most popular option. It's fast and easy. However, it's a little more expensive. Read on for additional tips on SF taxis.
You will also find some pricing estimates for common destinations and tips for taking a Taxi to and from SFO.
Learn More: Taxis
---
Muni
Another popular option is to take the public transportation. The public transit here is really easy to use. Most locals prefer this option, so they don't have to deal with the pains of San Francisco parking. Read on for details on the system and a few tips for you if you decide to use SF's public transportation system.
Learn More: Public Transportation
---
Street Cars
The city of San Francisco is one of the few cities in the world with working street cars. The F-Street line is home to dozens of vintage street cars from around the world. Here you will discover street car pictures, a little on their history and what to expect when you ride one. You will also learn about the SF Railway Museum.
Learn More: SF Street Cars
---
Ferries
With so much water around the city, sometimes taking a ferry will save you some time. And - it's so much fun! Click through to find out more about the different ferry options including schedules, prices and other tips for riding the SF ferries.
Not sure which one is right for you? Check out the San Francisco Ferry: Options, Pricing & More page which gives you a brief overview of all the ferry options.
Getting into the City
In addition to the options above, there are some other options for getting into and out of the city. You can use these to get to and from the airports or from other places around the bay area.
BART & Caltrain
BART & Caltrain are two train systems that service different parts of the San Francisco Bay Area. They are great alternative to driving, since you won't have to worry about San Francisco parking. Read on to learn more about these two options and some estimated prices from key locations around the bay.
Learn More: Getting To and From the City
---
Flights to SFO
Three airports service San Francisco and the Bay Area. Each one is a good fit for a specific list of cities. Read on to learn more about each airport.
San Francisco International (SFO) | Oakland (OAK) | San Jose (SJC)
Not sure which one is right for you? Take a few minutes to review each one of the San Francisco Airports page. You can also download a chart that shows you how long it takes to get to several cities in the area from each airport.
---
SFO Shuttles
Another cost effective way to get into the city or surrounding communities from SFO is by taking a shuttle. Several companies run these shuttles. Click through to learn more about my experiences, the pros & cons and recommendations for top shuttle companies.
Learn More: SFO Shuttles to San Francisco
Learn More: Shuttle Options for Other Cities in the Bay Area

Monterey Transportation
Many people love to visit Monterey during their stay in San Francisco. Here are some tips on how to get there and how to get around once you arrive. You will also find tips to select the right airport based on how long you are staying near Monterey.
Learn More: Transit To & Around Monterey
Top Hotels for Your Stay
Are you still searching for a hotel room for your visit? Here are some of my favorites based on price, amenities and neighborhood.
Make sure to also check out the great deals on TripAdvisor.com before you book. They offer deals for places in Union Square, Fisherman's Wharf, and other districts throughout the city. Click here to browse their current offers.
Other Great Pages to Check Out