San Francisco Taxis: Tips & Pricing for Taking an SF Cab

by Jill Loeffler  •

Updated: January 7, 2023
San Francisco taxis are a great way to easily get around the city. You can find them on the street or call ahead to have them pick you up when you are ready.

In addition to taxis, many people are also using services such as Uber and Lyft. All three are a better option than renting a car for your SF stay.
The best part about using all three is that you can quickly get from one place to the next. The downside is that it's more expensive than taking public transit.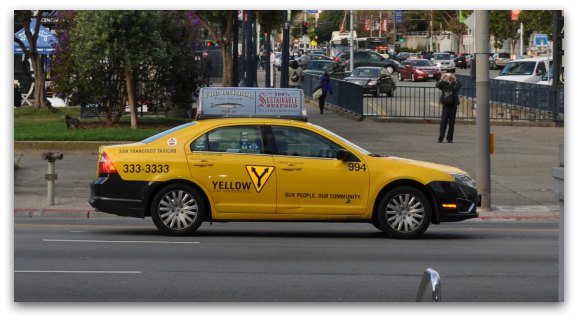 There are a few different SF taxi companies. Yellow Cab and Luxor Cab companies are the two largest.

Disclaimer: I receive a small commission from some of the links on this page.

Tips for Grabbing a Taxi in San Francisco

There are a few things that you can do in order to grab one of the hundreds of San Francisco taxis. The first step is in knowing if a taxi is available or not.
If the top 'TAXI' light on the hood of their car is on, then the taxi is open. Make sure it's the TAXI light and not the surrounding lights on their hood. Some taxis have lights surrounding their TAXI light and they will shut off just the TAXI portion of the light when they are full.
To hail a San Francisco taxi, make sure that you are far enough out for them to see you. The idea is not to just leave your hand up, but to try to engage with the driver to let them know you are seeking a San Francisco cab.
I see it time and time again where people just have their hand up and aren't paying attention. They then get frustrated that the taxi doesn't stop. Think about the fact that you are trying to flag them down, not that you are raising your hand to ask a question.
Sometimes you will also notice that a taxi will see you, but they won't stop. This will happen from time to time. The reason or this is that they may have answered a call to pick someone up or they are heading back to return their car. Either way, this doesn't happen often, but don't be frustrated if it happens to you.
Once you grab a San Francisco taxi, make sure you give them the entire address or the nearest cross streets. Many cab drivers are very familiar with the city. However, the more information you provide to them, the better off you are in knowing you will get to the right place.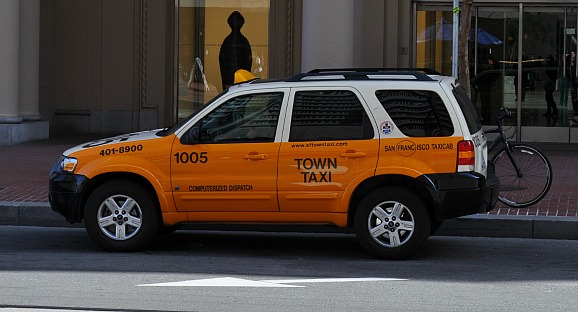 Not all of the San Francisco taxis have credit card machines, so it's best to have cash available to pay for your ride. If you don't have cash and need to use a credit card, confirm with the driver before you get in that they have a credit card machine and that it's working. Most have machines, but some of them do not have working machines.
You'll find cabs throughout the city. It's easiest to head to a busy intersection which is where more cabs look for customers. You can also stop by a hotel, if you can't find a taxi on your own, and they will get a cab for you.
San Francisco Taxis: Apps

Although it's still common to hail one of our San Francisco taxis down on the street, you can also simplify the process by using their app for pick up.
The one I use the most is for Yellow Cab. You can visit their site to learn more and download it today.
Uber or Lyft

Does San Francisco offer Uber or Lyft services? YES! Both are more common and more popular these days than San Francisco taxis.
I highly recommend downloading one or both of them before you arrive to make it easier to get around. I also find that they are often less expensive than cabs to get short distances in SF.
As their popularity increases though, sometimes you might have to wait a bit for a ride. It usually isn't long, but I've had to wait up to 10 minutes at times for a ride.
Is one better than the other? This is a tricky question. For me, I prefer Lyft as I like the user interface better and have had great experiences with them. However, many people drive for both companies, so I find there isn't much difference in their service as much these days.
I often will look at the fees for both to a certain destination and select the one that works best for my route.
Top SF Hotels

Tips for Grabbing a Taxi at SFO

There are also a few tips for grabbing a taxi at the largest of the three airports in the Bay Area. Outside of each terminal, there is a designated spot where you can pick up a cab ride into the city.
The taxi stand is located on the same level as the baggage claim area. Follow the signs above the doors that lead outside and it will take you to the door that is right near the taxi stand.
Once you head outside, you'll see the yellow painted post that says taxi. You'll have to walk across the non-public transportation pick up lanes to the center island. From there, you'll see the person managing the people that need one of the San Francisco taxis and the taxis lined up.
Either get in line or check in with the person managing the process. Don't just grab a cab because they will make you get out of the cab and wait for your turn in line.
Once you grab your taxi, tell the driver the location you want to go to including the address and any cross streets. There are a number of hotel chains in the city with a number of locations, so make sure you have all the details you need in order for the cab driver to get you to the correct location.
All cabs that pick-up customers at SFO are required to have a credit card machine. If you are using a credit card, just confirm with the driver that their machine works before you get in. I find that sometimes their machine is not working.
I recommend grabbing a San Francisco taxi at the airport if you have more than two people in your group. I also recommend it for those that don't want to hassle with the time of taking a shuttle or aren't too concerned with the additional cost.
>> More ways to get from SFO to Union Square
>> Additional options to get from SFO to Fisherman's Wharf
San Francisco Taxi Pricing

The fares for San Francisco taxis are standard for every company. The fee starts at $4.15 for the first 1/5 of a mile. Each additional 1/5 of a mile is an additional $0.65.
There is also a charge for waiting in traffic. The cost is $0.65 for each minute of waiting in traffic.
There is an additional $5 surcharge for all taxis that pick-up passengers at SFO. This surcharge is passed along to you, the passenger. They will add it to the cost once you arrive at your destination.
Estimated Trip Costs for San Francisco Taxis

Here are some estimated trip costs to and from SFO and in and around the city. These amounts exclude tips. Fares will vary slightly if you run into traffic along the way:
It's about $20 to $25 to get from Union Square to Fisherman's Wharf
It's about $45 to $65 to get from SFO to Union Square or downtown San Francisco, more about getting between the two here
It's about $50 to $70 to get from SFO to Fisherman's Wharf and Pier 39 San Francisco, more about getting between these two destinations
It's common to tip cab drivers about 15% to 20% of the fare. I do not tip on the $5 service fee that is added for all trips from SFO.
Costs in and around the city are usually anywhere from $15 to $25. If you are heading to an area a little further out but still in the city, then you might have a fare of around $30.
Overall, there are a number of San Francisco taxis available to help you get around the city. It's a fast and easy San Francisco public transportation option.
Additional Taxi Rates for Longer Trips & Tolls

If you plan to take one of our San Francisco taxis more than 15 miles outside the city, plan for an additional fee. All of them will charge 150% of the metered rate.
The 15 miles does not include those within SF. If the drive in SF is 5 miles and the drive outside of SF is just 10 miles, you will not have to pay the additional fee. Trips between SF and SFO are also not charged this additional fee.
If your taxi driver pays a fee to cross a bridge, that fee will also be passed on to you.
Traveling with Kids in San Francisco Taxis

Do kids need to be in a car or baby seat when riding in a taxi in San Francisco? Yes, by law, they do need to be in a car seat. The problem is that most cab companies don't offer this option.
California Law - Vehicle Code Section 27360 V.C. Section 27360
This is the official write up according to California law. 
Vehicle Code Section 27360 V.C. Section 27360 requires that children be properly secured in a child restraint (safety seat or booster), in the back seat, until they are at least eight years old. 
Exceptions: A child under age 8 who is at least 4'9" may be restrained in a safety belt if it fits properly.
Additional Information
So, you have a few options.
Some cabs in town will pick you up and let you ride with kids without a seat belt. However, this is illegal and not safe. They used to do this more often, but lately I've heard they are cracking down on this and I'd expect most will not allow this any longer.
You can also bring your own car seat, which is a huge pain and you'll have to pay as they wait for you to get settled.
The best option is to book a reservation in advance with a cab company that specializes in offering this service.

The one I've found that seems to be the best is SFO Car Seat Taxi Cab. They will have the right car seat available for you upon your arrival with a reservation. The downside to use them is that they do cost more, plus you will have an additional fee for the car seat.
However, it's a safer way to travel than to risk driving with kids without proper car seats.
Personally, I would recommend using public transit including the buses or BART when traveling with kids. It's a much less expensive and easier option than having to worry about finding car seats or paying a lot extra for them.
BART runs between SF and SFO several times a day. You will also find great public transit in and around San Francisco. Some bus routes run 24 hours a day.
Best San Francisco Events by Month

Comments? Questions? Suggestions?
I would love for you to join me in my private Facebook group! 
It's a great place to interact with me and others who know the area well.
You can ask questions, get advice for your upcoming stay, and then share your photos and advice with others when you return home. It's a great community and the fastest way to get answers to those nagging questions about your visit!