San Francisco Airport to Fisherman's Wharf and Pier 39


by Jill Loeffler  •

Published: July 16, 2022
Are you staying in Fisherman's Wharf and looking for the best way to get there from San Francisco International Airport (SFO)?
Then you are in luck because there are so many ways to get into The City by The Bay! Some of these include taking the train (Bay Area Rapid Transit, called BART), and then you can transfer to a local bus or street car.
You can take a taxi or use a ride-sharing service. You can also look at shared ride vans, rent a car, or hire a private car.
Each option has its pros and cons, including how much time they take, how much they cost, and how close they get you to your Fisherman's Wharf hotel.
My guide helps you understand all of the airport transfer options. I've also outlined a few additional things to consider before deciding.
Quick Look at Fare Estimates and Time to Get to Your Destination

Rideshare: $45 to $65 before tip, ~35 minutes
Taxi: $45 to $65 before tip, ~35 minutes
BART + Muni: $13 per person, ~ 1 hour
Private Transfer (Car Service or Limo): $75+ depending on the level of service requested, ~35 minutes
Rental Car: $50 to $100 per day for car rental, $35 to $70 a day for parking, ~35 minutes
Shared Shuttle Van: Not currently being offered
Rideshare Service: Uber/Lyft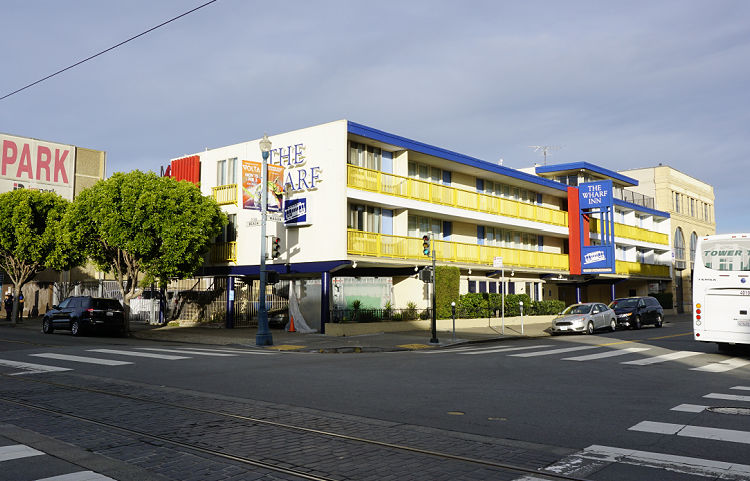 The most popular option right now is using a rideshare service such as Uber or Lyft. That is because they are easy, fast, and will take you to the front door of your hotel in Fisherman's Wharf.
Even if you haven't tried them before, you are going to love them. It is as simple as can be since you can quickly download their app on your smartphone. Once you are ready, you request a car through the app. It will then find a driver nearby.
Just be sure to know that these are local people who are driving their own cars. They are not taxi drivers, so be prepared for that.
The app will show you how long it will be before the car arrives, the driver's name, and the car's make and model. You will see a photo or graphic of it, so even if you aren't use to the car, you can figure it out when it arrives to pick you up.
The cost will vary based on what time of day you arrive. They typically include surge pricing during rush hour and when they are extra busy such as on rainy days.
You can expect to pay anywhere from $45 to $65 for the ride.
Note: This is before a tip. 
Of course, only tip if you receive a clean car and good service. There is no requirement to tip if you aren't treated well or the car is dirty. However, I've almost never had a bad driver or a dirty car.
You will also be charged $2 at the end of your ride, as SFO requires all drivers to pay this fee before they leave the airport. They then pass this on to you.
The great thing is that you can see what the estimated cost will be before you book your ride. You can download both apps and compare them against each other to see which is a better deal.
The prices are usually similar, but sometimes one has a better price than the other.
>> Tips to get around San Francisco from Fisherman's Wharf
How Long Does the Ride Take

The ride from SFO to Fisherman's Wharf hotels varies based on your arrival time. If you arrive outside of rush hour, it will usually take about 25 to 35 minutes.
During rush hour, you can expect it to take anywhere from 30 minutes to an hour. The evening commute has the heaviest traffic, so expect your ride to take longer then.
Domestic Arrivals: Where to Pick Up Your Rideshare at SFO

The rideshare services have their own pick-up spot. It is NOT right outside the door at arrivals. It is on the top floor (Level 5) of the Domestic Airport Parking Garage across the street from the terminal.
Follow the signs to get to the Domestic Parking. Take the elevator to Level 5. Follow the signs when you exit the elevator to your pick-up spot.
To get here, it can take anywhere from 15 to 20 minutes, so wait to request your ride until you find the pickup spot. The average wait time for a ride here is less than 10 minutes.
By waiting until you arrive, the app will find your exact location, and you know your car will pick you up in the right location.
Each terminal has its own pickup spot in the garage.
Terminal 1 - B & C
Terminal 2 - D
Terminal 3 - E, F, and F/G
You don't have to worry about this too much as the signs in each terminal will take you to the right location.
Make sure you follow the "Ride App Pickup" signs and not the "Rideshare Vans" signs. The second is for the shared shuttles, not for Uber/Lyft.
International Arrivals: Where to Pick Up Your Rideshare at SFO

If you are arriving from an international destination, your process is a bit easier.
Simply head to the Departures/Ticketing Level.
From here, head outside to the island and find the "Ride App Pick Up" sign. It's between zones 14 and 17.
Disclaimer: I receive a small commission from some of the links on this page.

Fun Things to Do in Fisherman's Wharf
Taxi from SFO to Fisherman's Wharf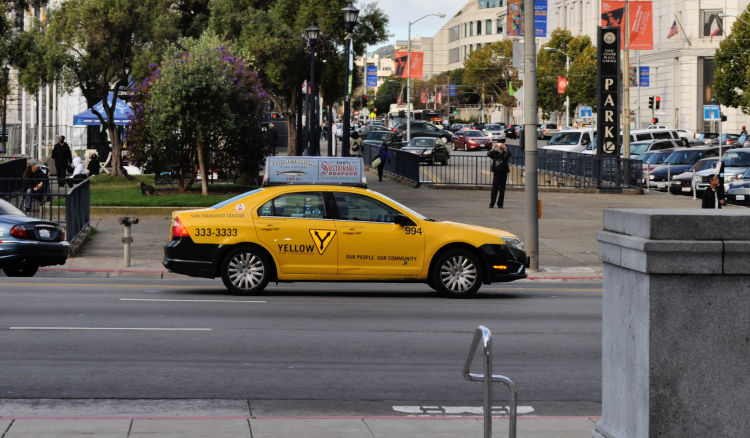 You can also take a taxi from the airport in San Francisco to Fisherman's Wharf.
The upside to this option is that you will have a more experienced driver than those driving the rideshare services (in most cases). They drive professional cars, so you know what you'll get from this service.
The downside is that they don't offer a set price, so you'll find out the price when you arrive at your hotel in Fisherman's Wharf. In most cases, the price will be very similar to the price for the rideshare services.
Another upside is that they are easier to get at SFO. From the arrivals level, you simply head outside and follow the signs to the taxi stand. You'll jump in line and get your cab once you reach the front of the line.
You won't need to worry about finding the location where your car will pick you up. You also won't have to walk as far to the pickup location.
>> More information about taking a taxi around San Francisco
BART + San Francisco Muni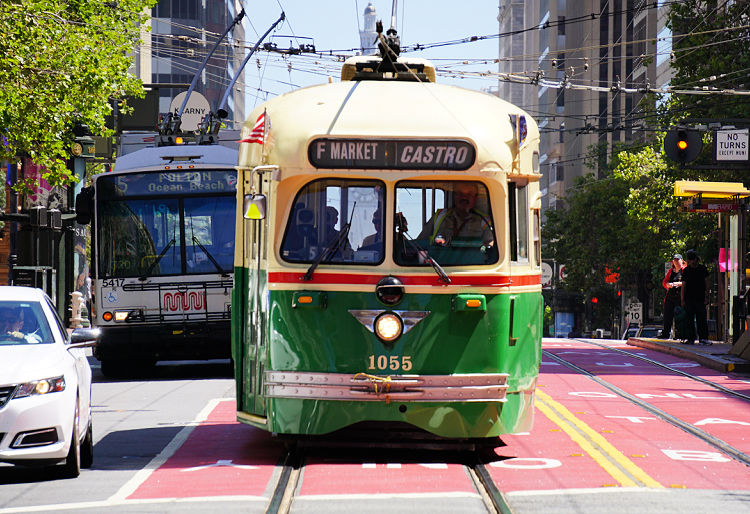 Public transportation is also an option. Does BART go all the way to Fisherman's Wharf? It doesn't. To use this option, you'll need to take BART to downtown San Francisco and then transfer to a local SF Muni bus or streetcar.
To get to Fisherman's Wharf, you'll first head to the SFO BART terminal inside the San Francisco airport.
You will find it in the International Terminal on the G Gates side.
You can either walk here by following the airport signs or take SFO's free AirTrain from any terminal.
You can buy your ticket at any of the BART ticket kiosks. You can also buy a Clipper Card and add money to it for your ride. If you are only visiting SF, then I don't recommend buying the Clipper Card.
Just buy a single ride ticket for your BART ride and use the Muni app (the SF public transportation system) to buy a passport or tickets to get around San Francisco on public transit. Read this page to learn more.
Once you arrive in San Francisco, you will need to transfer to a local bus or streetcar.
When you buy your ticket, the electronic BART ticket kiosks will ask you which station you are leaving and which station you will exit. It's important to pick the right one as the gates will not open on the other end if you choose one station and then try to exit at a different one.
Consider the following two options before you arrive. I've included details on what to expect when you take them and which station you'll exit when you reach San Francisco.
>> More about getting around San Francisco
BART + F Streetcar

The first option is the most fun if you are carrying only a minimal amount of luggage. The first step is to take BART to the Embarcadero Station.
From here, you will exit and find the corner of Market and Main. Carefully walk to the small island in the middle of the street with the yellow awnings. This is where you will pick up the streetcar to Fisherman's Wharf.
The driver may not let you on if you have too much luggage. This is only an option for those traveling light with a carry-on or backpack.
The BART ticket from SFO to the Embarcadero is $10 per person. The cost to ride the streetcar (unless you have a Muni passport) is $3 per person.
Make sure you have the exact amount for the fair for the streetcar as they don't offer change (you will get Muni credits on a flimsy paper card that you can use on any Muni transit option).
The total is $13 per person.
This option takes about an hour.
>> Learn more about taking the San Francisco streetcars
BART + 8 Bus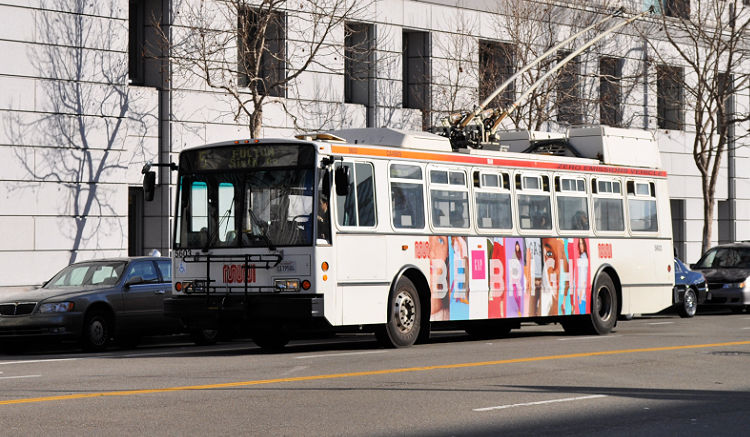 The second option is to take BART to the Montgomery Street Station. From here, you will transfer to the 8.
After you exit the train station, you'll walk north about two blocks to Kearny and Sutter Streets. This is where you will pick up the 8. Ask the driver to confirm that you are heading toward your destination.
The cost is the same as above: $10 for the train and $3 for the bus.
You will also want to make sure you are traveling light for this option. There will be a little more flexibility with this one, but they don't like huge pieces of luggage on the buses as they do get crowded.
This option also takes about an hour.
More Ideas to Help You Plan Your Stay in Fisherman's Wharf
Private Airport Transfers

There are also private car and limo services. This is a great option if you are arriving for a business meeting or your budget allows for a little more luxury.
The two options are Execucar and Blackcar. Both are highly rated town car service companies.
Your driver will meet you in arrivals too, so you don't have to worry about trying to find them.
San Francisco Rental Cars

I don't recommend this option for anyone that plans to only visit San Francisco. Parking is really expensive and a bit of a hassle in the city. It's just one more thing you'll need to think about while trying to enjoy your stay.
However, if you do need a car during your stay, you'll find quite a few options at the SFO Rental Car Center. I recommend booking in advance, as there is a car shortage sometimes.
You will find all of the major car rental companies here, including Avis, Hertz, and Budget.
This option is by far the most expensive but will allow you the freedom to drive straight to your hotel.
>> Visit this page to learn more about car rentals in SF and a few things to consider before you rent one
Shared Airport Shuttle Vans

Right now, all of the shared airport shuttle vans are operating as private transfers.
I'm not sure when this will change, but I'll update this section once these are offered as shared shuttle vans.
Other Things to Consider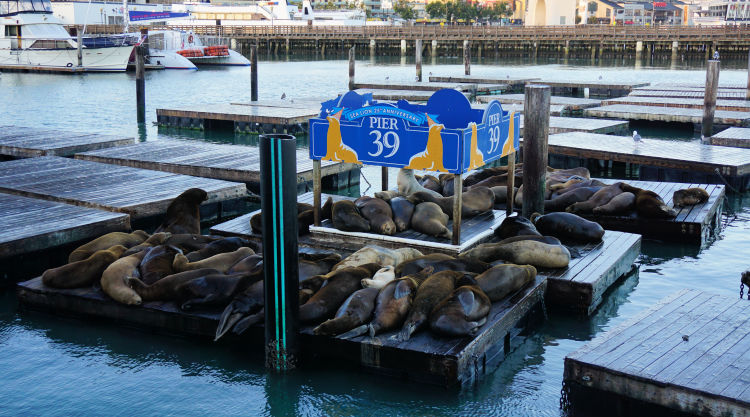 Here are a few additional things to consider when traveling from San Francisco airport to your hotel.
Traveling with Infants or Toddlers with Car Seats

For those of you traveling with infants or toddlers, California State law requires that they ride in a car seat.
Rideshare services do not offer this option. If you have your own, they may allow you to set it up, but most are working on a per-ride basis, so they have the right to refuse your ride if they don't know if advance.
Your best bet is to contact either a taxi company or private car service ahead of time. Most allow you to rent car seats. This way, they will arrive with the proper equipment, so you know the ride is safe.
Infants and toddlers are also allowed to ride all public transit without being in a car seat.
San Francisco Rush Hour Traffic

I mentioned this a couple of times above, but wanted to add a few more details.
The morning traffic between the San Francisco airport and the city is usually between 6:30 am to 9 am. If you arrive between these hours, anticipate that it will take you a bit more time to get to your hotel and you will need to pay a little more.
The evening traffic starts at around 4 pm and lasts until around 6:30 pm. The evening rush hour is worse than the morning in this area of town.
At times, it might take up to an hour to reach your hotel, and it will cost more.
Early Morning or Late Night Arrivals

If you are arriving in the early morning or late night hours, I recommend skipping the public transit options. They do not run 24 hours a day, and it's more of a hassle trying to get from the San Francisco Airport into the city.
If you need transport late night, then try a rideshare service or book a car ahead of time.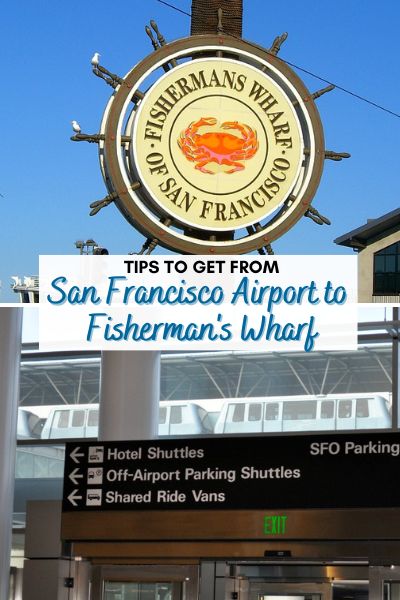 Comments? Questions? Suggestions?
I would love for you to join me in my private Facebook group! 
It's a great place to interact with me and others who know the area well.
You can ask questions, get advice for your upcoming stay, and then share your photos and advice with others when you return home. It's a great community and the fastest way to get answers to those nagging questions about your visit!