San Francisco Museums
20 Top Art, Science, History and Unique Museums in SF
What are the top San Francisco museums to visit? My list of the top 20 includes those focused on art, photography, history, and science. You will also find fun kid-friendly, free, and unique finds on my list. The range and quality of these SF attractions is the reason why so many visitors and locals love them.
Top picks include the California Academy of Sciences, the Exploratorium and the SF Museum of Modern Art. Other highlights include the Asian Art Museum, the Aquarium of the Bay and the Legion of Honor.
Several of them offer free admission days where you can see all of their permanent collections for free. You will also find more than a dozen that offer free admission all of the time. While you are here, don't miss out on some of the amazing art and other special exhibits on display for a limited time.
The beautiful jade display at the Asian Art Museum in SF's Civic Center District
Important Notes About SF Museums
Ice Cream Museum: This is a pop-up museum that will only call San Francisco home until early January 13, 2020. They have also extended their stay a few times, so stay tuned for updates.


Asian Art Musem: They are undergoing a major renovation. The musem is still open, but parts of it are closed on and off as they progress with their work.
1. California Academy of Sciences
My list of top San Francisco museums starts with our most visited, the California Academy of Sciences. With just one ticket, you can see the four-story Osher Rainforest, Steinhart Aquarium, Morrison Planetarium, and the Kimball Natural History Museum. Yes, all four are under one roof!
Some of the other really cool things about this museum in San Francisco is the rare white alligator (Claude), the Earthquake exhibit, and the living green roof. They also offer behind the scenes tours and have a fun 21+ Nightlife event most Thursday nights.
You will find it on the eastern end of Golden Gate Park.
>> Pick up skip the line tickets for your visit
>> Find a calendar of upcoming free days here and at all SF museums
2. Exploratorium
The next on my list of top San Francisco museums is the Exploratorium. This family and kid-friendly attraction is a science and human perception museum. Inside, you will learn about everything from how cells work to how we perceive lights and sounds.
This hands-on museum along the Embarcadero offers hours of fun for the entire family. Some of my favorites include the Tinkerville where you can see how a clock works, the magic of magnets, and discover how electricity is made.
If you are visiting with little ones, make sure to check out the Explainer Station which will help them learn all about living systems. Also, spend a little time watching their Tornado machine.
You will find this museum in San Francisco at Pier 15 and 17.
>> Find tickets to the Exploratorium
>> Discover a list of all top San Francisco kids museums
3. San Francisco Museum of Modern Art
Another one of our most popular San Francisco museums is the SF Museum of Modern Art also referred to as the SF MOMA. Reopened in 2016, this amazing space includes four permanent galleries and a huge display of temporary exhibits.
This is where you can see pieces from well known artists such as Henri Matisse, Georgia O'Keeffe, and Pablo Picasso. Other modern artists with pieces on display here include Diego Rivera, Clyfford Still. and Andy Warhol.
It's one of our top art museums that is in the South of Market (SOMA) district nearby several other top San Francisco museums.
>> Find a schedule of upcoming exhibits here and at all top museums in SF
4. Asian Art Museum
One of my personal favorites is the Asian Art Museum. This gorgeous museum features unique works from countries such as China, Korea and Japan. You will also find intricate pieces for other Asian countries such as Indonesia, Malaysia, and Thailand.
On display, you will find more than 2,000 pieces in their permanent exhibit space. You will also find pieces as old as 221 BC in their China exhibit.
Make sure to ask about their traveling exhibits on the day of your visit. They bring in some amazing displays with pieces you will not see anywhere else.
The SF Asian Art Museum is in the Civic Center district near City Hall and the Bill Graham Civic Auditorium.
>> Pick up advanced tickets to the SF Asian Art Museum
5. Aquarium of the Bay
Watch the fish and other animals of the SF Bay swim around you in the tunnels at the Aquarium of the Bay. This San Francisco museum is a little different as it's exhibits feature live animals and plants from the SF Bay.
Located on Pier 39, this popular Fisherman's Wharf attraction is home to more than 20,000 species. Their two aquarium tunnels are the most popular and house more than 700,000 gallons of water!
Another fun find here is the giant Pacific Octopus. He doesn't like to sit still, so you get the chance to see him from every angle. My favorite exhibit here is where the jellyfish live. I could watch them float around peacefully for hours!
The Aquarium of the Bay is open 364 days a year.
6. de Young Fine Arts Museum
San Francisco is home to two spectacular fine arts museums. The first is the de Young Museum in Golden Gate Park. It features fine arts from the Americas, Africa and Asia.
Works here range from pre-Columbian America up to the present. They also feature several traveling art exhibits including past shows such as Teotihuacan: City of Water, City of Fire; Maori Portraits: Gottfried Lindauer's New Zealand; and Beyond the Surface: Worldwide Embroidery Traditions.
The de Young Museum also features an observatory tower that is free to visit. Through its windows, you can see from the Bay Bridge to the Golden Gate Bridge to the Pacific Ocean. You will find this museum in Golden Gate Park.
7. Legion of Honor
The sister museum to the de Young is the Legion of Honor. This fine arts museum in San Francisco houses ancient pieces as well as art from European countries. Find sculptures by Auguste Rodin as well as a couple of works from Picasso and Claude Monet.
This museum is in Land's End in a mansion that is a replica of a famous site in Paris, the Palais de la Legion d'Honneur. Your visit starts before you even step inside with a chance to take a close up look of a cast of Rodin's The Thinker statue.
The cool thing about these two San Francisco museums is that you can visit both the Legion of Honor and the de Young on a single ticket in one day.
8. Cable Car Museum
One of our top free museums in San Francisco is the Cable Car museum. Everyone loves to climb the steep hills around SF on our historic cable cars and this is one of the San Francisco museums where you can learn more about them.
Discover the history and why they were originally built. You will also learn all about what happened to the majority of the lines after the 1906 earthquake and fire. You will get the chance to step inside one of these gems so you can take a closer look at how they operate.
What's the best part of the Cable Car Museum in San Francisco? It's the chance to watch the real cables in action as they pull cars loaded with people all around town.
You will find it on the northern side of the Nob Hill District.
>> Find additional history museums around SF
9. Cartoon Art
If you love cartoons and comic strips, then the next item on my list of the best San Francisco museums is for you! The Cartoon Art Museum sits in the heart of the Fisherman's Wharf district.
This carefully curated SF museum features original works of art from top cartoonists. See hand crafted works up close of comic strips such as Peanuts, Calvin & Hobbes, and Blondie.
In addition to their permanent collection, you can also check out their special exhibit area or sign your kids up for their cartooning workshops.
Nearby attractions include Ghirardelli Square, the Maritime Museum, Hyde Street Pier, and Aquatic Park.
10. Contemporary Jewish Museum
Another one of the San Francisco museums dedicated to an important topic is the Contemporary Jewish Museum. This facility is a non-collective, which means they don't have a permanent collection.
All of their exhibit space features traveling or temporary exhibits from top Jewish artists. You will see paintings, sculptures and photography.
Other exhibits teach all about the history of the culture or the religious practices. One of the areas is also set aside for audio or sound exhibits.
11. Walt Disney Museum
Discover the life and career of Walt Disney at this location in the Presidio. The Walt Disney Museum walks through Walt's life from his early years up until the time of his death.
It shows you his path to the creation of Micky Mouse as well as original sketches from the years early in his career. The exhibits walk you through what it takes to create a full comic including first drafts and the colors used to bring them to life.
One section focuses on the time when he testified in front of the House Un-American Committee and another area shows small snippets of his top cartoons.
You will also find some great traveling exhibits and full length films showing in their theater.
12. GLBT
GLBT stands for Gay, Lesbian, Bisexual, and Transgender. This San Francisco museum in the Castro district dedicates its exhibit space to the struggles and triumphs of this community.
It walks you through some of the most important times in history. It also focuses quite a bit of its areas to the stories in the SF Bay Area.
You can learn more about Harvey Milk, the "Mayor of the Castro" that was the first openly gay SF City Supervisor. It also has a small area dedicated to African American members of the GLBT community and their unique struggles.
13. Beat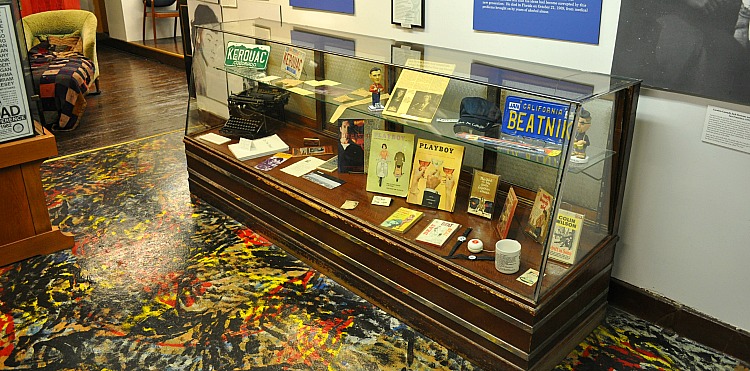 Another one of our top San Francisco museums is the Beat Museum in North Beach. The Beat or Beatnik Generation called this district home in the late 1950s and early 60s.
It's one of the best places to learn more about the artists in this generation including Jack Kerouac, Neal Cassady, and Lawrence Ferlinghetti. You can see the car used in the film adaptation of Kerouac's book, On the Road.
Other top exhibits include more information on the women in the Beat Generation as well as original works from its most well known artists. You can also learn more about what happened at Six Gallery when Allen Ginsberg first read his controversial piece called Howl to a live audience.
Other top Beatnik Generations close by include City Lights Bookstore and the Vesuvio Cafe.
14. Conservatory of Flowers
The Conservatory of Flowers is another one of the must see San Francisco museums. It features five galleries with rare and exotic plants from around the world.
You will find orchids, water lilies and lotus plants. Two of my favorites are the carnivorous plants in the Aquatics Gallery and the Corpse Flower that only blooms every 7 to 10 years (last bloomed in June 2017).
You will find the conservatory inside a historic greenhouse that was originally built in 1879. It's on the eastern side of Golden Gate Park near the California Academy of Sciences, the de Young, and the Japanese Tea Garden.
15. Museum of African Diaspora
Another one of the newer San Francisco museums is the Museum of African Diaspora (MOAD). It's designed to help visitors learn all about the historic and current African Diaspora through its interactive exhibits.
Its permanent galleries include the Celebration Circle, the Freedom Gallery and the Slave Gallery. You will also find traveling exhibits in its third floor gallery space.
This attraction is right around the corner from the SF MOMA and other San Francisco museums in the South of Market District.
16. Madame Tussauds
Step inside Madame Tussauds to check out their world-renowned wax statues. This location opened in 2014 as a replacement for our outdated wax museum in Fisherman's Wharf.
This lively Wharf attraction features sports figures, political leaders, and San Francisco icons. Some of the most popular statues include Al Capone sitting in his cell in Alcatraz, the Beatles walking across Abbey Road, and local sports great Joe Montana.
17. S.S. Jeremiah O'Brien
If you love military history, you are going to love the next item on my list of top San Francisco museums. The S.S. Jeremiah O'Brien is a Liberty ships built for WWII.
Climb aboard to see what it was like to live and work on board this military vessel. Open areas of the ship include the living quarters, the officer's mess hall, and the main deck. You will also learn more about this and other Liberty ships' operations during the war.
You will find this vessel in Fisherman's Wharf on Pier 45.
18. Ripley's Believe It or Not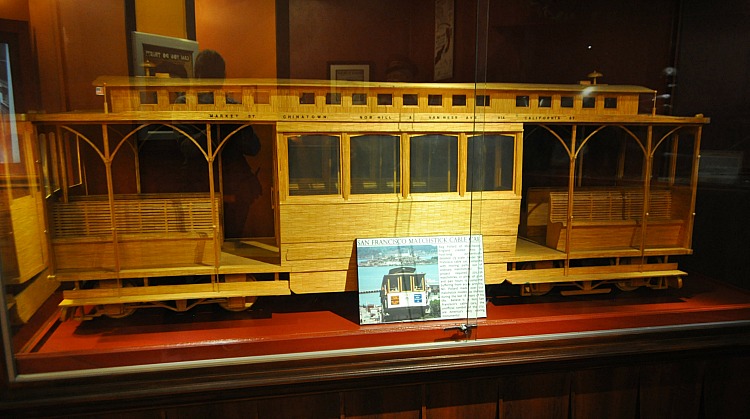 Another fun and quirky museum in San Francisco is Ripley's Believe It or Not. The attraction features artifacts and "believe it or not" stories about Ripley's travels throughout the world.
Top items include a model of the Golden Gate Bridge made from toothpicks, a cable car made from matchsticks, and other unusual pieces.
This is another one of the San Francisco museums in Fisherman's Wharf along Jefferson Street.
19. USS Pampanito
Sitting next to the S.S. Jeremiah O'Brien is another military vessel, the USS Pampanito. This WWII Balao Class Fleet Submarine also saw quite a bit of action during the war.
It's a tight squeeze inside this museum in San Francisco, but you get to see its operation center, living quarters, and even the area where they loaded the torpedoes.
It's also on Pier 45 in Fisherman's Wharf.
20. Children's Creativity Museum
One of our top kid's museums in San Francisco is the Children's Creativity Museum. It's a great place for your little ones to explore, learn and create.
Top hands-on areas include the Animation Studio, Imagination Lab, and the Spiral Gallery. You will find it in the South of Market District.
>> Find additional fun things to do for the entire family
>> Find additional toddler-friendly activities in SF
Additional San Francisco Museums to Visit
We have so many cool San Francisco museums that it was tough to choose the top 20. Here are some additional great spaces with interesting exhibits to check out during your stay.
Top San Francisco Museums Discount Passes
There is a way to save on tickets to San Francisco museums. If you plan to visit a variety of museums, then I recommend checking out these recommended discount passes. They offer you admission to certain museums and attractions in San Francisco at up to 50% off.
City Pass
The City Pass discount card is the most popular. It includes admission to the California Academy of Sciences, the Aquarium of the Bay, and a ticket for a 60-minute bay cruise. You also have the option to visit either the Exploratorium or the SF Museum of Modern Art.
Another reason it's so popular is that it includes a multi-day Muni pass where you can ride the buses, light rail trains or the cable cars as much as you want.
The pass current offers a discount up to 43% off vs. purchasing all of these tickets separately.
>> Visit the City Pass site for details and to find more ticketing information
Go City
The Go City is another popular discount pass for San Francisco museums. This one offers admission to more than 25 bay area attractions.
With this pass, you can visit the California Academy of Sciences, the Exploratorium, Madame Tussauds Wax Museum, and the Aquarium of the Bay. It also includes access to the San Francisco Dungeon, the Walt Disney Museum, and SF MOMA.
Their All-Inclusive pass allows you to purchase based on how many days you want to use it. The options include one, two, three, and five day passes.
You can also check out their Build Your Own and Explorer passes.
>> Visit the their site for more details
SF Museums by Neighborhood
Neighborhood
Museums
The Castro
GLBT
Chinatown
Chinese Historical Society

Civic Center
& Hayes Valley
Asian Art
International Art Museum of America
The Embarcadero
The Exploratorium | Railway & Streetcar
Fisherman's
Wharf

Aquarium of the Bay | Boudin Bakery
Hyde Street Pier | Maritime
SS Jeremiah O'Brien | Ripley's Believe It or Not
USS Pampanito SS-383

Golden Gate
Park

Botanical Gardens
California Academy of Sciences
Conservatory of Flowers | de Young


Japantown
National Japanese American Historical Society

Marina
Italian American
Mexican | The Octagon House

Nob Hill
Cable Car
North Beach
Beat
Pacific Heights
Fire | Haas Lilienthal House

Presidio
Disney
South of Market (SOMA)
Cartoon Art | California Historical Society
Children's Creativity Museum | Contemporary Jewish
Museum of the African Diaspora
Museum of Modern Art (SFMOMA)
Museum of Performance + Design
Yerba Buena
Union Square & Financial District

Wells Fargo History

Other SF
Districts

Craft & Design (Dogpatch)
Legion of Honor (Lands End)
Randall Museum (Buena Vista)

Beyond SF
Monterey CA Museums
Getting to the San Francisco Museums
Hop On/Hop Off Tour: If you want to save a little time, one of the easiest ways to get around to the San Francisco museums is by taking the Hop On/Hop Off tour. You can buy a one or two day pass, which will get you around the city all day. There are several stops throughout the city and most of the major ones are less than a block or two from each of the stops. Learn more about the Hop On/Hop Off Tour and find out how to book your ticket today.
Public Transportation: It is easy to take public transportation here. You can choose from the buses, trains, cable cars or light rails. There are several main bus lines that will get you to and from the main tourist attractions. In each of the San Francisco museums sections, you will find the right bus to take for that one. In addition, visit the SF public transportation page for pricing and other tips on riding it while you are here.
San Francisco Taxis: A taxi is always the fastest and easiest way to get around, but also one of the most expensive. If you only need to go a few miles, the cost is not that bad. However, if you need to get across town, a ride might set you back $20 or more. It is a great option if you missed your bus or need to get somewhere quickly. Read more about what to expect from SF taxis.
Drive on Your Own: While you might like to drive on your own, there is no reason to in San Francisco. It can be a frustrating experience as parking is hard to find or very expensive. Only a couple of the San Francisco museums offer free parking, so this will add to the cost of your trip. If you do decide to drive, make sure you know where you are going to park in advance -- so you don't spend the day looking for a spot for your car. Visit the San Francisco parking garages page for the locations of some large garages near popular museums and to get an estimate on what it will cost you to park for the day.
More Details on San Francisco Museums
Children's Creativity Museum
The Children's Creativity Museum is a place for kids to imagine and create. It includes several hands on areas including the Animation Studio, Innovation Lab and the Music Studio.
Summer Hours: Tuesday - Sunday, 10am to 4pm
School Year Hours: Wednesday - Sunday, 10am to 4pm
Location: 221 Fourth Street
Admission: $12.95 general admission, Free for kids under 2
---
Ripley's Believe It or Not
Ripley's Believe It or Not is a museum in the Fisherman's Wharf neighborhood. Here you can go on a self-guided interactive tour and see many believable or unbelievable exhibits. It's one of the strangest museums in the city.
Hours: 7am to 9pm - through Labor Day weekend
Location: 175 Jefferson Street
Admission: $23 for those 13 and older, $17 for everyone between 5 and 12
---
National Japanese American Historical Society
The National Japanese American Historical Society preserves and showcases important pieces of art and documents from the Japanese American community. Their display includes some permanent pieces and traveling exhibits featuring Japanese and Japanese American pieces.
Hours: Monday - Friday from 12pm to 5pm, 1st Saturday of the month from 12pm to 5pm
Location: 1684 Post Street
---
Museum of Performance + Design
This is one of the only museums dedicated to the performing arts. It recently moved to a new location in SF's SOMA district.
Hours: Temporarily closed, scheduled to reopen in April 2018
Location: 2200 Jerrold Avenue, Unit T.

---
Randall Museum
The Randall Museum offers an interactive experience for both youth and children. Its focus is on the cultures and environment of the bay area.
Hours: Tuesday - Saturday from 10am to 5pm
Location: 199 Museum Way
Admission: Admission is free, although donations are always accepted
---
Yerba Buena Center for the Arts
Another one of the non-collective San Francisco museums with no permanent collection, but an ever changing set of exhibits. It's not a traditional museum, but one that focuses on art, innovation and ideas within a social environment.
Hours: Tuesday, Wednesday and Friday - Sunday from 11am to 6pm, Thursday from 11am to 8pm
Location: 701 Mission Street
Admission: $10 general admission; 10% discount for seniors, students and teachers; free for children under 5 and military service members with ID
What else can I help you with as you plan your visits to our San Francisco museums?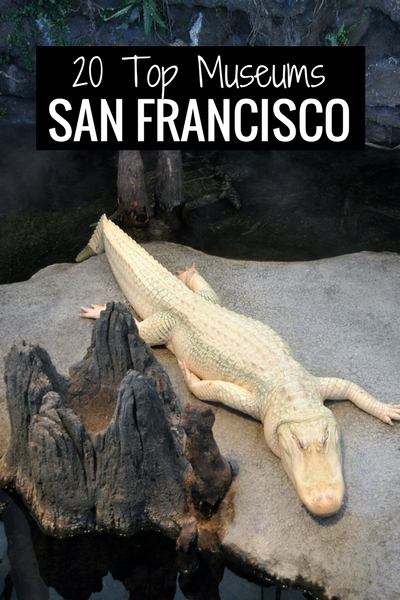 Hotel Recommendations for Your Stay