San Francisco Science Museum: What to Expect on Your Visit to the California Academy of Sciences

by Jill Loeffler  •

Updated: January 13, 2023
Everyone loves the City by the Bay's most visited San Francisco science museum, the California Academy of Sciences. If you only have the chance to visit one museum while you are here, this is the one to see!

This hands-on museum houses the Morrison Planetarium, which is one of the world's largest all-digital planetariums; the Osher Rainforest, a four-story beauty; the Steinhart Aquarium; and the Kimball Natural History Museum. You can visit all four of these with just one ticket to the museum.

Highlights for this San Francisco Museum

The California Academy of Sciences is open 365 days a year.

Ticket prices vary based on how busy it is on the day and time you plan to visit but are usually around $37 to $47 for adults. Plan in advance to get the best prices possible.
It's on the eastern end of Golden Gate Park.
You could spend anywhere from 2 to 5 hours here. I recommend setting aside at least 2 to 3 hours to cover as much as possible.
It's our most visited museum and is great for visitors of all ages.
Disclaimer: I receive a small commission from some of the links on this page.

Everything You Need to Plan Your Visit to the California Academy of Sciences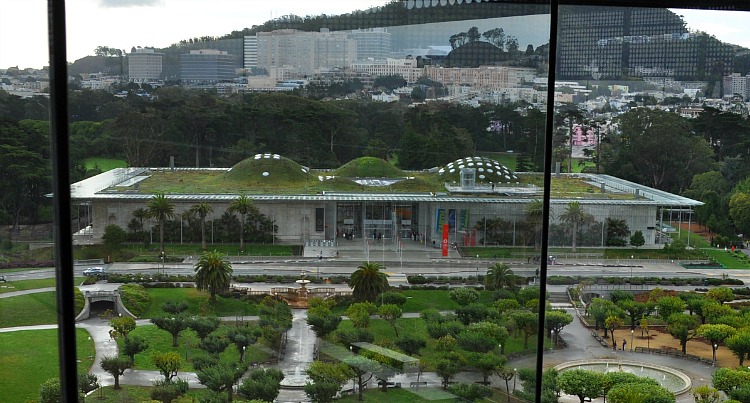 A view of the museum's living roof from the tower across the street in the de Young Museum
How much is admission to the California Academy of Sciences? Where can I find tickets? Do they offer skip the line tickets? What days are tickets still available? Find answers to all of these here.
When is it open? How much time does the California Academy of Sciences take? When is the best time to visit?
When is it free?
Do they offer a military discount? Is it admission included with any discount passes?
Can I take a tour behind the scenes?
Is the California Academy of Sciences good for adults? For toddlers?
What is there to see inside this museum? Where is the Steinhart Aquarium? What is the 4-Story Osher Rainforest? How can I get tickets to the Morrison Planetarium?
What is the California Academy of Sciences Nightlife? What is the dress code? 
Where in San Francisco is the museum building located? How do I get to it from BART? How do I get here from Fisherman's Wharf? From Union Square?
Where do you park for the California Academy of Sciences? How much is parking here? 
Can you bring food in? Is there food inside? Where can I grab a bite to eat nearby?
When did California Academy of Sciences open? When was this building built?
What else is there to do in Golden Gate Park?
Ticketing Details & Skip the Line Tickets

Tickets to this San Francisco science museum are pricey. However, they are well worth it!
Something you'll want to pay attention to is that they use a system where prices change depending on how busy it will be that day. On slower days, you will pay less. On busier days, you will pay more. Below is a range, so you can get an idea on what to expect.
Estimated Range Ticket Prices

$37.75 - $48 - Adult
$32.75 - $40.50 - Senior (ages 65+ with ID) 
$29.25 - $36.25 - Youth (ages 3-17) 
$32.75 - $40.50 - Student (ages 18+ with ID) 
FREE - Children 2 and under and Academy members
Click here to buy advanced tickets online today!

Opening Hours & When to Visit

Monday - Saturday: 9:30 am to 5 pm
Sunday: 11 am - 5 pm
Last entry is at 4 pm
Thursday Nightlife is from 6 - 10 pm
The California Academy of Sciences is now open 365 days a year!

How Long Should I Plan for My Visit?

A visit to the California Academy of Sciences can last anywhere from 2 to 5 hours. I recommend setting aside a minimum of 2 to 3 hours for your visit.
It includes 4 "museums" under one roof, so you really will get a full day of fun here. When I say "museums," it just means four different exhibit themes. They are all large and could be museums on their own, so they often promote them as if it's four museums in one.
You might spend an hour just in the Steinhart Aquarium. You might spend another hour in the Kimball Natural History Museum. The rainforest usually has a line and it might take you 10 to 15 minutes of waiting and then about 20 or more minutes to explore. 

Your time there will also depend on the timing of your tickets for the Morrison Planetarium. The tickets are set for a specific time, so the earlier you reserve them in advance, the more choices you will have on your visit here.

If you have enough time, you could spend your entire day inside this San Francisco science museum.

Best Time to Visit

Even though the California Academy of Sciences is wonderful to visit any time of the year, you will find these are the best times to visit.
Best Time of the Day: The best time to arrive is first thing in the morning. This is especially important if you are interested in getting a ticket to the planetarium. You will also find that traffic tends to die off in the afternoon, so on most days it starts to calm down around 2 p.m. If this is your first visit, head over in the morning. If this is a return visit, you may want to head over in the afternoon.
Best Days of the Week: Monday through Wednesday are usually the slowest days inside this San Francisco science museum. Many people visit on long weekends, so Thursday through Sunday tend to be a bit busier. 

Best Times of the Year: The best time of the year to visit is in the off season which is early November and then January through March. This is when you will get the best ticket prices and face the fewest crowds. 

Worst Times to Visit: The busiest times are on the weekends, especially holiday weekends. They only sell a certain amount of tickets each day, but this is when the tickets will be at peak prices and when the most people will be around during your visit.

Discounts

Military Discounts

The California Academy of Sciences also offers discounts for active duty military. Present your current ID or proof of service (i.e., VA card or DD-214) at the ticket window when you arrive for $3 off daytime admission.
This discount only applies to military personal and does not extend out to your family members.
These tickets are only available at the ticketing window.
Sustainable Transportation Discount
You can get $3 off your ticket price if you walk, bike, or take public transit to the Academy.
Discount Passes

You can also save on your admission through these San Francisco discount passes. The passes offer admission to a variety of museums and attractions throughout SF, so your overall cost for each one is quite a bit lower. 
There are two main San Francisco discount passes that are honored at the California Academy of Sciences. 
CityPass: This is the most popular pass. It offers admission to this San Francisco museum as well as the Aquarium of the Bay and the Exploratorium or the SF Museum of Modern Art. It also includes a 60-minute bay cruise as well as other discounts. The discount will save you up to 40%.

>> Visit the CityPass site to learn more and pick up your pass today

Go City: The second discount pass is Go City. This one includes tickets for more than 25 attractions, tours and museums. It allows you to mix and match options to select the right list of activities for your stay.

One of those options is this museum. Other options include the Aquarium of the Bay, the Hop On Hop Off Bus, the Exploratorium, the Zoo, and many others. It will save you up to 50% on buying the tickets individually.

This is perfect for those that love to fit in as much as possible in just a few days.

>> Visit their site to learn more about this discount pass

Behind the Scenes Tours

If you are looking for a more personalized experience, the San Francisco science museum also offers two "behind the scenes" tours. These tickets also allow you to skip the line when you arrive.
Both are small group tours. Each ticket also includes reserved seats to a show at the planetarium and express entry into the rainforest.
The first tour is the "Academy Tour" that takes you on a one-hour tour of the museum's lab. On this tour, you can also explore a collection of rare gems and learn more about the museum's history and scientists.

The second tour is the "Aquarium Tour". On this tour, you'll head behind the scenes and learn how the animals are cared for at the San Francisco science museum. This is also a one-hour tour with details on the aquarium's history and about the animals. 

Both are a great way to experience the museum in a slightly different way.

Who Should Visit the California Academy of Sciences?

Is the California Academy of Sciences Good for Adults? 

Even though the California Academy of Sciences sounds like it's only for kids, you will find that it's perfect for visitors of all ages. Adults will love the 4-story rainforest, the aquarium, and the Earthquake simulator. 
The Behind the Scenes tours are also very interesting as they dive into the science behind the scenes. It's great for kids, but I think it's even better for adults.
Adults will also love the planetarium shows too. Make sure to pick up your tickets as soon as you arrive.

Is it Good for Toddlers? 

Yes, this San Francisco science museum is perfect for toddlers. They love watching the rare white alligator, the penguins, and animals in the aquarium. They also love the butterflies flying freely all around the 4-story rainforest.
They won't appreciate the natural history museum or the living roof, but there are plenty of other things for them to explore and enjoy. With toddlers, I'd probably allow for just an hour or two unless they are really having an amazing time.
Toddlers are not able to see shows at the planetarium since they do not allow anyone under 4 to enter. These shows are best for those 6 and older. 

More Details on What You'll See Inside

Before you get started with your visit, I recommend picking up a map. You'll see several places near the entrance where you can pick one up. The museum is expansive, with many amazing exhibits, so this is the best way to make sure you visit everything.
Next to the maps, you will also find a 'What's Happening' brochure. This has the times and locations for all of the free activities and events going on in the museum each day. These two items will help you make the most out of your visit.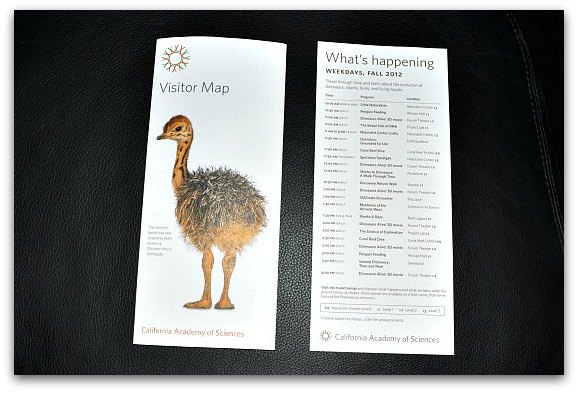 Steinhart Aquarium in San Francisco

The Steinhart Aquarium is another amazing experience inside this San Francisco science museum. You walk directly under the water tunnel - where you can take a seat and watch guys like this one swim right next to you.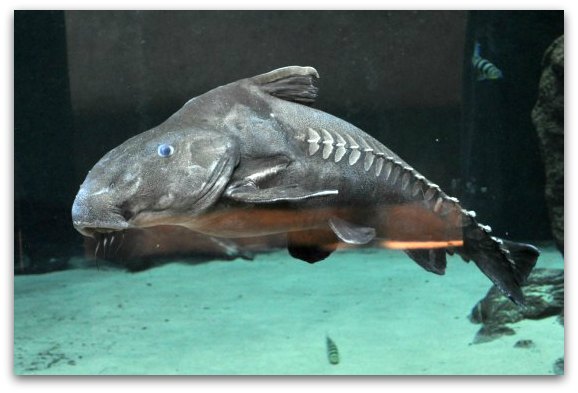 After you take a few minutes to rest, you can then head into the heart of the aquarium. Here you will find everything from jellyfish to water snakes.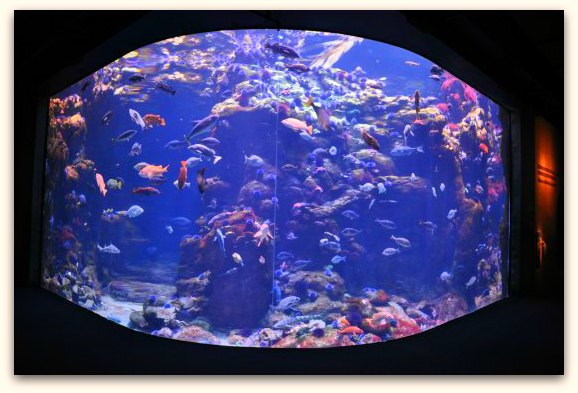 This is the first tank of fish you will see when you enter the Steinhart Aquarium SF. 

The aquarium houses more than 40,000 live animals including almost 9,000 species!

The jellyfish tank is another one of my personal favorites. There are colored lights below and the lights change periodically. This makes the jellyfish easy to watch as they float around their tank.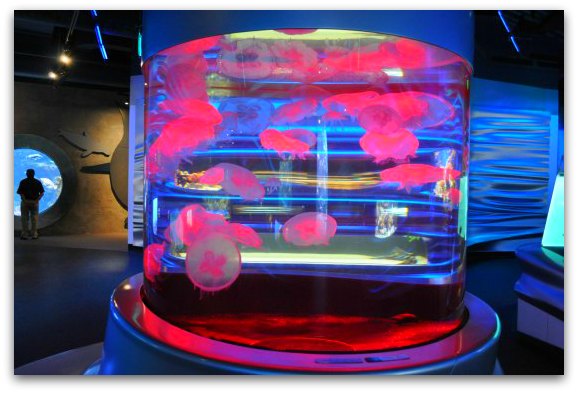 Rainforests of the World: Four-Story Osher Rainforest

I love starting my visit with a trip inside the Osher four-story rainforest. This large enclosure includes free flying butterflies and birds that live in different rainforests around the world. 
Some of the other creatures you'll see in the rainforest range from snakes to poisonous frogs. But don't worry - all the animals accept the birds and butterflies are kept in their own separate homes.
Your visit starts on the ground level. You will slowly make your way up the circular walkways to the top of the rainforest. Each level teaches you about the plants, animals and climates of a specific rainforest.

Here are just a few close ups I was able to get of the beautiful butterflies in the rainforest.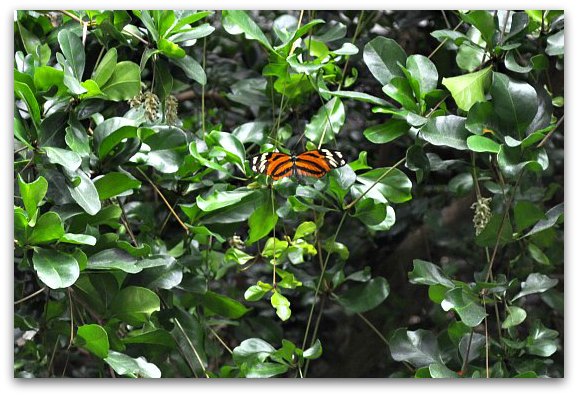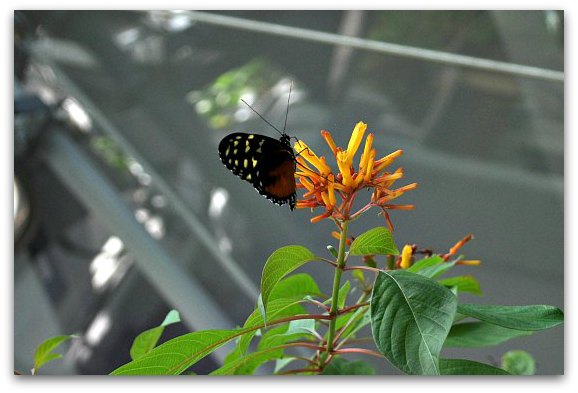 Once you reach the top level of the rainforest, you will be directed to the elevators and head down into the Steinhart Aquarium. But first - check for butterflies to make sure you don't accidently take any with you!

Morrison Planetarium

Another important stop in this San Francisco science museum is the Morrison Planetarium. As I mentioned at the beginning of the page, you have to reserve your tickets in advance.
The shows are free and popular, so you want to reserve your tickets as soon as you can.
All shows are on a high-tech 75-foot diameter screen. It's one of the best planetarium shows I've ever seen.

Note: These shows are not recommended for kids 6 and under. They do not allow anyone under 4 into the shows at all.

Kimball Natural History Museum

The next major exhibit in the California Academy of Sciences is the Kimball Natural History Museum. This area showcases more than 150 years of research by this museum.
Highlights include the Tusher African Hall, an 87-foot long blue whale skeleton, and the Foucault pendulum (a brass ball that weighs 235 pounds and hangs on a 30-foot long steel cable). 
Earthquake Exhibit

Another really cool exhibit in the California Academy of Sciences is the Earthquake Exhibit. Not only will you learn more about earthquakes, but you can also step into a shaking machine that simulates an earthquake. I hope it's the only time you feel what it's like to be in an earthquake.

A Few Things Not to Miss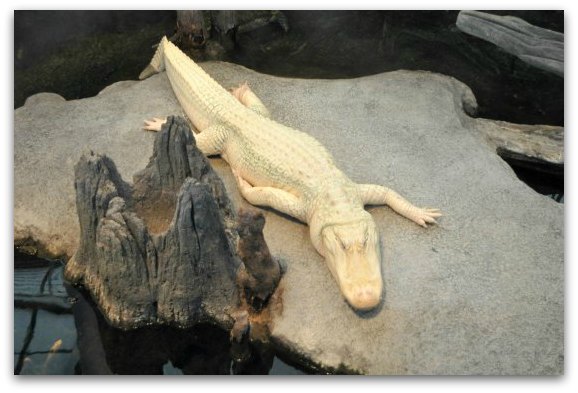 The rare white alligator called Claude
Twilight Zone: Deep Reefs Revealed exhibit
Gems and Minerals exhibit with more than 400 specimens
The feeding of the penguins at 10:30 a.m. and 3 p.m. daily
The Color of Life exhibit 
San Francisco Science Museum Green Roof 

This San Francisco science museum is amazing, and their living roof is another example of how this museum is unique. It not only keeps the Academy green; it also provides a habitat for local wildlife.
The San Francisco science museum's green roof is 2.3 acres large. It's home to more than 1.7 million plants. The living roof offers insulation to the museum which reduces electrical costs, it collects excess storm water, and creates more oxygen by transforming carbon dioxide.
You can get a great view of this part of the museum from a small lookout platform on the top of the building.

Insider's Secret: You can also get a full view of the California Academy of Science's living roof in the tower at the de Young Museum, which is right across the street. The tower is free to visit and is open during the de Young Museum hours.

Academy of Sciences Nightlife

This San Francisco science museum also hosts a 21+ Nightlife event. This event is held most Thursday nights from 6pm to 10pm. As you can imagine, this is another hot ticket and is popular for both locals and visitors.
I've had the chance to attend several times and they are really cool if you love science or learning about off-beat topics. Each Thursday night offers a different theme. Past themes include Fungus Among Us, Year of the Dog, and Nightlife Spotlight (which is the best of what the museum has to offer).
You can explore the museum, listen to live music, and mingle with other science lovers. You can also grab a drink or some food at the bar -- cash only. It starts at 6 pm and runs until 10 pm.
What is the Dress Code for their Nightlife Event?

There is no strict dress code for the California Academy of Science's Nightlife event. You will find most people in nice jeans and a dress shirt. You will also find many people in business casual dress including dresses or nice pants. 
It is chilly on this side of San Francisco most of the year, so bring along a jacket or a light sweater for the event. You will need it as you enter and leave. 
Getting to the California Academy of Sciences

The San Francisco Science Museum is located on the eastern side of Golden Gate Park. There are several options that will get you to here including public transportation and driving.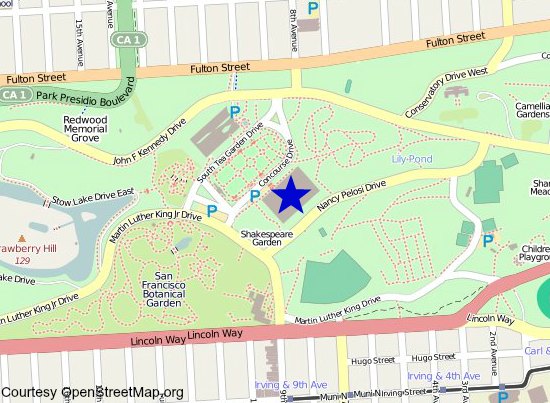 If you are taking public transportation, your best options are the N-Judah or 5-Fulton. Both drop you off just a few blocks from the museum entrance.

How to Get Here from BART

It's really easy to get here from BART. 
From the East Bay: If you are coming from the East Bay, take BART to the Montgomery Street Station. Here, you will transfer over to the N Light Rail Line of Muni. Take this all the way to the stop at 9th Avenue and Irving. This will drop you off south of Golden Gate Park in the Inner Sunset District. 
After you exit the train, walk north toward the park. Once you enter the park, you will be on Martin Luther King Jr. Drive. Take this to Music Concourse Drive and take a right. You will see the museum on your right.

The walk takes about 10 to 15 minutes.

From the Peninsula or South Bay: Take BART to the Glen Park Station. Here you will transfer to the 44 Bus at Bosworth and Diamond Streets.

Exit on 9th Avenue and Lincoln Way. You will then enter the park, walk along Martin Luther King Drive and take a right at Music Concourse Drive. You will then see this San Francisco science museum on your right.

How to Get Here from Fisherman's Wharf

This route includes two buses that will take you within blocks of this San Francisco museum. 
Bus #1: Pick up the 49 heading toward the Mission at the corner of North Point Street and Jones Street. Take this to the corner of Van Ness and McAllister.
Bus #2: You will then walk across McAllister Street to pick up the #5 Fulton (heading toward Ocean Beach) on the northwest corner of this intersection. 

Take this second bus to the stop at Fulton and 10th Avenue. You will then enter the park and walk until you reach John F. Kennedy Drive. Take a left on JFK Drive and then a right when you reach Music Concourse Drive. At this point, you should see the museum about a block away. There should also be signs at this intersection.

The walk takes less than 10 minutes from the bus stop. 

How to Get Here from Union Square

Head to the underground Powell Muni Station (at the end of the Cable Car turnaround). 
Jump on the N Light Rail and take it to the stop at 9th and Irving. Walk north into the park. Stay on the street you entered on until you see Music Concourse Drive. Take a right here and you will see the museum on your right about a block away.
This walk takes about 10 to 15 minutes.

California Academy of Sciences Parking

You have a few parking options. Both options fill up early in the morning, so make sure to arrive as early as you can for parking.
Street Parking: Some of the streets in and around the museum are car free. Street parking is available in certain places along Martin Luther King Jr. Drive and on Nancy Pelosi Drive. 
All of these are an easy walk to the museum, but it can be hard to find a spot. Also, parking is only for 3 to 4 hours in most of these spots. Make sure to pay attention to the signs as they could decrease the amount you can park here at any time.

Parking Garage: There is also a large parking garage under the museum. You can enter in two locations: 

On Fulton at 10th Avenue 
Music Concourse at MLK, Jr. Drive.
There are a few wheelchair accessible spots in this garage that are right next to the elevator.

How Much Does it Cost to Park?

Parking on the street is free.
The following are the rates to park in the garage:
$5 an hour on weekdays
$6 an hour on weekends
$29 for a full day on the weekdays, $33 for the full day on weekends
$17 flat fee after 5:30 pm
The garage opens at 7 am daily and closes at 7 pm Friday - Wednesday. It's open until 11 pm on Thursday, which is when the Nightlife event takes place.

Note: The California Academy of Sciences does not own this lot, so if you have any complaints take note of the information on the signs within the garage.

Food Options

Can you bring food inside?

They do not allow external food or beverages. If you have a special diet, call them ahead of time to discuss options.

What food do they have available?

There are two restaurants inside the California Academy of Sciences.
The Academy Café is a grab and go food option that allows you to grab a sandwich, sushi, salads, and other items off their menu. The food is local and offers seasonal ingredients. It's open during all hours the museum is open including in the evening during Nightlife. It is open from 9 am to 4 pm every day.
The Terrace Restaurant offers outdoor seating. They have a simple menu, but you can grab a seat to enjoy your meal along with a glass of wine or their specially made craft beer brewed by Magnolia Brewing Company. They open around 11 am and close at around 3 pm.

What are some other options nearby?

You will also find dozens of places with food nearby. Your best bet is to head over to the Inner Sunset District. It's on the southern side of Golden Gate Park or about a 10-minute walk away. The minute you enter this district, you enter its commercial area with all kinds of restaurants, bars, and other businesses.
This is the 9th and Irving area. Visit my Inner Sunset page to find the best places to eat here.
History of the California Academy of Sciences

This San Francisco science museum has a long history. It started in 1853 just three years after California became part of the United States. At that time, seven men put their work together to create the first collections for the museum.
Over the years, it grew and quickly become one of the best west coast museums.
However, the 1906 Earthquake and Fire destroyed everything on display in San Francisco. They were fortunate that a good amount of the collection was on display in the Galapagos. Once these pieces returned to San Francisco, it was the foundation for its new museum.

This San Francisco science museum found its home in Golden Gate Park in 1916 and began to blossom once again.

The next big earthquake in 1989 again damaged this museum. They had to close some of their exhibits permanently and had to rework others for the safety of their visitors. At this point, they also decided to rework the entire museum and created plans for one that was much bigger and better.

To keep this museum running, they relocated some of their exhibits downtown in 2003, which is where I first visited them.

They then reopened this amazing new space in September 2008, where they plan to stay and invite visitors for decades to come!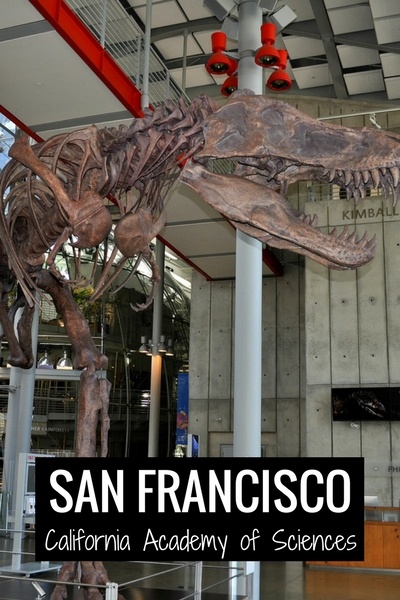 Other Attractions in Golden Gate Park

Comments? Questions? Suggestions?
I would love for you to join me in my private Facebook group! 
It's a great place to interact with me and others who know the area well.
You can ask questions, get advice for your upcoming stay, and then share your photos and advice with others when you return home. It's a great community and the fastest way to get answers to those nagging questions about your visit!