San Francisco Conservatory of Flowers: What to Expect When Visiting This Golden Gate Park Gem

by Jill Loeffler  •

Updated: September 5, 2023
The San Francisco Conservatory of Flowers is a historic landmark and living museum. It is set inside the oldest public glass-and-wood greenhouse that is still open in the United States.

The Conservatory is one of several great museums in San Francisco's Golden Gate Park.
The Conservatory of Flowers was privately owned for many years. It was gifted to the city of San Francisco and officially open to the public in 1879.
It has undergone several renovations throughout the years. Although it survived the 1906 earthquake with minor damage, it had to be closed in 1933 due to structural instability.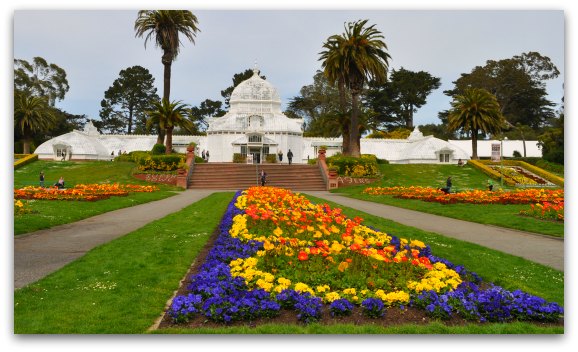 The San Francisco Conservatory of Flowers was remodeled and reopened to the public in 1946. However, in 1995, the Conservatory closed again due to damage from a severe windstorm.
Due to this, all of the plants were moved to other locations for storage. After a $25 million restoration project, the San Francisco Conservatory of Flowers reopened in 2003.
Disclaimer: I receive a small commission from some of the links on this page.

San Francisco Conservatory of Flowers Information

How long will a visit to the San Francisco Conservatory of Flowers take? I usually go at a moderate pace and spend at least an hour and a half. If you LOVE flowers and unique plants from around the world, you might end up spending a little more time here.
However, most people spend most of the morning or part of the afternoon wandering around the different galleries. One of the things I love about visiting here is that it is relatively quiet, so that you can get a close-up look at everything in each gallery.
Hours

The San Francisco Conservatory of Flowers is open and has the following hours:
Thursday - Tuesday: 10 am - 4:30 pm (last entry at 4 pm)
Wednesday: Closed
Open on the following holidays: Memorial Day, July 4, Labor Day, Christmas Eve (until 2 pm), and New Year's Eve
Closed on the following holidays: Thanksgiving, Christmas Day, and New Year's Day
Tickets for the San Francisco Conservatory of Flowers

Adults: Weekends, $15. Weekdays: February - November, $13.00; December - January, $11.00
Youth (ages 12-17) and Seniors 65 & over: $7.00
Children (ages 5-11): $3.00
Children ages 4 and under: Free
Active Military and Veterans with ID: Free
San Francisco Residents with ID: Free. Simply show your ID when you arrive, and they will allow you to visit at no cost.
The San Francisco Conservatory of Flowers does sell tickets in advance. You can also pick them up online or at the door. They rarely sell out, but it makes it easier if you buy them in advance. They do not sell specific day or timed tickets, so they are valid for any day and time and do not expire.
San Francisco Conservatory of Flowers Free Days

When is the San Francisco Conservatory of Flowers free day? They offer free admission to everyone on the first Tuesday of the month. This is a popular day, and it will take you a little more time to get through the galleries on this day.
You should make sure that you arrive early to get your spot in line.
>> Find a full calendar of free museum admission days around San Francisco
San Francisco Conservatory of Flowers Galleries

This SF Museum has five distinct and separate galleries. Four of the galleries include a variety of plants from different types of climates.
The fifth gallery is the special exhibit area. Their special exhibits are usually on display for about six months at a time.
Lowland Tropics

The first gallery you'll enter is the Lowland Tropics area. In this area, you'll find hundreds of plants native to the lowland tropical areas of countries such as Mexico, Brazil, and Indonesia.
There are hundreds of plants in this gallery. All of them are typically found in elevations below 3,000 feet.
Here is a photo of the gallery showing the intermixing of these plants. This is common in tropical regions - so this gallery's plants are set to mimic this overlapping behavior.

Highland Tropics

The next gallery to visit is the Highland Tropics gallery. This gallery showcases all the plants and flowers that live at elevations above 3,000 feet.
Orchids are one of just a handful of flowering plants. You'll see a great collection of orchids in the Highland Tropics gallery.
Here are a couple of the orchids that bloomed during my last visit.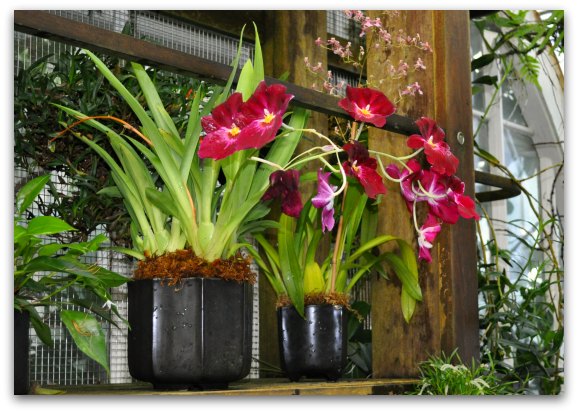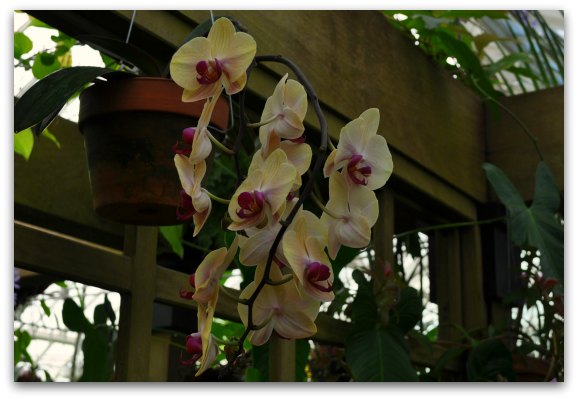 Aquatic Plants

The next gallery is one of my favorites - Aquatic Plants. This is where you will see several floating plants, including water lilies and Lotus. The other must-see items in this room are the carnivorous pitcher plants.
Here are just a few pictures of this room from my last visit. I tried to capture both the variety and beauty of the plants and flowers showcased in this gallery.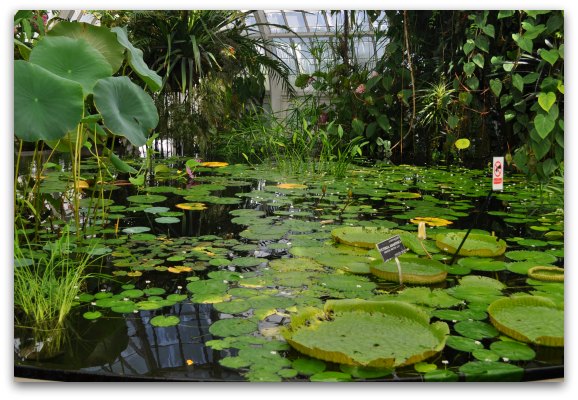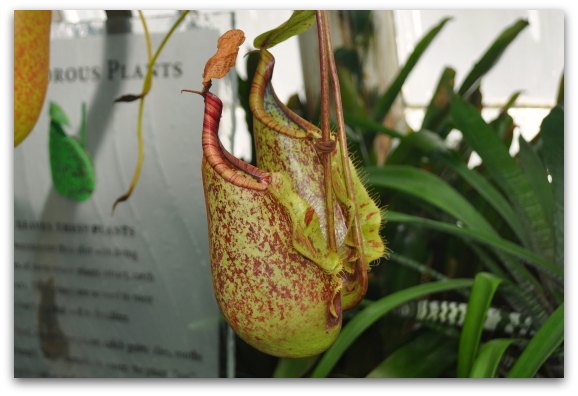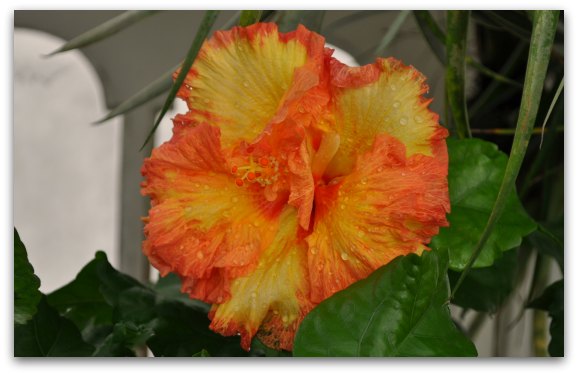 Even though I love this room, one challenge is the humidity. As you can see from this flower, it is dripping with water.
Before you enter this room, make sure you remove your jacket or coat. It's much warmer than the adjacent Highlands Tropics room.
Also, my camera lens usually fogs up a little - so bring something to wipe yours off.
After you take a walk around the Aquatic Plants gallery, you'll make your way back through the last two galleries. You will enter the fourth gallery from the Lowland Tropics gallery - The Potted Plants.
The Potted Plants

This permanent gallery within the San Francisco Conservatory of Flowers is a mixture of potted plants. Here you will see a variety of hibiscus, orchids, and other unusual varieties.
It's a very colorful gallery with a lot of plants and flowers to see. Here are just a couple of pictures from my last visit.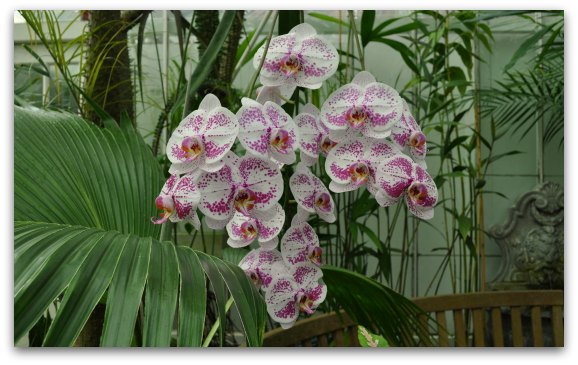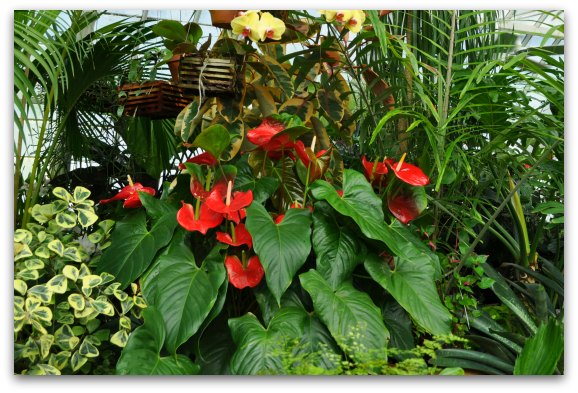 This is another area in the San Francisco Conservatory of Flowers where you'll need to protect your camera. Since all of the plants are in pots, the room has automatic misters that come on every hour or so.
Many plants also hang high and sometimes drip water - so just be careful with your camera or other electronics when you enter this room.
Special Exhibits Area

From the Potted Plants gallery, you will enter the special exhibits area. The San Francisco Conservatory of Flowers always does a fantastic job with its exhibits, so make sure to take advantage of this part of the museum.
The doors are often closed to this area, so sometimes it looks like you're not supposed to enter. However, there is almost always a special exhibit here. These exhibits are included in the price of your admission ticket.
Find an updated list of exhibits by month for the Conservatory of Flowers and other SF museums.
Corpse Flower
If you can't guess by the name, this is going to be one of the weirdest plants you find in the Conservatory of Flowers. Why is that? I'll let you know in a little bit, but first, some information about them and why you want to find a way to see one depending on when you visit here.
This plant is native only to the Indonesian island of Western Sumatra. This is just west of both Malaysia and Singapore in Asia. Originally only grown in the rainforest of Sumatra, this plant was eventually brought to the West since it was so rare, and botanists wanted to make sure to preserve it. Even now there are only about 1,000 of them throughout the world.
One of the reasons that the corpse flower is so unique is that it is the largest unbranched flower in the world. This plant's stem can grow up to 20 feet tall and over 16 feet across in the wild. This is impressive enough, but that is just the part of why this plant is so important. The stem of the flower looks like a massive spike or spear coming out of an enormous petal that wraps around it. The plant can grow up to 6 inches a day, and the heaviest one ever weighed in at about 260 pounds!
Another reason this plant is so unusual is that it rarely blooms in the wild or in the Conservatory of Flowers. How often does it bloom? In the wild, it sometimes blooms every three years or so. However, the one at the Conservatory only bloomed about once every 7 to 10 years early on! Luckily for visitors, it now blooms every 3 to 5 years. Which, even though more often, is still rare.
So, not only does it rarely bloom, but when it does, it only stays open for 24 to 48 hours! This means that you must either be very lucky, or plan very far ahead to see one in bloom. The good thing is that the Conservatory has four of them, two each which are male and female. This allows for them to be pollinated and keep the species alive.
Now, why are they called the "Corpse Flower?" It is because whenever it blooms, it STINKS LIKE A ROTTING CORPSE!!! Even though it is named for a dead body's horrible reek it can also smell like rotting fish, bad breath, and even Limburger cheese among other disgusting scents.
This means that this massive flower smells terrible, and it is really disgusting, but is also incredibly interesting to see in person. So why do people visit this horrible-smelling flower? For the simple reason that it blooms so rarely and to experience a flower that smells like a rotting body. It seems a bit weird to want to see and smell this flower, but it is worth it as it is so rare.
As to the Conservatory of Flowers and their Corpse Flowers, they have 4 of them. They are so beloved that they have even named each of them. Their names are "Scarlett the Titan", "Amor the Arum", "Suma the Titan", and "Terra the Titan." Being that there are 4 of them, you have a better chance of seeing one bloom when you visit the Conservatory of Flowers. The last two to bloom were "Scarlett the Titan" in 2019 and then "Amor the Arum" in 2020.
The Dahlia Garden

After your visit to the San Francisco Conservatory of Flowers, you will want to take a few more minutes to head to the unofficial outside exhibit - The Dahlia Garden. You will find this garden on the eastern side of the Conservatory. After stepping outside, take an immediate left and follow the sidewalk down the steps to the garden.
This large Dahlia Garden features over 700 different named Dahlia flowers. The variety of flowers in this garden is amazing, and its colors are the brightest from late June until late October.
Here are just a few pictures I took during my last visit in mid-October.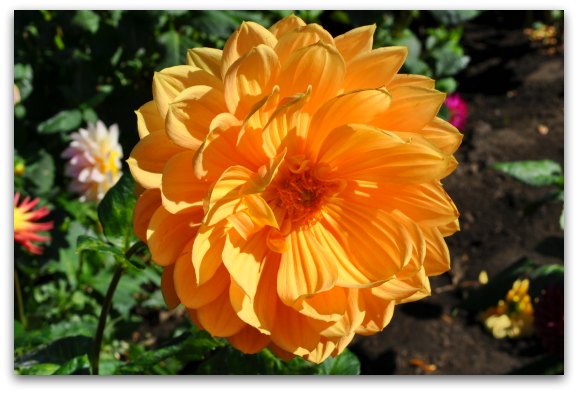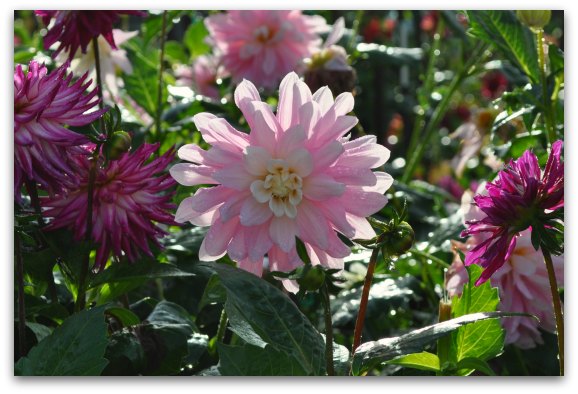 Getting to the Conservatory of Flowers

The San Francisco Conservatory of Flowers is at 100 John F. Kennedy Drive on the northeast side of Golden Gate Park. You can easily reach the museum by public transportation, car, or the Hop On/Hop Off Bus Tour.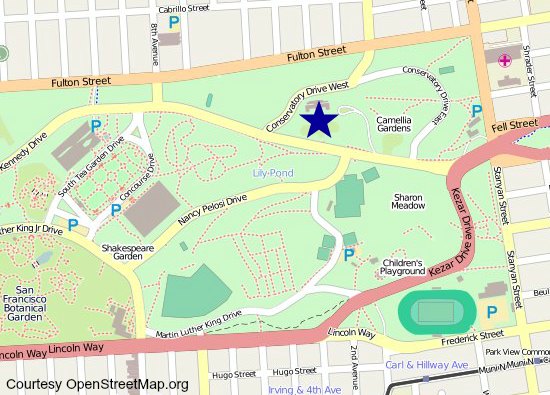 Public Transit: The best options to get to the park from Union Square are either the N-Judah light rail train or the 5-Fulton bus. If you are in Fisherman's Wharf, I recommend heading first to Union Square and picking up one of these transit options. It will make the journey much manageable.
Car: If you are staying in Fisherman's Wharf, an easier way to get here is to rent a car for the day. It's one of the few times I recommend this option, but it will take you less time as the park takes more than an hour by public transit.
Parking Near the San Francisco Conservatory of Flowers

You will find several parking spots near this San Francisco attraction. However, spots fill up early to allow yourself some time to find a spot.
Parking on the street is available on John F. Kennedy Drive and Conservatory Drive.
You can also park in the Music Concourse Parking garage right in front of the California Academy of Sciences, about a 10-minute walk away.
Note that on Sundays, no driving or parking is permitted near the Conservatory, so visitors may walk or take the free Golden Gate Park Shuttle.
Hop On/Hop Off Bus Tour

This is another great option, since it includes a stop right in front of the California Academy of Sciences. A walk from that stop to the Conservatory will take you less than 10 minutes.
The Hop On/Hop Off Bus Tour is excellent because you get to hear more about many of San Francisco's famous attractions along the way. You can hop off here for a while and then hop back on when you are finished. The bus route is a loop, so your final stop is also your original one.
I like the options through Big Bus Tours. They have 24 and 48-hour pass options. Their most popular option is the 48-hour ticket, which allows you to quickly see quite a bit while you are here. Visit this site to learn more.
History of the Conservatory of Flowers
This history of the Conservatory of Flowers is quite interesting. It was originally opened because the richest man in all of California, James Lick, died in 1876.
He had been a lover of plants and wanted to build a massive conservatory for all to see. He even had ones built in London and had them sent over to California.
After he died, there were crates of the unbuilt Conservatory that weighed over 33 tons. 
In his will, he left it to the Society of California Pioneers, who sold it to local philanthropists, who then donated it to the City of San Francisco and in Golden Gate Park. So, this magnificent glass building took over 3 years to build and opened in 1879.
Throughout the years, the Conservatory of Flowers continued to grow and gather more species of plants for visitors from around the world. It is now one of the most respected and beautiful of all conservatories anywhere in the world. It was listed on the National Register of Historic Places in 1971.
More Golden Gate Park Attractions

Other Things to Do in Golden Gate Park

Botanical Gardens: Another one of my favorites in Golden Gate Park is the Botanical Gardens. This beautiful attraction covers more than 55 acres with up to 50,000 plants and flowers from around the world. It's beautiful almost any time of year. It's the perfect stop either before or after the San Francisco Conservatory of Flowers.
Segway Tour: This Segway tour covers the eastern half of the park. You will cruise by and learn more about the California Academy of Sciences, the Shakespeare Garden, and even the Conservatory of Flowers. It's a fun way to get to know this side of the park really well!
Stow Lake: One place that most visitors miss in the park is Stow Lake. This man-made lake offers you the chance to do a little hiking, hang out in the Chinese Pavilion, and cruise around the lake on a paddle boat. You can also just hang out and feed the ducks. It's a fun way to spend a few peaceful hours in this area of SF.
A Perfect Day in Golden Gate Park: Do you have only one day to visit Golden Gate Park? If so, then check out my self-guided journey for it. In one day, you will see and do as much as possible without having to figure it out on your own!
Comments? Questions? Suggestions?
I would love for you to join me in my private Facebook group! 
It's a great place to interact with me and others who know the area well.
You can ask questions, get advice for your upcoming stay, and then share your photos and advice with others when you return home. It's a great community and the fastest way to get answers to those nagging questions about your visit!