The Perfect Day in Golden Gate Park: Tips to Make the Most of Your Time in this SF City Park

Golden Gate Park is a gorgeous attraction on the western side of San Francisco. To the east, it borders the Haight Ashbury district. Its western neighbor is the Pacific Ocean.

Inside this 1,000+ acre beauty, you will find some of SF's top museums such as the California Academy of Sciences and the de Young Fine Arts Museum. You will also find luscious gardens such as the Botanical Gardens and the Japanese Tea Garden.
While you can't visit it all in one day, I've come up with what I consider 'The Perfect Day in Golden Gate Park.' It includes a step-by-step itinerary to help you make the most out of your visit to this beautiful park in just one day.
Disclaimer: I receive a small commission from some of the links on this page.

9 am: Stroll through the Japanese Tea Garden

Today's journey starts with a relaxing walk through the Japanese Tea Garden. This colorful SF attraction opens every day of the year at 9 am, including major holidays.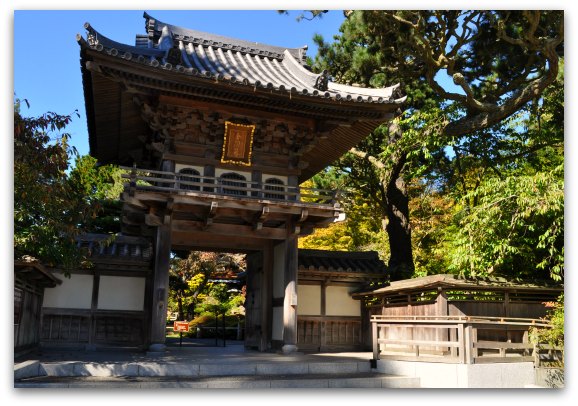 The best time to visit is in the spring when the pink and white cherry blossoms bloom.
It's also free to enter every Monday, Wednesday and Friday from 9 am to 10 am.
Your visit here will take about 30 minutes. Click here for more photos and additional details on what it's like to visit.
9:30 am: Say "Hi" to Claude at the California Academy of Sciences

After you finish at the Japanese Tea Gardens, walk across the street to the California Academy of Sciences. This amazing building houses four museums in one: the Morrison Planetarium, the Steinhart Aquarium, the Kimball Natural History Museum and Rainforests of the World. 
In addition, you get to experience what it is like to be in an earthquake and visit Claude, their rare white alligator.
The museum opens Monday – Saturday at 9:30 am and on Sunday at 11 am. Find additional photos and even more details on what you get to see during your visit. 

12:00 pm: Grab a Quick Lunch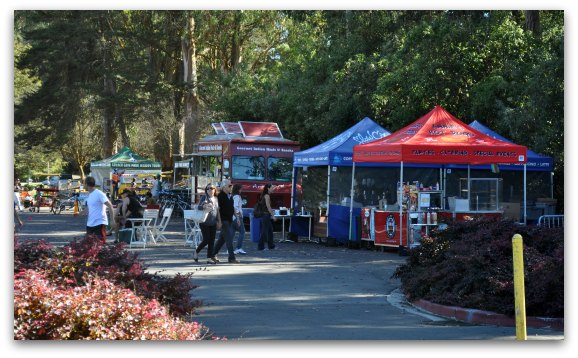 You have a few options for lunch. You can grab lunch inside the Academy (they have two restaurants) or walk behind the pavilion for some pastries, gourmet Indian food or one of Annie's delicious hot dogs.
Right next to these food vendors is where your next adventure will begin, so you will have plenty of time to sit down and enjoy your meal.
12:30 pm: Journey through the Eastern End of the Park on a Segway

One of the best ways to learn more about Golden Gate Park is by taking their daily Segway tour. This fun and interesting tour (click here to read about my experience on my Segway Tours page) takes you through the eastern end of the park.
You will glide past top attractions including the Conservatory of Flowers, the California Academy of Sciences and the de Young Fine Arts Museum. You will also roll past lesser-known areas such as Stow Lake and the Shakespeare Gardens.
Throughout your adventure, you will learn more about the history of the park, who built each area and what you can expect when you visit each attraction.
The entire journey takes about two and a half hours (including a 30-minute Segway training session). You'll need to check in at 12:15 pm, so make sure you do that either before or after you grab your quick lunch next door.
Click here to get your tickets on GetYourGuide in advance for this tour. This is a popular time to take it, so make sure you get your tickets before you arrive! 
3 pm: Enjoy Flowers and Plants from Around the World at SF's Botanical Gardens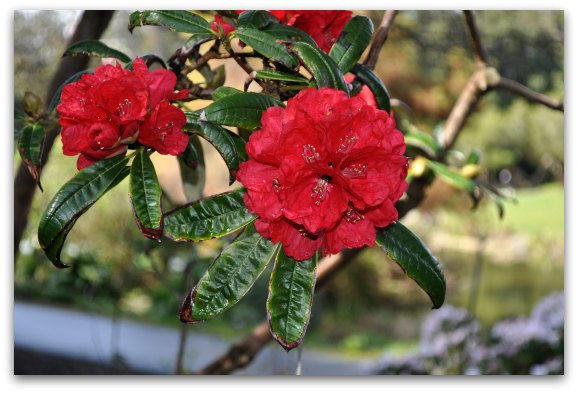 You will finish your Segway tour around 3 pm. This leaves you a little time to visit one more attraction.
I recommend heading over to the Botanical Gardens. It houses more than 60,000 plants and flowers from around the world. All year long, there is something beautiful in bloom.
It closes at different times each season, but the earliest closing time is around 5 pm during November, December and January. This gives you at least two hours to walk around the park.
Click here for pictures from my last visits and a few more details on the gardens.
5 pm: Head Out to the Inner Sunset District for Dinner and Drinks

After you finish your visit to the Botanical Gardens, head south out of the park to the Inner Sunset District. This local neighborhood is the perfect spot for a great dinner and a couple of drinks.
The minute you walk out of the park, you will find more than a dozen restaurants on 9th Avenue. Walk down one block to Irving Avenue for even more.
My favorites in this area include Manna, an inexpensive Korean restaurant, and Ebisu Restaurant, a middle range sushi and Japanese cuisine restaurant.  Other cuisines in this neighborhood include pizza, Thai and several American restaurants.
If you want to stay for a few drinks, I recommend checking out Yancy's Saloon. This casual bar also offers some pub food such as pizzas and burgers. It's cozy and you will feel at home the minute you step in the door.
>> Find additional recommendations around the Inner Sunset
Getting to the Starting Point

The best way to get to Golden Gate Park from Union Square is by taking the N Judah train. You can pick it up at the underground Powell Street station at Powell and Market Streets.
Take it all the way to the 9th and Irving stop. From here, walk north to the park. The journey takes about 35 minutes.
It will take a little more time to get here from Fisherman's Wharf. Pick up the 30 bus on the corner of Columbus Avenue and North Point Street.
Take it to the stop at Chestnut and Laguna Street. At this stop, you will then pick up the 28 and take it to the stop at Park Presidio Boulevard and Fulton Street.
From here, you can walk into the park and make your way over to the Japanese Tea Garden (the walk takes about 10 minutes). The entire journey will take about an hour.
Other Golden Gate Park Attractions

It's impossible to visit everything in Golden Gate Park in one day. If you have the time, I recommend coming back for a second day and visiting a few additional places. Click here to learn more about some of the other top things to do in Golden Gate Park.

Comments? Questions? Suggestions?
I would love for you to join me in my private Facebook group! 
It's a great place to interact with me and others who know the area well.
You can ask questions, get advice for your upcoming stay, and then share your photos and advice with others when you return home. It's a great community and the fastest way to get answers to those nagging questions about your visit!