San Francisco Sunset District: Tips to Visit this Neighborhood on SF's Western Edge

The San Francisco Sunset District is a large neighborhood on the city's western edge. It runs from the western end of Cole Valley to Ocean Beach. 

This local district is a gateway to Golden Gate Park. It is also home to several lovely tiled stairs, small parks with amazing hilltop views, and dozens of popular restaurants and bars.
Read on for more about what to see and do here.
Disclaimer: I receive a small commission from some of the links on this page.

Things to Do & See in the San Francisco Sunset District

1. 16th Avenue Stairs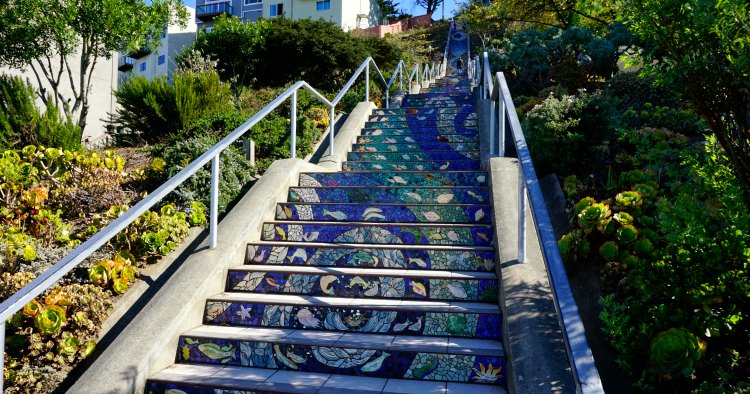 The 16th Avenue Stairs are the most famous of all the colorfully tiled stairs in the City by the Bay. There is a total of 163 steps and all of them are gorgeous beyond belief. Each flight of stairs has a design that is specific to it. 
Some of these are of the ocean, the sky during the day and at night, and other magical locations. Moraga Street between 15th and 16th Street

2. Golden Gate Park

The California Academy of Sciences (find skip the line tickets), the Japanese Tea Gardens, the de Young Museum, and one of the most gorgeous parks in all the world is located in the San Francisco Sunset District. 
Golden Gate Park has something for everyone in its 1,000 acres. In addition to the attractions mentioned above, you will also find lakes, birds and other wild animals.

3. Hidden Garden Stairs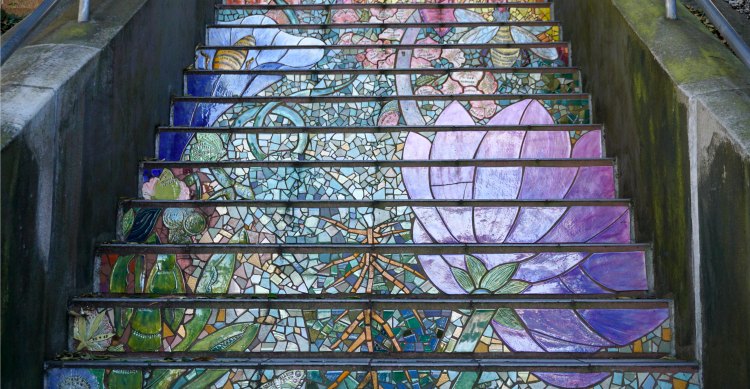 This set of stairs isn't as well known as the 16th Avenue ones but they are just as beautiful. The designs on this set of stairs is full of massive flowers, insects, animals, and much more.
One of the reasons I love these steps is that many of the tiles feature dedications and memorials to people who have passed away or have donated to build or maintain these steps. 
Another reason is that since they are "hidden", you will most likely be the only people there when you visit it. 16th Avenue between Lawton and Kirkham

4. Outside Lands Festival

This massive 3-day festival happens the month of August and is full of live music, comedy, food, drinks, and art. This festival is one of the most famous and always has headliners each day from many different musical styles. 

Some of past musical performers include Paul Simon, Lil Wayne, and Puddles Pity Party. There are special food and drink areas which serve only the best of the best. These tickets can be hard to get, so it is best to plan ahead and buy them as soon as possible. Golden Gate Park in the San Francisco Sunset District. 

5. Ocean Beach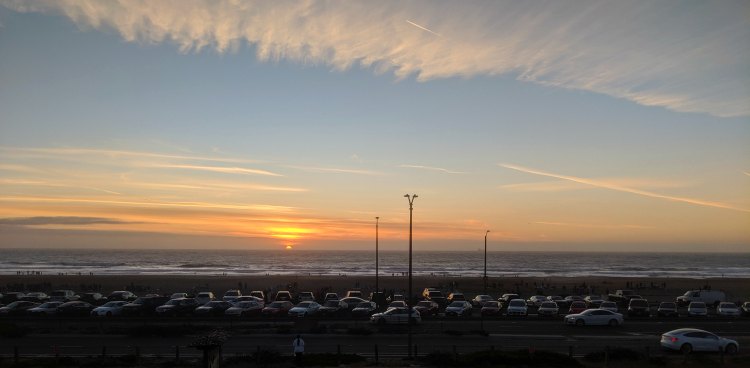 This beach is known for gorgeous sunsets, loads of surfers, and an easy escape from all the hustle and bustle of the city. This beautiful beach is located on the far western edge of the Golden Gate Park. 
I love this area because the Beach Chalet is located across the street and it is warm, has great views from its massive windows (as you can see above), and the food is delicious.
I also like to watch the bonfires that beach goers often set up at night. Being that it is on the ocean, it is often foggy and can get quite cool so plan ahead. 

6. Lower Great Highway Trail

This path is about 3.5 miles long and takes you from Ocean Beach to the classic Cliff House (or the other way around depending on how you walk it). As you walk along it, you will see the remnants of the massive Sutro Baths which burned down long ago.
The views are spectacular and there are lots of trees, shrubs, and birds all around you. Great Highway and Noriega Street

7. Grandview Park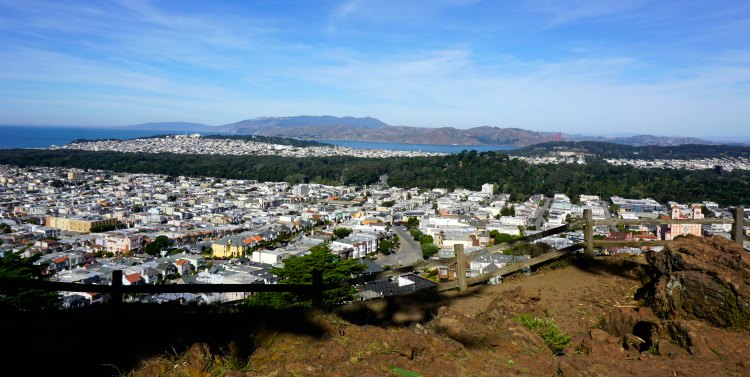 This mountain top park in the San Francisco Sunset District has a 360-degree views of the city. From the top, you can see the Golden Gate Bridge, the East Bay, south towards Silicon Valley, and more. 
I like to go up the 16th Avenue Tiled Stairs and then over to it. It requires a climb of about 200 or so steps to get to the top of the park, but it is worth it. It is almost always windy, so you'll want to wear a windbreaker and pants most days. 1705 14th Avenue

8. Mount Sutro Open Space Preserve

This is a true hidden gem for nature lovers in San Francisco. With over 61-acres of eucalyptus trees, wildlife, and trails, you will feel like you have gone back in time.
I often go here when I want some peace and quiet since there are over 5 miles of trails, and dogs are allowed, to roam around it.
One of my favorite reasons to go are the goat herds that they use to control vegetation growth on Mount Sutro. They are friendly and so cute! 106 Clarendon Avenue and other entrances.

9. Breweries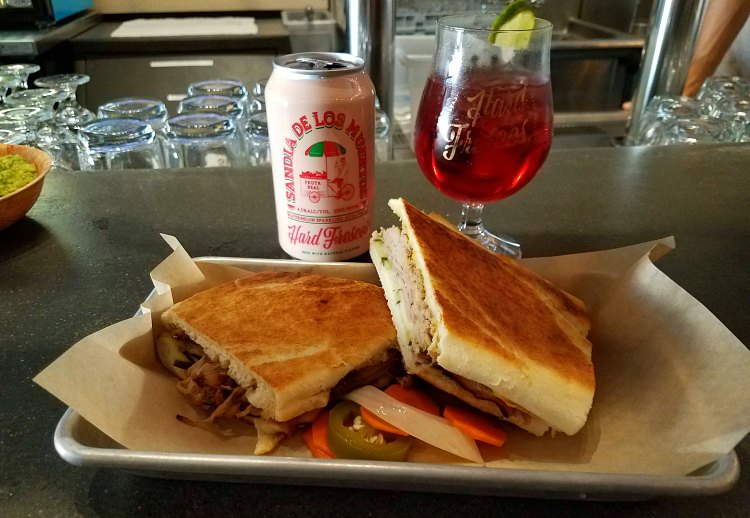 The Sunset is an up-and-coming location for breweries today. Some of my favorite include the Sunset Reservoir Brewing Company and the above-mentioned Beach Chalet.
Most of the breweries are small batch and owned by locals who started them on their own. A number of them have the brewing equipment on site so you can see the brewing in person. 
>> Find more great breweries around SF
Top Ideas for Your San Francisco Vacation

Restaurants & Bars in the San Francisco Sunset District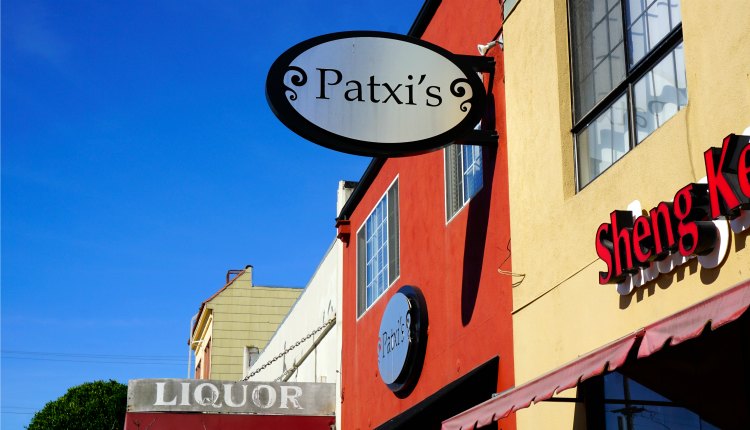 Irving Street: Packed with loads of restaurants and bars, this is a great place to visit if you are hungry or thirsty. What I like about Irving Street is that there is a huge diversity to choose from here. Some of these include Crepevine, Naan N Curry, and The Yellow Submarine Sandwich Shop.
When I want a drink or two, I often head to this district because of bars such as Blackthorn, The Little Shamrock, and the long time historic favorite Yancy's Saloon, among others. 
Judah Street: My favorite part of this area is Judah Street between about 40th and 50th Avenue because there is something for everyone including Golden Gate Indian Cuisine and Pizza, Thanh Long Restaurant, Outerlands, and Judahlicious if you want vegetarian or vegan options.
I often visit Pittsburgh's Pub, the Sunset Cantina, and tiny but fun Woods Outbound. This location is great to grab some food or drink, head down to the beach since it is close, and then watch the sunset.
Noriega Street: Another one of my favorite locations in the San Francisco Sunset District is on Noriega Street starting at 19th Avenue all the way out to the Great Highway and Ocean Beach. This area is home to the fun Flanahan's Pub, Firefly Sports Bar, and the magical Tiki Haven.

How to Get Here

The N-Judah is a light rail train that runs all the way from the eastern to the western end of this district. It comes in from the downtown and Union Square areas and offers you the chance to easily get anywhere in the San Francisco Sunset District. 
The first stop here is at Irving and 4th Avenue. This is the eastern end of the district. If you plan to grab a bite to eat or a drink, this will give you easy access to the Irving Street Corridor.
You can also access the heart of the Irving Street Corridor through the Irving and 9th Avenue stop. This is also a great stop if you are heading into Golden Gate Park.
The 16th Avenue and Judah stop is perfect for those wanting to visit the Hidden Garden Steps or the 16th Avenue Tiled Steps. 

You can also continue on all the way to Ocean Beach. 

For those coming from Fisherman's Wharf, you can take the 28 to the corner of 19th and Irving. From here, you can walk east to get to the Inner Sunset and west to get to the Outer Sunset. You can also transfer over to the N-Judah at 19th Avenue and Judah. This way, you don't have to walk too far. 

Hotel Deals

Booking: Find great deals all around San Francisco for your upcoming stay! 

TripAdvisor: What's the #1 hotel in San Francisco? Read reviews & find hotel deals on TripAdvisor!
VRBO: In addition to hotels, you'll also find some great places to stay locally through VRBO. Book an apartment or a room and feel more like a local. Find some great places to stay on VRBO here. 
Weather in the San Francisco Sunset District

You will find it's a bit chillier here than in the districts on the eastern end of SF. The San Francisco Sunset District is famous for its fog. You will find it here most of the year with the densest fog here in the summer when the rest of the SF Bay is nice and warm. 
This area is usually about 10 to 15 degrees cooler than downtown and Fisherman's Wharf. Make sure to dress warm or bring a jacket, even if it feels nice and warm on the eastern side of SF.
Click the links below to learn more about the weather around SF each month.

Things to Do Nearby

Haight-Ashbury: Famous for being a hippie haven back in the '60s, the Haight-Ashbury district has now become one of the top districts. Here you will find shopping, walking tours, and some classic SF Victorian homes. Back in the day, this is where bands like The Grateful Dead, Jefferson Airplane and others would gather and rock out while the peace movement was in full swing. 
SF Zoo: The SF Zoo is a gem that has more than 2,000 animals with more than 250 species on its 100 acres! When you visit here, you will see that it has different sections to make your journey easier to plan. Some of these include the African Region with gorillas, giraffes, and birds. Penguin Island is a favorite since it has 2 species of endangered rhinos, and of course, penguins and a black rhino! 
There is also a special Exploration Zone that is specifically for kids with interactive displays so they can learn more about the animals. Make sure to check the feeding schedules too.

I suggest setting aside about 3 to 4 hours when you are going to visit the zoo as there is so much to see and do here. Sloat Boulevard and Great Highway 
Lands End: This trail on the cliffs above the water is a perfect option for those looking for some outdoor fun. The trail offers some great up and down action with several interesting stops along the way. Three of the most popular are the Sutro Baths, Mile Rock Beach, and the shipwrecks. Find out more about this hike.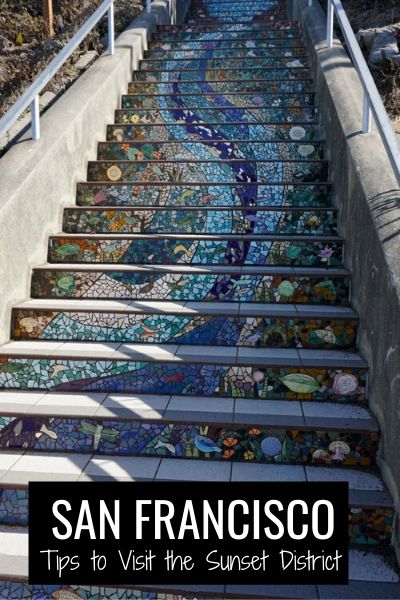 More Fun Districts Around San Francisco

Comments? Questions? Suggestions?
I would love for you join me in my private Facebook group! 
It's a great place to interact with me and others that know the area well.
You can ask questions, get advice for your upcoming stay, and then share your photos and advice with others when you return home. It's a great community and the fastest way to get answers to those nagging questions about your visit!