Stairways of San Francisco: Ten Famous Staircases Around SF

by Jill Loeffler  •

Updated: January 18, 2023
Explore these eight colorful, famous stairways of San Francisco. They include four mosaic sets of stairs, the Sand Ladder near Baker Beach, the Filbert Street Steps near Coit Tower, plus a few surprises.

Read on for details about and tips to find these hidden gems in SF. 

Disclaimer: I receive a small commission from some of the links on this page.

1. Filbert Street Stairs

The Filbert Street Stairs are a set of staircases that take you to the top of Telegraph Hill from the waterfront near Levi's Plaza. It's a popular route for those wanting to get from The Embarcadero up to Coit Tower on foot.
The first set of stairs is VERY steep. They climb up the side of a hill and it's the toughest part of the journey. They start on Filbert about a half block west of Sansome Street. This is where Filbert dead ends and the stairs begin. They are hard to miss!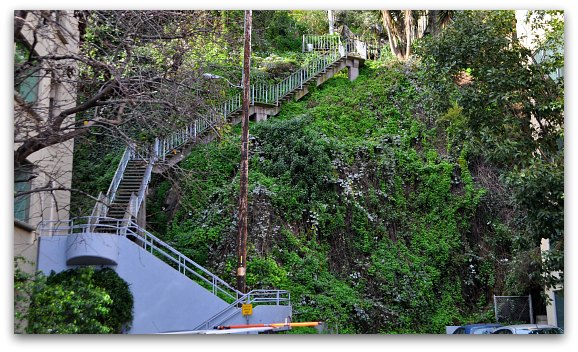 Once you climb this first set, you will be taken through a lovely garden area with wooden steps. These are two distinct sets of staircases within your first block.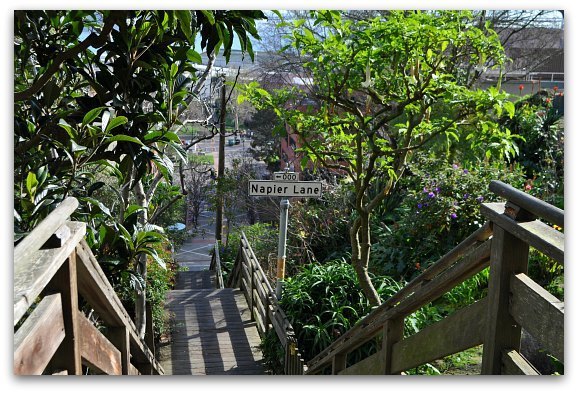 You will then cross Montgomery Street, where you will find your next set of steps. Continue walking up hill until you reach Telegraph Hill Boulevard. This is where you will hit your final staircase that will take you up to Coit Tower.
As you walk, make sure to stop for a rest as this walk is quite strenuous. During your stops, make sure you turn around for the gorgeous views of the SF Bay and the Bay Bridge. 
District: Telegraph Hill/North Beach

Location: Filbert between Sansome and Coit Tower
Nearby Staircase: Greenwich Stairs that also take you from Sansome to Coit Tower 
More Ways to Explore Coit Tower

2. 16th Avenue Tiled Stairs

At 16th and Moraga, you will find the most famous set of mosaic stairways in San Francisco, the 16th Avenue Tiled Stairs. This set of stairs is on Moraga between 15th and 16th Avenues. This 163-step beauty was completed in 2005. 
This community project was worked on by more than 300 neighbors. It's was a labor of love and you can tell in the final design.
The stairway is broken into small sets of stairs. Each one has a different design such as a moon, a sun, and swirling designs with fish, flowers, and shells. It's amazing to see the entire piece, but also to walk up and down to get a closer look at each section.
District: Inner Sunset
Location: 16th Avenue and Moraga
Transit: You can easily get here by car or by public transit. Take the N Judah light rail to Judah and 15th Avenue. Walk to 16th Avenue and head up the hill. Don't miss the Hidden Garden Steps (mentioned below) on the way!
3. Lyon Street Steps

One of my favorite views of the San Francisco Bay is from the Lyon Street Steps. This attraction starts on the top at Broadway Street and makes its way from Pacific Heights down to the Marina District.
The first block of stairs is beautifully manicured with one of the Hearts of San Francisco near the bottom.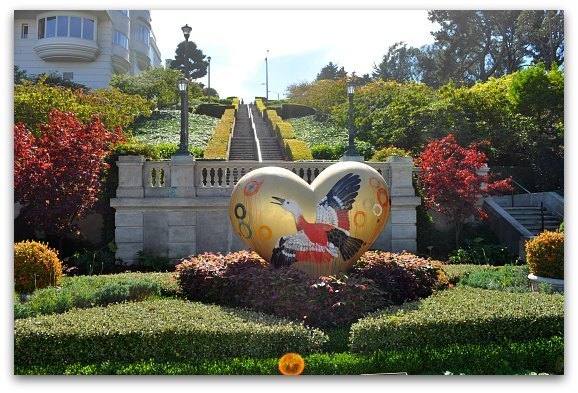 The second set of stairs is more basic and steep but takes you quickly from one district to the next. 
District: Pacific Heights
Location: Lyon Street between Broadway and Green Streets
Transit: Take the #2 Bus to Geary Blvd and Divisadero and then transfer to the 24. Get off the bus at Divisadero and Jackson Streets and then walk four blocks to these steps. 
Other Fun Hidden Gems Around SF

4. Hidden Garden Stairs

Another set of mosaic stairways in San Francisco is the Hidden Garden Stairs. This set of stairs was completed in 2013. 
This one is also broken up into several sets of steps. Each section features a design with flowers, butterflies, leaves, and other items in a garden. 
You will find almost a dozen different sections with unique designs.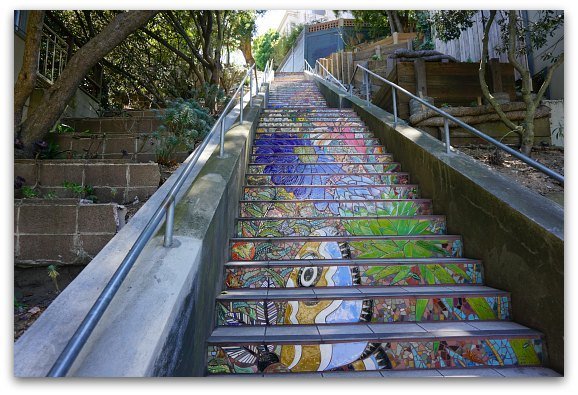 District: Inner Sunset
Location: 16th Avenue at Kirkham
Transit: Take the N Judah light rail train to the stop at 15th Avenue and Judah. From there, walk to 16th Avenue and make your way up the hill. Once you check out these stairs, walk all the way to the top to continue on 16th Avenue until you reach the 16th Avenue Tiled Stairs (at Moraga).
5. Lincoln Park Steps

The newest set of mosaic stairs in SF is the Lincoln Park Steps. They are on California Street where it dead ends into the Lincoln Park Golf Course.
It's a smaller staircase, but offers a colorful pattern of bright yellows, greens, and oranges.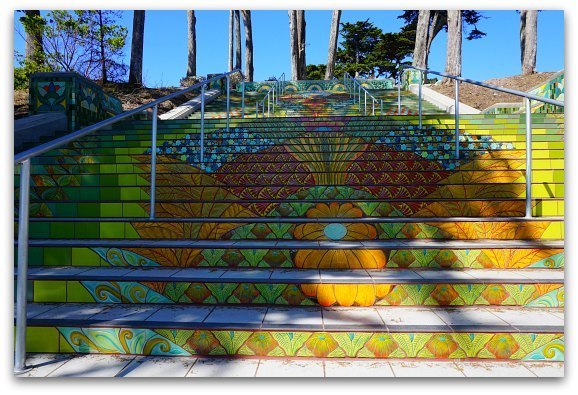 District: Outer Richmond
Location: California at Lincoln Golf Course
Transit: Take the #1 Bus to California Street and 32nd Avenue
6. Dragon's Tale Staircase at Miraloma
One of the newer additions to our colorful mosaic steps is the Dragon's Tales Steps at Miraloma Playground.
I love the colors and the creativity on this set of stairs. They are education related as they are next to the Miraloma Elementary School. 
They have sayings from famous people such as Albert Einstein, Ralph Waldo Emerson, and Mark Twain. They have numbers and other educational elements throughout. 
When you step back and see the entire piece, the main stairs are the Dragon's Tail with the head breathing fire near the top. It's called Dragon's Tale since it's a piece to teach kids at the school each time they use them.
District: Miraloma
Location: Miraloma Playground along Bella Vista Way and Avoca Alley
Transit: This is pretty far away from the heart of San Francisco and it takes a few buses to get here. If you really want to see this one, I recommend taking an Uber/Lyft to get here to save you time. 
Packing Ideas
7. Staircase Between Crissy Field & the Golden Gate Bridge

This set of stairs does not have an official name, but it's the best way to get between Fort Point/Crissy Field and the Golden Gate Bridge. It's part of the Battery East Trail and you will find several signs that take you between these landmarks.
The great thing about the stairs is that they offer a short cut between these two locations (instead of walking along the road). You will also get some amazing and less common shots of the Golden Gate Bridge during your walk.
District: Presidio
Location: Battery East Trail between the Golden Gate Bridge and Crissy Field/Fort Point
Transit: Take the 28 to the Golden Gate Bridge and then walk down the staircase after your visit
8. Sand Ladder

The Sand Ladder is a set of stairs covered in sand. It's part of the Pacific Coast Trail and has become famous as its one of the toughest parts of the run during the Escape from Alcatraz Triathlon.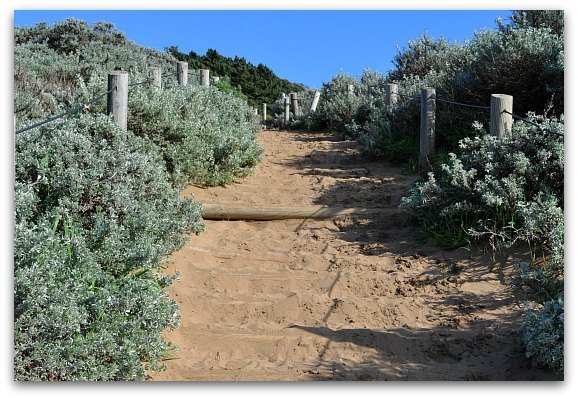 It takes you to the northern end of Baker Beach.
District: Presidio
Location: Baker Beach
Transit: Take the PresidiGo from the entrance of the Presidio to Baker Beach
9. Tompkins Steps
You will also find another colorful set of stairways in San Francisco in the Bernal Height District. They feature a wave type pattern with bright blues, orange, yellow, and green. 
You will find them heading up the hill between Putnam and Nevada Streets.
District: Bernal Heights
Location: Tompkins Street between Putnam and Nevada
Transit: Take the 24 to either Bronte or Nevada Streets. Walk one block to Putnam Street and then south to Tompkins Street. 
10. Flights of Fancy Staircase

The last set of stairs is the Flights of Fancy Staircase in the Bayview District. This set of mosaic stairs was completed in July of 2014. It's a dedication to Dr. Arelious Walker who was a former pastor and advocate for the Bayview District. The design is a combination of patterns from various cultures including Adinkra cloth from Ghana, Native American painted pottery, and woven patterns from Central America and from the Middle East. The 87-step staircase connects Northridge Road and Innes Avenue.
District: Bayview
Location: Arelious Walker at Innes Avenue
Transit: Take the #19 Bus to the stairs, you will be dropped off right at the bottom of the staircase. There isn't anything else around this area, so hop right back on the #19 after it turns around a few blocks away. It takes the bus less than 15 minutes to return, so I recommend taking a quick look, getting some pictures, and hopping right back on.
Comments? Questions? Suggestions?
I would love for you to join me in my private Facebook group! 
It's a great place to interact with me and others who know the area well.
You can ask questions, get advice for your upcoming stay, and then share your photos and advice with others when you return home. It's a great community and the fastest way to get answers to those nagging questions about your visit!