Filbert Street Steps: Where to Find Them & What to Expect During the Climb

by Jill Loeffler  •

Updated: September 7, 2022
The Filbert Street Steps are a famous set of stairways leading you from the waterfront to Coit Tower. They start just two blocks in from the Embarcadero on Sansome Street.

These stairs are popular as it's a great way to get your heart pumping as you get to one of SF's top attractions. The walk also has a lovely garden on both sides as well, as some fabulous bay views.
Read on for tips on where to find them and other things to do to prepare for your climb.
Disclaimer: I receive a small commission from some of the links on this page.

Starting at the Bottom of the Filbert Street Steps

The first staircase of the Filbert Street Steps starts a half-block in from Sansome Street. This first set is steep and easy to see when you enter this dead-end street.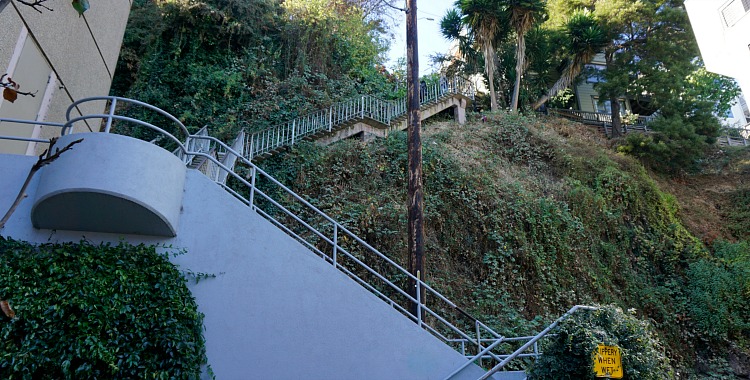 Your climb begins on this set of metal stairs. It's the least impressive part of the journey, so don't get discouraged when you see these.
Your real journey begins once you get to the top of this staircase. From here until the top, you will find primarily wooden stairs intermixed with some concrete steps. You will also find a lovely and colorful variety of plants and flowers.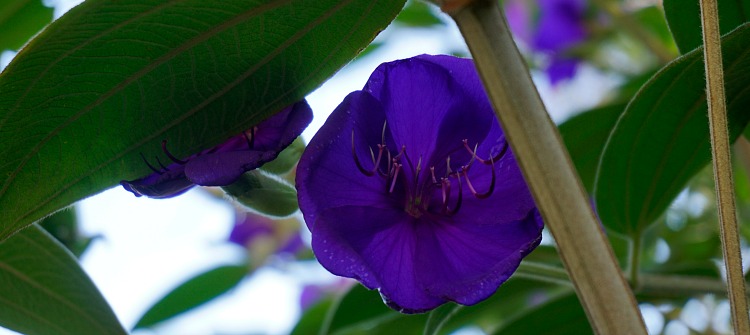 As you climb these wooden stairs, you will come upon Napier Lane. It's a cute lane that extends past the stairs about half a block. You will see additional plants, flowers, and several quaint cottages along each side. You are welcome to walk down this lane, but the only way out is to return to the Filbert Street Steps.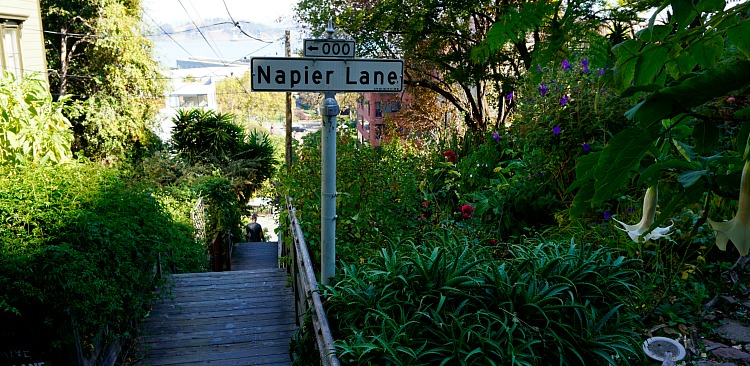 Shortly after you walk past Napier Lane, you will see a plaque for the Grace Marchant Gardens.

And, as you can see from the sign, this area attracts a wide variety of birds, including the famous Parrots of Telegraph Hill.

Make sure to keep an eye out for them as you walk. Also, listen up, as you'll probably hear them before you see them. And make sure to look around, as a few plants in this area have little red berries that they love and are very pretty.

Who was Grace Marchant?

Grace Marchant was a San Francisco resident who moved into a small cottage near Napier Lane in 1949. At the time, many people used this area to dump their garbage. They would throw it over the top of the stairs and let it roll down the hill. It was quite unappealing, and people didn't come here to visit the area.
When Merchant moved in, she placed a request with the city of San Francisco. She wanted to burn the garbage and start to clean up the area. For the next few decades, she worked on her own to keep it clean and turn it into a lovely space that everyone walking by would enjoy.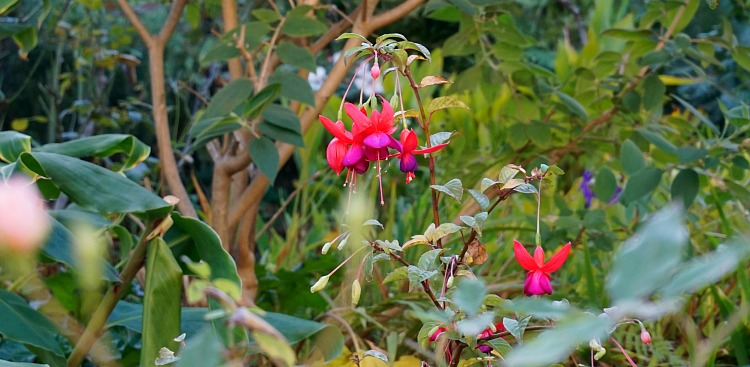 This plaque is not only a dedication to her, but also to another resident, Gary Kray. He took over the backbreaking work of beautifying this area in 1979. He dedicated his life to it until 2012.
Today, the residents living around the stairs make every effort to keep it clean and to tend to the garden.
Views & Building Art at Montgomery Street

As you continue up the wooden stairs, you will finally reach Montgomery Street. I recommend taking a quick break here so you can turn around and check out the views behind you.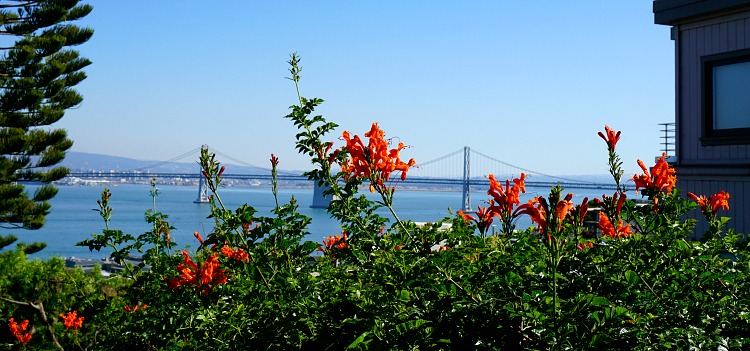 This vantage point will allow you the chance to see the SF Bay, Treasure Island and the SF Bay Bridge.
Once you are done admiring this view, make sure to look to your right (on the south side of the stairs). You will see a more modern building with Art Deco artwork on it. There are three pieces in all. This is just one of them.
You can also see part of the second piece on the right side of the photo. The third is also on the front of the building.

Stairs in the Middle of Montgomery Street

As you finish the first block of stairs, you will find a small set of stairs in the median of Montgomery Street. Due to the steepness of this area, you will see Montgomery split in two, with the higher side going in one direction and the lower side headed in the opposite direction.
Walk over to the staircase in the center so you can head to the upper part of Montgomery Street, go across the street, and start the second block of your journey.
Filbert Street Steps from Montgomery to Telegraph Boulevard

The second block of the Filbert Street Steps offers more colorful gardens, some statues, and, as I'm sure you've guessed, more stairs.
This section is mostly concrete and is more of a straight set of stairs. This photo gives you an idea of what it looks like with people on it.
Here are also some of the beautiful flowers I saw during my last visit.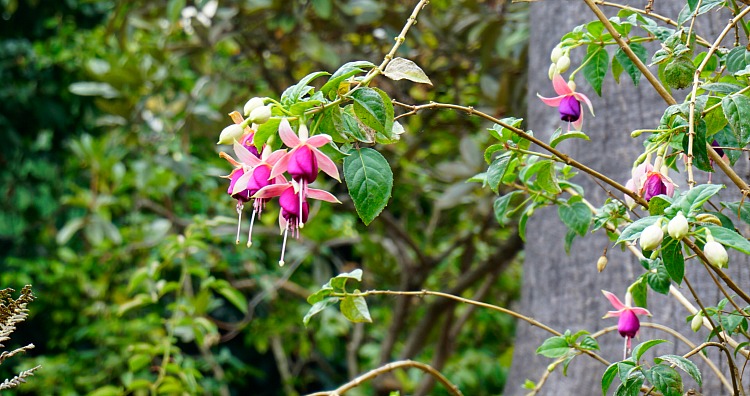 Each season, you will see a slightly different set of plants in bloom. They do an excellent job keeping this area colorful and beautiful year-round.
Once you reach the top of this set of staircases, you will be at the corner of Filbert Street and Telegraph Hill Boulevard. You will still have some climbing to do, but you have two options.
You can take a right turn and follow the slow-sloping sidewalk up to the Coit Tower parking lot, or you can walk across Telegraph Hill Boulevard to climb the last set of stairs up to the tower. I prefer taking the slow-sloping sidewalk as it brings you to the front of the tower, where you can climb a set of stairs to enter the front doors.
How many stairs do you have to climb to reach the top? You will climb around 400 stairs by the time you reach Telegraph Hill Boulevard. If you walk the last set of stairs, you will have about 100 extra stairs to get to Coit Tower. In total, it's around 500 or more stairs to reach the front doors of Coit Tower.
Local's Tip: You will find a second set of stairs just one block north on Greenwich Street. These stairs also lead to and from Coit Tower. I often take one of these staircases up and the other down for a different feel and a unique experience. Click here to learn more about the Greenwich Steps.

Guided Walking Tours

If you want to get an in-depth overview of the Filbert Street Steps and the surrounding areas, then you have a few guided tour options.
San Francisco Urban Hike-Coit Tower, Lombard Street, and North Beach: This 3-hour walking tour is strenuous. You will start by ascending the Filbert Street Steps. You will learn more about the stairs with a few breaks along the way. You will then visit Coit Tower to learn more about it.
You then head off to the top of another local park with beautiful bay views. After that brief rest, you'll head down the hill and back up Russian Hill to see the world-famous windy Lombard Street. The tour concludes in North Beach. Get more details on this hike and check for availability on Viator.

Telegraph Hill Stairway Hike: SF City Guides gives this free walking tour, which is part of the SF Library system. On this 2-hour tour, you will spend time learning about Coit Tower and walking down the Filbert Street Steps. You will also walk around Telegraph Hill and find out information all about the two greedy brothers who were determined to destroy it for their own profit.
Note: Even though this tour is free, they request donations at the end so that the SF City Guides program can continue as it is dependent on them. They usually request around $15 per person. However, if you don't have that much money, just leave a tip that makes you feel think is fair. Learn more about SF City Guides and their tours.
More Fun Hiking Tours
Additional Stairways in San Francisco

In addition to the Filbert Street Steps, you will find a variety of other stunning stairways all around town. These are just a few of my favorites.
16th Avenue Mosaic Stairs: This set of mosaic stairs is a popular stop for visitors. It's a set of staircases that feature the picture of a sun, a moon, and a large swirling design with fish and other sea creatures mixed in. You will find them in the Sunset District at 16th Avenue and Moraga.
Hidden Garden Stairs: Just a few blocks away, you will find one of my favorites, the Hidden Garden Stairs. This set also features mosaic designs with large flowers on each set of stairs. The large trees around them often shade them, and people rarely are on the stairs, so you may have them all to yourself. They are at 16th and Kirkham.
More Stairways in SF: You will find some other inspiring stairways all around SF. Find more of my favorites here.
Comments? Questions? Suggestions?
I would love for you to join me in my private Facebook group! 
It's a great place to interact with me and others who know the area well.
You can ask questions, get advice for your upcoming stay, and then share your photos and advice with others when you return home. It's a great community and the fastest way to get answers to those nagging questions about your visit!