San Francisco Itineraries: Several Suggested Ideas to Plan Your Stay

by Jill Loeffler  •

Published: January 18, 2023
Before I visit any new city, I love setting up a rough itinerary for each day. I want to make sure I don't miss any attractions and that I get the chance to try the best restaurants and local cuisines. I usually spend hours (or sometimes days!) trying to get everything in place.

I've learned that I'm not the only one that loves to build a daily itinerary. My visitors often ask questions about their plans and the best way to tackle everything there is to see in the city. 
Due to so many requests, I decided to build several one-day and multi-day San Francisco itineraries for you to use. Each one includes a detailed walking route with tips and a few alternative options along the way. 
Most include quite a bit of walking, so make sure you wear comfortable shoes. You will also want to bring along a few layers of clothing as the weather in the city can change from one neighborhood to the next.

Disclaimer: I receive a small commission from some of the links on this page.

One Day San Francisco Itinerary
During this one-day itinerary, you will see Fisherman's Wharf, visit Alcatraz (an old federal prison), and stroll across the Golden Gate Bridge. It's the perfect way to plan a short stay in San Francisco.
Two Day Itinerary
Add on a second day with this two-day itinerary. On this day, you will ride the cable cars to Lombard Street and climb to the top of Telegraph Hill to explore Coit Tower. 
You'll also explore Chinatown, sample some dim sum, and check out some historic temples.
Three Day Itinerary
On day three, you will continue to explore San Francisco. This day, you will head to Golden Gate Park to spend some time in the California Academy of Sciences. You will also explore the Japanese Tea Garden, and then head to the Mission to check out its top attractions.
>> See what's in store on day three
Four Day Itinerary
On day four, you will visit the Asian Art Museum, step inside SF's City Hall, and then check out the Painted Ladies of Alamo Square.
One-Day San Francisco Itineraries for Our Top Districts

The Perfect Day in Fisherman's Wharf

This neighborhood is the most popular for visitors and I can see why! It's filled with fun attractions including Pier 39 to shop and see the sea lions, the Hyde Street Pier, and Ghirardelli Square.
From Fisherman's Wharf, you can also grab a cruise on the San Francisco bay or a ferry to Alcatraz Island.
>> Fisherman's Wharf in One Day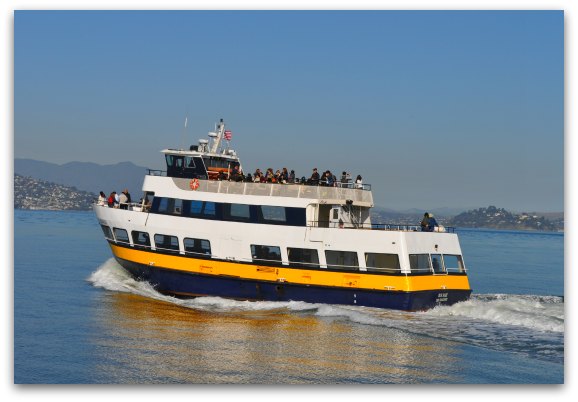 A blue and gold ferry cruising around the SF Bay
The Perfect Day in North Beach

North Beach is another fun district to visit. I love the amazing Italian delicacies as well as the historical events that took place in SF's Little Italy.
On this one-day walking tour, you get the chance to see Coit Tower, sample a few Italian treats along Columbus Avenue, walk around Washington Square Park, and learn more about the popular hangouts of the Beat Generation including City Lights Bookstore.
The Perfect Day in Chinatown

I often refer to Chinatown as a 'city within a city.' The moment you step inside this district, you feel the excitement as if you just arrived in another country.
My 'perfect day' itinerary for Chinatown includes a visit to several working temples, the best places to sample Dim Sum, see the ornate Dragon Gate, and tips on where to shop for inexpensive items along Grant Avenue.
The Perfect Day in Nob Hill and Russian Hill

The Nob and Russian Hill districts sit side by side on top of two steep hills. I love the beauty of both neighborhoods and all the fun things there are to see.
Your one-day tour for these two districts includes a visit to Grace Cathedral, the Cable Car Museum, and Lombard Square. It also includes a couple of hidden gems that you might not visit otherwise.
The Perfect Day in the Mission

When I visit the Mission, I can't wait to see its beautiful murals and sample its tasty (yet inexpensive) Mexican cuisine. It's another colorful and vibrant district that is a must-see.
On my 'perfect day' in the Mission, I take you through the oldest building in San Francisco, stroll around Mission Dolores Park, walk you down the path to find dozens of its murals, and introduce you to some of the best places to eat.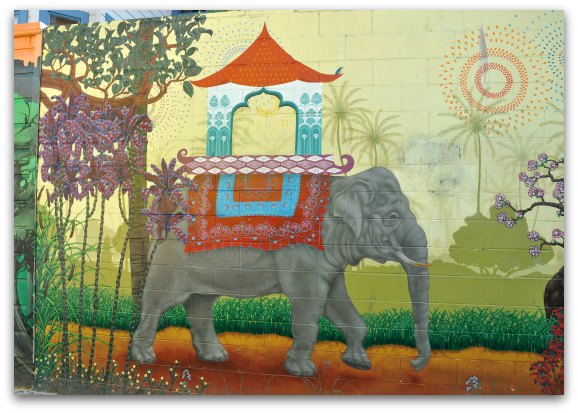 One of the colorful murals in the Mission District
The Perfect Day in Pacific Heights

When I think of 'classic' San Francisco, the Pacific Heights neighborhood comes to mind. With its beautiful Victorian homes and multi-million dollar mansions, it's the SF you see on TV and in the movies.
In Pacific Heights, I introduce you to Billionaire's Row, the gorgeous Lyon Street Stairs, and the historic Haas Lilienthal House. You also get the chance to do a little shopping and savor meals from some of my favorite restaurants.
>> The Perfect Day in Pacific Heights

The Perfect Day in the Marina

Sitting right on the San Francisco Bay, the Marina district is another amazing neighborhood. It offers incredible views of the Golden Gate Bridge, Alcatraz Island, and the shores of Sausalito.
On today's adventure, you will walk on the Golden Gate Bridge, stroll the shores of Crissy Field, create a picture-perfect moment at the Palace of Fine Arts (built for the Panama-Pacific Exposition), and show you everything the Fort Mason Center has to offer.
The Perfect Day in Civic Center, Hayes Valley, and Alamo Square

The Civic Center and Alamo Square districts sit in the heart of San Francisco. Many people will recognize these two neighborhoods as they house SF's City Hall and the famous Painted Ladies (where the intro to Full House was filmed).
Today's tour takes you to see both of those attractions as well as a visit to the Asian Art Museum. You will also start your day at one of my favorite brunch spots and end it at one of the best pizza places in the city. 
>> One Day in the Civic Center & Alamo Square Districts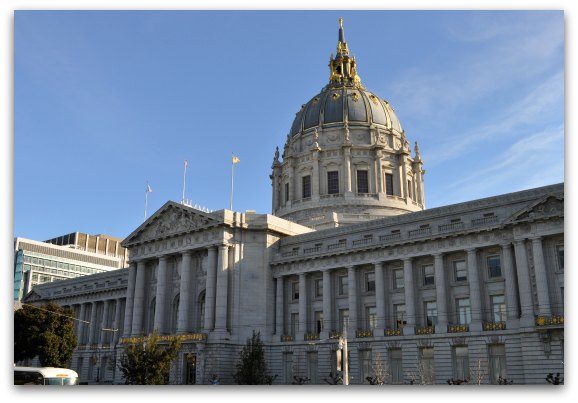 The gorgeous dome on top of SF's City Hall
The Perfect Day in Golden Gate Park

In this 1,000+ acre beauty, you will find more than a dozen SF attractions. You could spend several days here without seeing it all!
On my one-day self-guided tour, you get the chance to visit the California Academy of Sciences, admire the Japanese Tea Gardens and learn about the plants of the world in the San Francisco Botanical Garden.
You also get the chance to try out a Segway tour and hang with the locals in the Inner Sunset district.
The Perfect Day in Japantown

A small and often overlooked district in SF is Japantown. This cute area offers shopping for traditional Japanese items, yummy Japanese cuisine and a history walk around the district.
On this one day tour, you will find out all there is to do in this neighborhood including the best places to shop, where to grab the tastiest lunch and how to participate in their free self-guided historical walking tour.
The Perfect Day in the Castro

Are you looking for the best way to experience SF's famed LGBT district in just one day? This colorful neighborhood offers shopping, an LGBT dedicated museum and a few other fun attractions.
Come along with me as I take you through this fun, yet sometimes controversial area. Along the way, you will visit some of the most talked about places such as the Castro Theater and learn about its most famous resident Harvey Milk. 
The Perfect Day in the Haight Ashbury District

Step back in time on this one-day walking tour around the Haight Ashbury district. This popular SF neighborhood hosted the 1967 Summer of Love Festival and was also home to many famous musicians of the time.
During this self-guided tour, I will introduce you the Haight's gorgeous Victorians, take you by the houses where some of its famous residents lived and show you the amazing views from the top of Buena Vista Park.
I'll also give you recommendations on where to eat, shop and a few other tips to make the most out of your day here.
The Perfect Day in the Presidio

If you love being outdoors and want to get your heart pumping, then check out this fun itinerary for the Presidio. Your day starts with an introduction to Walt Disney and how he turned his cartoons into a multi-million-dollar business.
From there, you will visit the National Cemetery, hike through the Presidio to the Coastal Trail and then admire the amazing views of the Golden Gate Bridge from Baker Beach.
This is a fun day with quite a bit of hiking. (However, I also added a few options to get around faster for those not able to walk as far).
Comments? Questions? Suggestions?
I would love for you to join me in my private Facebook group! 
It's a great place to interact with me and others who know the area well.
You can ask questions, get advice for your upcoming stay, and then share your photos and advice with others when you return home. It's a great community and the fastest way to get answers to those nagging questions about your visit!