The Perfect Day in Chinatown: How to Get the Most Out of Your Visit to this SF Neighborhood

San Francisco's Chinatown offers a unique look into the interesting world of the Chinese Americans in the US. In this district, you get the chance to visit working temples, sample traditional Dim Sum and bargain for goods on Grant Avenue.

You can also learn more about the history of the Chinese immigrants to the US at the Chinese Historical Society and watch locals make fortune cookies.
Below, you will find what I consider "The Perfect Day in Chinatown". This self-guided walking tour will take you through all the highlights of this fascinating district at your own pace.
If you plan on visiting the Chinese Historical Society, then I recommend doing this tour Tuesday through Saturday. They close on both Sunday and Monday.
Disclaimer: I receive a small commission from some of the links on this page.

10 am: Start Your Walk at Portsmouth Square Park

This is the central meeting place for many locals in this neighborhood. Stroll through the park and watch the locals in action.
You will see everything from individuals doing Tai Chi to groups of men smoking and chatting the day away. 

10:15 am: Exit the Park on Washington Street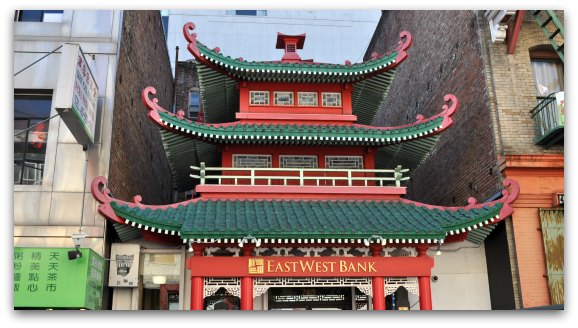 You will want to leave the park from the north west corner and head west on Washington Street. You will know you are headed the right way if you see a yellow building called "Sweet Treats" on your side of the street and another restaurant across the street from you call the Chinatown Restaurant.
Once you leave the park, cross the street to the side where you see the Chinatown Restaurant. From here, walk uphill about a half a block until you see the green and red East West Bank.
This building was the first Chinese telephone exchange in the US. The telephone exchange moved out many years ago and it is now home to the East West Bank. It features traditional architecture and will give you a small sample of the beautiful and colorful buildings throughout this neighborhood.
Walk back down the hill to Wentworth Place (it's more of an alley than a street) and take a left. As you stroll down this alley, take a look around for a behind the scenes look at local life in this district. Stop and admire the beautiful mural about a half a block down.
Walk one block to Jackson Street and take a look at pharmacy on the corner of Wentworth Place and Jackson Street. This is the oldest pharmacy in SF's Chinatown and worth a small peak inside. If it's closed, you can still get a good feel for what's inside by taking a look at its front window.
From here, head across the street and up the hill just a few feet to Beckett Street. Enter it and continue down this small street (again, more like an alley than a street).
11 am: Admire the Ma Tsu Temple

As you walk down Beckett Street, you will see a building with red circular decorations out front (featured in the picture above). That is the Ma Tsu Temple.
When you arrive, step inside for an up-close look at this modern Buddhist and Taoist Temple.
You may feel a little uncomfortable at first, but this temple welcomes visitors. The woman that works here most of the time does not speak much English, so don't be offended if she is unable to answer your questions. 
After you are done at the temple, step outside and take a close look at the two Lions protecting the front of the building. The one with the ball under its foot is male. The one with the baby under its foot is female.
As you walk around Chinatown, you will see that every entrance (including the Lion Gate on Grant Avenue) has both a male and female 'protecting' it.

12 pm: Sample a Fortune Cookie at the Golden Gate Fortune Cookie Factory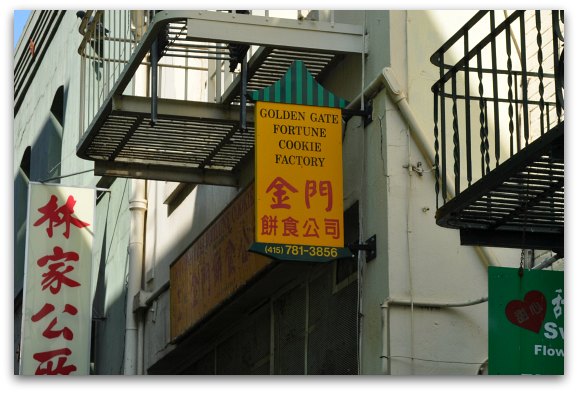 Your next stop is about two blocks away. Head back to Jackson Street and take a right (you will head slightly uphill). Cross Grant Street and look for Ross Alley. It's about a half block up from Grant Street.
Head down Ross Alley about a half a block until you reach the Golden Gate Fortune Cookie Factory. It's a small building, so don't walk too fast or you might just pass by it!
Even though this is a working factory, they welcome visitors. You can step  inside to see how the cookies are made and buy some for yourself or as gifts. They have a huge selection on sale right near those that are making the cookies. 
You might even be able to get a small sample before you buy! 
>> Click here for more pictures and what to expect during your visit.
1 pm: Enjoy Dim Sum for Lunch

After you finish at the Golden Gate Fortune Cookie Factory, head back to Jackson Street to sample traditional Dim Sum (Chinese small plates that are either fried or boiled).
The great thing about Dim Sum is that it is cheap, cheap, cheap! You can also try a variety of dishes.
One of my favorite places is Delicious Dim Sum at 752 Jackson Street. They are open every day except Wednesday (an alternative is Good Mong Kok Bakery at 1039 Stockton Street).
Even if you aren't that adventurous, you will still find something to eat at both of these places. However, keep in mind that the locals also eat here so you will see dishes such as chicken feet pass by during your lunch.
Don't worry though, if you are new, just ask them what each plate includes, and they will help you find something you will enjoy.
If both places are full, you can also check out some of my other favorite Dim Sum Restaurants in Chinatown.
2 pm: Learn the Local History at the Chinese Historical Society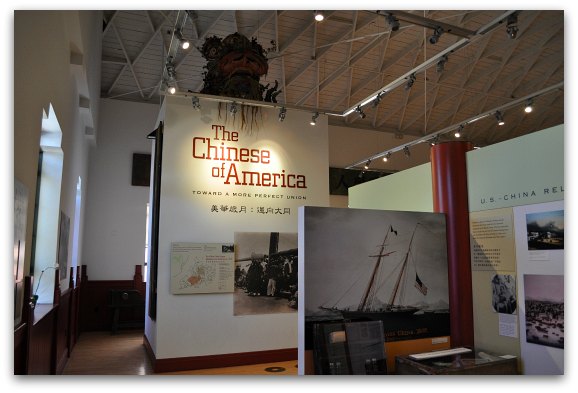 After lunch, head south on Stockton Street to Clay Street. Head up the hill one and a half blocks to the Chinese Historical Society Museum. This small museum focuses on the history of the Chinese in America.
Here you can learn more about what it was like to cross the Pacific Ocean with the dreams of starting a new life in the US. They also have an amazing display that outlines the impact of the Chinese Exclusion Act of 1882.
This visit takes about an hour.
3:30 pm: Walk Through the Kong Chow Temple

Head back down to Stockton Street and take a right. The second building on your right (855 Stockton) houses the Kong Chow Temple. Take the stairs or the elevator to the top floor to find the temple.
This temple also welcomes visitors.
It's an important temple as it displays the oldest Chinese artifacts in the US. It's small and a little dusty but look past this in order to find this temple's real beauty.
If you want to visit another temple, head back to Clay Street, cross the street and take a right. You should be walking down the hill on Clay Street. About a block down, you will find Waverly Place. This is where you will find the Tin How Temple at 125 Waverly Place. It's cleaner than the Kong Chow Temple and showcases other historic artifacts. The only challenge with this one is that you have to climb four flights of stairs to reach it. There is no elevator in the building.

4:30 pm Shop for Bargains on Grant Avenue

It's best to end the day with a little shopping. In Chinatown, you will find a variety of things from jewelry to SF themed gifts. You will find small shops all over the district, but most people flock to Grant Avenue to find cheap, yet interesting goods.
You can find some other deals at the smaller shops off Grant Avenue, but these stores do not do a great job with their displays. This means you will have to dig around a little more.
Some of the owners of these local shops also gear their products toward locals, so may not speak as much English.
If you are a true bargain shopper or are more adventurous, then walk through the alleys just one block up from Grant Avenue to find some great deals (and don't forget to negotiate for the best price!).
After you finish shopping, exit Chinatown through the Lion Gate on Grant Avenue. Step across the street, which is where you will get the best photos of the entire gate.
The only challenge with this is that the street between you and the gate gets busy at times. However, it's a one-way street, so be patient and the perfect picture will appear within a few minutes.
How to Get to Portsmouth Square

Portsmouth Square is a block long park on the corner of Clay and Kearny streets. You can enter the park in several places.
From Union Square, your best option is to walk. Depending on your starting location, it should only take you about 10 to 15 minutes. You will end up walking through Chinatown to get here, so it will give you a nice overview of what you will see on today's adventure. 
From Fisherman's Wharf, you should take the 30 bus. Pick it up at the corner of Columbus Avenue and Francisco Streets. Confirm with the driver that you are heading in the right direction for Chinatown. Take this to the Stockton and Sacramento Street stop. From here, walk back one block to Clay Street and head down the hill two blocks to reach Portsmouth Square.
Guided Chinatown Walking Tours

If you want to learn even more about the history San Francisco's Chinatown, then I recommend joining a guided walking tour. Many of these visit some of the same places mentioned above. However, they offer you the chance to ask questions and get the full inside story on each place you visit.
Click here to learn more about each one. Some offer just a walking tour as others include either lunch or dinner.
Comments? Questions? Suggestions?
I would love for you to join me in my private Facebook group! 
It's a great place to interact with me and others who know the area well.
You can ask questions, get advice for your upcoming stay, and then share your photos and advice with others when you return home. It's a great community and the fastest way to get answers to those nagging questions about your visit!