Golden Gate Fortune Cookie Factory: What to Expect When Visiting this Famous Chinatown Attraction

by Jill Loeffler  •

Updated: January 16, 2023
The Golden Gate Fortune Cookie Factory is a common stop for those visiting Chinatown in San Francisco. It is one of the few places where you can see for yourself how fortune cookies are made.

With a name that includes the word factory, you might think it's a large operation. It's not. In fact, you could easily walk by without even noticing it.
If you plan to visit Chinatown in San Francisco, make sure to stop by for a quick visit. Even though it's a working factory, they warmly welcome visitors.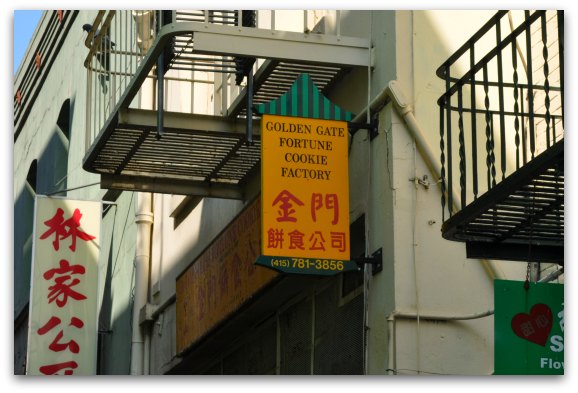 You'll find the Golden Gate Fortune Cookie Factory off the beaten path at 56 Ross Alley. It's surrounded by apartments and just a few other local businesses.
The Golden Gate Fortune Cookie Factory started making cookies here in 1962. Today, they distribute their cookies not only in Chinatown San Francisco, but throughout the world.

Disclaimer: I receive a small commission from some of the links on this page.

Did you know that the fortune cookie originated in the US? Until the early 1990s, you would not find fortune cookies in China or within the Chinese culture.
The minute you step through the door, you will be greeted by barrels of fortune cookies. You will also see everyone hard at work on these yummy treats.
You can also buy some of the cookies made here. They have a full retail shop. They offer just their standard fortune cookies, chocolate cookies, some with coatings, and a few that are for adults only. 
Ready to visit? You can check out the factory of this fun guided tour.
Here's just one of the photos I took from the inside of the factory.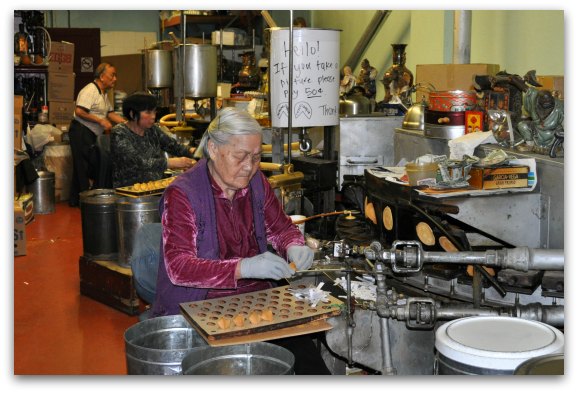 As you can see, the factory is quite small. This allows you to get an up-close look at everything that goes on here.
My visit was short - only around 10 minutes - but it was a fun stop. On my way out, the guy at the front door gave me a parting gift.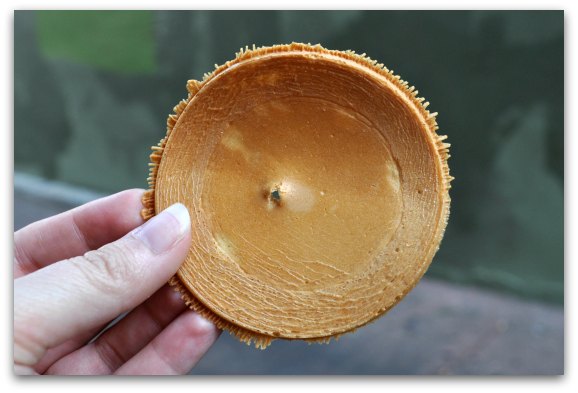 This is how the cookie looks before they add the fortune.
My cookie was still little warm when he handed it to me - so after I took this picture - I quickly ate it in just a couple of bites. I have to say it was one of the best fortune cookies I've ever had - well - minus the fortune.
If you have a few minutes during your visit to Chinatown in San Francisco, I recommend stopping by the Golden Gate Fortune Cookie Factory. It's a really quick stop, but a fun experience.
They are open daily from 9 am to 7 pm. It's at 56 Ross Alley - just off Jackson Street.
>> This is another great tour of Chinatown that includes a quick visit to the cookie factory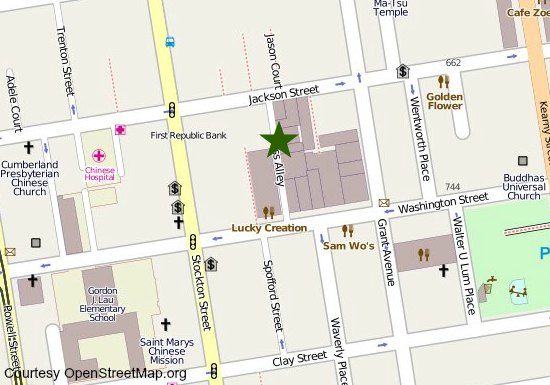 Other Things to Do in Chinatown: Here you will find a list of everything there is to see and do in Chinatown. Get recommendations on the best places to shop. Discover some of the hidden gems here and find a list of some of the best places to eat.
Shopping in Chinatown: If you LOVE bargains, then you will love the selection of well-priced items in Chinatown. You can find everything from luggage to jewelry along the streets around this neighborhood. Don't forget to bargain for the best deal!
Chinatown Temples: In addition to the uniqueness of the Golden Gate Fortune Cookie Factory, you will also find a number of unique temples. Most of them welcome visitors as long as you are respectful of their holy place. On this page, you will find a list of some of the best ones to visit in SF Chinatown.
A Perfect Day in Chinatown: Are you not sure how to put it all together in just one day? Use this self-guided itinerary to help you see it all in just one day. On this tour, you will visit the Golden Gate Fortune Cookie Factory, the Chinatown Temples and even do a little shopping at the end of your journey.

Comments? Questions? Suggestions?
I would love for you join me in my private Facebook group! 
It's a great place to interact with me and others that know the area well.
You can ask questions, get advice for your upcoming stay, and then share your photos and advice with others when you return home. It's a great community and the fastest way to get answers to those nagging questions about your visit!