Union Square San Francisco
Top Things to Do In This Popular SF District
Union Square San Francisco. Welcome to the heart of the city. Union Square is an actual plaza in the center of this SF neighborhood.
This neighborhood has hundreds of hotels and lots of shopping - including the large San Francisco Shopping Center. In addition, you will find theaters, a variety of restaurants and all types of places to grab a drink.
Top Things to Do
Catch a Show at One of the San Francisco Theaters
Many of the theaters are just a few blocks from this district. Here you can catch big name shows such as Wicked, the Lion King and The Book of Mormon.
You can also see highly acclaimed, but lesser known theater performances almost every night.
Learn More: Current Theater Calendar
---
Visit World Famous Museums
Just steps from Union Square, you will find several highly acclaimed SF museums. These range from the Contemporary Jewish Museum to the Museum of African Diaspora. Other museums close to the plaza include the SF MOMA, the Yerba Buena Center for the Performing Arts, and the California Historical Society.
Learn More: SF Museums
---
Shop Til You Drop
The biggest draw to Union Square San Francisco is the shopping. Here you can find big name department stores such as Macys and Neiman Marcus. You can also find speciality stores such as Niketown and Williams Sonoma. Just a few blocks away, you will find the San Francisco shopping center. If you love to shop, then Union Square is the San Francisco neighborhood for you!
Learn More: Union Square Shopping
---
Experience the Historic Cable Cars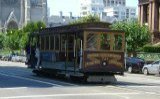 Hop on one of the cable cars for an experience unlike any other. San Francisco is one of just a few cities in the world that still has working cable cars. In the late 1800s and early 1900s, they were the only easy way to get up and down the steep San Francisco hills.
With the CityPass card, you can ride them as much as you want for seven days at no additional charge. Just by showing your City Pass San Francisco card you can also ride any Muni bus, streetcar or light rail train for all seven days without paying again. This saves you time, money and the stress of digging for money every time you take public transit.
Learn More: Cable Cars | CityPass
---
Savor Gourmet Foods at the Ferry Building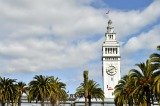 Just a few blocks away is the Ferry Building. This gourmet marketplace is home to dozens of shops were you can buy fresh breads, different varieties of cheese from around the world and fun kitchen gadgets.
The Ferry Building Farmers Market is a hit with both locals and visitors. This large outdoor market adds even more fresh food vendors to the mix. You can also shop for unique gifts for friends and family.
Learn More: Ferry Building
---
See a Free Performance at Union Square Live
Every summer, the square comes to life with Union Square Live. Two to three times a week, on Wednesdays and Sundays, you will find free cultural performances.
They range from salsa dancing lessons to live music from local artists.
Learn More: Union Square Live Calendar of Events
Best Restaurants in Union Square San Francisco
There are dozens of restaurants in the Union Square San Francisco neighborhood. You can find everything from fine dining at the famous chef Michael Mina restaurant to more casual places such as Farmer Brown. It seems like there is a new restaurant opening everyday -- so there is always something new to try.
Here are some of my favorites: Union Square Restaurants
Best Hotels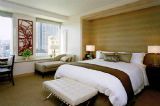 The largest concentration of hotels are in the Union Square San Francisco neighborhood. They range from smaller and cheaper two star hotels to five star hotels with all of the amenities. You will also find a number of nationally and internationally recognized names such as Marriott, Sheridan and Hyatt.
Learn More: Hotels in Union Square
Best Bars
Harry Denton's Starlight Ballroom: This Starlight Ballroom is on the 21st floor of the Sir Francis Drake Hotel. It's one of the few bars in Union Square San Francisco with large windows and a view over the Union Square plaza. Most of the tables are reserved in advance, but if you head in just a few minutes after they open (around 6pm), they usually let you stay for a drink. You can grab a quick view of the neighborhood and then head out for a fun night on the town. Address: 450 Powell St. (at Sutter St.)
Redwood Room: The Clift Hotel is the scene for your next San Francisco Union Square bar. It's fun, funky and has a beautiful redwood bar. The bar has a modern, upscale feel with several historical features. Grab a drink and watch the 'paintings' on the wall. Each painting moves around, but slowly enough so you can watch and enjoy them. Address: 495 Geary Street
Tunnel Top: This classic bar is just a few blocks up the hill from the plaza. It's at the top of the tunnel that leads from Union Square over to Chinatown. It's a popular hang out for both locals and visitors. Most nights, you will find it crowded and a DJ spinning upstairs. Address: 601 Bush Street
Press Club: If you love sampling a variety of wines from around the world, then head over to the Press Club wine bar. This bar offers plenty of room to hang out and enjoy your wine. They also offer a great small plates menu. Address: 20 Yerba Buena Lane
The Irish Bank Bar & Restaurant: The Irish Bank is a great little bar and restaurant tucked away in an alley about five blocks from Union Square San Francisco. It has great beers and a good selection on the menu. It has a little outdoor area which is the perfect place to stop for a drink or a nice casual dinner with your friends. Address: 10 Mark Lane
How to Get Here
From Fishermans Wharf/Pier 39: There are several ways to easily get here from Fishermans Wharf.

Cable Car: Taking a cable car is the most fun. There are two cable car lines that run between Fishermans Wharf and Union Square. The cost is $6 per person. It takes about 20 to 25 minutes to get there using the cable cars.
F Streetcar: Another option is to take the F Streetcar. This option only costs $2 per person. It takes just a little longer - around 30 minutes or so - but is a beautiful ride along the water.



From San Francisco International Airport (SFO): You can take a taxi, shuttle, or BART (the train) from SFO.

Taxi: The fastest and easiest way to get from SFO to Union Square is by taxi -- but it's also the most expensive.

Shuttle: Taking an airport shuttle from SFO to Union Square is more cost effective. There are about a dozen companies that run shuttles to and from SFO to San Francisco.
BART: This takes the most time, but is the least expensive. If you pack light and you don't mind walking a little, this is a great option.

From Oakland Airport (OAK)/East Bay: You have the same options for getting into the city from OAK as SFO. However, the experience is slightly different, since you need to plan ahead just a little more. Also, it costs more money and will take a little longer when traveling from OAK to Union Square San Francisco.
More Great Pages for You