Curran Theater in San Francisco: Tips to Attend a Show at this Historic Venue

by Jill Loeffler  •

Updated: July 1, 2023
The Curran Theater in San Francisco is another lovely historic gem. It's home to incredible, ground-breaking productions such as Dear Evan Hansen, Head Over Heels, and Harry Potter and the Cursed Child.

Built in 1922, it is in the Theater District just a few blocks away from Union Square. It offers three tiers of seating including orchestra, mezzanine, and balcony levels. After a recent renovation, the theater now holds more than 1,650 people for each show.
You will find it at 445 Geary Street.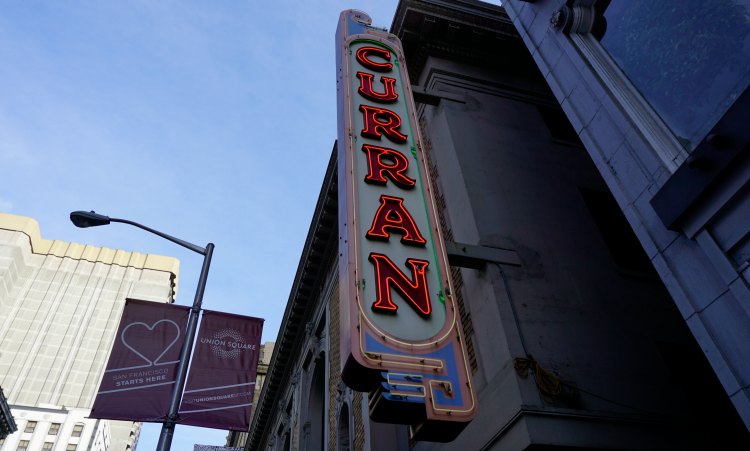 Disclaimer: I receive a small commission from some of the links on this page.

Everything You Need to See a Show at the Curran Theater in San Francisco
Below you will find everything you need to prepare for a performance at the Curran Theater in San Francisco. Click the links to scroll down for answers to all of these top questions.
What is the schedule of upcoming performances? 
Where can I buy tickets? How many seats does Curran Theater in San Francisco have and is there a seating chart? Is there ADA accessible seating?

What should I wear to the Curran Theater? What is the bag policy? 

Where is it located? Where do you park nearby? How do I get here on public transit?

What hotels are nearby? What restaurants are nearby?

What is the full theater schedule for San Francisco? Visit my theater page for a full schedule of upcoming performances at all theaters around SF.

What is the history of this San Francisco theater? 

Schedule of Upcoming Performances 

You will find one to two big theater productions each year at the Curran Theater in San Francisco. In addition, they also offer other types of performances a few times a year including around Christmas. 
Here are dates and times for their upcoming performances.
Where to Buy Tickets

You have a few options when it comes to tickets for the Curran Theater in San Francisco. They sell their official tickets through Ticketmaster, and these are directly from the venue. Find a list of tickets for upcoming performances on Ticketmaster.
If their tickets are sold out or you want better seats, then head over to StubHub. Here you will find third party tickets. Sometimes these tickets sell for more or less than face value depending on the show and date of purchase. It's a great place to get some of the better seats or tickets for sold out performances.
Number of Seats & Seating Chart

The Curran Theater in San Francisco currently has a capacity of 1,667. You will find seating on three levels with wonderful views from each one of them.
The upper sections offer the lowest prices, and the price goes up the closer you get to the stage.
Balcony: This is the top level on the third floor. The front row seats start in row A and go back to row M.

Mezzanine: This is on the second floor. This section is slightly bigger than the Balcony section with seating starting in row A and running up to M. However, you will also find two additional A & B rows in the very front of this level.

Orchestra: This is on the main level of the theater and the largest of the three areas. The rows start with a few seats in the front. They then go from row A to row V. 

Here is the seating chart for all three levels.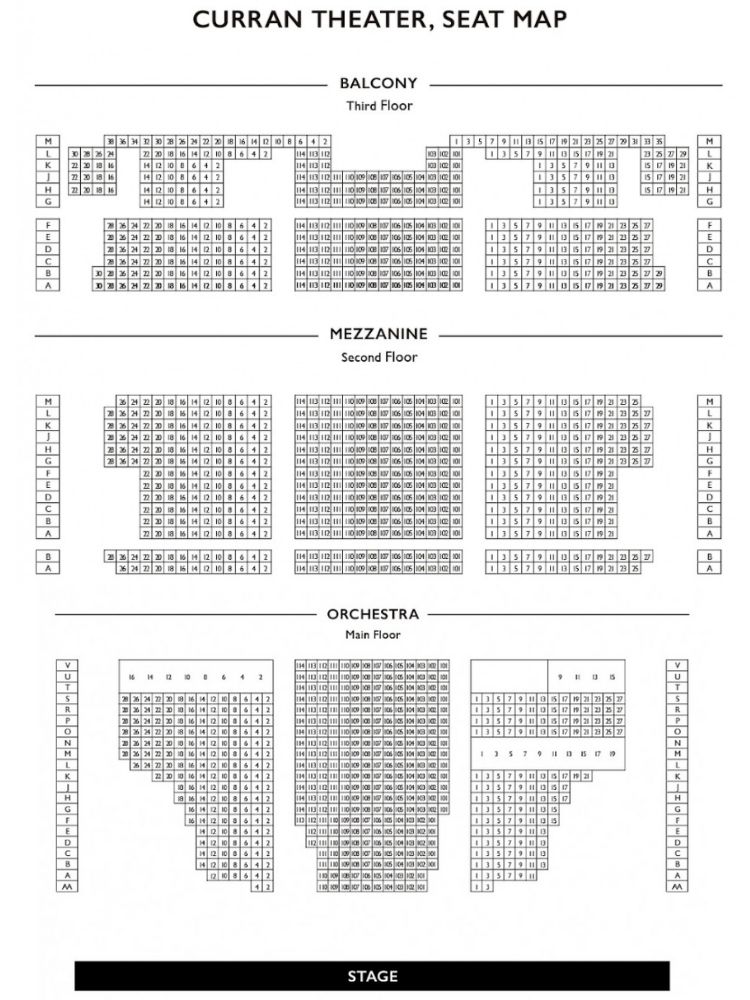 ADA Accessible Seating

This theater is old but does offer ADA and wheelchair accessible seating in the Orchestra level. In order to secure these seats, you will need to call them directly for booking details. You can reach them directly at 415.358.1220.
Due to fire codes, you will not be able to keep any canes or walking sticks in the aisle with you. The ushers will store them for you and will bring them back if you want to get up during intermission. They will then bring them back to you at the end of the performance. 
What to Wear

There isn't a strict dress code for the Curran Theater in San Francisco. You will find people dressed in both casual and business casual dress. You are free to wear anything from jeans and a t-shirt to a fancy dress or suit.
Even though you are allowed to dress casually, it is a great excuse to dress up a little. I often wear a nice pair of pants or a dress for the performance. Since many shows last a couple of hours, make sure to wear something that is nice, but also comfortable. 
I usually bring along layers so I can add one if it's too cool or take one off if it's too warm. Usually, the temperature is nice and comfortable but bringing along a jacket or light sweater is a good idea so you stay cozy throughout the show.

Bag Policy

The Curran Theater in San Francisco does not have a strict bag policy. However, I recommend bringing along only what you need. It's a historic theater and seating is tight in certain areas. The smaller your bag, the more space you will have to stretch out your legs. 

Where is the Curran Theater in San Francisco Located?

The Curran Theater in San Francisco is near Union Square in the Theater District at 445 Geary Street. It's easy to get to from any location around the city and a great spot to catch a show.

Where to Park Near the Curran Theater

I highly recommend heading here on public transit as parking in the area is expensive. However, if you do plan to drive, here are a few places to find parking nearby.
Mason O'Farrell Garage: 325 Mason Street, about a block and a half away from the theater, open 24 hours a day, present your ticket for discounted parking for up to 6 hours
550 O'Farrell Garage: 3 blocks away, show your ticket for a discount for up to 6 hours of parking

Union Square Garage: 333 Post St, open 24 hours and about 2 blocks away

Post & Mason Garage: 520 Mason St, about two blocks away, open 24 hours a day 

Public Transit 

This is your best option if you plan to head to a show at the Curran Theater in San Francisco. Here are the options nearby.
Light Rail: The Powell Street Station is closest to the theater with stops on the following trains: J, K, M, & N
Buses: 6, 9, 27, 31, & 38

F Streetcar: The closest stop is at Market & 5th. It's a great option if you are coming over from Fisherman's Wharf. It isn't the fastest, but you don't have to switch to a second bus halfway through which makes it the easiest option.

BART: The closest stop is at the Powell Street Station.

Where to Stay Nearby

You will find several hotels within a few blocks from the Curran Theater in San Francisco. Here are my top picks.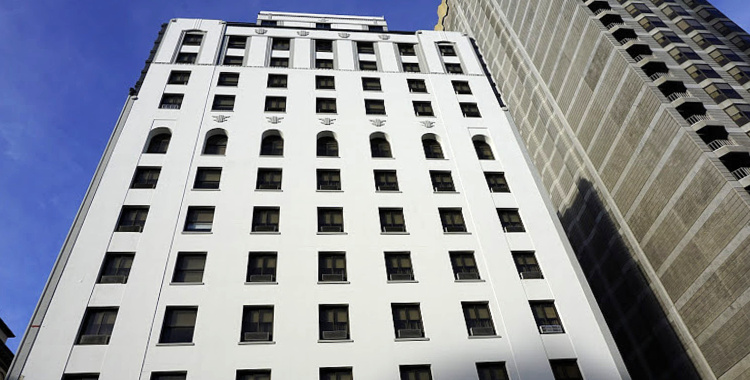 The Clift Royal Sonesta Hotel: 495 Geary Street, right next door to the Curran is The Clift Hotel. This 4-star gem offers luxury with modern touches. The Redwood Room is their bar on the main level and one of my favorites in SF. Check for availability and room rates.
Hotel Spero: 405 Taylor Street, located just a block and a half away. This 4-star hotel is another great choice. It offers modern comfort in a Spanish Colonial building from 1923. For those looking to grab a bite to eat, or a delicious drink, Jaspers is on the main level. Check here to read reviews and for prices of rooms.
Hilton San Francisco Union Square: 333 O'Farrell Street, located about 2 blocks away. With 1,919 guest rooms, it's the largest hotel on the West Coast. They make you feel right at home with their wonderful customer service and modern amenities. Find out more and check for room availability.

More Lodging Options: Find additional hotels around the Theater District in San Francisco on Booking.com. Click the link to find a great selection including everything from budget-friendly gems to high-end luxury hotels. Find them all here.

You will also find some other great recommendations nearby on my Union Square hotel recommendations page.

Dinner Before or After the Show

You will find dozens of places to grab a meal before the show near the Curran Theater in San Francisco. Here are a just a few of my favorites.
620 Jones: Corner of Jones and Geary about 2 blocks from the theater, Italian food with both indoor and outdoor seating
Johnny Foley's Irish House: 243 O'Farrell St, Irish bar and restaurant

Pinecrest Diner: 401 Geary St, Old school diner that is open 24 hours a day

The Oak Room Restaurant: 335 Powell Street, American cuisine inside The Westin St. Francis Hotel

Curran Theater in San Francisco History

Homer Curran was a local theater producer that built the Curran Theater in San Francisco in 1922. Over the years, it's housed numerous theater companies. It was even home to an annual spring SF Opera performance every year for several years.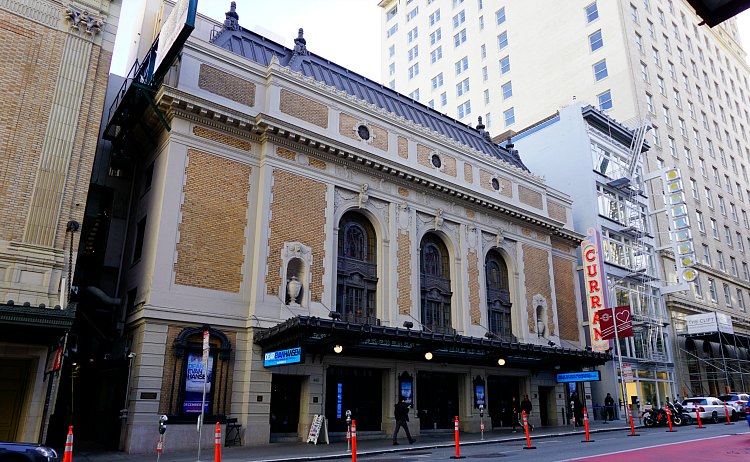 In 1977, the two owners, Carole Shorenstein Hays and James M. Nederlander, started a Best of Broadway series at the theater. It was home to many West Coast Broadway premieres including Annie.
They ran this theater as well as the Orpheum and the Golden Gate for years under the name SHN.
The internationally beloved Wicked's World Premiere was at the Curran Theater in San Francisco in 2003. Instead of opening on Broadway, this award-winning show opened in SF with a cast that included Idina Menzel as Elphaba, Kristin Chenoweth as Glinda, and Joel Grey as the Wizard.
Other shows that performed here before moving to Broadway include A Chorus Line (revival), Beautiful: The Carol King Musical, White Christmas, and many others. 

In 2014, Carole Shorenstein Hays took over as the full owner of the Curran and is now no longer affiliated with SHN. This San Francisco theater closed in 2015 for renovations and reopened for business in 2017 with the production of the musical Fun Home.

Today, you will find a handful of Broadway shows each year as well as other lively entertainment.

More About San Francisco Theater

Theater District: This district is home to more than a half dozen theaters including the Curran Theater in San Francisco. Find out more about this district including where to stay, eat and transit options.
Orpheum Theater: The largest theater in San Francisco that offers Broadway shows all year long is the Orpheum. Built in 1926, it's another historic landmark that offers hundreds of performances on stage each year. Find a schedule of upcoming shows as well as tips to attend a performance at the Orpheum.
Golden Gate Theater: The other theater in SF that features Broadway shows is the Golden Gate Theater. This one opened in 1922 and was also recently renovated. It's a great place to catch a show while you are in SF. Find out more including a schedule of upcoming Broadway shows.

Comments? Questions? Suggestions?
I would love for you to join me in my private Facebook group! 
It's a great place to interact with me and others who know the area well.
You can ask questions, get advice for your upcoming stay, and then share your photos and advice with others when you return home. It's a great community and the fastest way to get answers to those nagging questions about your visit!