SantaCon SF: Details for the 2022 Event in San Francisco

by Jill Loeffler  •

Updated: October 2, 2022
This year's SantaCon SF is on Saturday, December 10, 2022. You will find this annual event in almost every large city in the US and around the world.

SantaCon is when thousands of people dressed in Santa costumes walk through the streets spreading good cheer.
It's a non-political, non-violent, non-controversial day fueled by fun-loving people, revised Christmas carols and, of course, a few holiday drinks.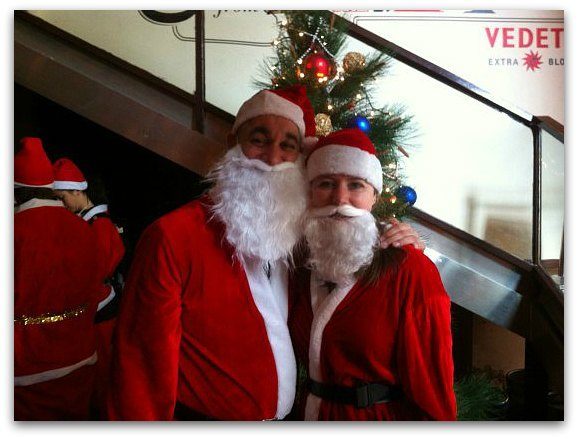 It's free to participate--just put on your Santa costume, follow the walking routes and sing along for fun.
You will also want to bring cash if you plan on enjoying a few holiday cocktails or a bite to eat along the way.
You must be 21+ to participate. 
Disclaimer: I receive a small commission from some of the links on this page.

SantaCon Event Details

The Santas behind SantaCon like to keep the details under lock and key until the last minute. They plan to follow a similar schedule as they have in past years. The event will once again start in Union Square at 11:30am. They will also have a toy drive again this year.
11:30am: Drop off your toy for this year's toy drive. Open until 1:30pm.
12pm: Everyone meets at Union Square at noon on Saturday. Mingle with other Santas and then head out on one of the routes.
Toy Drive

This year, they are also asking that you bring along a new (not used, please) toy for the SFFD toy drive. Please make sure it's unwrapped, so they can see the toy and provide it to the right child.
A truck is set up to gather the donations. The location of this truck is at Union Square.
Please drop your toy off here before heading to Union Square. The fire truck will collect toys from 11:30am to 1:30pm.
Here are a few tips for picking up a toy for the drive:
Toys for kids 12 years and younger
Most requested items for girls are dolls and arts & crafts kits
Most requested items for boys are sports equipment
More Tips to Enjoy SantaCon SF

This event gets a little crazy and I request that you please, please, please be kind and respectful to those around you. This is meant to be a fun way to meet new people and spread some holiday cheer. 
They ask that you pay for your drinks and food in cash. The bars will be slammed, so this will make the process much easier for them.
Also be aware that not all bars welcome Santas, so look out for any "No Santas" signs before you enter. It's important to follow this rule, so that this event is allowed to come back next year.
This Year's Participating Bars

You will find dozens of bars with drink specials all day long. You can visit their Facebook page for a list of who is all participating. They will continue to update their list as the date draws near.
You will find a large concentration in Union Square, Nob Hill, and North Beach. There are also quite a few participating in the Castro and the Marina. Most bars are open all day long so you will have plenty of time to hang out and/or catch up with your friends if you want to join in on the fun later.
Comments? Questions? Suggestions?
I would love for you join me in my private Facebook group! 
It's a great place to interact with me and others that know the area well.
You can ask questions, get advice for your upcoming stay, and then share your photos and advice with others when you return home. It's a great community and the fastest way to get answers to those nagging questions about your visit!