San Francisco Castro
Top Things to Do & See In this Famous, LGBT District
The San Francisco Castro district is an internationally recognized neighborhood that supports the LGBT (lesbian, gay, bisexual and transgender) community. This progressive and accepting neighborhood was also home to one of the biggest gay rights activists of the 1970s, Harvey Milk.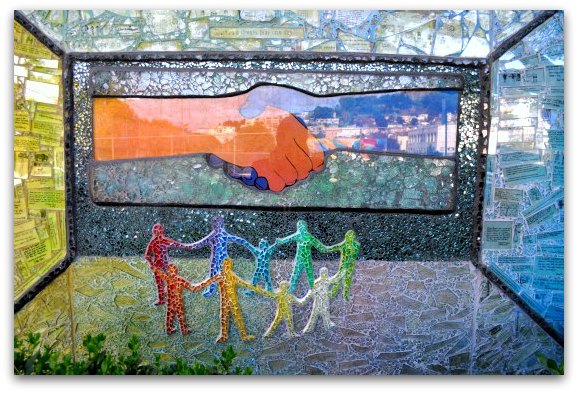 You will find this gorgeous mural on the side of a school building in this colorful district.
I love walking around this lively and colorful neighborhood. I always find everyone friendly with a great sense of humor. They don't take themselves too seriously and they welcome everyone into their little slice of San Francisco.
During your visit, you will immediately see the fun nature of the community all the way down to the names of some of the bars, restaurants and shops. My two favorites are "Does Your Mother Know" which is a gift shop and the "Sausage Factory" an Italian restaurant serving homemade sausages.
Top Things to Do & See in the San Francisco Castro
Catch a Show at the San Francisco Castro Theatre
The Castro Theatre is an historic landmark in San Francisco. It was originally built in 1922. Ownership has changed several times and each owner has added special touches. Inside you will find ornate decorations, a huge (1,400+ seat) auditorium and plush theater seats. It is also one of the only theaters left in the US with a pipe organ player.
Here you can see foreign films, repertory cinema, film festivals and special first run presentations. Some of the most popular are the 'sing alongs' where the audience sings along with the movie. The theater also has a large stage for live performances and other celebrations.
Visit their site for an updated list of movies and events: Castro Theatre Website
---
Take an Historical Walking Tour
Walk through the history of this internationally renowned gay neighborhood in San Francisco. Learn about the people, places and events that made it so famous.
On this two hour guided tour, you will walk by Harvey Milk's former residence & camera shop, the Harvey Milk Plaza and the Civil Rights Academy.
You will also learn more about the Rainbow Honor Walk Project, the Pink Triangle Memorial Park and more. This is one of the best ways to learn about and understand this important and progressive San Francisco neighborhood.
Learn More: Additional Information & Booking Details
---
Remember Those That Were Lost at Pink Triangle Park
Pink Triangle Park is a memorial to all of the gay, lesbian, bisexual and transgender victims of the Nazi regime (1933 - 1945). This park is a one of a kind and sits proudly in the San Francisco Castro District.
Here you will find fifteen pylons with pink triangles on them. Each one represents an estimated one thousand victims -- around 15,000 in total -- that died. You will also find two triangles with pink stones inside. The artists and local community invite you to take a pink stone home with you as a way to continually remember the victims.
The small, triangle shaped park is just to the north of Harvey Milk Plaza. You will need to cross Market Street and head about a half a block west to find it.
---
Learn More About the History of This Community at the GLBT Historical Society
Another great way to learn about Harvey Milk and the history of the community is by stopping by the GLBT Historical Society. It's the first full scale, stand alone museum dedicated to the history of this community.
The museum has a number of permanent exhibits as well as interesting traveling exhibits. The museum is open every day except Tuesday. It is at 4127 18th St. in the San Francisco Castro. Admission is $5 per person.
More: Pictures & Tips to Visit this SF Museum
---
Visit The Location of Harvey Milk's Old Camera Shop
One of the most famous locations in the San Francisco Castro District is Harvey Milk's old camera shop. It is at 575 Castro Street -- just a couple of blocks south of Market Street and Harvey Milk Plaza.
Milk and his partner opened the shop in the early 1970s. Milk loved photography, so they decided to open a shop here. It turned into a social gathering place and was the hub of activity in the neighborhood. The LGBT community felt welcome here as Milk fought for the rights of his community and his neighborhood.
At this location you will now find a Human Rights Campaign Shop. Also outside on the sidewalk, you will see two plaques dedicated to Milk. There is also a small painted mural on the wall above the entrance to the store.
---
Hang with the Locals at the Castro Street Fair
The Castro Street Fair was one of the first street fairs in San Francisco. It is a community based celebration founded by Harvey Milk in 1974.
The celebration is always the first Sunday in October. You can enjoy live entertainment and artistry from hundreds of local artists, vendors and other people supporting the diversity of this community.
Learn More: Castro Street Fair
Best Restaurants in the San Francisco Castro District
While there are many restaurants in the San Francisco Castro, several of them are casual dining experiences. There are a few gems here though and these are some of my favorites.
Frances: This is one of the newer restaurants on the scene here. This Michelin rated restaurant serves fresh Californian dishes with local ingredients. The dinner menu changes daily to keep you guessing. They also have some fun, fresh cocktails and a wine list with both local and internationally recognized wines. Address: 3870 17th St
The Sausage Factory: The Sausage Factory is a casual Italian restaurant that has been in the neighborhood for more than 40 years. They serve some of the best pizza in the area and their homemade pasta has locals coming back for more. The ingredients are fresh, the pizza dough is made daily and all of their sauces are made in the restaurant. Address: 517 Castro Street
Anchor Oyster Bar: This small and unassuming seafood restaurant is one of the best in San Francisco. They have amazing fish that is fresh and delicious. It's hard to find another place like it. It's best on the weeknights, since they don't take reservations and it gets pretty crowded. If you enjoy seafood, this is the place to try. Address: 579 Castro Street
Canela Bistro Bar: My final recommendation is Canela Bistro Bar. You can tell this restaurant is a labor of love for its owners. With Spanish inspired food and drinks, it is one of the best restaurants in the San Francisco Castro. Not only is the food great, but their service is always top notch. Address: 2272 Market Street (at Noe)
Other Popular SF Neighborhoods
Gay Bars San Francisco
Many of the gay bars in San Francisco are in or near this colorful district. The most popular -- and the most crowded ones -- are those along Castro Street right south of Market. Many of these have been around for years and its a great place to stop for a few beers.
Twin Peaks Tavern: This is a legendary bar here. It was one of the first gay bars in San Francisco to remove the covering from their windows and 'open' themselves up to the streets of the city. With its ornate decor and great location, it should be one of your first stops in the neighborhood. Address: 401 Castro Street
Toad Hall: Another great place to check out is Toad Hall. This one is set off Castro Street on 18th, so it isn't usually as crowded as some of the other places. Address: 4146 18th St
Harvey's: This bar originally opened with the name of "The Elephant Walk" in the early 1970s. Harvey Milk frequented it due to the owners acceptance of the gay community. It was destroyed by a fire and when it reopened in 1996, it was renamed Harvey's as a memorial to Milk. Today, it's both a restaurant and a bar. They have simple bar food and it's popular with locals. Address: 500 Castro Street
Last Call Bar: This is another good bar for those seeking a spot for a few drinks in the San Francisco Castro. It's usually a little more quite, but still has a great vibe. Address: 3988 18th St
Where to Stay
Here are some of the best places to stay in or near this district.
Parker Guest House
520 Church Street
Rooms start at around $149 a night
One of the best places to stay in the San Francisco Castro is the Parker Guest House. This is a small bed and breakfast with 21 guest rooms.
The hotel offers free breakfast and high speed internet access. You will find it right between the Castro and Mission Districts in San Francisco. Both are thriving SF neighborhoods with dozens of restaurants and bars.
Read other guest reviews and find booking information for the Parker Guest House on TripAdvisor.
---
Inn on Castro: 321 Castro Street

This small bed and breakfast in the Castro has both rooms and suites
There are only 8 rooms here and all have free high-speed internet and breakfast
The location is perfect - just steps from the heart of the action in the Castro
Rooms start at around $115



The Willows Bed and Breakfast Inn: 710 14th Street

The Willows is another small bed and breakfast in the Castro
There are only 13 rooms with a relaxed, welcoming atmosphere
Staying here, you are only steps away from public transportation that takes you to downtown San Francisco and Union Square
Rooms start at around $95
Read other guest reviews and find the best deals for hotels in the San Francisco Castro on TripAdvisor.
Who Was Harvey Milk?
Harvey Milk was one of the most famous residents in the San Francisco Castro. He was passionate about equal rights for the gay community. His outspoken nature and ability to make people feel that they fit in somewhere was what made him so popular.
In the early 1970s, Milk and his partner opened a camera shop right on Castro Street. Due to his friendly nature, residents frequented the shop. It eventually turned into the local community hang out.
He did a lot for the gay community in the Castro. He was the first to organize the Castro Street Fair and was dubbed the 'Mayor of Castro Street'.
One of the best books on Harvey Milk is also called The Mayor of Castro Street.
It's a great overview of his life, what he fought for and what happened on his final days.
In the late 1970s, he decided to use his influence with a larger audience. He ran for and was elected to the board of supervisors. He took office in January of 1978.
Tragically, on November 27, 1978, only a few short months after he took office, both Milk and Mayor George Mascone were shot and killed. Both were murdered in their offices in City Hall by former supervisor Dan White.
Not only was it a horrific situation, but White was only convicted of manslaughter. He received a short sentence of just a few years and was released early. The community was outraged by the tragedy and then the lack of justice.
The movie Milk, starring Sean Penn, is based on the story of Harvey Milk. This movie does a great job in bringing to life the upbeat and charismatic Milk. It also shows the personal struggles of the community at the time and the tragic event in 1978. Read reviews and get more details on the movie Milk on Amazon.
How to Get to the San Francisco Castro
Muni: The best way to get to the San Francisco Castro is by taking the underground Muni. The KT, L, M and S trains all stop at Harvey Milk Plaza at Market and Castro Streets. This is a fast ride from Union Square, since it only make four or five stops between Union Square and the Castro.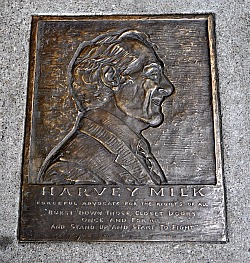 Street Cars: If you have a little more time, you might want to consider taking the F Street Car from Union Square. This is a little slower -- it takes an extra 15 or so minutes vs the Muni -- but it is above ground so you can watch the scenery along the way. You can also pick this up in Fishermans Wharf and take it all the way to its final stop near Market and Castro Streets.
Taxi: Taking a taxi is another option. It will get you door to door, but is a little more expensive than the other options. From Union Square, it will cost about $15. From Fishermans Wharf, expect it to cost a little more -- closer to $20 to $25 each way.
Car: I add this as an option, but it isn't a good option. Parking in this neighborhood is awful and getting worse. There really aren't any good parking garages here, so its mostly street parking. If you do drive, I recommend heading up the hill on Castro Street and looking for parking up there. It's a steep walk, but is your best option for parking in this neighborhood.
Other Nearby Neighborhoods