San Francisco Castro: Top Things to Do & See In this Famous, LGBT District

by Jill Loeffler  •

Updated: January 19, 2023
The San Francisco Castro district is an internationally recognized neighborhood that supports the LGBTQ (lesbian, gay, bisexual, transgender and queer) community. This progressive and accepting neighborhood was also home to one of the most significant gay rights activists of the 1970s, Harvey Milk.

You will find plenty of fun things to do here during the day and at night. You can head out on a historic walking tour, sample some of the local foods, check out the "naughty" cookies at Hot Topic, relax in one of its many parks or grab a drink and get to know some locals.

You will find this gorgeous mural on the side of a school building in this colorful district.
I love walking around this lively and colorful neighborhood. While this SF district is known for its support of the LGBTQ community, you will find that many families also call this neighborhood home.
Is the Castro safe? Absolutely. In fact, due to its strong sense of community, it's one of the safest in San Francisco.
During your visit, you will immediately see the fun nature of the community all the way down to the names of some of the bars, restaurants and shops. My two favorites are "Does Your Mother Know" which is a gift shop and the "Sausage Factory" an Italian restaurant serving homemade sausages.
Disclaimer: I receive a small commission from some of the links on this page.

Top Things to Do in the San Francisco Castro

San Francisco Castro Theatre

The Castro Theatre is a historic landmark in San Francisco. It was originally built in 1922. Ownership has changed several times and each owner has added special touches.
Inside you will find ornate decorations, a huge (1,400+ seat) auditorium, and plush theater seats. It is also one of the only theaters left in the US with a pipe organ player.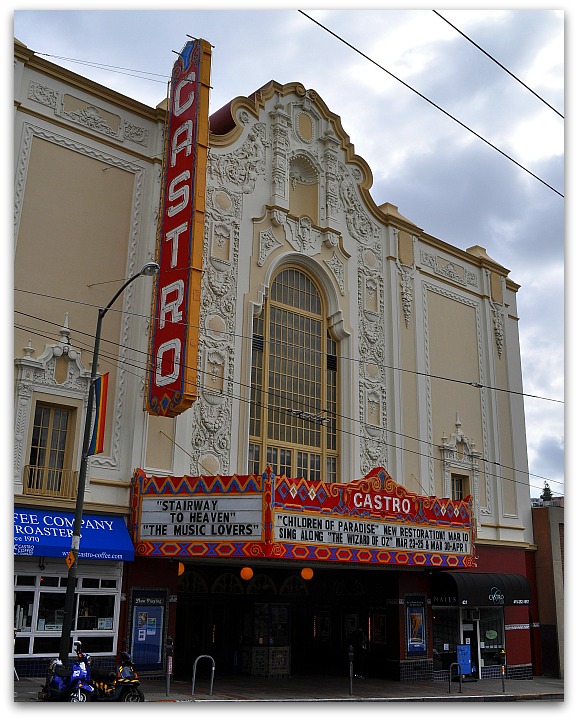 Here you can see foreign films, repertory cinema, film festivals, and special first-run presentations. Some of the most popular are the 'sing alongs' where the audience sings along with the movie.
The theater also has a large stage for live performances and other celebrations, which the new owners seem to be moving toward more and more. 
Visit their site for an updated list of movies and events: Castro Theatre Website
Pink Triangle Memorial Park

Pink Triangle Memorial Park is a memorial to all of the gay, lesbian, bisexual, and transgender victims of the Nazi regime (1933 - 1945). This park is one of a kind and sits proudly in the San Francisco Castro District.

Here you will find fifteen pylons with pink triangles on them. Each one represents an estimated one thousand victims -- around 15,000 in total -- that died. You will also find two triangles with pink stones inside.
The artists and local community invite you to take a pink stone home with you as a way to continually remember the victims.
The small, triangle-shaped park is just to the north of Harvey Milk Plaza. You will need to cross Market Street and head about half a block west to find it.
Mission Dolores Park

You will find one of the best parks in San Francisco on the eastern end of the San Francisco Castro district. Mission Dolores Park is a large green space with almost 16 acres of space.
On a sunny day in the city, you will find upwards of 10,000 people here enjoying the lovely weather. It recently underwent a $20 million+ renovation.
Amenities here include bathrooms and plenty of space to spread out. There are also plenty of cafes and restaurants nearby that offer take-out, so you can also have a picnic during your stay.
>> You can also explore the park on this fun Street of San Francisco Urban Bike Tour
Other Parks in the San Francisco Castro

You will find several mini-parks all around the Castro. Some offer a few activities while others offer amazing views around SF and the Bay. Here are a few to check out.
Corona Heights Park: Head to the northwestern end of the Castro to find Corona Heights Park. It's a 15-acre park that offers plenty of trails and amazing views from its summit. The Randall Museum (kids museum) is also right next to the park. Walk up Castro Street and make a left at States. Walk about two blocks to find an entrance to the park. Learn more about visiting this area and park.
Seward Mini Park: The Seward Mini-Park is a fun hidden gem. It's a tiny park, but its main attraction draws in quite a few people. The park has two concrete slides that are open to the public. You will want to bring along a box or something to slide down them as you can't really get down them without something slick. You will find it just off Douglas and Seward Streets at Acme Alley.
Kite Hill: This is another place for amazing views all around San Francisco. It has a few trails, so it's easy to climb to the top. After your visit to the Seward Stairs, continue up Acme Alley one block and take a right on Corwin Street. This street dead ends into one of its trails.
>> Learn more about these and other parts of the Castro on this fun urban hiking tour
GLBT Historical Society

Another great way to learn about Harvey Milk and the history of the community is by stopping by the GLBT Historical Society. It's the first full-scale, stand-alone museum dedicated to the history of this community.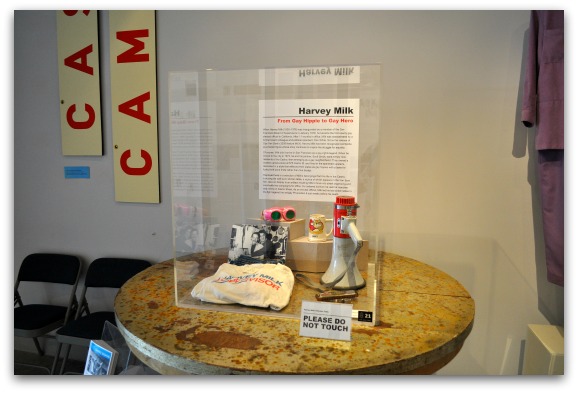 The museum has a number of permanent exhibits as well as interesting traveling exhibits. The museum is open Tuesday - Saturday. It is at 4127 18th St. in San Francisco Castro.
Admission is $10 per person.

Rainbow Honor Walk

The Rainbow Honor Walk is similar to the Hollywood Walk of Fame, but instead, it honors those that have fought for LGBTQ rights throughout the years. You will find plaques on the sidewalks throughout the district with many along Castro Street around 18th.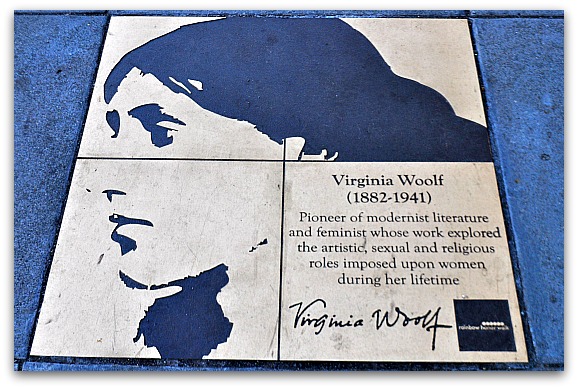 Some of those honored that you might recognize include Jane Addams (the first woman to receive the Nobel Peace Prize), Allen Ginsberg (an author, poet, and one of the leaders of the Beat Generation), and Keith Haring (political activist and artist).
In addition, they have created colorful Rainbow Crosswalks in all four directions at the corner of Castro and 18th Street.
Castro Street Fair

The Castro Street Fair was one of the first street fairs in San Francisco. It is a community-based celebration founded by Harvey Milk in 1974.
The celebration is always on the first Sunday in October. You can enjoy live entertainment and artistry from hundreds of local artists, vendors, and other people supporting the diversity of this community.
Tours In & Around the Castro

If you want to learn all about the San Francisco Castro, I recommend heading out on a guided tour. All of these are walking tours of the district which will give you an up-close look at all of the places where history was made.
LGBTQ Castro History Walking Tour: One of the best tours of this colorful district is this historic walking tour. In two hours, you will learn how this district has worked to shape the civil rights movement for those in the LGBTQ community, visit the Pink Triangle Memorial Park, and see the Rainbow Honor Walk. You will also learn all about Harvey Milk, one of the leading activists in this district in the 1970s. Visit GetYourGuide for tour dates, times and to check for ticket availability.
SF City Guides Walking Tour: Another great walking tour of the district is given by SF City Guides, which is part of the SF Public Library. They offer a free tour (donations are requested at the end) of this district and include details on the early days of the district up to the present. It's a fun tour that is offered once a week. Find out more about SF City Guide Tours here.
More Fun Tours In and Around the Castro
Best Restaurants in the San Francisco Castro District

While there are many restaurants in San Francisco Castro, several of them are casual dining experiences. There are a few gems here though and these are some of my favorites.
The Sausage Factory: The Sausage Factory is a casual Italian restaurant that has been in the neighborhood for more than 40 years. They serve some of the best pizza in the area and their homemade pasta has locals coming back for more. The ingredients are fresh, the pizza dough is made daily and all of their sauces are made in the restaurant. Address: 517 Castro Street

Anchor Oyster Bar: This small and unassuming seafood restaurant is one of the best in San Francisco. They have amazing fish that is fresh and delicious. It's hard to find another place like it. It's best on the weeknights since they don't take reservations and it gets pretty crowded. If you enjoy seafood, this is the place to try. Address: 579 Castro Street
Canela Bistro Bar: My final recommendation is Canela Bistro Bar. You can tell this restaurant is a labor of love for its owners. With Spanish-inspired food and drinks, it is one of the best restaurants in San Francisco Castro. Not only is the food great, but their service is always top-notch. Address: 2272 Market Street (at Noe)
San Francisco Castro Nightlife & Gay Bars

Many of the gay bars in San Francisco are in or near this colorful district. The most popular -- and the most crowded ones -- are those along Castro Street right south of Market. Many of these have been around for years and it's a great place to stop for a few beers.
Twin Peaks Tavern: This is a legendary bar here. It was one of the first gay bars in San Francisco to remove the covering from their windows and 'open' themselves up to the streets of the city. With its ornate decor and great location, it should be one of your first stops in the neighborhood. Address: 401 Castro Street
Toad Hall: Another great place to check out is Toad Hall. This one is set off Castro Street on 18th, so it isn't usually as crowded as some of the other places. Address: 4146 18th St
Harvey's: This bar originally opened with the name of "The Elephant Walk" in the early 1970s. Harvey Milk frequented it due to the owner's acceptance of the gay community. It was destroyed by a fire and when it reopened in 1996, it was renamed Harvey's as a memorial to Milk. Today, it's both a restaurant and a bar. They have simple bar food and it's popular with locals. Address: 500 Castro Street
Last Call Bar: This is another good bar for those seeking a spot for a few drinks in the San Francisco Castro. It's usually a little quieter, but still has a great vibe. Address: 3988 18th St
Where to Stay

Parker Guest House

520 Church Street
Rooms start at around $149 a night
One of the best places to stay in San Francisco Castro is the Parker Guest House. This is a small bed and breakfast with 21 guest rooms.
The hotel offers free breakfast and high-speed internet access. You will find it right between the Castro and Mission Districts in San Francisco. Both are thriving SF neighborhoods with dozens of restaurants and bars.
Read other guest reviews and find booking information for the Parker Guest House.
>> Find hotels and places to stay around San Francisco including Fisherman's Wharf, Union Square, and Downtown.
Who Was Harvey Milk?

Harvey Milk was one of the most famous residents in San Francisco Castro. He was passionate about equal rights for the gay community. His outspoken nature and ability to make people feel that they fit in somewhere were what made him so popular.
In the early 1970s, Milk and his partner opened a camera shop right on Castro Street. Due to his friendly nature, residents frequented the shop. It eventually turned into the local community hang-out.
He did a lot for the gay community in the Castro. He was the first to organize the Castro Street Fair and was dubbed the 'Mayor of Castro Street'.
One of the best books on Harvey Milk is also called The Mayor of Castro Street. It's a great overview of his life, what he fought for and what happened on his final days.

In the late 1970s, he decided to use his influence with a larger audience. He ran for and was elected to the board of supervisors. He took office in January of 1978.
Tragically, on November 27, 1978, only a few short months after he took office, both Milk and Mayor George Moscone were shot and killed. Both were murdered in their offices in City Hall by former supervisor Dan White.
Not only was it a horrific situation, but White was only convicted of manslaughter. He received a short sentence of just a few years and was released early. The community was outraged by the tragedy and then the lack of justice.
The movie Milk, starring Sean Penn, is based on the story of Harvey Milk. This movie does a great job of bringing to life the upbeat and charismatic Milk. It also shows the personal struggles of the community at the time and the tragic event in 1978. Read reviews and get more details on the movie Milk on Amazon.
More LGBTQ History in San Francisco

Many people know that the Castro District is one of the most important areas in all the world for pride in the LGBTQI movement. You might wonder why this is and how this came to be. Here are a few bits of history about how San Francisco has helped people of all sexes and genders feel at home and allowed them to be themselves with pride.
1. The Dash: This was the first out and proud gay bar in the city  and it opened in 1908. As you can imagine, it was also probably one of the first in all the country since there was so much prejudice against people of different sexes and genders. Waiters would cross dress and serve customers. Sadly, there was a scandal involving a high-profile judge and it was closed down quickly after that. However, it is still a memory of how San Francisco started a movement and continued no matter who tried to stop them. 
2. San Francisco became the home to the first US Lesbian Organization in 1955 named "The Daughters of Bilitis." This was a more social organization that would teach women about coming out, their history, and more. Being that the police continued to shut down bars dedicated to lesbians, this allowed for them to be more respected and realize that there was nothing wrong with them or their lifestyle. The Daughters became more radicalized in the 60s and helped to spread the word even more and take political action to further the fight for equality.
3. In 1964 Life Magazine calls the city, "Gay San Francisco" which many people identify with and take pride in as that shows there is more equality and freedom being allowed and respected around the world.
4. The start of the amazing Gay Pride Parade is in 1970. It is tiny, with only about 30 people, but it is also the start of what becomes known as "Gay Freedom Day."
5. With SF becoming even more welcoming of LGBTQI sexes and genders, the first "open" gay bar the Twin Peaks bar opens its doors. One of the reasons that this bar is so important is that this is the first one with open windows. Why does that matter? Because previously gay bars in SF were not allowed to have windows.
6. The famous Harvey Milk is elected to the SF Board of Supervisors in 1977. He is one of the true heroes of the gay rights movement in San Francisco and is celebrated since he is such an important figure for equality.
7. 1994: The first World AIDS Day is in the City by the Bay and Memorial Grove is dedicated to everyone affected by this horrible disease.
8. The first same-sex marriage license is given in 2004. Del Martin and Phyllis Lyon, who were started the previously mentioned "Daughters of Bilitis" were the first same-sex married couple not only in San Francisco but in all of the USA.
9. In a wonderful coincidence, the 45th annual Pride Parade is held on the same day as the U.S. Supreme Court votes to legalize same-sex marriage for the whole county. It is a perfect way to celebrate equality and the power of San Francisco fighting for everyone in the country no matter what barriers stood in their way.
How to Get to the San Francisco Castro

Muni: The best way to get to the San Francisco Castro is by taking the underground Muni. The K, L, M, and S trains all stop at Harvey Milk Plaza at Market and Castro Streets. This is a fast ride from Union Square since it only makes four or five stops between Union Square and the Castro.
Street Cars: If you have a little more time, you might want to consider taking the F Streetcar from Union Square. This is a little slower -- it takes an extra 15 or so minutes vs the Muni -- but it is above ground so you can watch the scenery along the way. You can also pick this up in Fisherman's Wharf and take it all the way to its final stop near Market and Castro Streets.
Taxi/Uber/Lyft: Taking a taxi is another option. It will get you door to door but is a little more expensive than the other options. From Union Square, it will cost about $15. From Fisherman's Wharf, expect it to cost a little more -- closer to $20 to $25 each way.
Parking Tips for the San Francisco Castro

If you plan to drive to the San Francisco Castro, you will find that street parking is tight and often not very easy to find. However, you will find a few great garages and parking areas around the district which will make parking much easier.
Here are a few of my top recommendations.
Public Parking: There is a small parking lot right off Castro Street near 18th Street. You will find the entrance between Sweet Castro (451 Castro St) and Outfit Castro (463 Castro St).
16th and Hoff Garage: This garage is located right next door in the Mission District and is an easy walk to the San Francisco Castro. There are almost a hundred spots here and it's usually easy to get a spot. 42 Hoff Street
2351 Mission St: This is a 24-hour lot next door in the Mission District. It's a good-sized lot between 19th and 20th Streets on Mission.
Comments? Questions? Suggestions?
I would love for you to join me in my private Facebook group! 
It's a great place to interact with me and others who know the area well.
You can ask questions, get advice for your upcoming stay, and then share your photos and advice with others when you return home. It's a great community and the fastest way to get answers to those nagging questions about your visit!