Castro Street Fair 2022


by Jill Loeffler  •

Updated: September 30, 2022
Head over to the Castro district on the first Sunday in October to celebrate the annual Castro Street Fair. This fun SF festival features mouth-watering gourmet food, live music performers from around the world, and plenty of dancing in the streets. The 2022 event is on October 2.
Initially founded by the original "Mayor of the Castro", Harvey Milk, this local tradition celebrates the LGBT community and their supporters. It's a time when everyone, no matter gender, sex, or anything else come together and enjoys the diversity within the city.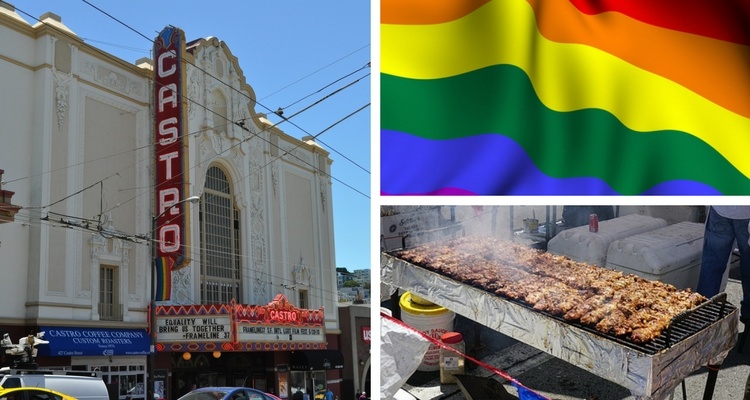 This lively SF event is held the first Sunday in October from 11 am to 6 pm at the intersection of Market and Castro Streets. Here you will find a live music stage, Cheer SF performances, Sundance Saloon and so much more! 
This year's suggested donation is $10 to $20 per person.
Disclaimer: I receive a small commission from some of the links on this page.

Main Stage Live Music and Entertainment

The main stage is in the heart of the action at Castro and Market. You will find a variety of performances on the main stage from 11 am to 6 pm.
This year's line up includes:
11 am: Auntie Sam & Devereaux
12:45 pm: Oscar P & Five
2:30 pm: Jordee and Day Thief
4:15 pm: Robin Malone Simmons & Elaine Denham
Other Activities at the Festival

Here is a peek at some of the other activities that will be held at the 2022 Castro Street Fair.

Cheer SF

CheerSF will be performing their high energy routines along Market Street about a block east of Castro Street.

Sundance Saloon

Participants put on your cowboy boots and enjoy Castro Alley! This popular area features country and western dancing all day long. It is located on 18th Street between Hartford and Noe. You can enjoy it as you go down Dance Alley.

Food & Drink Vendors

This year's food court will offer a variety of yummy treats from Aunt Betty's Corn Dogs to Mayer's Fine Foods. There are also several vendors selling their BBQ creations, ice cream from Ben & Jerry's and a seafood stand with local delicacies.

Other Exhibitors

You can also walk the booths of almost 100 exhibitors. Some offer their unique arts and crafts while other booths are from organizations supporting the local community. You can find these booths throughout the Castro Street Fair.

Are you interested in checking out other parts of the Castro? On this page, you will find other top activities and attractions in this colorful neighborhood. You will also find restaurant and hotel recommendations so you can stay close to the action.

Donations at the Door

The Castro Street Fair requests donations at the door of $10 to $20 per person. All donations go to support local beneficiaries.
Since 1998, this wonderful and fun event has raised over $1,500,000 for beneficiaries and charities. You donations also help Castro Street to keep the beautiful Pride flag that is in the Harvey Milk plaza all year long.

How to Get to the Castro

Public transportation is always your best bet in San Francisco. This ranges from the light rail train system to buses. Here are the best ways to get to the Castro Street Fair from popular spots in SF.

From Union Square

Muni Light Rail: Take the KT, L, M or S trains from the underground MUNI station at Powell and Market Streets near Union Square. You will go four stops to the Castro Street Station. This puts you right in the heart of the action for the Castro Street Fair. This will take about 10 minutes.
F-Street Car: If you want to see the sites along the way, then take the F-Street Car. This is slower than the light rail trains, but runs above ground. You will take one of more than a dozen historic street cars from around the world from Market Street to the main entrance of this festival. You can pick it up anywhere along Market Street (there are stops every two blocks) and take it all the way to the end. It is about a 20-minute ride and costs just over $2 per person.

From Fisherman's Wharf

F-Street Car: The easiest way to get here is to take the F-Street Car. It's the only direct route from Fisherman's Wharf. You can pick it up at the beginning of the line on Mason Street at Beach and take it all the way to the end. This ride takes about 50 minutes. It costs just over $2 per person.
Transfer Option: If you want to shorten the trip, take this all the way to the Embarcadero Street MUNI station and then transfer to the KT, L, M or S trains. Make sure you grab a transfer ticket and show the attendant. This allows you to pay just once for your entire journey. This trip will take about 30 minutes. 
Places to Stay Around SF for the Castro Street Fair
Other Fun Events this Month in 2022

Here are some additional fun things to do this weekend and later this month.

2-Hour Champagne Cruise Around the Bay

October is beautiful in San Francisco and it's the perfect time to take a cruise around the bay. This isn't just any cruise, it's a Champagne and Mimosa cruise. What could be better? For two hours, you can enjoy cocktails as you relax on the deck of The Privateer. Along the way, you will see top SF attractions including Alcatraz Island, the Golden Gate Bridge and the Palace of Fine Arts.
Dates: Saturday & Sunday at 10am

Location: Leaves from the Marina near Pier 39 in Fisherman's Wharf
Hardly Strictly Bluegrass Festival

San Francisco's beloved annual bluegrass festival takes place this October in Golden Gate Park. Enjoy three days of free concerts on various stages. Most performers fall into the bluegrass/folk/Americana genre, but the festival always welcomes a variety of big names and up-and-coming stars.
Learn more: Read more about what to expect at this great outdoor music festival