Hardly Strictly Bluegrass Festival 2018
Tips to Attend this Free SF Event in Golden Gate Park
Head to Golden Gate Park for the 18th annual Hardly Strictly Bluegrass Festival. This year, the free festival is October 5-7. All festivities are held near the Polo Field at Hellman Hollow (formerly Speedway Meadows), Lindley, and Marx Meadows.
Top performers this year include Steve Earle & The Dukes, Junior Brown, and Lucinda Williams. Other musical acts include Emmylou Harris and Cheap Trick.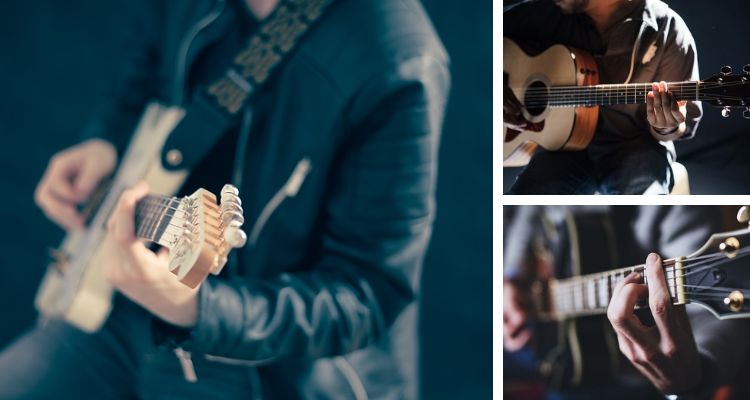 In addition to live music, there are more than 50 gourmet food and beverage vendors. You are also welcome to bring your own picnics.
Alcohol is not sold at this festival, although you are allowed to bring your own in as long as you follow the park rules.
The Hardly Strictly Bluegrass Festival started in 2001 by SF venture capitalist Warren Hellman. When he started it, he planned to only invite bluegrass musicians. However, more and more artitsts signed up and now you will find a variety of types of musicans on stage.
This three day festival is free and nocommercial. Make sure to arrive early as it often attracts more than 750,000 people in total over the course of the three days of live music.

2018 Performers (TBD)

Here is the list of some of the top Hardly Strictly Bluegrass performers for last year's 2017 festival. The 2018 performers have not been announced yet and I'll update this once they are finalized. The list is not in order of performance times, but instead with headliners at the top. Schedule is subject to change.
Friday, October 6
Brandi Carlile
T Bone Burnett
Conor Oberst
Terri Hendrix with Lloyd Maines
Saturday, October 7
Steve Earle & The Dukes
Sturgill Simpson
Robert Earl Keen
Robyn Hitchcock
Colter Wall
Henry Rollins
Sunday, October 8
Emmylou Harris
Junior Brown
Lucinda Williams
Cheap Trick
Shelby Lynne & Allison Moorer
*Some artists from these lists will be on a live stream.
Find a full list by day on their website.
What Should You Wear?
You want to prepare for both sun and fog. This part of San Francisco is near the ocean and the weather is unpredictable. I recommend dressing in layers so you can add and remove clothing as the day progresses.
Other Tips to Attend the Hardly Strictly Bluegrass Festival
Smoking: Smoking is prohibited in all public parks in San Francisco.


Dogs: Dogs are allowed in the park during the Hardly Strictly Bluegrass Festival. All dogs should be comfortable around large groups of people and with loud music. Also, please make sure you clean up after your dog.


Children: This festival is family-friendly, so children are allowed to join in on the fun.


Hotels: There are only a handful of small hotels near Golden Gate Park. Your best bet is to stay in Union Square, the Haight-Ashbury District or Alamo Square. If you are on a budget, here are some great cheaper options that are not only affordable but clean.


ATMs: You will find several ATMs on-site.
Transportation Tips
By Bike: Biking to Golden Gate Park is one of the fastest and easiest ways to get here. The Hardly Strictly Bluegrass Festival has both self- and valet parking similar to last year. Here is a map with the locations for both types. #3 is valet parking and the other three all self-parking.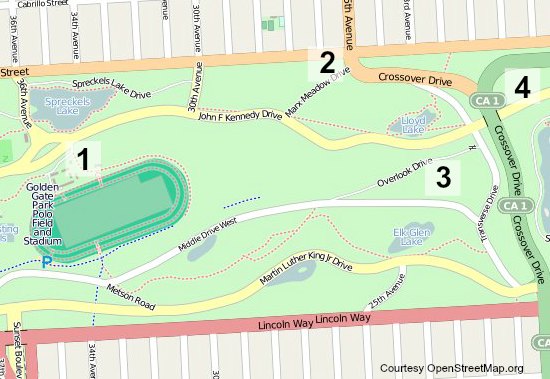 By Public Transit: MUNI will run additional buses between 11am and 8pm on Friday, Saturday, and Sunday. The cost per person per trip is $2.50.
5-Fulton Bus: To get to the park from downtown, there will be additional service on this route. Your best bet for a fast ride is to pick up the special 5R rapid bus at the corner of Market and Front Streets near the Embarcadero BART Station. Take this bus all the way to the 30th and Fulton Street stop.


N Judah: Additional N Judah light rail trains will also run during the festival. Take it to the stop at 25th and Judah and make your way across Golden Gate Park to the festival. This one is usually crowded, but an easy way to get there from Union Square and downtown San Francisco.

By Car: Parking is extremely limited in the neighborhoods near the festival. I highly recommend that you take public transportation, or bike or walk instead of driving. If you do plan on arriving by car, make sure you allow additional time to find a parking spot. You will also want to be cautious not to block driveways, as your car may be towed.