Hardly Strictly Bluegrass Festival 2019
Tips to Attend this Free SF Event in Golden Gate Park
Head to Golden Gate Park for the 19th annual Hardly Strictly Bluegrass Festival. This year, the free festival is October 4-6. All festivities are held near the Polo Field at Hellman Hollow (formerly Speedway Meadows), Lindley, and Marx Meadows.
Previous year's performers include Steve Earle & The Dukes, Ween, and Alison Kraus. Other musical acts include Emmylou Harris and Ani Difranco.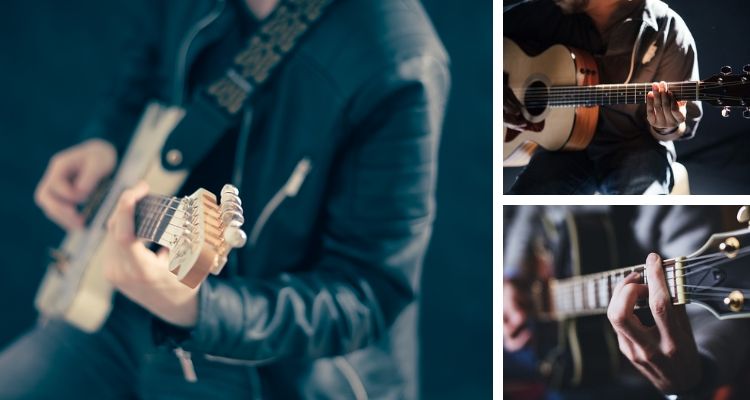 In addition to live music, there are more than 50 gourmet food and beverage vendors. You are also welcome to bring your own picnics.
Alcohol is not sold at this festival, although you are allowed to bring your own in as long as you follow the park rules.
The Hardly Strictly Bluegrass Festival started in 2001 by SF venture capitalist Warren Hellman. When he started it, he planned to only invite bluegrass musicians. However, more and more artitsts signed up and now you will find a variety of types of musicans on stage.
This three day festival is free and nocommercial. Make sure to arrive early as it often attracts more than 750,000 people in total over the course of the three days of live music.

2018 Performers (TBD for 2019)

Here is the list of some of the top Hardly Strictly Bluegrass performers for this year's 2018 festival. The list is not in order of performance times, but instead with headliners at the top. Schedule is subject to change.
Friday, October 5
Friday performances at this year's Hardly Strictly Bluegrass Festival will run from 12pm to 7pm.
Alison Krauss
Ana Tijoux
Dave Alvin & Jimmie Dale Gillmore with the Guilty Ones
David Bromberg Quintet
David Luning
Dry Branch Fire Squad
Gregory Alan Isakov
The Greyboy Allstars
Langhorne Slim and The Lost at Last Band
The Letterboxers Featuring SF Middle Schoolers
Chris Thile
The Mastersons
Matador! Soul Sounds
Mavis Staples
Patty Griffin
Sera Cahoone
Tim Barry
Tramples by Turtles
Saturday, October 6
Saturday's performances will run from 11am to 7pm.
Ani Difranco
Steve Earl and The Dukes
Los Lobos
Buddy Miller's Calalcade of Stars Featuring: The Cave Singers, Tracy Nelson, Molly Tuttle, The War and Treaty, and Buddy Miller
Courtney Marie Andrews
Don Was & Friends
Eilen Jewell
Evolfo
The Family Crest
The Flatlanders
Four Year Bender
Glorietta
The Go to Hell Man Band
Gomez
Graham Nash
Hip Spanic Allstars
Hurray for the Riff Raff
I'm With Her
Jeff Tweedy
Kacy & Clayton
Kevin & Dustin Welch
Laurie Lewis & The Right Hands
Liz Brasher
Marco and the Polos
Rodney Crowell
Sammy Brue
Steve Forbert
The Wailin' Jennys
Sunday, October 7
On Sunday, you will find performances for the Hardly Strictly Bluegrass Festival on stage from 11am to 7pm.
Emmylou Harris & The Red Dirt Boys
Ween
Aaron Lee Tasjan
Aki Kumar
Andrea Gibson
Bo & Lebo with Friends
Booker T. Jones Stax Revue
The Brothers Gibb
Dale Watson
Darlingside
The Dead South
Deer Tick
Del Mccoury Band
Howlin Rain
JD McPherson
Jon Landford and the Sturdy Nelsons
Justin Townes Earle
Kieran Kane & Rayna Gellert
The Lone Bellow Acoustic
Moonalice
Nancy & The Lambchops
Nick Lowe's Quality Rock & Roll Revue with Los Straightjacket
Peter Rowan
Prairie Prince Presents "Tommy"
Raise Your Voice
Robert Finley
Robyn Hitchcock: Eletrospective
Roky Erickson
Songcatching Hazel Featuring Eli West, Ismay & Paper Wings
Tim O'Brien
Vetiver
*Some artists from these lists will be on a live stream.
Find a full list by day on their website.
What Should You Wear?
You want to prepare for both sun and fog. This part of San Francisco is near the ocean and the weather is unpredictable. I recommend dressing in layers so you can add and remove clothing as the day progresses.
Other Tips to Attend the Hardly Strictly Bluegrass Festival
Smoking: Smoking is prohibited in all public parks in San Francisco.


Dogs: Dogs are allowed in the park during the Hardly Strictly Bluegrass Festival. All dogs should be comfortable around large groups of people and with loud music. Also, please make sure you clean up after your dog.


Children: This festival is family-friendly, so children are allowed to join in on the fun.


Hotels: There are only a handful of small hotels near Golden Gate Park. Your best bet is to stay in Union Square, the Haight-Ashbury District or Alamo Square. If you are on a budget, here are some great cheaper options that are not only affordable but clean.


ATMs: You will find several ATMs on-site.
Transportation Tips
By Bike: Biking to Golden Gate Park is one of the fastest and easiest ways to get here. The Hardly Strictly Bluegrass Festival has both self- and valet parking similar to last year. Here is a map with the locations for both types. #3 is valet parking and the other three all self-parking.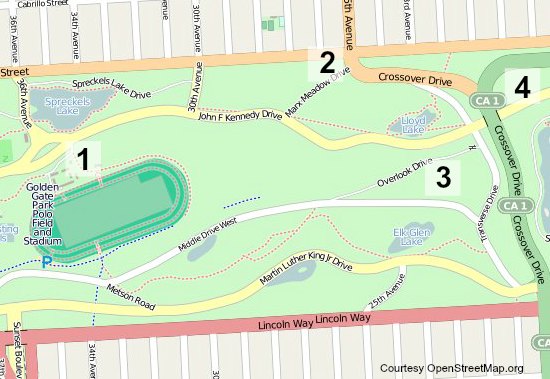 By Public Transit: MUNI will run additional buses between 11am and 8pm on Friday, Saturday, and Sunday. The cost per person per trip is $2.50.
5-Fulton Bus: To get to the park from downtown, there will be additional service on this route. Your best bet for a fast ride is to pick up the special 5R rapid bus at the corner of Market and Front Streets near the Embarcadero BART Station. Take this bus all the way to the 30th and Fulton Street stop.


N Judah: Additional N Judah light rail trains will also run during the festival. Take it to the stop at 25th and Judah and make your way across Golden Gate Park to the festival. This one is usually crowded, but an easy way to get there from Union Square and downtown San Francisco.

By Car: Parking is extremely limited in the neighborhoods near the festival. I highly recommend that you take public transportation, or bike or walk instead of driving. If you do plan on arriving by car, make sure you allow additional time to find a parking spot. You will also want to be cautious not to block driveways, as your car may be towed.