Haight-Ashbury District: Tips to Visit This Unique SF Neighborhood with a Rich History

The Haight-Ashbury district is another famous neighborhood in San Francisco. This unique and colorful community was home to the "Summer of Love" in 1967. The Haight has a rich history and continues to thrive to this day. 

It's a fun place to spend some time during your vacation in SF. Some of the top things to do in the Haight include shopping, walking tours, hiking to the top of Buena Vista Park, and admiring its gorgeous murals, and Victorian homes.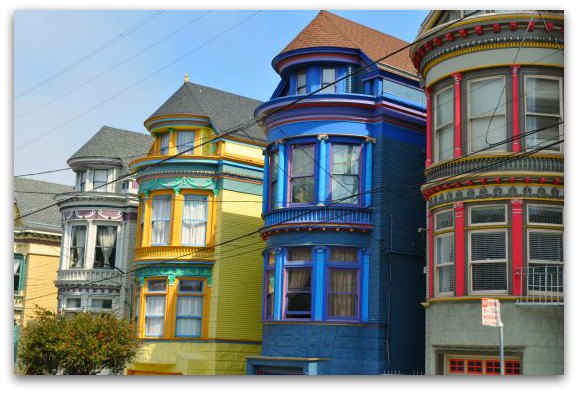 The name Haight-Ashbury comes from the intersection of these two streets. This specific corner in the neighborhood is where the height of the action took place. 

Local Secret: If you want to talk about it like the locals, refer to this neighborhood as "The Haight."

Haight-Ashbury District History

In the late 1880s, the Haight-Ashbury District was a neighborhood off the beaten path. Many people lived in this neighborhood to get far away from the fast pace of the downtown area. I guess you could have called it a suburb of San Francisco at that time.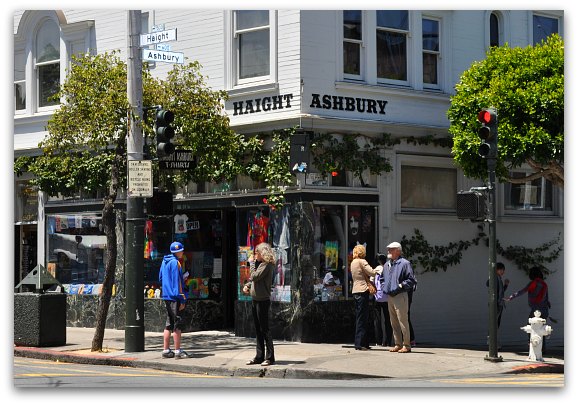 However, this district changed quite a bit over the years. It was the heart of the "hippie" and "flower power" generation in the late 1950s and 1960s. Due to its popularity during those two decades, it was the perfect spot for the famous "Summer of Love" in 1967. 
During the Summer of Love, people from all over the US came to San Francisco. The Haight and Ashbury district was the meeting place for those looking for free love, drugs, and rock and roll. 
The Grateful Dead, Janis Joplin, and Jefferson Airplane were just a few of the bands that became famous during this time. They all lived in this neighborhood and performed free, impromptu concerts in Golden Gate Park, which borders this district on the north.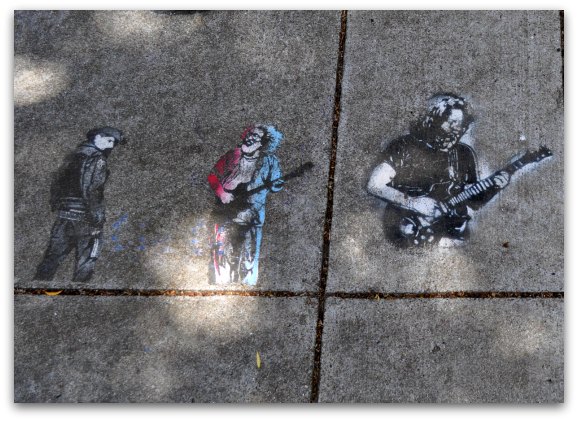 However, there is also a lesser-known, darker side to the Haight. Charles Manson moved to San Francisco shortly after being released from prison in early 1967. He traveled around quite a bit but spent a couple of months living at 636 Cole Street with his girlfriend and several other girls in "The Manson Family."

The Haight Ashbury District Today

The Haight-Ashbury District is still a lively and exciting part of San Francisco today. There are a number of funky shops, restaurants, and other historical sites. Most of the shop owners here work hard to keep the flower power and hippie vibe in the neighborhood alive. 
Haight Street runs through the middle of this neighborhood. Today, it is the commercial area where you will find the majority of the shops and restaurants. 
Starting at Masonic Avenue on the east, it stretches about five city blocks down to Stanyan Street. The famous Haight-Ashbury intersection is just one block west of Masonic Avenue.

In addition to the shops and restaurants along Haight Street, you will also find several beautiful and colorful homes along the side streets. The Haight-Ashbury District is one of the few districts that was not hit hard by the 1906 earthquake and fire, making it the neighborhood with the highest concentration of Victorian homes still intact.

While you are in the neighborhood, walk up and down some of these streets. As you can see from the first picture at the top of the page, some of the Victorian houses here are brightly painted and very beautiful. Others are more subtle, and yet they are still important since famous artists lived in them (as mentioned above).

Fun Fact: As you stand on the corner of Haight and Ashbury Streets, you will see a clock that is always set for 4:20. This is common lingo that is used when people are talking about smoking marijuana.

Disclaimer: I receive a small commission from some of the links on this page.

5 Fun Things to Do in the Haight Ashbury District

1. Go Shopping

Shopping is one of the most popular things to do in the Haight-Ashbury District. All along Haight Street, you will find vintage clothing stores, costume shops, and music stores. There are also boutique shops and several specialty stores. All are on Haight Street, so they are easy to find.
The famous Haight Ashbury legs are above the Piedmont Boutique shop (1452 Haight St).
>> More fun places to shop around SF

2. See a Free Show at Amoeba Records

Another fun thing to do in the Haight-Ashbury in San Francisco is to stop by Amoeba Records. I call them out separately as they are the largest independent music store in the World. They have an amazing selection of records, CDs, and movies.
Each month, they offer several free shows at their Haight Street Store (1855 Haight Street). You can either stop in to see if anyone is playing that day or check out their calendar here before you arrive.
3. Hike to the Top of Buena Vista Park

On the eastern side of the shopping and commercial district is Buena Vista Park. This steep, tree-filled park has beautiful views of San Francisco and the Bay at the top.
Start up the stairs at the corner of Haight Street and Buena Vista Avenue. Walk the trail and continue on the path that keeps taking you up to the top. It usually takes about 30 to 40 minutes to reach the top, and once you get there, you will be glad you checked it out! 
4. Check Out the Murals

You will find murals all around San Francisco, and the Haight Ashbury district is no exception. You will find murals throughout the neightborhood on Haight Street and in several other locations. Wander around as you look up and down to find the most colorful gems.
You will find one of the more famous murals with Jimi Hendrix, Janis Joplin, and Jerry Garcia. All three lived here. You will find this colorful mural on Cole Street at Haight.
>> Get tips to find other great murals all around SF

5. Take a Tour of or Through the Haight Ashbury District

The tours of the Haight-Ashbury District often take you back to the Flower Power days of the 1960s. They also often include details of its famous residents in addition to how it has transformed over the years. 
Here are the top tours in and through this SF neighborhood.
Walking Tours

Free Public Library Tours: The public library has quite a few free walks in San Francisco that cover either a specific topic or neighborhood. Their walking tour for the Haight covers the original history of this neighborhood. A real benefit of these tours is that they are free, and you do not have to sign up in advance. The downside is that the groups are sometimes so large it is hard to hear the guide. Find out more about the Haight-Ashbury Public Library free walking tour and other free tours provided by the SF Public Library. 
Haunted Haight Tour: Another walking tour that I recently heard about is the "Haunted Haight" tour. I have not done this tour myself, but I have heard quite a few good things about it. The tour takes you through the neighborhood at night and guides you to some of its haunted spots. Check out my Ghost Tours page for more details about this and other haunted walking tours around SF.
Hippie Culture City Exploration Game Tour: This fun game/tour is a self-guided option to take you through this colorful district. You can start and stop as much as you want, and the total tour takes about 1.5 to 2 hours. Learn more here. 
Other Top SF Districts

Haight-Ashbury Street Fair

If you are interested in reliving the "Summer of Love" in the Haight, your closest option is during the annual Haight-Ashbury Street Fair. This community-driven event is held on the second Sunday of June every year.
The streets are lined with vendors, music, and people dancing during the fair. You can find food, drinks, art, and almost anything else you desire. The event starts at 11 am and lasts until around 8:30 pm. 
Learn more about this and other festivals and street fairs in San Francisco every summer.

Haight and Ashbury: Where to Eat

Here are some of my favorite places to eat in the Haight and Ashbury District.
Magnolia Pub & Brewery: Lunch or dinner; brew their own beers; American/Californian food; 1398 Haight Street
Blue Front Deli & Cafe: Mediterranean; simple sandwiches & wraps available; great casual spot for lunch; 1430 Haight Street
Haight Street Market: Grab-and-go food, you can then head over to Golden Gate Park for a small picnic; 1530 Haight Street
Cha Cha Cha: A tapas restaurant with a fun, funky vibe; lunch and dinner; on the corner of Haight and Shrader Streets; 1801 Haight Street
Parada 22: Latin American and Caribbean food; casual place for lunch or dinner; serves beer and wine; 1805 Haight Street
The Alembic: Bar with American food; the perfect place to grab a drink or two in the Haight—before, after, or during dinner; 1725 Haight Street 
Where to Stay in this SF Neighborhood

You'll find only small and locally owned hotels and bed and breakfasts in the Haight. There are a few good options that are the perfect place to stay if you like quieter, less touristy options.
Here are some of the top places to stay in the Haight and Ashbury District.
Stanyan Park Hotel
750 Stanyan Street
Rooms start at around $180 a night
The Stanyan Park Hotel is set in a beautiful, historic Victorian. Built in the late 1800s, this hotel is listed on the National Register of Historic Places.

The location is perfect for anyone looking for a quiet retreat inside the city. It's on the western side of the Haight-Ashbury District and right across the street from Golden Gate Park. 

This small hotel has just 36 rooms, with a few suites available. You will be treated to a complimentary breakfast each morning. High-speed internet and an in-room refrigerator are also available.

The downside to this place is that the inside needs an update. However, this is reflected in their affordable nightly rates.

Find the best deal, compare prices, and read what other travelers have to say about the Stanyan Park Hotel.
Other Top Hotels in SF

How to Get to Haight and Ashbury

Public Buses: There are a number of ways to get to Haight-Ashbury from downtown or Union Square. The least expensive option is to take the SF Muni. Both buses 6 and 71 can take you to the heart of the action. You can also take the N light rail train.
Hop On/Hop Off Tour: This is a tourist-only bus with many stops around San Francisco. You buy a full-day (or two-day) ticket. It has several designated stops throughout the city, and you can hop off and on at any of them. It's a great way to get around for the day and learn a little about the city during the ride. 
I like to do these during my first day in a new city. It gives me a chance to get a feel for the city and all of its important landmarks. Get pricing and more details for the Hop On/Hop Off Tour.

Taxi: You can also take a taxi. A ride from downtown or Union Square should only take about 15 minutes. It will cost you around $25. Find out more about what to expect from San Francisco taxis.

Car: The parking in the Haight-Ashbury is just as challenging as most of the other SF neighborhoods. There aren't any big parking garages, but sometimes you can find a spot on the street. Your best bet to find a spot is to drive a block or two off Haight Street.

Comments? Questions? Suggestions?
I would love for you to join me in my private Facebook group! 
It's a great place to interact with me and others who know the area well.
You can ask questions, get advice for your upcoming stay, and then share your photos and advice with others when you return home. It's a great community and the fastest way to get answers to those nagging questions about your visit!