Where Famous People Lived in San Francisco: Uncover Addresses and the History of Numerous Famous Residents
Discover the addresses and the history of where more than a dozen famous people lived in San Francisco. My list includes several musicians that called the Haight-Ashbury home in the 1960s including The Grateful Dead and Janis Joplin.

You will also find information on where Patty Hearst lived in SF while kidnapped, the childhood home of Mel Blanc, and two of Nicholas Cage's addresses.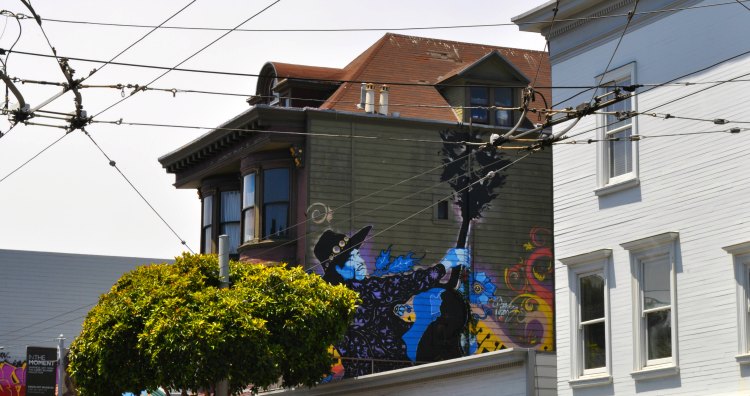 The city is full of history with so many famous people living here throughout the years. These are some of the most asked about locations so you can easily find them during your vacation.
Keep in mind that almost all of these locations are still private residences, so you are not allowed inside. Please be respectful of the current owners of all of these properties and treat them as you would your own.
Disclaimer: I receive a small commission from some of the links on this page.

Where the Famous Lived in the Haight-Ashbury

The Haight-Ashbury in the 1960s was full of musicians and other famous people. Many of them lived and collaborated here during that time. It's also one of the reasons that the famous Summer of Love was centered near this district.
Here are a few places to walk by so you can get a sense for what it was like when the famous called the Haight-Ashbury home.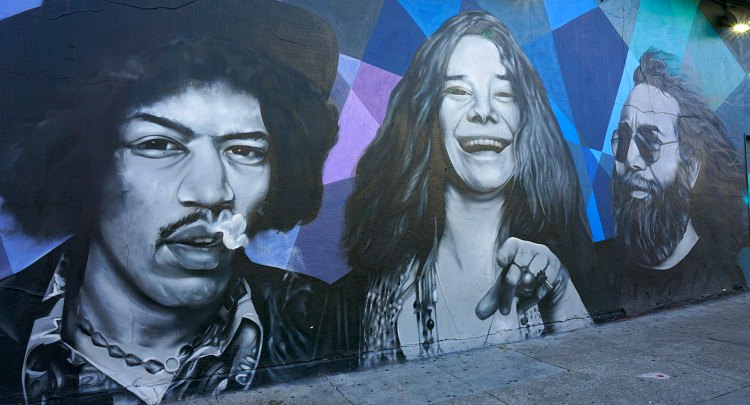 Mural with some 1960s icons: Janis Joplin, Jerry Garcia, and Jimi Hendrix
Jerry Garcia and The Grateful Dead House

This is one of the most beloved locations in The Haight. The Grateful Dead lived together in a house at 710 Ashbury Street. Jerry Garcia, as well as his band mates, lived here between 1965 and 1968. This was at the beginning of their careers, since they moved in shortly after the band formed in 1965.
They were one of several bands that played just up the street in Golden Gate Park during the Summer of Love festivities in 1967.
Garcia was also born and raised in San Francisco. He was born on August 1, 1942 and spent most of his childhood in the Excelsior District.
He lived at 121 Amazon Avenue up until his father's death in 1947, when he was just 5 years old. His father was a bar owner and his mother took it over after he died. She was working all day and night, so she sent her kids to live with their grandparents.
Jerry lived with his grandparents at 87 Harrington Street. He stayed with them for 5 years and then he returned to live with his mother. His mother remarried and they all moved south to Menlo Park for the remainder of his childhood.
While you can't visit either of these locations, you can stop by and see two plaques in the sidewalk dedicated to Garcia. They are located at 4550 Mission and 5099 Mission.
Jimi Hendrix
Rumors are that Jimi Hendrix lived in San Francisco (and you'll see a mural above with some previous residents) new research is showing that he spent only a few months here, if at all.
His name is attached to 1524 Haight St., but his main biographer says he has no record of him living here or anywhere in San Francisco for more than a few short periods of time.
Janis Joplin

Another famous musician that lived in The Haight is Janis Joplin. She lived in two locations in this district in the 60s.
She lived at 122 Lyon Street, Apartment #3. Although there is documentation that this is where she lived (it is on her driver's license), some insist that she actually lived at 112 Lyon Street which is just a few doors down. Either way, she lived here for just under a year from June 1967 to April 1968.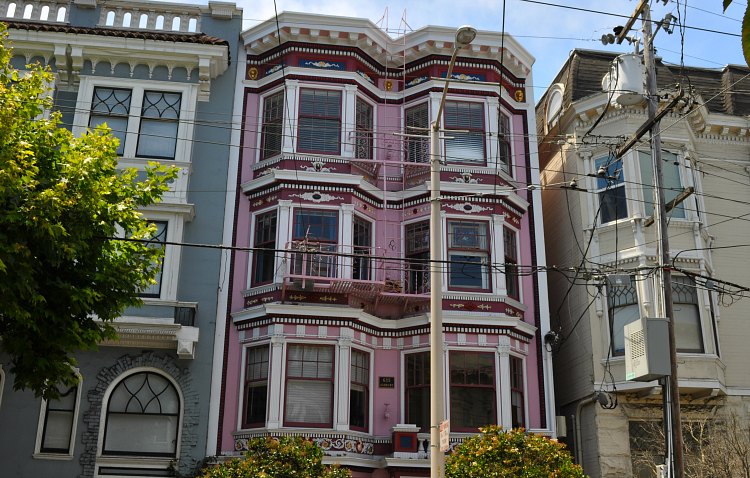 It's also documented that she lived at 635 Ashbury Street. The pink house in the picture above was her residence.
She also lived in other locations around San Francisco, but these are the two most popular stops.
Charles Manson

One of the most infamous residents of this district was Charles Manson.
He lived at 636 Cole Street. He moved here for a short time in 1967. It was also during the Summer of Love, when a lot of young people were enjoying themselves nearby. He spent his time enjoying the music of the Grateful Dead, dancing and doing drugs. Many of his famous "family" members lived here with him.
They all moved out after only a few months to a location in Southern California, where the family went on to commit heinous crimes.
Patty Hearst

The Haight is also one of the locations where Patty Hearst was kept during her captivity. She was kidnapped from her Berkeley apartment in 1974. She was taken by the extremist group, the Symbionese Liberation Army.
They moved around quite a bit and spent time in several San Francisco locations. The one in The Haight is at 1235 Masonic Street.
Two other documented locations include 1827 Golden Gate Avenue and 288 Precita Avenue.
Grace Slick and Jefferson Airplane

Just steps away from The Haight and on the northern side of the panhandle of Golden Gate Park is a home that was purchased by Jefferson Airplane. In 1968, they purchased the home at 2400 Fulton Street.
The band lived and worked here for about 10 years.
It's a gorgeous three-story home with 17 rooms. They purchased it for around $70k in 1968. Today, the home is worth around $4 million.
The house is in great condition and it's an important piece of rock and roll history in San Francisco. Since it's a private residence, you are welcome to walk by and take a look from outside the gates.
Joe DiMaggio

Joe DiMaggio is another famous San Francisco resident. He was born in Martinez, in the East Bay, but he grew up in the North Beach District in San Francisco at 2047 Taylor Street.
After his baseball career, he returned to his hometown and bought a home in the Marina District. This home was at 2150 Beach Street. It's also the home where he lived when he was married to Marilyn Monroe.
Both homes are still standing, and you can walk by them for a glimpse at what it must have been like to grow up in the heart of San Francisco.
Top SF Activities and Tours

Robin Williams

Robin Williams also owned a home right in San Francisco. While many people are familiar with his home in Tiburon, he also had a part-time residence in the Sea Cliff neighborhood.
He owned the house at 540 El Camino Del Mar. Just across from the home are two benches which have his parents' names inscribed in them.
Insider's Tip: You can also see a second famous "residence" of Robin Williams. The Mrs. Doubtfire house is at 2640 Steiner St in the Marina District.

Carlos Santana

Carlos Santana was born in Mexico but moved to San Francisco when he was in middle school. He attended James Lick Middle School and then went on to graduate from Mission High School.
He lived at 205 Mullen Avenue in the Mission District.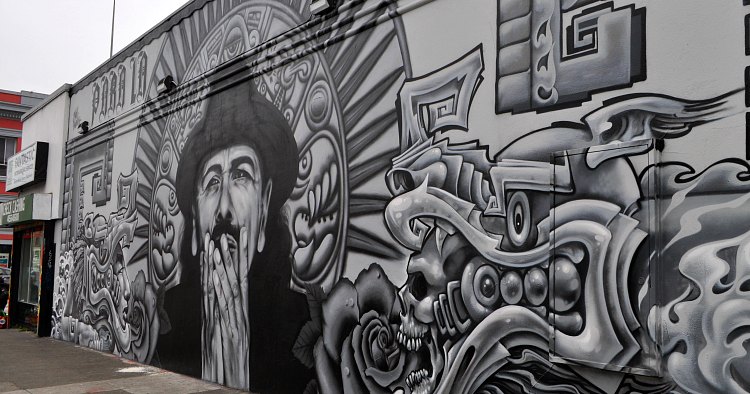 Although he hasn't lived in San Francisco for many years, he still has strong ties to the city and the district. You will find the amazing mural of him in the above photo on the corner of 19th and Mission Streets.

Nicholas Cage

Nicholas Cage has owned a few houses in San Francisco over the years. He owned a lovely place in Russian Hill on the corner of Francisco and Hyde Streets at 898 Francisco Street. This is right on the Powell/Hyde Cable Car line so keep a look for it as you cruise by.
His other San Francisco home was at 1945 Franklin. It was easy to know if he was in town, since you'd see his motorcycle parked in the driveway.
Jack London

Jack London was a famous author who called San Francisco home for most of his life. He was born in San Francisco's China Basin District at 601 3rd Street in 1876. The original building was destroyed, but you will find a small plaque dedicated to him on the current building.
As an adult he bought the property at 737 Buena Vista Avenue West, which is in The Haight.
He then decided to move north to the wine country town of Glen Ellen, which is where he died at the age of 40 in 1916.
Danielle Steele

Another famous, long-time San Francisco resident is Danielle Steele. The romance novelist lives in a lovely, historic mansion at 2080 Washington in the high-end Pacific Heights District.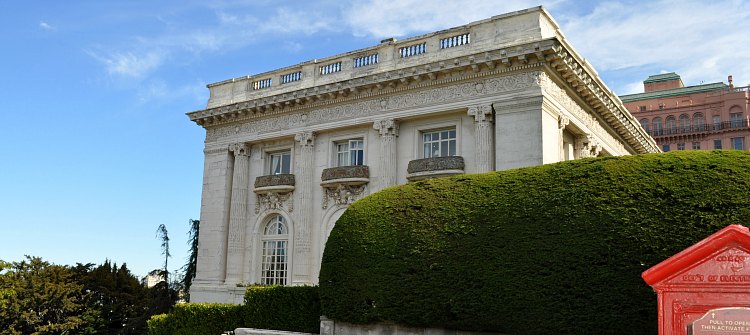 This mansion has a long history and many still call it the Spreckels Mansion. The mansion was built in 1912 by Adolph B. Spreckels. His father was the founder of the Spreckels Sugar Company, where Adolph was a vice president and later became the president.
His wife also used their fortune to build the replica of the Palais de la Legion d'Honneur from Paris that currently houses one of San Francisco's fine art museums, the Legion of Honor.
The house was added to the list of San Francisco landmarks on June 9, 1990. It is landmark #197.
Although you cannot visit the inside of the home, you will get some great views from the street.
Danny Glover

Another longtime San Francisco resident is Danny Glover. He was born in July 22, 1946 and attended George Washington High School.
While he's lived in a few homes all around the city, one of the most important was his home at 737 Buena Vista Avenue West. If you remember from above, this is one of the homes were Jack London also lived.
He currently still owns a home in San Francisco at an undisclosed location.
Ansel Adams

Ansel Adams, a famous photographer and environmentalist, also has strong ties to San Francisco. He was born in SF's Western Addition on February 20, 1902. When he was a child, he lived at a house in the Sea Cliff neighborhood at 129 24th Ave.
As an adult, he bought the property next to his childhood home at 131 24th Ave. This is where he had his studio and did many of his post-production work on his photography. As he got older, he spent more and more time in Yosemite Park capturing its beauty.
His childhood home is still around, but unfortunately, the home he built as an adult had the land beneath it fall away and it was destroyed in a sinkhole. There are now several properties on what was once the property of his house at 131 24th Avenue.
Alice Walker

The author of The Color Purple also called San Francisco home for a few years. She owned one of the famous Painted Ladies of Alamo Square. Her home was at 720 Steiner Street.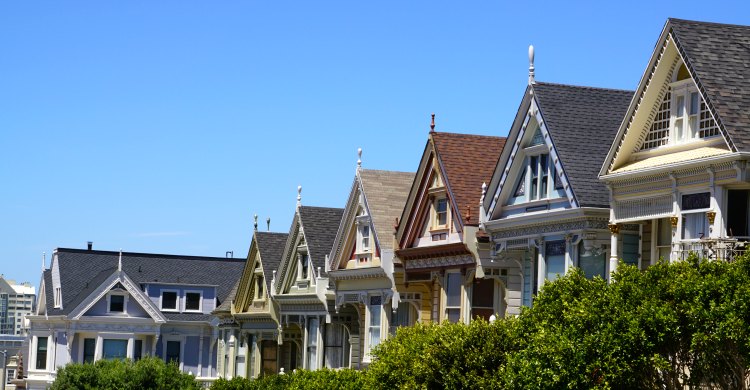 She lived in the house until 1996, when she sold it and moved across the bay into the Berkeley Hills.
The house is part of what is called "Postcard Row" or the "Seven Sisters." They were all built in the late 1800s and they are Queen Anne Victorians.
>> More about SF's historic Painted Ladies
Mel Blanc

Mel Blanc was a famous radio and voice over personality. He gained his fame as the voice of several Loony Tunes characters including Bugs Bunny, Daffy Duck, and Porky Pig.
Melvin "Mel" Blanc was born in San Francisco on May 30, 1908. He lived with his family in a house in the Mission District at 3332 Twenty First Street.
When he was only 5 years old, they moved to Portland, Oregon.
His house in the Mission District still stands and is a private residence.
Comments? Questions? Suggestions?
I would love for you to join me in my private Facebook group! 
It's a great place to interact with me and others who know the area well.
You can ask questions, get advice for your upcoming stay, and then share your photos and advice with others when you return home. It's a great community and the fastest way to get answers to those nagging questions about your visit!