Painted Ladies in San Francisco: History and Tips to Visit


The Painted Ladies of San Francisco are a must-see on your visit. You'll find the most famous set across the street from Alamo Square Park along Steiner Street. You will also hear them called the Seven Sisters or Postcard Row.
But that's not the only place you will find them.
Other top spots include streets around the Alamo Square District, the Haight-Ashbury, the Castro, Pacific Heights, and the Lower Haight.
Read on to learn more about visiting the most famous set and where to find others throughout SF.
Disclaimer: I receive a small commission from some of the links on this page.

What are Painted Ladies?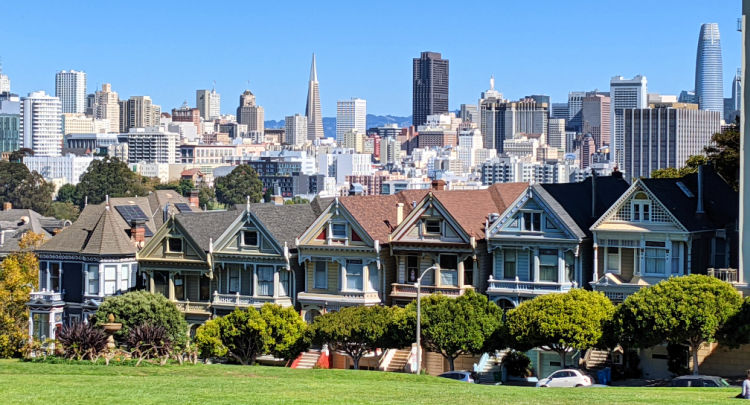 The most famous set of Painted Ladies in San Francisco along Alamo Square.
Many people interchange the term painted ladies with the set of Victorians along Steiner Street near Alamo Square Park. However, they have a broader definition. 
The term "painted ladies" refers to any historic house (usually a Victorian or Edwardian house) built in the late 1800s or early 1900s with three or more paint colors. You will see historic houses all around San Francisco, but the only true SF Painted Ladies are those with various colors on them.
In addition to SF, you can also see painted ladies in other famous cities such as Cincinnati, Baltimore, and St. Louis. 
Where Did the Term Painted Ladies Come From?

While the term is now famous, it's more of a recent term used to describe these historic gems. It was first used to describe these beauties in the 1970s.
This was when the book Painted Ladies: San Francisco's Resplendent Victorians by Elizabeth Pomada and Michael Larsen was written, and they coined the term (find the original or updated version on Amazon).
It seemed to fit them perfectly and it quickly became popular. 
History of the Painted Ladies in San Francisco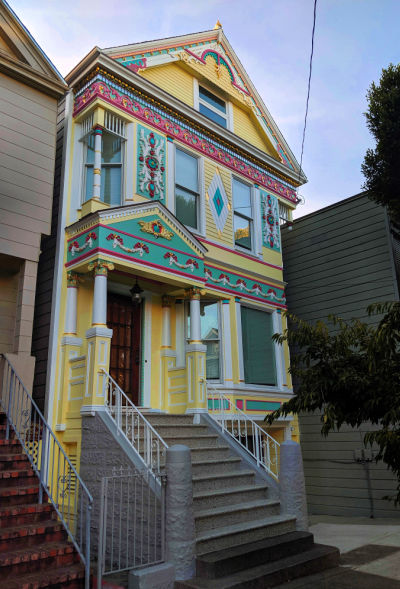 This is one of my favorites. It's in the Haight Ashbury District. Love these colors!
San Francisco builders started putting up Victorian houses around San Francisco in the mid-1800s. They built thousands of them, but it came to an abrupt stop in April 1906. 
This is when San Francisco was hit by one of its largest earthquakes in history. This massive quake destroyed hundreds of Victorian homes and a large part of SF. 
However, the fires that raged for days after the earthquake took the largest toll on the city and these gorgeous houses.
To help preserve the western and southern neighborhoods, the city built a fire line along Van Ness Street.
This is why you will find hundreds of Victorians on the western side of the city, but not very many painted ladies in the eastern districts such as Nob Hill, North Beach, and Telegraph Hill. 
After the destruction around the city, it took years to rebuild it. Even though the earthquake destroyed thousands of these homes, they decided to rebuild them up until around 1915. 
The next interesting period for these beauties is during the First World War and Second World War. 
As these homes aged, thousands were destroyed and replaced with more modern houses. 
Many of those that owned these Victorian homes started to spruce them up by using left-over battleship grey paint from the Navy to repaint them.
YUCK!!! Can you imagine all these gorgeous houses with cheap gray paint? I don't want to even think about it.
The houses stayed this way for several years as the paint was inexpensive, easy to get, and seemed okay since other homeowners were doing the same during this time. 
Luckily, we can thank artist Butch Kardum as the creative genius behind the change back to brightly colored Victorians. In 1963, he painted his house bright colors including a combination of blues and greens.
Some people loved it, some hated it. Those that loved his colorful home decided to do the same with theirs. 
This started a trend that was eventually dubbed the "Colorist Movement."
It led to the writing of the book mentioned above about the painted ladies which gave them a new name. It also allowed even more homeowners the freedom to express their creativity on the outside of their homes.
This trend continues today as more and more homeowners add bright colors of paint to highlight the lovely details of these historic homes. 
Alamo Square Painted Ladies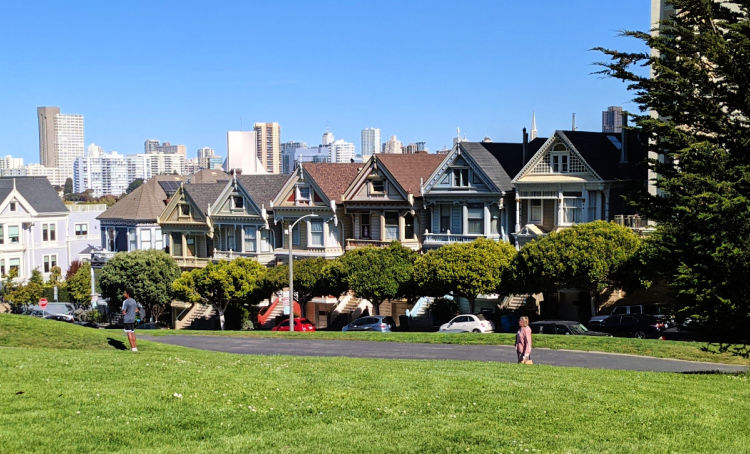 Now that you know a bit about the painted ladies let's talk about where you can find some of the best houses around San Francisco.
I'll start with the most well-known set, the famous Painted Ladies of Alamo Square. 
These seven sisters line up along Steiner Street just to the east of Alamo Square Park.
Six are the same, and then one larger sister on the northern end. This is why they are called the Seven Sisters.
The beauty of this set is not just in the houses but the fact that they are easy to photograph without any homes across the street because it is the park. More than that, you can also climb the hill at Alamo Square Park to get a beautiful view of downtown SF behind them.
These are two of the reasons they are also called Postcard Row.
You will find them (from south to north) at 710, 712, 714, 716, 718, 720, and 722 Steiner Street.
Does anyone live in the Painted Ladies San Francisco?
Yes, all seven are privately owned, and you are not allowed to visit inside them. When visiting, please be respectful to the people living in these homes. 
TV Series Full House

While locals and visitors to San Francisco always enjoyed these colorful Victorian houses, they became famous and a top attraction once they were featured in the opening credits of the TV series, Full House.
This TV show first aired in September 1987 and ran through May 1995. The opening credit features the Tanner family playing around in Alamo Square with a gorgeous view of this set of seven painted ladies and downtown SF behind them.
As you can imagine, immediately after the first show, these San Francisco attractions were no longer hidden gems known mostly to locals.
Keep in mind, however, that the show does not feature the Tanner family living in one of the Painted Ladies along Steiner. In reality, their "house" in the show is in San Francisco, but it's located north of the park, about a mile away at 1709 Broderick Street.
More History, Cost, and Size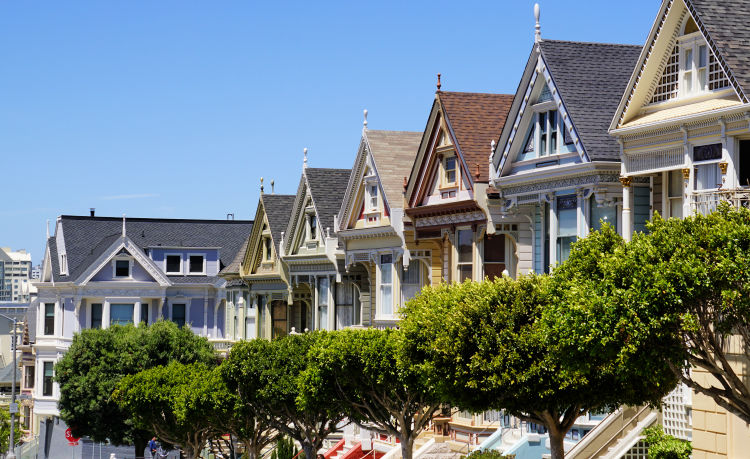 How big are the Painted Ladies along Alamo Square, and how much do they cost?
According to public records, the biggest one, 722 Steiner Street, was built first in 1892. It's around 4,700 square feet and is estimated at around $4.5 to $5 million. 
I think this estimate is incredibly low since it's the biggest, but it sold in 2014 for $3.1 million. At the time, it sold for under asking. I'm guessing it needed some work.
The original builder and owner of 722 Steiner Street also built all the other six similar houses along Postcard Row.
The next one built was 710 Steiner, which is on the south side. It was built in 1894. It's around 2,500 square feet.
Next was 712 Steiner Street, which is around 2,600 square feet. 
The other four (714, 716, 718, and 720) were all built around the same time, with the final one completed around 1896. They vary in size from 2,400 to 2,900 square feet. They are estimated at around $3.5 to $4.5 million each.
Even though they look the same from across the street, each is unique!
The most famous owner over the years lived at 720 Steiner. It was the home to Alice Walker, who wrote The Color Purple. She lived here in the mid-1990s. She was very social and would host famous people at her parties. However, her neighbors were not fans of her late-night concerts in her garden.
Now for the best part: For years, no one could get a peek inside, but lately, the owners of these homes have started to open their doors to the public.
Blue Painted Lady House Tour

The owners of the blue painted lady, #712, are now offering guided tours of the top three floors of their home. There is only a tiny section of the house they keep private for their family.
This tour is an hour long and led by the homeowner. You'll learn all about its history and interior design. You'll also get the chance to ask questions.
The tour runs in the afternoons most days.
>> Find out more about this tour
Other Movies and TV Shows Featuring the Painted Ladies

Although most people know them from the Full House opening credits, these Painted Ladies in San Francisco have been featured in several TVs and movies.
Here are just a few.
Dirty Harry (1971)
The Five-Year Engagement (2012)
Invasion of the Body Snatchers (1978)
The Woman in Red (1984)
So, I Married an Axe Murderer (1993)
Murder in the First (1995)
>> Learn more about visiting these famed ladies in Alamo Square
>> More movies filmed around San Francisco
Four Seasons Painted Ladies

The blue and green one in the middle is Winter and was the first of the Four Seasons Victorians to be built.
Another set of San Francisco's Painted Ladies that are starting to get noticed is the Four Seasons. This set is in the Haight Ashbury District.
It's four Victorian houses along Waller Street. Their addresses are 1315, 1321/1323, 1327, and 1333 Waller Street. 
These four similar-looking, colorful Victorian houses all have ornate details. Each one is considered a "season" based on its colors and a square with art inside it, which is located outside the house on its second floor.
This group of homes was also built in the 1890s.

"Winter," the one at 1315 Waller, was the first to be built. The man who built it was John A. Whelan, a shipwright, and real estate developer. It's a Queen Anne style Victorian painted in blues and greens with a snowflake on it, which is why it's dubbed "Winter."
It sits on the eastern end of these four houses.
The one on the western end is "Fall" due to its bright red colors. 
This set is a little more challenging to photograph, but they are a brilliant display of colors for Painted Ladies in San Francisco.
These four aren't the only beauties on this block. Its neighbors also feature beautiful colors and details, so you'll have plenty of pictures to take as you walk by them.

>> More about visiting the Haight
More Around the San Francisco Haight Ashbury District

You will also find several others in and around the Haight Ashbury District. I also like to explore the area just to the west of the Four Seasons Painted Ladies. You will find several beautiful houses in this area.
There is also an exciting row called the Haight Ashbury Painted Ladies on Central Avenue at Haight Street (in the photo above). They are brightly colored and are an excellent set to photograph. 
NOPA

I also love exploring the NOPA (North of the Panhandle) area for more San Francisco Painted Ladies and historic Victorian houses. This area has some beauties all around the district.
Some of my favorites are on Broadrick Street. There is a beautiful set on Broadrick between McAllister and Fulton Streets. You will also find other great ones on Baker and Lyon Streets in this same area.
These are to the west of Divisadero Street.
>> More about what to see and do along Divisadero Street
Lower Haight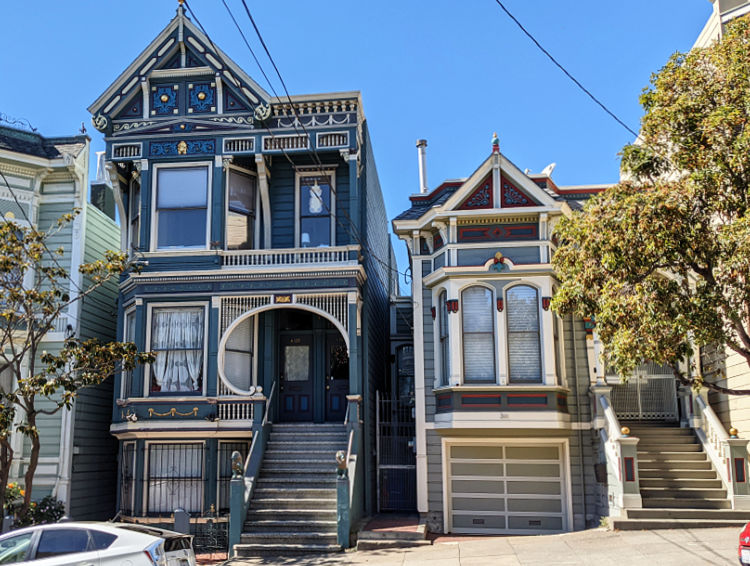 You will also find some gorgeous houses around the Lower Haight District. You'll find them between Alamo Square and Haight Street. 
These big and beautiful houses are much larger than others on this list. They aren't as bright or colorfully painted, but you will find some painted ladies, and the others have gorgeous details on them.
As you can see from my pictures, I'm drawn to those painted with bright blues! 
>> More about visiting the Lower Haight District
Tours of the San Francisco Painted Ladies

In addition to visiting the inside of the blue painted lady, here are a few additional tours outside these Victorian houses where you can learn more about the history, how much they cost, and more! 
Here are just a few of my recommendations.
5-Hour GoCar Tour: This GoCar tour is a popular guided tour. This tour is fun because you have a little "GoCar" that you can drive around, and it will tell you the stories of the houses as you pass by. It starts in Fisherman's Wharf and offers ten stops before you make your way back to your starting point. You'll see the Golden Gate Bridge, Twin Peaks and then get a chance to take pictures of the famous Painted Ladies of Alamo Square. More about this tour.

San Francisco Movie Sights Tour: If you are a fan of Full House or want to see the locations for other TV series and movies filed in San Francisco, then this guided tour is a MUST! You'll see scenes from movies such as Mrs. Doubtfire, Dirty Harry, and Bullitt were filmed. It's a fun way to see the city! More about this tour here.
Comments? Questions? Suggestions?
I would love for you to join me in my private Facebook group! 
It's a great place to interact with me and others who know the area well.
You can ask questions, get advice for your upcoming stay, and then share your photos and advice with others when you return home. It's a great community and the fastest way to get answers to those nagging questions about your visit!