55 Movies Filmed in San Francisco

by Jill Loeffler  •

Published: December 15, 2022
Over the years, dozens of films have used San Francisco as their stage. Some filmed most of their scenes here, while others just stopped by for a couple of days of filming.
My list offers a great way to view the City by the Bay on screen. It's a fabulous way to see the city before you arrive or watch some of these films to reminisce about your time here.
Some of the highest-rated movies filmed in San Francisco include Bullitt, Mrs. Doubtfire, and Vertigo. Others include The Game, Always Be My Maybe, and The Last Black Man in San Francisco.
Here are the top-rated films set in San Francisco and some places you'll recognize in each one.
Disclaimer: I receive a small commission from some of the links on this page.

1. Vertigo (1958)
Vertigo is probably one of the best movies to watch if you want to see a lot of classic 1950s San Francisco. Some of the most famous locations include Fort Point by the Golden Gate Bridge, the Fairmount Hotel, and the Conservatory of Flowers.
Others include the Palace of Fine Arts, the Legion of Honor, and Lombard Street. There are so many other locations here that it is almost impossible to name them all!
You'll just have to watch them and be surprised at how many you remember when you visit or revisit them by watching them at home.
2. The Maltese Falcon (1941)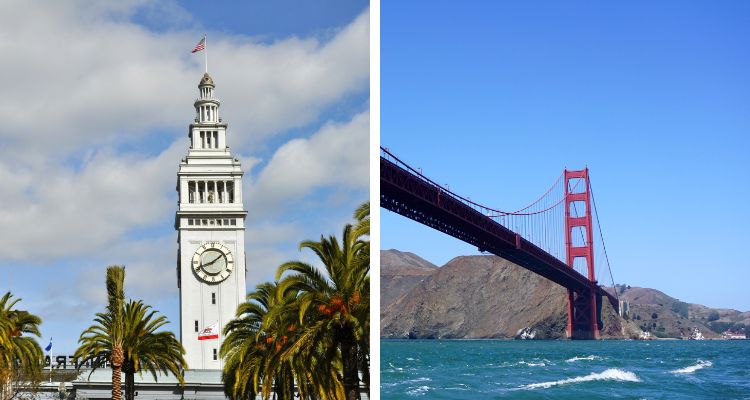 Compared to Vertigo, The Maltese Falcon wasn't filmed nearly as much in SF. The main areas include the Golden Gate Bridge, the Ferry Building, and Bush Street.
More than half of the movie was filmed on L.A. stage sets. Even so, it still gives you a wonderful view of what San Francisco was like in the 1940s.
3. The Pursuit of Happyness (2006)
This is a fun one because one of the locations is the now-defunct Candlestick Park, where the San Francisco 49ers and Giants used to play. That means you get to see what it used to be like in this very windy and cold stadium!
Other fun locations include the children's playground in Golden Gate Park, Treasure Island in the bay, and some fun locations in Oakland, such as the gorgeous Grand Lake Theater.
Basically, everything was filmed in or around San Francisco to keep it authentic and meaningful.
4. Guess Who's Coming to Dinner (1967)
I really like this one because I love eating at Mel's Drive-In, and it always makes me think of it! Some of the other locations include San Francisco International Airport, Maxwell Galleries, and a few others.
A favorite shot is when Hepburn and Tracy drive up Divisadero Street and Broadway before they get to Mel's Drive-in (yes, I'm a big-time Mel's Drive-in fan!). There are other shots around San Francisco, but they are more random.
Some of the other locations include the Columbia/Sunset Gower Studios in Los Angeles.
SF Movie Tour: Want to see where some of these movies filmed in San Francisco? Check out this fun movie tour. You'll watch the movie scene and then drive by the location where it was filmed. Learn more here.
5. Harold and Maude (1971)
One of my favorite scenes is filmed at the stunning Sutro Baths overlooking the ocean. The Holy Cross Cemetery is also quite beautiful, and, of course, St. Thomas Aquinas Church for reasons that will be explained in the movie.
Much of the film has scenes in the South Bay, near San Jose. One of the funniest, and most famous, scenes is when Harold and Maude are driving a motorcycle over the Dumbarton Bridge, which crosses from East Palo Alto over to Fremont on the other side of the bay.
There are also scenes in Santa Cruz, Half Moon Bay, and more.
6. The Woman in Red (1984)
Who is this mysterious woman in red that Gene Wilder's character sees one night, and where does she go? Well, lucky for you, Gene tries to find her all over the city!
Some of the fun locations in this movie include the San Francisco Fire Department's Fire Station #2, the gorgeous and classic Clay Jones Building, and the Palace of Fine Arts.
The movie also shows Alamo Square's Postcard Row (home to the Painted Ladies), North Beach (where Charlotte lives), and Speedy's New Union Grocery on Union Street.
In addition, there are some great shots of Montgomery Street and other locals as Gene tries to find her no matter where she goes!
7. Dirty Harry (1971)
I could write a whole page just on the San Francisco locations for this movie alone! However, some of the most famous include Kezar Stadium, the Roaring 20's Nightclub, and the Marina Green.
Of course, we can't forget the City Hall, Chinatown, Alamo Square Park, and so many others it is impossible to cover them all!
A fun fact is that the famous "Do I feel lucky? Well, do you, punk?" line was filmed on a backlot in Los Angeles and not in San Francisco! It is also funny because it is almost always misquoted as "Do you feel lucky? Well, do you, punk?"
Now you can impress your friends because you know the truth!
Great Guided Tours of SF
8. The Game (1997)
Michael Douglas lost his mind in this film. But lucky for us, it is all over San Francisco!
Some of the best locations include the beautiful Ritz-Carlton Hotel, Johnie's Broiler (which is now Bob's Big Boy Broiler), and the Tunnel Top Lounge and Bar, just to name a few.
I especially love that one of the stops includes the Lion House in the SF Zoo (yikes!). One of my favorite shots outside of SF includes the Historic Filoli House & Gardens on the way down to San Jose. If you are going that way, it is definitely worth a visit.
9 & 10. Sister Act (1992) & Sister Act 2: Back in the Habit (1993)
Both of Whoopie Goldberg's great comedies are all over the place here. Some include Saints Peter & Paul Church (in North Beach), the impressive Coit Tower and its city views, and the Maritime Museum Building.
You'll also see St. Paul's Church in Noe Valley (not surprisingly, there are several churches in this film, since she is a nun!). They also go to Candlestick Park and many other locations as this madcap adventure makes its way around the city.
11. What's Up, Doc? (1972)
Four luggage bags that look exactly alike allow us to see San Francisco from everywhere!
Some of these include 1000 Bush Street (where Judy watches pizza being made), Pier 70, Lombard Street, and even SF Fire Department Station #38. You probably never thought you'd think about seeing a fire station, right?
Others include the incredible Hilton San Francisco Union Square, Mr. Larrabee's mansion at 2018 California Street, Saints Peter and Paul Church, and Alta Plaza Park, where there is an insane chase scene.
And, of course, SFO International Airport, where all the confusion of this silly slapstick starts!
12. Zodiac (2007)
This thriller is a bit of a toughie since about half of it was filmed in Los Angeles or Southern California, even though it tells the true story of the search for the infamous serial killer that terrorized San Francisco during the 1960s and 70s.
Some of the locations include the San Francisco Chronicle Building (the main San Francisco newspaper), "Morti's Bar" at 451 Minna Street, and Original Joe's, where Robert and Melanie have their first date.
Other scenes filmed in SF include one at the Transbay Terminal, the Earl Warren Building, and 2501 Irving Street, where Melvin Belli is supposed to meet the Zodiac Killer.
There is a neat shot of Paul Avery's houseboat, which is located just to the North in Sausalito.
13. Escape from Alcatraz ( 1979)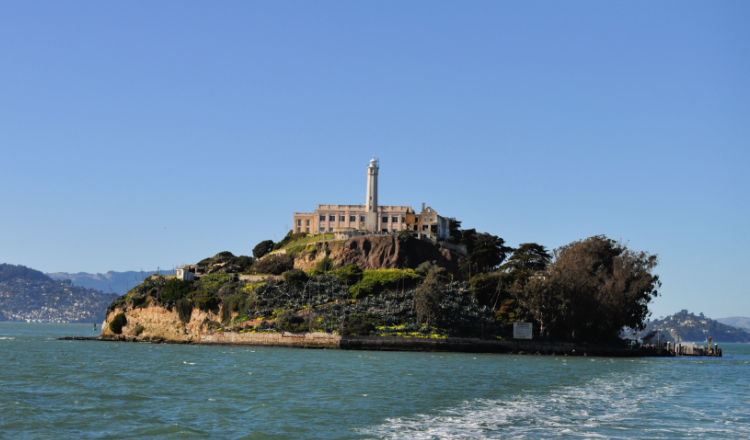 It is pretty obvious where this film is going to start and end: Alcatraz Island. This movie was based on three of the only convicts to supposedly ever escape from it. There are so many great reasons to watch this film, including getting a good idea of what it is like to visit Alcatraz.
The movie will give you a taste of how the prisoners were treated in their daily life. You'll also explore what it was like to walk through the halls and know that you will probably never leave, and how difficult it was to hear the voices of people in San Francisco depending on which way the wind was blowing.
It has never been proven whether the escaped convicts survived or not. It will be up to you to decide when you visit it for yourself!
More Fun Things to Do Around SF
14. Milk (2008)
Being gay and proud in the 1970s when it wasn't widely accepted, Harvey Milk became California's first openly gay elected City Supervisor.
This movie gives us a chance to see so much of the city. You can see City Hall, the Federal Building, and the Golden Gate Bridge.
The film shows neighborhoods such as Chinatown, the Haight, and the Castro.
In the Castro, there is an especially important scene at Market Street and Castro Street where there are rallies, gay rights demonstrations, and a candlelight memorial march. After watching this movie, you will want to go there and see the memorial in person.
15. Interview with the Vampire: The Vampire Chronicles (1994)
Most people don't think of this movie and connect it to San Francisco since so much of it is filmed in Louisiana, England, and other locations. However, there are a number of scenes that are filmed here.
In fact, one of the most famous scenes is during the interview between Louis de Pointe du Lac and Lestat de Lioncourt at the Flatiron Building at 540 Market Street.
Other locations include other parts of Market Street, Golden Gate Avenue, and the Golden Gate Bridge.
16. Bullitt (1968)
Steve McQueen chases all through San Francisco in this thriller, which is why it is such a great movie to learn about the City by the Bay! Some of the best locations include Enrico's Cafe, Grace Cathedral Episcopal Church, the Mark Hopkins Hotel, and the Kennedy Hotel (as the Daniels Hotel).
However, any fan of Bullitt knows that the best part of the movie is the insane car chases. These include the 800 block of Chestnut Street, where it starts, Taylor & Vallejo, where the downhill chase really starts going, and the Marina Green, just to name a few.
Fun Fact: Part of the chase includes driving on the Embarcadero Freeway. You won't be able to find this, as it was demolished after the 1989 Earthquake.
17. The Rock (1996)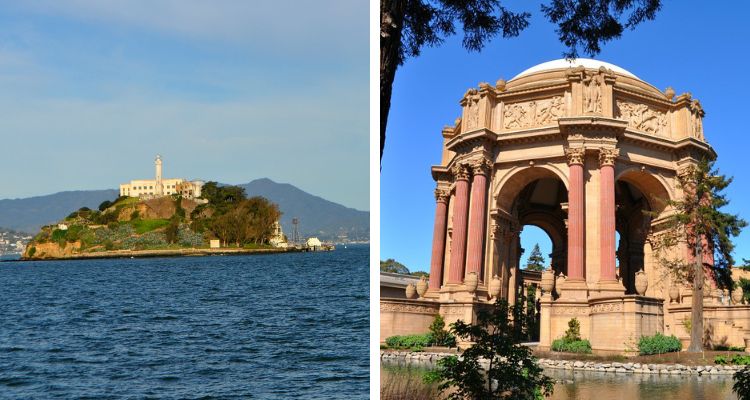 You probably guessed it just by the name; The Rock is the nickname of Alcatraz Island. You'll get a great idea of it when you watch this movie. And you'll also get great locations throughout the city beyond just The Rock.
Some of the other locations include the Fairmont Hotel, the Palace of Fine Arts, New Russian Hill Market (where you get a great car chase), and the incredibly gorgeous War Memorial Veterans Building and Performing Arts Center.
Some scenes are filmed in Los Angeles, but this does not detract from the incredible views you'll get of SF while you watch this thriller.
18. Invasion of the Body Snatchers (1978)
Probably one of the scariest movies on this whole list, this one is also going to give you as many views of the city as any on the list.
Some of the best include the Painted Ladies and Alamo Square, City Hall, Lafayette Park in Pacific Heights, and my personal favorite, Bimbo's 365 Club.
Since the movie is based on aliens duplicating humans all over the city, you'll get to visit famous locations like the intersections of Powell and Marketplace or Broadway and Columbus, among others.
It is one of the few films that feature the Transamerica Pyramid, which is a bit surprising since it is such a well-known San Francisco landmark.
Great Places to Stay Around San Francisco
19, 20 & 21. Ant-Man (2015), Ant-Man and the Wasp (2018), & Ant-Man and the Wasp: Quantumania (2023)
These two little superhero films find huge locations in San Francisco to help show you the way when you come here.
Some of these include the San Francisco Police Department on Bryant Street, the hip and cool neighborhood of North Beach, and the Chase Center, home to the Golden State Warriors (depending on when you visit, you should pick up tickets to see them play!).
Some other locations include Buena Vista Park, which has beautiful city views, and the Tenderloin District. About 50% of the movies were filmed in San Francisco, with some of the Ant-Man and the Wasp filmed in the UK and Turkey!
22. Blue Jasmine (2013)
This is a perfect movie for those who want to enjoy the City by the Bay since so much of it was filmed here. There are scenes of the Golden Gate Bridge, Ocean Beach, Pacific Heights, and the Marina, just to name a few.
Another reason I love this movie so much is that there are numerous shots of San Francisco's street cars, including one that originally was from Philadelphia and built in 1947.
It is actually quite difficult to give a full report on all the locations you'll see in this movie because there are so many, so just know that you'll probably find someplace new each time you watch it... and that doesn't include the parts in nearby Tiburon or Marin!
23. Star Trek IV: The Voyage Home (1986)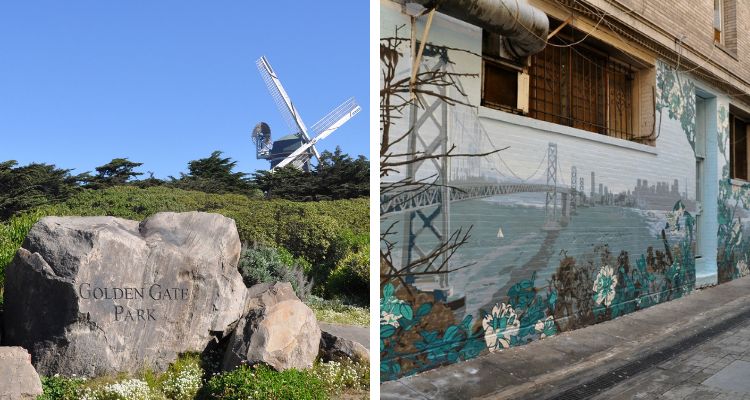 Captain Kirk and his loyal entourage had to go back in time to save the future, and where did they go? San Francisco!
This movie is full of wonderful scenes, including one where Kirk gets yelled at in the intersection of Columbus and Kearny and yells back. Others include being in Golden Gate Park, the Marina, North Beach, and Chinatown.
One of the funniest scenes is when they are at the intersection of Columbus and Mason, and Checkov says, "We are looking for nuclear wessels..." which, during the height of the cold war, is not the best thing for a Russian to be saying.
Fun Fact: The aquarium they visit while looking for whales is the Monterey Bay Aquarium in Monterey, about two hours south of San Francisco.
24. The Last Black Man in San Francisco (2019)
This movie will give you a look into the real life of someone striving to make it in the City. The locations are incredibly varied, as the director wanted to ensure people see everything here, not just the pretty or ugly side of SF.
Some of the many districts include the Tenderloin, the Bayview, and the Mission, among others that are often ignored.
Oftentimes, Hollywood will shy away from the truth of what it is like to live here, for better or worse. But this is the real deal. There are also wonderful scenes, such as the Beach Chalet out by Ocean Beach and Buena Vista Park.
25. So I Married An Axe Murderer (1993)
Although this sounds like a horror film, it is a classic Mike Myers film with loads of laughs and fun. It is also shot all around the city and has some of the best locations of any film on this list.
Its scenes include Alcatraz Island, the now-closed Candlestick Park, and the Palace of Fine Arts, among other famous locations.
What I really love about this movie is that Mike Myers goes to the classics, such as the cable cars, and local favorites, such as the Fog City Diner, Vesuvio Cafe, La Rocca's Corner, Edinburgh Castle Pub (nickname "Cock o' the North"), and even the Swedenborgian Church, which I can assure you is not on any other movie in this list!
26. A View to a Kill (1985)
Although this might not be one of the most famous James Bond films, it offers loads to see of the City by the Bay. Some of the fun shots include chases and spy scenes in Chinatown, the Civic Center Plaza, Fisherman's Wharf, and the Port of San Francisco.
There is also a scene on the Embarcadero Freeway which was demolished after the 1989 Loma Prieta earthquake, so you get a "view" of a "killed" freeway! Not only that, but you get great shots of Van Ness Avenue, China Basin, and the San Francisco Peninsula area.
One of the reasons that I love this film is that there are fun scenes at the Lefty O'Doul Drawbridge and Burger Island on 3rd Street, with an impressive fire engine chase. And, of course, one of the most dramatic finales on top of the Golden Gate Bridge!
27. Mrs. Doubtfire (1993)
Robin Williams lived in Marin, but it always felt like San Francisco was his home. And in Mrs. Doubtfire, he definitely embraces that. There are so many locations to visit, including the Hillard family home at 2640 Steiner Street, which is a perfect way to get ready for or remember your visit here.
Other locations include Danilo's Bakery on Green Street, Crissy Field in the Presidio, and the City College of San Francisco in the Chinatown Campus.
"He/she" also went to the old Candlestick Park, ex-home to the 49ers and San Francisco Giants, so you can see what it used to be like back in the day before both teams moved to amazing new stadiums!
28. Basic Instinct (1992)
There are lots of great locations in San Francisco in this famous thriller. Some of my favorites include the view from Kearny Street on Telegraph Hill, Pacific Heights, and Chinatown.
As for specifics, this movie is full of wonderful scenes that bring out the city's true heart. Tosca Cafe is one of the most famous restaurants here and well represented. Unfortunately, one of the bars, Raw Hide II, is now closed but used to be a well-known LGBTQI bar.
The gorgeous Steinhart Aquarium in Golden Gate Park also appears in the film. There are a lot of other scenes from around the bay, so you can see more than just SF.
29. Bicentennial Man (1992)
This lesser-known Robin Williams film (since he plays a more serious character) has some wonderful shots from all around the city. Some of the best include Postcard Row (the Painted Ladies near Alamo Square), the stunning Grace Cathedral, the Golden Gate Bridge, and City Hall, among others.
A decent amount of the movie was filmed around the Bay Area, so you will also see Treasure Island and Alameda across the bay towards Oakland. If you want to see what's south of the San Francisco, the beautiful cities of Half Moon Bay and Woodside and the Oracle Corporation building are also represented in it.
30. The Dead Pool (1988)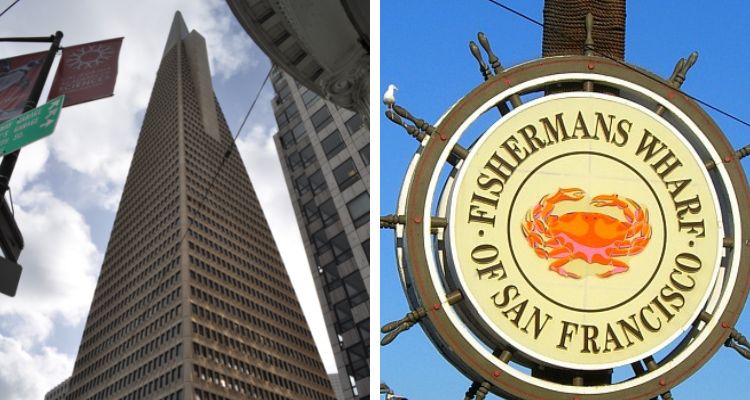 Dirty Harry is back and ready to take you on a wild ride as somebody wants to take out our city's local celebrities...and him!
Some of the best scenes include Chinatown, the car chase all over 22nd Street, and loads of shootouts, including one in front of Nam Yuen Restaurant at 740 Washington Street. Believe me, you'll see loads of SF with the car chases and craziness.
There is a wonderful nighttime view of the Transamerica Pyramid and some great shots of Fisherman's Wharf, as well as one of 710 Steiner Street, which is part of the famous Painted Ladies.
A more somber scene, beautifully framed and acted, takes place in the San Francisco National Cemetery in the Presidio.
31. Always Be My Maybe (2019)
I find this film to be one of the more underrated and lesser-seen comedies filmed in the City by the Bay, and I absolutely love it. There are numerous locations where Marcus tries to help Sasha fall in love with him, including the ornate Orpheum Theater, the Palace of Fine Arts, and Golden Gate Park.
Of course, anyone who has seen this movie would know of the hilarious scene where Keanu Reeves walks in and blows the mind of Marcus. This was filmed in the Contemporary Jewish Museum, but it will look quite different when you visit it since they made it very simple and clean.
Some of the film was located in Vancouver, British Columbia, but you'll still see tons of San Francisco, and it is fun to try to figure out what scenes are filmed in which city.
32. The Room (2003)
The real-life mystery man, Tommy Wiseau, made one of the most famous cult classic films ever, and it is set almost entirely in San Francisco.
Some of the expected locations include the Golden Gate Bridge, the Palace of Fine Arts, and Union Square. Other favorites include Grace Cathedral Episcopal Church, the famous Lyon Street Steps, and the lesser-known Sue Bierman Park (also known as Ferry Park).
One of the reasons people love this movie (other than the truly horrible directing, writing, and acting... again, it is a cult classic that has to be seen to be believed) is that there are places that anyone can go and visit, like the flower shop at 3463 16th Street, where Tommy is noticed and pets the dog (again, if you see it, you'll laugh at this scene).
Another is his apartment at 3414/1416 Broderick Street. Simply stated, if you want to watch one of the strangest and most magnificent cult films ever and enjoy views of San Francisco, The Room is a must-see! Just know that it is one of the lowest-ranked films on this page because it is so absurd.
More Movies Filmed in San Francisco
In addition to those mentioned above, several other movies have filmed a few scenes in San Francisco. You can see more of the City by the Bay in the following movies.
33. Looking (2016)
In this film, the protagonist returns to San Francisco for a wedding and a stroll down memory lane. You'll get an intimate look into the gay community that forms an important part of SF.
You'll also get to see the inside of City Hall, where thousands couples have been married, night shots of the city, Mason Street, Chinatown, and panoramic views of the Bay.
34. Contagion (2011)
A lot of this film takes place all around the world; the parts that you'll like from San Francisco include locations such as the San Francisco Chronicle Building, Candlestick Park, Golden Gate Park, and Potrero Hill.
35. Foul Play (1978)
This one shows Telegraph Hill, Andrew S. Hallidie Plaza, and a goofy location named "Pawtrero Hill Bathhouse & Feed Co." a family-owned pet food and toy store. I love the play on the name of Potrero Hill.
36. High Anxiety (1977)
This Mel Brooks comedy was filmed in many areas, such as Fort Point, the Golden Gate Bridge, Fisherman's Wharf, and many more. You'll see loads of SF in it!
37. Sudden Impact (1983)
As you can tell, Clint Eastwood sure loves SF, so you'll get great shots of The Embarcadero, Bowles Franklin Galleries, and the Ferry Building, where there is a massive mob shootout.
38. Pacific Heights (1990)
A couple thinks they have their dream house, but a shady character decides that he wants it and will do whatever is necessary to get it. Luckily for us, but not for them, there are scenes at Potrero Hill, Chinatown, the Financial District, and of course, Pacific Heights!
39. The Parent Trap (1998)
This is the new release with Dennis Quaid and Natasha Richardson. Most of it is filmed in other locations, but there are a few scenes that show the Treasure Island Administration building, which is the "Stafford Hotel Exterior" in the movie.
40. X-Men: The Last Stand (2006)
There's not a lot of San Francisco left by the time the X-Men decide to make their last stand— the Golden Gate Bridge being the main one—but it is quite impressive!
41. Joy Luck Club (1993)
Although the book that this film is based on was written by a San Francisco local, Amy Tan, only a few scenes are filmed in San Francisco.
The primary one is at 610 Rhode Island Street, which is the interior of Harold and Leana's home. You'll catch some more as they move around the city, but nothing very specific.
42. When A Man Loves a Woman (1994)
This one was mostly filmed in Mexico, but it has a great shot of 2810 Hyde Street in the opening scene with a cable car that is just wonderful. Another classic scene from this movie is filmed inside the historic Buena Vista Cafe in Fisherman's Wharf.
43. Steve Jobs (2015)
Everyone knows about the genius of Steve Jobs, and now you will get a chance to see what inspired him and the places he loved. Some of these include the Davies Symphony Hall and the War Memorial Opera House.
It was primarily filmed in Palo Alto and Cupertino, about an hour south of SF, which is where he lived and also home to Apple.
44. The Presidio
San Francisco's Presidio was a former U.S. Army post that to this day still contains the old barracks and a National Military Cemetery, where part of the movie is filmed.
The action-packed police scenes include a foot chase through Chinatown and car chases that take you flying down the hilly streets of the city.
45. Big Trouble in Little China (1986)
Only a few shots in Chinatown; everything else is on sound stages in L.A. However, it is still fun to watch and see if you can catch what is filmed in the city and what isn't filmed here.
46. The Princess Diaries (2001)
As would be expected with a princess movie, some was filmed in the US and some in the UK. Locations in SF include Fisherman's Wharf, the Golden Gate Bridge, and a few other lesser-known locations.
47. The Five-Year Engagement (2012)
There are a few scenes that feature SF, the most famous one being at Alamo Square, where the Painted Ladies of the TV show Full House was filmed.
48. The Right Stuff (1983)
One of the most inspiring movies filmed in San Francisco, it has one important scene at the Cow Palace.
There are a few other lesser-known locations, but most of the scenes are filmed just outside of SF and in places like the NASA Ames Research Center in Mountain View, on the coast at Half Moon Bay, among others.
49. Four Christmases (2008)
In this film, a couple tries to see all their divorced parents in one Christmas and makes a few stops in SF. These include Twin Peaks and SFO International Airport (they are busy, so they have to fly a lot!).
50. The Matrix 4 (2021)
The final to this reality-bending series has a few locations in San Francisco, such as the "Simulatte Coffee Shop" (get the play on words?) at 256 Montgomery Street and one of the best shots of any of the series at 44 Montgomery Street when Neo and Trinity do something you'll never imagine (I won't give it away!).
51 & 52. Doctor Dolittle (1998) & Dr. Dolittle 2 (2001)
Sadly, neither of these films ranks among Eddie Murphy's best, but you can get loads of great location shots if you watch either or both of them. They include Aquatic Park in Fisherman's Wharf, where they have a carnival, and the Golden Gate National Recreation Area, among others.
Other locations include Pacific Heights, Telegraph Hill, Crissy Field, and Hyde and Lombard Streets. It is also fun to watch because there are shots in Marin, Point Reyes National Seashore, and Lagunitas.
(If you are a beer fan, you'll have heard that name since it is where the Lagunitas Beer Company started back in the day.)
53. The Wedding Planner (2001)
There aren't many specific locations to mention in this film, but it does show San Francisco in general. There is a scene at the gorgeous Filoli Historic House and Gardens in Woodside, CA, located in the Santa Cruz mountains south of the city.
54. Memoirs of a Geisha (2005)
There is only one San Francisco location for this movie, which is at the Presidio, a beautiful location. The rest of the film mostly takes place in different cities and in Japan.
55. HONORABLE MENTION: The Graduate (1967)
After they elope, the couple is seen in the back of the bus coming to terms with the reality of their choices.
This movie is an honorable mention because the bus they are taking is actually driving the wrong way on the top of the double-decker San Francisco Bay Bridge as it leaves the city.
It should have been going toward SF!
Comments? Questions? Suggestions?
I would love for you to join me in my private Facebook group! 
It's a great place to interact with me and others who know the area well.
You can ask questions, get advice for your upcoming stay, and then share your photos and advice with others when you return home. It's a great community and the fastest way to get answers to those nagging questions about your visit!