Flights to San Francisco: Tips to Book, SFO Transit Options, & More

by Jill Loeffler  •

Updated: January 19, 2023
When booking flights to San Francisco, you will have three airport options. Most people opt to fly into San Francisco International Airport (SFO). This is the largest of the three international airports in the area.

SFO offers service from 48 different airlines with about 2,400 total flights in and out each day. Large carriers such as United and American Airlines have dozens of flights every day in and out of SFO. You can also find domestic flights to San Francisco on Alaska, Frontier, Jet Blue, US Airways and Virgin.

Large international carries also fly in and out of SFO. You can get some good flights into the US to SFO on Air Canada, Air France, Air New Zealand, British Airways, Cathay Pacific and Lufthansa.
Demand is on the rise, so new routes and carriers are added often.
Disclaimer: I receive a small commission from some of the links on this page.

Other Bay Area Airports

In addition to SFO, there are two other international airports in the Bay Area. Oakland International Airport (OAK) and San Jose Airport (SCJ) are a little further from the city, but sometimes a better option if you are heading to other parts of the Bay Area.
Both airports have dozens of daily flights to San Francisco. Both have major carriers such as United, American and Delta along with regional and discount carriers.
Oakland International Airport

OAK is on the eastern side of the bay. Oakland International is another large airport near San Francisco. It also offers flights from Southwest, Delta, British Airways, JetBlue, Volaris, Spirit and others.
Thirteen airlines offer flights to more than 55 destinations.
This is a great option if you plan to stay in San Francisco, the East Bay or drive directly up to Napa. All are easy to get to from Oakland.
San Jose

The San Jose Airport, known as Mineta San Jose International Airport or SJC, is at the southern end of the Bay Area. This is another international airport that is perfect for those staying in San Jose or places further south.
Flights to San Francisco through San Jose are also an option. This airport offers service from sixteen airlines with about 100 flights per day.
Top carriers here include Southwest, Lufthansa, JetBlue, Frontier and American Airlines.
Disclaimer: I receive a small commission from some of the links on this page.

SFO Airport Transfer Options

There are plenty of ways to get to San Francisco after you arrive. My two favorite options after a long flight are either a shuttle or a car service. Both ease the process of getting from the airport to your hotel.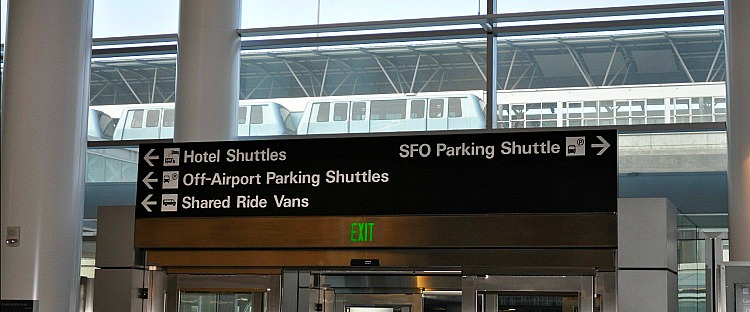 You will find signs all over the airport to help you get from your flights to San Francisco to your designated transportation.
I also recommend that you book your transfer option in advance. This can save you a little money and simplify the process once you arrive. It's always great to know exactly where you need to go the minute you arrive at a new location.
Here are the top five options:
1. Airport Shuttle (Temporarily Running as Private Transfers Only, No Shared Rides at this Time)

An airport shuttle is a shared ride (up to 8 people total) with door to door service. They will pick you up at SFO and drop you at the front door of your hotel. It's cost effective and an easy way to get to and from your accommodations.
There are several services to choose from and I typically use Super Shuttle as I've have had great service with them. Go Airport Shuttle is another popular option.
Booking a round trip ticket in advance will also save you some money.
Learn More: Airport Shuttles
2. Private Car Service

This is the perfect option if you want a more personalized service. With a private car (or limo), the driver will take you directly to your hotel. You can easily find the driver near baggage claim.
It's also a reasonable option if you have 3 or more people in your group. Since they drop you off right at your hotel (with no stops in between), it's also the fastest way to get into the city.
This is also great because you pay a set fee in advance. This means you know exactly what the ride will cost, and you don't have to think about additional fees for sitting in traffic.
Car options include luxury sedans, minivans and limos.
The service by Dingo Tours is highly recommended and can seat up to 5 passengers. They can also squeeze in one more person if your group has very little luggage.
3. Rental Car

You can also rent a car to travel from SFO to San Francisco. I recommend this as an option only if you need a car for your entire trip.
Parking in the city is expensive, so even if you get a good deal on a car, the price skyrockets once you get into the city. If you only need a car for a day or two, you can also pre-book a car from one of the rental agencies right in San Francisco.
Many are close to Union Square, Fisherman's Wharf and downtown SF which makes the pick-up and drop off process easy for you.
Learn More: San Francisco rental car tips
4. BART Train

Taking the BART, Bay Area Rapid Transit, train is another option. If you pack light and don't mind taking public transportation, then you will save some money by taking the train.
It's a quick ride into the city and it drops you off in downtown San Francisco. You can also get a ticket ahead of time to save yourself some hassle once you arrive.
You will find the BART Station at SFO in the Departures/Ticketing Level of the International Terminal (Boarding Area G side). It's about a 10 to 15-minute walk from the domestic terminals.
If you are arriving in another terminal and don't want to walk to the International Terminal, you can take SFO's AirTrain to the Garage G/BART Station stop. The AirTrain is free and you will find signs that will point you to the stop near your arrival terminal.
BART drops off in San Francisco near the Mission, Civic Center, Union Square, South of Market and downtown districts.
From there, you can either walk to your hotel or grab local public transportation.
5. Taxi/Uber/Lyft

The final option is to pick up a taxi at the airport. A regular taxi seats up to 4 people. You can usually squeeze one or two more people in a van taxi - similar to the one shown in the picture to the right. It's a good option from SFO, but is a little more expensive than many of the options listed above.
In addition to a San Francisco taxi, you can also download the Lyft or Uber app. Both will pick you up at SFO and drive you directly to your location. I find that they are often less expensive than a taxi but you will have to wait for one to arrive (which is usually only about 10 to 15 minutes).
Learn More: Tips for taking a taxi from SFO
San Francisco Airport to Popular Destinations

Are you looking for more details to get from SFO to your destination? Here are a few more details on how to get to where you are going from flights to San Francisco International Airport.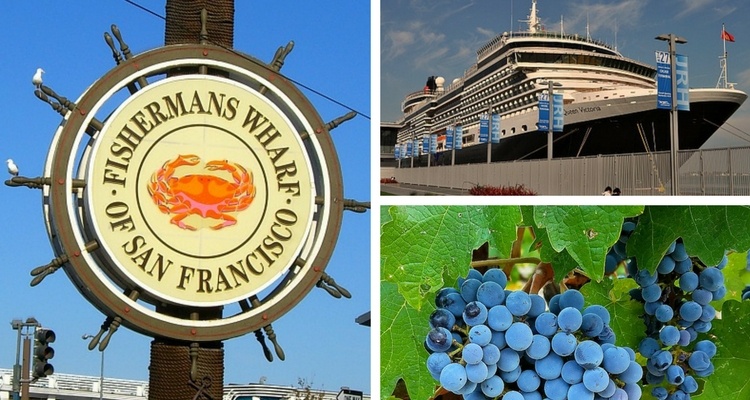 Union Square: The most popular destination from SFO is Union Square. It's about 13 miles between these two destinations. Your best options for getting between the two are BART or Uber/Lyft/Taxi. More about getting between SFO and Union Square.
Fisherman's Wharf: This is the second most popular option. It's about 14 miles straight north of SFO. You can easily get here with an Uber/Lyft/Taxi. More about Fisherman's Wharf. Tips to get from SFO to Fisherman's Wharf.
Downtown SF: To get from SFO to downtown San Francisco, I recommend using an Uber/Lyft/Taxi. You can also take BART, but you will need to walk a few blocks to get to any of the hotels in the downtown district.
Cruise Terminal: There are two cruise terminals in San Francisco. Make sure to check your departure cruise line before booking your transportation for flights to San Francisco International Airport. Most cruises leave from Pier 27 which is along the Embarcadero near Fisherman's Wharf. The second one is about a half mile north at Pier 35. For both, you can take a door-to-door shuttle or Uber/Lyft/Taxi. They are about 13.5 miles north of SFO.
Oakland: If you plan to head over to Oakland from your flights to San Francisco International Airport, you can either take BART (and then walk or grab public transit in Oakland) or book a car in advance. Most taxis are really expensive or aren't allowed to take you to Oakland. Your other option is an Uber/Lyft/Taxi. It's about 20 miles away. This can be deceiving though as you need to cross the Bay Bridge to get there. If you arrive during the evening traffic commute, either plan for a hefty taxi bill or take BART as the traffic on the bridge backs up for some time.
San Jose: The city of San Jose is about 45 minutes south of SFO. You can either take BART to Caltrain or you can get an Uber/Lyft/Taxi. If you plan to arrive during the evening commute (4 pm to 7 pm), then plan for a longer ride down south by car.
Berkeley: The city of Berkeley is located in the East Bay and also over the Bay Bridge. You can take BART to Berkeley which includes one transfer. You can also take an Uber/Lyft/Taxi, but make sure you are not arriving during rush hour or it will be quite expensive. Berkeley is about 25 miles away but can take over an hour or more to get there during rush hour.
Sausalito: You have a few options to get to Sausalito. This small waterfront town is on the northern side of the Golden Gate Bridge. You can either take BART to the Embarcadero and then take the Sausalito ferry over from the Ferry Building or get a taxi/Lyft/Uber. It takes about 40 minutes to get there from SFO and longer during the evening rush hour traffic.
Monterey: The Monterey Bay is south of SFO about 100 miles or two hours south of SFO. You can either take a shuttle to a stop in Monterey or take an Uber/Taxi/Lyft. The second option will be pricey, but worth the cost if you have more than two people in your group. The Monterey Airbus is a preferred option for shuttles. You can also rent a car and drive. Parking is not too bad in Monterey and not as expensive as other Bay Area locations.
Carmel: South of Monterey is Carmel-by-the-Sea. It's about another 10 to 15 minutes south of Monterey or just over two hours from SFO. You can take the Monterey Airbus (will need transit to Monterey) or take a taxi. You can also rent a car as parking is not as bad in this part of the SF Bay.
Napa: You have two options to easily get from SFO to Napa. There is a shuttle that will pick you up at the airport and drop you off at a list of designated hotels in Napa and Yountville. The shuttle is through Evans Transportation and it picks up and drops off several times a day. You do not need a reservation from SFO to Napa (you need a reservation if you want to be picked up at your hotel in Napa or are disabled and need assistance). Your other option is to rent a car for your trip. Napa is about an hour and a half from SFO during non-rush hour traffic. It can be up to 2 hours during rush hour.
Levi's Stadium: You will find Levi's Stadium, where the 49ers play, south of SFO in Santa Clara. You can get here by Bart + Caltrain, by renting a car, or by Uber/Lyft. The stadium is about 40 minutes south of SFO without traffic.
Amtrak: If you are heading to Amtrak from SFO, you have a few options. The first option is to take BART or Uber/Lyft to the Amtrak bus station in SF. The bus runs 24 hours a day and will take you across the bay to the Amtrak Station. You can also take an Uber or Lyft to get to any station along the Amtrak corridor in the East Bay. All for at least two to three hours when using the bus option as it will take some time to get the bus and get over to the East Bay.
Yosemite: The best way to get to Yosemite from flights to San Francisco International Airport is to drive. It is about a four-hour trip from SFO to Yosemite.
San Francisco Airport Parking

Are you looking for tips for San Francisco Airport parking? If you are leaving from SFO and need to park your car for the night, the week, or longer, you will find several options all around the airport.
The closest, but most expensive option is to park right near the terminals in the Long Term Parking Garage. This option will cost around $25 to $36 a day.
Better options include off airport parking. All offer shuttles from the parking lot over to all terminals at SFO.
Airport Parking Reservations: This is my favorite tool to find great airport parking near San Francisco airport. You will find options that only include parking and those that offer a deal with hotels + parking. Visit their site to search for a great spot near SFO.
Park 'N Fly: This is a popular option for those needing San Francisco airport parking. You can reserve your spot online, drop off your car and then take their shuttle over to your terminal. Prices start at about $17 a day and their lots are open 24-hours a day. Visit their site to learn more.
ParkSleepFly: This is a great tool that offers you the chance to find a great hotel near SFO and then pay to leave your car there during your stay. You will get discounts on the entire package and almost all offer free shuttles to and from the airport. Visit their site to learn more.
Best Hotels Near SFO

You will find a variety of hotels near SFO. Many of them offer a free shuttle to and from SFO to make transferring in or out easy. Some also offer longer term parking, so you can pay to leave your car at the hotel.
1. San Francisco Airport Marriott Waterfront: 4-star hotel just over a mile from SFO, right on the SF Bay, free transit to SFO, steak house on site as well as an indoor pool, find recent guest reviews and availability here.
2. Millwood Inn and Suites: 3-star hotel with free parking, free shuttle to SFO, and free breakfast, it perfect for budget-friendly stays, find guest reviews and get a room here.
3. Sonesta ES Suites SF Airport: 3-star hotel in San Bruno, just north of SFO about 4 miles, free airport shuttle, parking, pool and breakfast, find a room and pricing here.
Find additional SFO hotel recommendations.
Currency Exchange at SFO

You will find several currency exchange options at SFO. Several are located within the International Terminals both before and after security. You will also find one near the gates in Terminal 3.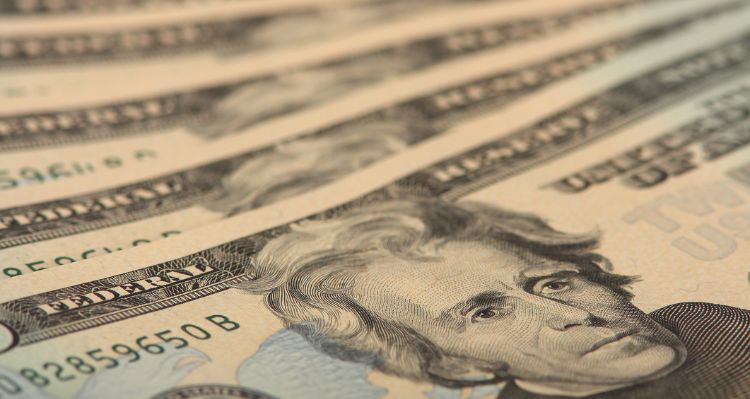 You will find that you won't often get great rates when exchanging money at SFO. They make their money through exchanges and will often take quite a bit of a cut during the exchange. However, if you need to transfer over a little money when you arrive (or before departing to another country), you will find plenty of options at SFO.
If you are arriving at SFO from another country, you will also find several ATMs around the terminals. Check with your bank before you leave to find out rates, but this will often get you a better exchange rate than going through a broker.
I usually exchange money in the Financial District at Currency Exchange International in the SF Merchants Bank. They have a desk that specializes in currency exchange. They are open Monday - Friday from 9am to 5pm. It's the best place that I've found to exchange larger amounts of money. They do have a fee, but I find it's less expensive than the options at SFO. You will find them at 343 Sansome St #100, San Francisco, CA 94111.
Flights to San Francisco: More FAQs

What are the hours for SFO? Most security check points open at 4 am. If you have printed your tickets and are ready to go, you will be able to get through security starting at 4am. Some ticket counters will open later depending on when their first flight leaves for the day.
Can you leave your luggage at SFO? Yes, they have luggage storage at SFO. You can store your luggage at the Travel Agency near the International Terminal in the Main Hall. They are open from 6 am to 11 pm, so make sure you have your luggage picked up early if you are traveling between 11pm and 6am.
When should I arrive for my flight? SFO is a busy airport with more than 1,000 departures every day. They have several security lines, but they can back-up quickly. I would allow at least 45 minutes to get through security, which means you should probably arrive at least 2 hours in advance for domestic flights and 3 hours for international flights. If you have TSA Pre-Check or status on your airline, you might be able to breeze through security faster.
Can I visit San Francisco on a long layover? Yes, if you have a longer layover (at least 6 hours) you should have no problem getting into SF and back before you need to leave. You can quickly visit a few top attractions or just explore a specific district during your stay. It's best to take BART back and forth to avoid any issues with traffic. You can also leave your luggage at SFO to make the visit more pleasant.
Discount Flights to San Francisco

With three international airports, it's easy to find discount flights to San Francisco. All three airports offer both discounted carriers and reduced airfare on certain days of the week.
To help you get started, here are five tips to help you find cheap airfare to the bay area.
1. Book in advance: One of the best ways to get the best deal on your flights to San Francisco is to book early. Flight prices move around quite a bit. As a plane gets fuller, the prices increase. So, I always advise that you book your trip as soon as you know your travel dates. Airlines also provide discounts for those booking at least 14 days in advance.
2. Travel in the 'off' season: Not only can you save a little money in the off season, but you also won't have to deal with crowds as much. SF has a number of great events all year long, but traveling in the cooler, rainy months from November to March (except New Year's Eve) will save you some money.
3. Travel mid-week: You can save on both hotels and airfare when traveling mid-week. You can usually find discount flights to San Francisco on Tuesdays and Wednesdays. These are the two slowest travel days and where you can find some great deals. Even if one leg of your journey falls on one of these days, you can usually get a cheaper airfare.
4. Fly during 'slow' hours: You can also sometimes find better prices on routes that are really early in the morning or later in the evening. Business travelers do not always want to book these, so you will be able to find some discount flights to San Francisco during these times.
5. Book hotels & flights together: Another trick that will save you money is to book your hotel and airfare at the same time. When booking both through the same online retailer, they will often give you a lower price on one or both of these.
Additional Information & Ways to Save $$ on Your Flights

Here are a few additional things to think about as you are booking your discount flights to San Francisco.
Taxes & Fees Now Included: You might notice that airline prices seem a little higher these days. Airlines are now required to give you the full amount up front - including all taxes and fees (except checked baggage fees). This means that the price will not increase once you get to the check out.
Pack Light: Saving money on your trip is also possible after booking. Many airlines charge fees for checked luggage. Fees range from $10 up to $35 (and sometimes more!) per bag, so pack light. Either pack a small carry on or combine your group's items into one checked bag and a few carry ons. This way, you won't have to pay a lot of money once you reach the airport.
Select the Right Airport: There are three international airports that service the San Francisco bay area. By selecting the right one, you will save money on your ground transportation.
Comments? Questions? Suggestions?
I would love for you to join me in my private Facebook group! 
It's a great place to interact with me and others who know the area well.
You can ask questions, get advice for your upcoming stay, and then share your photos and advice with others when you return home. It's a great community and the fastest way to get answers to those nagging questions about your visit!