San Francisco 49er Tickets, Schedule & Tips to Attend a Game: Information on the 2023 - 2024 Season at Levi's® Stadium

by Jill Loeffler  •

Updated: September 8, 2023
The San Francisco 49ers are ready to knock down, run over, and pass for touchdowns all the way to the Super Bowl Championship Lombardi Trophy this year. With a team loaded with talent, you are going to see a great game when you watch them at Levi's Stadium in Santa Clara.
Seeing the San Francisco 49ers play at home is a treat for any fan, no matter if they are locals or if they are just visiting the Bay Area. The stadium is state of the art, opening in 2014, and has basically every amenity you could imagine.
The views from anywhere are incredible, the fans are ready to cheer their team onto victory, and since it is in Santa Clara, the weather is just right.

The National Football League has expanded their season to 17 games, with each team getting one bye week (which means they don't play at all).
Depending on the year, the Niners may have either 8 or 9 home games a year. This year the Niners will have 1 preseason home game and 9 regular season home games.
With a total of 10 home games this year, you will have a lot of chances to see them since the NFL season (including preseason) runs from early August until early January. If the Niners make the playoffs, they could continue playing until the middle of February.

Disclaimer: I receive a small commission from some of the links on this page.

Highlights of the San Francisco 49ers' Levi's Stadium
The stadium is about an hour south of San Francisco in Santa Clara.
Their 2023 - 2024 season includes 10 home games, 2 pre-season and 8 regular season games.
The stadium has a seating capacity of 68,500 people when the 49ers play here.
Most games are on Sunday afternoon or evenings. 
Everything You Need to Know to See a San Francisco 49ers Football Game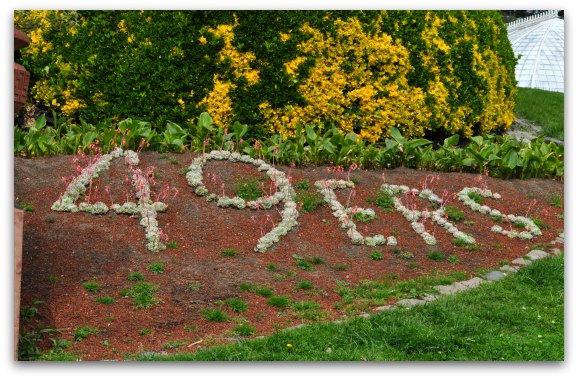 A temporary display outside the Conservatory of Flowers
What is the 2023 - 2024 schedule for the San Francisco 49ers?
Where do the San Francisco 49ers play their home games? 
What is some of the information I need to know about getting to Levi's Stadium? Is parking available at the stadium?
Where can I buy tickets to the games?
Is Levi's Stadium ADA accessible?
Is Levi's Stadium kid friendly? Are there special seats for kids? How do I make sure my kid is safe and won't get lost?
What should I wear to a San Francisco 49er's football game?
What kinds of food options do they have at Levi's Stadium? If I have a restricted diet, such as gluten-free, vegetarian or vegan, are there options to purchase them?
What are some of the best places to eat or drink near the stadium?
Where can I stay near Levi's Stadium?
2023 & 2024 San Francisco 49ers Schedule

September
October
November
December
January
Where Do the 49ers Play?
The San Francisco 49ers play all their home games at Levi's Stadium in Santa Clara. Santa Clara is about an hour drive south of San Francisco depending on traffic.
You can also take the CALTRAIN or a BART Train and then transfer to a local bus.
Transportation Options to Levi's Stadium
Even though Levi's Stadium is in Santa Clara, which is about an hour's drive south of San Francisco, there are still a number of options for you to get to it. It also depends on if you are staying in Santa Clara compared to coming from somewhere else.  It is located at 4900 Marie P. DeBartolo Way and Tasman Avenue.
The VTA Light Rail:

This is the easiest way to get to the stadium if you are staying in the south bay. There are daily routes going to and from San Jose, Mountain View, Campbell and other cities in the area. They will drop you off, and pick you up, on the North side of the stadium.

The VTA Bus

: There are numerous options to get to and from the stadium using the bus lines. You will be dropped off, and picked up, in two different locations depending on where you are staying. The first is the intersection of Tasman Drive and Great America Parkway. The second is Tasman Drive and Calle Del Sol.

ACE Train

: These trains give you direct access from the East Bay and cities such as Livermore, Fremont, Tracy, and others. 

Capitol Corridor: This AMTRAK train also gives access to Niner games if you are coming from the East Bay. Some of the cities served by it include Berkeley, Oakland, Davis, Sacramento and others.
CALTRAIN: This train allows from transportation from San Francisco down to the transit center in Mountain View. You will then take a bus to the stadium.
Cycling: If you are staying close to the stadium, you can ride your bicycle to it. There are bicycle routes that are quite beautiful along the way and this will relieve you of trying to find parking. There are three different bike racks areas and you are welcome to lock your bike there up to 2 hours before the game and 1 hour afterward.
Cars or Motorcycles: This is your best bet if you want to tailgate or hang out with friends before or after the game. However, it can be a lot of hassle, since there are so many people and they can be drinking, so it is not one that we recommend. You may be able to buy your tickets at the gate, but they are limited and are sold as first come, first served. There are numerous parking lots but we recommend you can by your parking passes online before entering the stadium.
Lyft or Uber: If you want to have the benefit of driving, without the hassle, then using an Uber or Lyft might be the way to go for you. There are designated drop off, and pick up, areas at the stadium for your convenience.
Parking at Levi's Stadium
You will find several parking lots all around the stadium. However, they can fill up quickly.
Your best bet is to buy a parking ticket with your game tickets, so you have a reserved spot when you arrive. You can also buy both through TicketNetwork from those that can't attend the games. 
The parking lots to Levi's Stadium open 4 hours before kick off and the doors to it usually open 1.5 hours before kick off. This means you'll have a good amount of time to tailgate and hang out with friends if you drive here.
It is worth getting to the stadium early, especially if you haven't been here before, just to check it out and see what it is like inside and out.
San Francisco 49er Tickets
I recommend buying your tickets in advance. The games often well out and it's often difficult to buy them in person at the stadium on the day of the game.
Ticketmaster: They are the official retailer for San Francisco 49er tickets. You can purchase tickets for all of the games for this season. Find them all here. 
TicketNetwork: If you want tickets to sold out game, or you want better seats than what is available, you can also find a great selection on TicketNetwork. They are a third party retailer which means they sell tickets for those that are unable to go to the games. Find tickets for all 49er home games here on TicketNetwork.
At this time, the 49ers do not give any discounts. However, children under the age of 2 are free.
ADA and Handicap Accessibility at Levi's Stadium
The San Francisco 49ers, and Levi's Stadium, are fully dedicated to making watching a game the most enjoyable experience for any fan. In that regard, they have made sure that the stadium is full ADA compliant and is easy to access for people with disabilities. Some of these include the following:
Free buses from the parking lot to the entrance
Free golf care shuttles from the main lot
Wheelchair assistance if requested
Wheelchairs to borrow on a limited basis. 
Fully accessible seating in almost all locations of the stadium
Designated drop-off locations
Devices for hearing limited or deaf fans
Service animals and service animals-in-training are allowed. Emotional support or therapy animals are not
All restrooms are accessible to guests with disabilities
There are family restrooms which will allow guests to have a companion help them
The stadium is equipped with 38 escalators and 25 elevators
Information For Families and Kids at Levi's Stadium
Levi's Stadium is a great place to bring your kids when you watch a Niners game. One of the reasons is that if your child is 2 years or younger, you will not have to buy them one of the San Francisco 49ers tickets. However, the child must stay on your lap during the game and not move to a seat.
There are wristbands that you can get with your contact information as well as seat location. This will allow any staff member to help find your if you and your little one get separated. 
Strollers are welcome as long as they can be stored under a seat or in an aisle. The stroller may not block the aisle because of safety regulations. If you want, you can store the stroller at one of the Guest Service Stations.
Baby changing stations are located throughout the stadium. They are on all three levels of it.
There are three breastfeeding stations in the stadium that are easily accessible.
There are 5 family restrooms so any adult or family member can take their child there.
Diaper bags are permitted and so is baby food as long as it is shown to staff.
What Should I Wear to a Game at Levi's Stadium
The weather inside of Levi's Stadium is different based on where you sit. The eastern side of the stadium often sits in the sun and it can get extremely hot in these sections. If you have seats here, I would suggest wearing as light of clothing as possible if you are on that side of the field. We usually wear shorts, a t-shirt, and a baseball hat.
Depending on the forecast, we might wear a wide-brimmed hat to cover up even more of our face and neck. Make sure to bring sunblock also. At times, we might also bring a light windbreaker since the weather is somewhat unpredictable and could get cold if the winds pick up.
If you are on the other side, you can wear pretty much anything. We still like to wear shorts, and a light shirt, since the bay area is very relaxed and casual.
It is best to check ahead and plan accordingly. I would suggest it might be worth making sure your San Francisco 49ers tickets are exactly where you want them to be before buying them. It might even be worth your time to call the stadium and see what they are planning it to be like just in case.
August & September: Highs in the lower 80s to upper 70s, lows around 60
October: Mid-70s during the day, mid-50s at night
November & December: Highs around 60, lows in the mid-40s
Food Choices and Options at Levi's Stadium
Levi's Stadium is a food lover's delight since there are so many restaurant. You can easily find something that will fit any diet including keto, vegetarian, vegan or more.
Each level of the stadium has around 10 - 15 different restaurants or food and drink stations. All services in Levi's Stadium are cashless.
Restaurants and Bar Near Levi's Stadium
If you want to grab a bite to eat, or drink, before or after the game, then this is the area for you. There are so many great local restaurants here that you will love it. Some of these include TusCA, Bistro Siam, David's Restaurant, and Parcel 104. They are all within a 10 minute walk, so you can take your time. There are also chain restaurants and fast food joints nearby if you are in a rush.
Being that there are so many options, you will be sure to find something no matter your dietary needs or restrictions.
Hotels and Places to Stay Near Levi's Stadium
If you want to stay near the stadium, you have quite a few options that are within walking distance. 
Hyatt Regency Santa Clara: A 4-star hotel with many amenities including 3 restaurants, a full gym, and a both a saline pool and hot tub. Prices start around $250 a night, and it is located at 5101 Great American Parkway, Santa Clara.
Hilton Santa Clara: This is the best option that is close by, it's a 3.5 star hotel that is very clean and comfortable. It also has a gym, a restaurant and a Starbuck's Coffee bar on site. Prices start at around $150 a night, it's located at 4949 Great American Parkway, Santa Clara.
A few that are just a little further away, but still walkable on game day include: 

Hyatt House San Jose: 3-star hotel, prices start at around $150 a night, it's at 3915 Rivermark Plaza (formerly Sierra Suites San Jose). 
Santa Clara Marriott: 3.5-star that is a little further away, but walking from here still beats trying to get a spot at the stadium, it's highly rated and offers a nice, comfortable stay, prices start at around $225 a night, it's at 2700 Mission College Boulevard
Avatar Hotel, a Joie de Vivre Hotel: This is a cute, 3-star luxury hotel, guests love it and the location is great, it's one of the cheaper options with rooms starting around $125 a night, it's at 4200 Great American Parkway
Click here to check out the current offers in this area

Note: The prices listed are just an estimate to give you an idea on where the room prices start. They will vary according to how full the hotel gets and will increase as it gets closer to a game day. I recommend booking as far in advance as possible, as the prices will not only increase, but also the rooms will sell out.
Fun Facts About Levi's Stadium
Construction on Levi's Stadium began in April 19, 2012. It was finished on July 17th, 2014.
Being that the stadium was built from the ground up, it has been structured so that it has some of the best views, numerous restaurants and bar, ADA access, and much more for your game watching enjoyment.
They have a seating capacity of 68,500 fans. There are 9,000 club seats and loads of restaurants and even a cool museum just outside it that has numerous exhibits so you can learn more about the history of the Niners and their Super Bowl winning ways.
The NFL Super Bowl was held here on February 7th in 2016 and the Denver Broncos beat the Carolina Panthers

The 2019 College Football National Championship was played with Clemson beating Alabama 44 to 16

The Redbox Bowl is played every year at Levi's Stadium. It pits one of the top teams from the Pac-12 against one of the top teams of the Big Ten Conference.

The largest event held here was WrestleMania

The first event held at Levi's Stadium was between the San Jose Earthquakes and the Seattle Sounders

It cost $1.3 billion dollars to build.

It was the fastest stadium ever built for an NFL team.
Other Local Sports Teams in the Bay Area

More Events in San Francisco

Are you looking for additional fun things to do in San Francisco during your stay? Cick the links below for a full calendar of events for each month.

Other Events You Might Enjoy

Comments? Questions? Suggestions?
I would love for you to join me in my private Facebook group! 
It's a great place to interact with me and others who know the area well.
You can ask questions, get advice for your upcoming stay, and then share your photos and advice with others when you return home. It's a great community and the fastest way to get answers to those nagging questions about your visit!