San Francisco 49er Tickets, Schedule & Tips to Attend a Game: Information on the 2019-2020 Season at Levi's® Stadium
The San Francisco 49ers play nine home games during their 2019-2020 season. In addition, there are also two preseason games and both of them are in August. Their season runs from September to December each year. 

The San Francisco 49ers play all their games at Levi's Stadium in Santa Clara.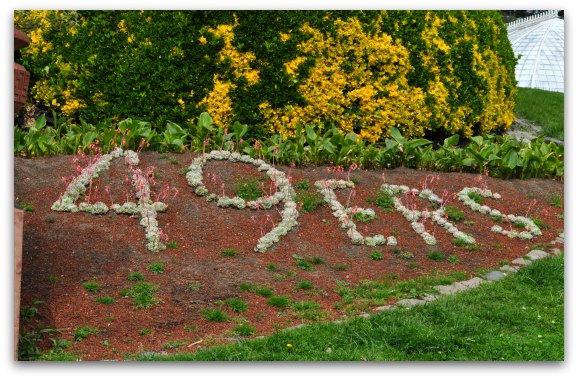 A temporary display outside the Conservatory of Flowers
2020 San Francisco 49ers Schedule

The San Francisco 49ers won their division and are headed to the Super Bowl! They will face the Kansas City Chiefs in Miami on February 2. 
Go 49ers!
Other Local Sports Teams in the Bay Area

Golden State Warriors | San Jose Sharks
Stanford Football | California Berkeley Football
More Events in San Francisco

Are you looking for additional fun things to do in San Francisco during your stay? Cick the links below for a full calendar of events for each month.

Getting to the Park

Levi's Stadium is in Silicon Valley. It's at 4900 Marie P. DeBartolo Way and Tasman Avenue. It's location near major highways and railways systems makes it an easy place to get to from anywhere around the Bay Area. 

Public Transit

You can use the local Valley Transit Authority (VTA) trains and buses. You can also use the ACE/Capital Corridor heavy rail to get you to Levi's Stadium.
There is also a route to get you to the stadium using Caltrain. For this option, you need to transfer to the VTA rail or bus system at the Mountain View Transit Center. You will need to buy a separate ticket for both the Caltrain and the VTA system.
Driving

Driving is also easy, as the stadium is located near 101, 237, and 880. The stadium is also close to the Lawrence Expressway and the San Tomas Expressway.

What to Wear

Santa Clara has warm days and cool nights for most of the season. Your best option, for any game, is to layer your clothing so you can add and remove pieces based on temperature changes.
Here are a few more details to help you plan for the games throughout the season.
August & September: Highs in the lower 80s to upper 70s, lows around 60
October: Mid-70s during the day, mid-50s at night
November & December: Highs around 60, lows in the mid-40s
Places to Stay

If you want to stay near the stadium, you have quite a few options that are within walking distance. 
Hyatt Regency Santa Clara: A 4-star hotel with many amenities including 3 restaurants, a full gym, and a both a saline pool and hot tub. Prices start around $250 a night, and it is located at 5101 Great American Parkway, Santa Clara.
Hilton Santa Clara: This is the best option that is close by, it's a 3.5 star hotel that is very clean and comfortable. It also has a gym, a restaurant and a Starbuck's Coffee bar on site. Prices start at around $150 a night, it's located at 4949 Great American Parkway, Santa Clara.
A few that are just a little further away, but still walkable on game day include: 

Hyatt House San Jose: 3-star hotel, prices start at around $150 a night, it's at 3915 Rivermark Plaza (formerly Sierra Suites San Jose). 
Santa Clara Marriott: 3.5-star that is a little further away, but walking from here still beats trying to get a spot at the stadium, it's highly rated and offers a nice, comfortable stay, prices start at around $225 a night, it's at 2700 Mission College Boulevard
Avatar Hotel, a Joie de Vivre Hotel: This is a cute, 3-star luxury hotel, guests love it and the location is great, it's one of the cheaper options with rooms starting around $125 a night, it's at 4200 Great American Parkway
Before booking, make sure to check out the deals on TripAdvisor for Santa Clara hotel rooms. They offer up to a dozen specials from room discounts to free wifi or breakfast. Click here to check out the current offers in this area.

Note: The prices listed are just an estimate to give you an idea on where the room prices start. They will vary according to how full the hotel gets and will increase as it gets closer to a game day. I recommend booking as far in advance as possible, as the prices will not only increase, but also the rooms will sell out.
Other Events You Might Enjoy

BACK TO TOP