San Francisco Events in October 2017
Fleet Week, Halloween & More this Month in SF
San Francisco events in October 2017 include Fleet Week, the Hardly Strictly Bluegrass Festival, and the SF Wharf Fest. Other top events include An American in Paris at the Orpheum Theater, Open Studios, and dozens of fun Halloween events.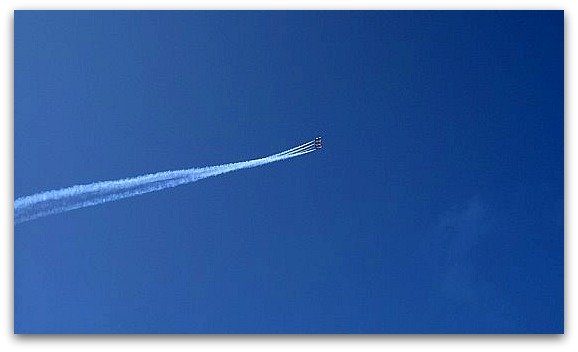 October in San Francisco offers blue skies, sunshine, and fun events every weekend. You'll find the city's best weather during this season, so take some time to play outside.
For some of the links on this page, I receive a small commission when you purchase. You don't pay more when you buy through me and it gives me the chance to offer you all this great content for free!
SF Opera: Turandot
Going to the San Francisco Opera is an unforgettable experience. This month, you can catch a performance of Turandot, a Puccini classic about a cold-hearted princess that plays a game of wits with her suitors. This opera is sung in Italian with English supertitles and lasts about three hours with intermissions.
Dates: 9/8 - 12/9
Learn More: Find more information about this and other operas this season
SF Theater: An American in Paris
The biggest theater performance this month is the Tony Award-winning musical An American in Paris, about an American soldier and a local French woman. This magical love story is not to be missed.
Dates: 9/12 - 10/8
Learn More: Get a calendar of additional theater performance this month
SF Giants Baseball
Well, we've come to the end of regular season baseball. Help the SF Giants cap off another great run by joining them for the last regular season game at AT&T Park this month, where they host the San Diego Padres.
Dates: 10/1
Learn More: Get more SF Giants information
Hotel Deals in SF
Before you book your room, make sure to check out the current deals on Booking.com and TripAdvisor.
Booking: Find great deals all around San Francisco for your upcoming stay!
TripAdvisor: What's the #1 hotel in San Francisco? Read reviews & find hotel deals on TripAdvisor!
Castro Street Fair
This year is the 44th anniversary of the Castro Street Fair, which was started by Harvey Milk to celebrate the LGBT community and their supporters. The all-day (11am-6pm) fair features gourmet food, live music on two stages, lots of dancing in the streets, and "Kink Karnival Way." Join in on the fun at Market and Castro Streets, in the heart of this colorful, lively district.
Dates: 10/1
Learn More: Read more details about this festival
More: Additional free things to do this month in SF
Sunday Streets
Imagine the busy streets of San Francisco closed off to traffic and opened up to the public--families on foot and on bikes, walking and dancing--to the tune of free live music and other outdoor fun. This happens one Sunday a month from March to November, each time in a different neighborhood. This October, don't miss your chance to visit the Excelsior, a part of town a little off the beaten path, to join in on the festivities.
Date: 10/1
Learn More: Find out more about this monthly event
The Bloody Mary Festival
Looking to put a little kick in your Sunday afternoon? Head over to the Midway in SF's Dogpatch neighborhood from 1 - 4pm to sample the tastiest, most innovative bloody mary concoctions crafted by 12 outstanding Bay Area bars and restaurants. You'll vote on the best one, enjoy live entertainment, and even learn how to shake up your own version of this beloved cocktail.
Date: 10/1
More: Additional info on their website
Fleet Week
Join the crowds that come out to the waterfront every year for SF's Fleet Week to be wowed by the Blue Angels roaring by in formation just overhead. Festivities will kick off with the Parade of Ships and throughout the week you can watch airshow practices and tour military ships as well.
Dates: 10/2-10/9
Learn More: Get the full Fleet Week schedule and photos of what to expect
Top Half-Priced Tickets for October
Goldstar offers great deals on tickets to San Francisco tours, events, and theater performances. You can pick up most of them at almost 50% off the full retail cost. The list below are just some of their top offers this month. Click the links to learn more and find additional details for your visit!
60-Minute Bay Cruise: Cruises around the bay, leaves from Fisherman's Wharf, several cruises a day, Full price $32, Goldstar price $16*


2-Hour Sunset Cruise: Leaves daily from Fisherman's Wharf, great views and a light appetizer buffet, Full price $68-$70, Goldstar $40-$44


Alive After 5 Happy Hour Cruise: 2-hour cruise with drinks, views, and DJ music, leaves every Thursday at 6pm, Full price $35, Goldstar $18*
*Small service fee at checkout.
Hardly Strictly Bluegrass
Don't miss the 17th year of this huge free bluegrass festival. For three days, several stages in Golden Gate Park will feature the biggest names in the genre. Pack your own refreshments for a picnic in the park, or check out the more than 50 gourmet food and beverage vendors, in addition to the great music.
Dates: 10/6 - 10/8
Learn More: Find out who's playing this year and how to get there
WhiskeyFest
If you love whiskey, then make sure to check out this year's WhiskeyFest sponsored by Whiskey Advocate Magazine. The event features dozens or whiskey makers and experts from around the world. Spend the evening sampling Scotch, Tennessee, Japanese, bourbon, rye, and other whiskeys. You can also attend one of the seminars to learn even more than evening. This is one of the San Francisco events in October that runs from 6:30pm to 9:30pm.
Date: 10/6
Tickets: On sale now
More: Visit their site for additional details
Litquake
Every year, SF's longest running literary festival brings light to great reads and the world of literature through a variety of venues, including churches, bookstores, and even popular bars. For over a week, you get to engage with authors, participate in workshops, attend panel discussions and groups readings, and more.
Dates: 10/6 - 10/14
Learn More: Check out the full schedule of events and locations
Italian Heritage Parade
San Francisco is home to the country's oldest Italian American Parade, which takes place every year as part of the Columbus Day celebration. Follow the parade of floats, bands, and traditional Italian musicians from Fisherman's Wharf to the heart of North Beach (SF's Little Italy), where it will conclude at a small family-friendly festival in Washington Square Park.
Date: 10/8
Learn More: Find more details about the parade
An Evening with Art Garfunkel
Head over to the Castro Theater for An Evening with Art Garfunkel. Hear songs from his new album as well as stories about his life. Learn all about his time with the Simon & Garfunkel and his recent interests in poetry and acting. The event starts at 7pm with the doors opening at 6pm.
Date: 10/11
Tickets: On sale at up to 50% off on Goldstar
SF International Festival of Short Films
Though short in length, short films can be quite powerful and profound. Over the course of three days, the SF Shorts Festival offers six different programs of films from 17 countries, each set revolving around a different theme, for example: "being fearless in discovery," "the push and pull of passion, obsession, and desire," and "our impact on others." Catch the screenings at the Roxie Theater in the Mission District.
Date: 10/12-10/14
Learn More: Check out all the details about this film festival
Golden State Warriors
Catch the Golden State Warriors in pre-season and season play this October. They play just over the SF Bay in Oakland and a game at their home arena is a must for all basketball lovers. They play around a half dozen games this month at home.
Dates: 10/13, 10/17, 10/25, 10/27, & 10/29
Learn More: Find more details on seeing a Golden State Warriors home game
Arab Film Festival
This year's Bay Area Arab Film Festival will host screenings in San Francisco, Berkeley, Oakland, and Palo Alto. For over a week, you will have the chance to catch a glimpse of Arab culture not often seen on mainstream TV, movies, or the news. Delve into these stories brought to you by Arab filmmakers, representing the complexity of Arab communities around the world.
Dates: 10/13 - 10/22
Learn More: Get more information about the festival and scheduled films
Open Studios
Open Studios runs all month long, so you can take your time getting to know over 800 artists and their work all over the city. Each weekend will feature different districts, where you can wander in and out of the studios in that area to chat with the artists and purchase pieces on display. This is a unique opportunity to get a behind-the-scenes look at the art scene in SF.
Dates: 10/14 - 11/12
Learn More: See the schedule and get directions to each area on display
Leap's Sandcastle Classic
The largest sandcastle competition in Northern California is not only fun for the family and a great excuse to get the community together out on the beach; it also raises money for a fantastic organization, Leap, that brings hands-on learning experiences to over 6,000 students across the Bay Area. Head on over to Ocean Beach between 11am and 4pm to witness some dazzling sand creations!
Date: 10/14
Learn More: Visit the event website to see pictures and find out more
Inner Sunset Sunday Flea Market
Head out to the Inner Sunset for their final Sunday Flea Market of 2017. This community event includes locally crafted goodies, a fun children's activity zone, and music all afternoon long. You can also enjoy food from Grilled Cheez Guy and Le Punkies Kettle Corn or any of the local restaurants near the market. The big event is the lunch at 12:30pm. Grab something when you arrive or bring your own lunch and enjoy it with the community.
This free event is held from 10am to 4pm on Irving Street between 9th and 10th Avenues on Sunday 10/15.
Date: 10/15
More: Find additional details on their site
SF Dance Film Festival
Love dance and film? This three-day event is the perfect combination. Come to the Brava Theater Center for screenings of short dance pieces designed especially for the big screen, documentaries about the art, and features on dancers and choreographers.
Dates: 10/19 - 10/22
Learn More: Click here for 2017 Dance Film Festival details
Learn More: Get the full calendar of all SF film festivals
United Nations Association Film Festival
Each year, the UNAFF features a selection of over 60 documentary films about important issues from all over the world. The theme for this year's festival is Compass for a Better World. Screenings will take place in SF, East Palo Alto, and Stanford University.
Dates: 10/19 - 10/29
Learn More: Take a look at the list of films and schedule
San Francisco Wharf Fest
Head over to Fisherman's Wharf on Saturday, October 21 for this annual street festival. Get into the San Francisco spirit with the Chowder Tasting Competition, live music, and great views of the bay. It's one of the free San Francisco events in October.
Date: 10/21
Learn More: Get the full 2017 details
Potrero Hill Festival
If you're looking for a fun weekend activity for the whole family, head over to the Potrero Hill Festival on 20th Street between Missouri and Wisconsin. On a beautiful fall day, this is the perfect place to enjoy two stages of live entertainment, food stalls, bouncy houses, a petting zoo, and more. In addition, you'll find arts and crafts for sale as well as information from various non-profit organizations. This event is in its 27th year and typically attracts more than 6,000 visitors.
Date: 10/21
Learn More: Get all the details for this fun family event
49ers Football
Get in on the action at Levi's Stadium, as the San Francisco 49ers play their fourth season in Santa Clara, just an hour south of the city. This month, the 49ers will be taking on the Dallas Cowboys at home. Go Niners!
Date: 10/22
Learn More: Click here for the full 2017 schedule, how to get to the stadium, and more
Gabrielle Union at the Marines' Memorial Theater
Spend an evening with Garbrielle Union as you hear stories from her latest book, We're Going to Need More Wine. Topics include gender, fame, marriage beauty, and many more. She will be speaking with Anna Sale, podcast host from Death, Sex & Money. Show starts at 6:30pm.
Date: 10/24
Tickets: On sale on Goldstar at up to 50% off
Shark Diving Adventure
Have you ever wanted to see sharks up close? Just off the coast of San Francisco, the Farallon Islands are world-famous for being the winter home and feeding ground to some of the largest (15- to 20-foot) great whites. Get in a cage to see this underwater world in all its glory, or watch from the deck as sharks come up to feed on seals. No dive experience is necessary to enjoy this tour.
Dates: A few weekend days this month
Learn More: Get all the tour details on their webpage
Free Museum Admission Days
SF boasts a number of world-renowned museums, but visiting all of them can be pricey. Luckily, each month there are several free admission days! See the Asian Art Museum, the Conservatory of Flowers, the de Young, Legion of Honor, and more.
Dates: Various dates in October
Learn More: Find out which dates are offered at which museums
SF Comedy
If you're looking for a lighthearted night of comedy, you'll find plenty of shows in San Francisco almost every night of the week. These shows include famous stand-up comedians, local stars, improv troupes, and comic musicals like the SF favorite Beach Blanket Babylon. This month, watch Joe Rogan at the Masonic Auditorium in Nob Hill, Franco Escamilla live at the Warfield, and many more.
Dates: Several
Learn More: Get more info about comedy performances this month
SF Symphony
The world renowned San Francisco Symphony offers more than one hundred events each year, and people from all over come to the elegant Davies Symphony Hall to see their shows. This month, you can enjoy--among many other performaces--Bohemian Masterworks, Rebellious Genius: Shostakovich's First Symphony, and Urbanski Conducts Shostakovich's Tenth.
Dates: Several
Learn More: See the complete schedule of performances
Free Walking Tours
Every day, the SF Public Library offers free walking tours of different parts of the city. They are intimate, informative, and best of all, completely free! Each tour concentrates on a specific area, like the Japanese Tea Garden, North Beach, or Chinatown. In addition, many are designed around a theme, such as Downtown Deco or Gold Rush City.
Learn More: See the full list and schedule of meeting places
Live Music
Every month in San Francisco, several venues offer great concerts by artists from all over the country and globe. This month, be sure to get tickets for The Cranberries at the Nob Hill Masonic Center, Jimmy Buffet & The Coral Reefer Band, and Liningrad at the Warfield. In addition, there are many more live music performances in town nearly every night of the week.
Dates: Several
Learn More: Check out the complete list of upcoming concerts
Perfect Day in the Haight
SF's colorful Haight Ashbury district, home of the famous 1968 Summer of Love, has a lot more to offer than just hippie vibes, although you'll find plenty of that there. Start your day taking in views from the park, get some good eats, admire the street art, lose yourself in old records and vintage clothing, and more.
Dates: Any day in October
Learn More: Read the full one-day itinerary
Museum Exhibits
San Francisco has a wealth of interesting, beautiful, and diverse museums, offering fascinating exhibits throughout the year. October is the last chance to see The Sculptural Turn-Contemporary Japanese Ceramics from the Kempner and Stein Collection at the Asian art Museum, Teotihuacan: City of Water, City of Fire at the de Young, and Side by Side: Dual Portraits of Artists at the SF MOMA.
Dates: Throughout October
Learn More: Check out the complete list and exact dates for the top museums
Fall Art & Antiques Show
If you have an appreciation for fine art and unique antique pieces, you'll love this large annual event at the Fort Mason Center. The show opens with a preview gala on October 25, followed by four days of viewing and buying beautiful pieces.
Dates: 10/25 - 10/29
Learn More: Find out more on the organization's website
Halloween Activities
San Francisco is one of the best places to celebrate Halloween each year. You will find activities that range from trick-or-treating to 21+ party cruises around the SF Bay. This year, Halloween falls on a Tuesday, so most activities will be the Saturday and Sunday before the holiday.
Date: 10/31
Learn More: Visit the Halloween page for a full list of this year's activities
More Things to Do in San Francisco in October
Are you looking for additional fun things to do during your visit? If so, then check out my full list of the best things to do this month in SF. It includes the top cruises, tours, and other activities.
More: Additional things to do in SF in October
What to Wear in SF in October
Are you unsure of what you will need to pack for your stay in October? My guide to the weather in October is just what you need to prepare. It includes information on what to expect from the weather throughout each day and the month.
>> Tips on what to pack for your stay in October
Top Tours & Activities this Month
Other Topics to Explore