San Francisco Events in October 2022


by Jill Loeffler  •

Updated: October 13, 2022
Top San Francisco events in October include concerts, festivals, and family-friendly things to do. You will also find Broadway shows, opera, and other theater performances. 
Some of the biggest this month include Fleet Week, Hardly Strictly Bluegrass, and the Castro Street Fair. You also don't want to miss Litquake, Halloween activities, and the Italian Heritage Parade.
You will also find some great tours, cruises, and other activities to help you explore the gorgeous City by the Bay.
Read on for a full calendar of what's happening this month around SF and the Bay Area.
Disclaimer: I receive a small commission from some of the links on this page.

Fleet Week

Dates: October 3 - 11, Blue Angels Perform on October 7, 8, and 9
Location: Fisherman's Wharf & waterfront
Join the crowds that come out to the waterfront every year for SF's Fleet Week to be wowed by the Blue Angels roaring by in formation just overhead. The Blue Angels will perform on Friday, Saturday and Sunday afternoon.

Festivities will kick off with the Parade of Ships and throughout the week you can watch airshow practices and tour military ships as well. It's by far the biggest of the San Francisco events in October.

>> Get the full Fleet Week schedule and photos of what to expect
Halloween Activities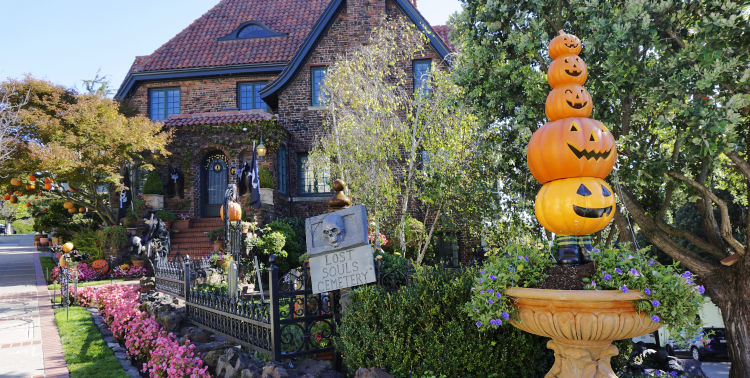 Halloween decorations around San Francisco.
Date: 10/31
San Francisco is one of the best places to celebrate Halloween each year. You will find activities that range from trick-or-treating to 21+ party cruises around the SF Bay. 
This year, Halloween falls on a Monday. You will find some activities the day of the holiday, but most will fall the weekend before on Friday and Saturday. 

My insider's guide will include the best options for all dates and some of the biggest San Francisco events in October.

>> Visit the Halloween page for a full list of this year's activities
Sporting Events in San Francisco in October
Artwork outside the Chase Center for the Golden State Warriors
Golden State Warriors

Dates: Pre-season, 10/9, 10/11, & 10/14 -- Season 10/18, 10/21, 10/23, and 10/27
Location: Chase Center in SF
Tickets: Ticketmaster | TicketNetwork
Catch the Golden State Warriors in pre-season and season play this October. 

They play at the brand new Chase Center in SF and a game at their home arena is a must for all basketball lovers. 

They play around a half dozen games this month at home. This month, they take on the LA Lakers, the Denver Nuggets, and the Sacramento Kings. 

Their tickets sell out early, so don't miss your chance to see one of our top sports teams from around the SF Bay.
>> Find more details on seeing a Golden State Warriors home game

49ers Football
Date: 10/3 and 10/23
Location: Levi's Stadium in Santa Clara
Tickets: Ticketmaster | TicketNetwork
Get in on the action at Levi's Stadium, as the San Francisco 49ers play their eighth season in Santa Clara, just an hour south of the city. 

This month, the 49ers have two home games.

The first is on 10/3 against the Los Angeles Rams. Their second game is on 10/23 against the Kansas City Chiefs. Go Niners! 
>> Click here for the full schedule, how to get to the stadium, and more
Bay Area College Football
Cal Bears: The Cal Bears play in Berkeley which is about an hour east (and a little north) of SF. They play two home games this October against Washington and Oregon. Learn more here. 
Stanford: Stanford plays down south about 45 minutes away from SF. This month, they play two home games this month against Oregon State and Arizona State. Learn more here. 
San Jose Sharks
Dates: 10/8, 10/14, 10/15, 10/25, 10/27, 10/29
Tickets: Ticketmaster | TicketNetwork
If you love hockey, you can also head south for some NHL action. Our San Jose Sharks start play this month and offer about a half dozen home games this month. 
This month, they will take on the Chicago Blackhawks, Toronto Maple Leafs, and the Vegas Golden Knights.
They play about an hour south of SF and the SAP Center offers easy access from locations all around the SF Bay.
>> Get this year's Sharks schedule
Red Bull Bay Climb 2022
Date: 10/22
Join Red Bull on Saturday, October 22 for their 5th annual Bay Climb. This event takes place in SF's Potrero Hill District.
This bicycle sprint race features a unique course with a heart-pounding uphill route. It features men's and women's races in two categories: Fixed and Open. 
This year, Red Bull is partnering with San Francisco based Mission Crit.
This event takes place at De Haro and 17th Streets. The preliminary starts at 11 am followed by the semi-finals and the finals. 
It's free for the public to watch. Want to participate? Visit the Red Bull site to sign up today. 
Bridge to Bridge Run & After Party
Date: 9/4
The annual Bridge to Bridge race runs between two of our iconic bridges from the Bay Bridge to the Golden Gate Bridge. This race is one of the most beautiful runs in America.
This is one of the San Francisco events in September that features both a 5k and a 12k run. Both groups will start on the Embarcadero near the SF Bay Bridge.
You will run along the waterfront toward the Golden Gate Bridge. The 5k group will stop at the Marina Green and the 12k group will run almost all the way to the Golden Gate Bridge and finish in the Marina Green also.

The After Party is another fun perk for this event. Celebrate your run along with family and friends on the Marina Green. The event features live music, beer, and food. Register for this event today!
Theater Performances in October

Dates: 10/11 - 11/6
Tickets: Ticketmaster | TicketNetwork
This month's big Broadway performance is Jagged Little Pill! It's based on the music of Alanis Morissette and a book by Diablo Cody.
It's about the struggles in life and what really goes on behind closed doors in families. Things may look one way on the outside, but are very different on the inside. It's a passionate show that will tug at your heartstrings. 
The show is at the Golden Gate Theater with several performances each week.
>> Get a calendar of additional theater performance this month

Museums: Free Days, Exhibits, & Other Museum Events
An exhibit at the Asian Art Museum in San Francisco.
Free Museum Days
SF boasts a number of world-renowned museums, but visiting all of them can be pricey. Luckily, each month there are several free admission days!
These free admissions include access to these museums' permanent collections and you will need to pay extra for any special exhibits.
Some require that you book tickets in advance online as they are some of the most popular San Francisco events in October. 
Find out which dates are offered at which museums.
Museum Exhibits
San Francisco has a wealth of interesting, beautiful, and diverse museums, offering fascinating exhibits throughout the year. 
Check out the complete list and exact dates for the top museums
Live Music & Concerts
In addition to the festival, most venues are fully open in San Francisco. You will find shows at the Bill Graham Civic Auditorium, the Masonic Center, the Chase Center, and the Fillmore.

In addition to these San Francisco events in October, you will also find dozens of amazing concerts throughout the Bay Area. 

>> Check out the complete list of upcoming concerts
More Live Music & Performances Around SF
SF Symphony
The world renowned San Francisco Symphony offers more than one hundred events each year, and people from all over come to the elegant Davies Symphony Hall to see their most anticipated San Francisco events in October.
This month, you can enjoy The Firebird (10/8 & 10/9), Esa-Pekka Salonen & Yoja Wang (10/13 - 10/15), and Symphonie Fantastique (10/20 - 10/22). 
See the complete schedule of performances.
SF Opera
Going to the San Francisco Opera is an unforgettable experience. This month, you can catch a performance of Anthony & Cleopatra, Eugene Onegin, and Dialogues of the Carmelites.
All three offer several performances throughout the month. 
Find more information about this and other operas this season.

Comedy Performances
If you're looking for a lighthearted night of comedy, you'll find plenty of shows in San Francisco almost every night of the week. 
These shows include famous stand-up comedians, local stars, improv troupes, and comic musicals. It's a great way to spend an evening in the City by the Bay.
>> Get more info about comedy performances this month 
Festivals & Street Fairs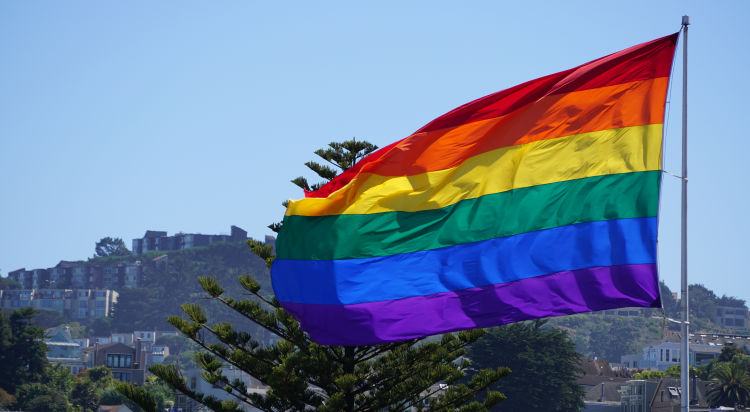 The Rainbow Flag at Castro & Market Streets, the location for the large, annual Castro Street Fair.
Radiating Bruce Lee: Cinema Under the Sky
Dates: 10/22, 10/29, 11/5, 11/12 and 11/27
This five night film festival offers a look at the life and films of Bruce Lee. This film series include both film screenings and talks about his life and career.
The films in this series include a mix of silent, documentary and feature films. They will allow you to see Lee's progression and accomplishments in his career.
The films will take place both indoors and outdoors at locations around Chinatown. It's hosted by the Chinese Historical Society of America.
>> Visit the CHSA site to learn more and to pick up tickets for each event
Italian Heritage Parade & Festival
Date: 10/9
San Francisco is home to the country's oldest Italian American Parade, which takes place every year as part of the Columbus Day celebration.
Follow the parade of floats, bands, and traditional Italian musicians from Fisherman's Wharf to the heart of North Beach (SF's Little Italy), where it will conclude at a small festival in Washington Square Park. It's one of the top family-friendly San Francisco events in October. 
Find more details about the parade
Silicon Valley Comic Con
Dates: 8/14 - 8/15
This October in the South Bay, Apple co-founder Steve Wozniak presents the premier event in technology and pop culture: The Silicon Valley Comic Con.
This convention brings together celebrities, comics, independent artists, cosplay, video games, music, apps, and even more electronics.
The event will take place at the San Jose Convention Center. 
Bearrison Street Fair
Date: 10/15
Join the Sisters of Perpetual Indulgence and the Bears of San Francisco for the 2nd annual Bearrison Street Fair. You'll find entertainment, drinks, food, and lots of dancing in the streets.
The festival is along Harrison Street near 11th Street. 
SF Cheese Fest
Date: 10/22
The annual SF Cheese Fest features samples of amazing craft cheeses from more than two dozen California cheesemakers. If you love food, you'll want to attend this event celebrating local food pioneers in the art of preservation, which also includes cured meat, jams, pickles, and more.
Enjoy your delicious bites with your favorite beverages from local brewers and winemakers, and dance along to the live 1930s jazz band. Don't miss out on one of the tastiest San Francisco events in October. 
Find additional details on their website.
Noise Pop's 20th Street Block Party
Date: 10/15
Join the diverse community of SF's colorful Mission District for the fifth annual 20th Street Block Party--a free celebration of summer, music, and great food.
Noise Pop is one of the leading independent music promoters in the country, bringing the best emerging bands to stage.
Some of the featured artists this year include Destroy Boys, Hot Flash Heat Wave, and The Seshen.
Litquake
Date: 10/6 - 10/22
Every year, SF's longest running literary festival brings light to great reads and the world of literature through a variety of venues, including churches, bookstores, and even popular bars.
For over a week, you get to engage with authors, participate in workshops, attend panel discussions and groups readings, and more. 
Check out the full schedule of events and locations.
Castro Street Fair
Date: 10/2
This year is the 48th anniversary of the Castro Street Fair, which was started by Harvey Milk to celebrate the LGBT community and their supporters. The all-day (11 am-6 pm) fair features gourmet food, live music on two stages, lots of dancing in the streets, and more.
Join in on the fun at Market and Castro Streets, in the heart of the colorful, lively Castro district. It's one of the most talked about San Francisco events in October every year! 
Read more details about this festival.
Eat Drink SF
Date: 10/21 - 10/30
This year's event is a 10-day foodies dream. It will include prix-fixe menus at restaurants all around San Francisco. There are also specific dining events as well as neighborhood nights. 
Visit their site to learn more.
United Nations Association Film Festival
Date: 10/20 - 10/30
Each year, the UNAFF features a selection of over 60 documentary films about important issues from all over the world. The theme for this year's festival is Compass for a Better World.
Screenings will take place in SF, East Palo Alto, and Stanford University.
Find more film festivals this month in SF.
Hardly Strictly Bluegrass
Date: 9/30, 10/1 & 10/2
Don't miss this annual free bluegrass festival. For three days, several stages in Golden Gate Park will feature the biggest names in the genre.
Pack your own refreshments for a picnic in the park, or check out the more than 50 gourmet food and beverage vendors, in addition to the great music. 
Find out who's playing this year and how to get there.
Potrero Hill Festival
Date: 10/15
If you're looking for a fun weekend activity for the whole family, head over to the Potrero Hill Festival on 20th Street between Missouri and Wisconsin.
On a beautiful fall day, this is the perfect place to enjoy two stages of live entertainment, food stalls, bouncy houses, a petting zoo, and more.
In addition, you'll find arts and crafts for sale as well as information from various non-profit organizations. 
Brews on the Bay
Date: 10/22
If you enjoy artisanal brews and Saturday afternoons soaking in a sea breeze with great views, you won't want to miss this unique beer festival.
This popular craft brew tasting features over 60 beers on tap, and you'll have the opportunity to mingle with the brewers and ask them questions. There will also be gourmet food trucks on hand.
The event is held aboard the historic S.S. Jeremiah O'Brien, a ship that served in WWII and is now docked at Pier 45 in Fisherman's Wharf.
Other Events
Wine & Spirits Magazine's Top 100 Tasting
Date: 10/13
Head over to City View in the Metreon for this year's Annual Wine & Spirits Magazine's Top 100 Tasting event. Sip on wine from the Top 100 Wineries of the Year as you meet some of the world's top producers.
Small bites from some of the best Bay Area restaurant will also be on hand serving up items such as fresh oysters, local cheeses and an array of artisan specialties. You will also be supporting a wonderful cause.
The Wine & Spirits Magazine's Top 100 Tasting benefits San Francisco Baykeeper. They work hard locally to protect water resources.
They also provide support to initiatives fighting water pollution. 
Fall Art & Antiques Show
Date: 10/13 - 10/16
If you have an appreciation for fine art and unique antique pieces, you'll love this large annual event at the Fort Mason Center.
The show opens with a preview gala followed by four days of viewing and buying beautiful pieces. Find out more on the organization's website.
Leap's Sandcastle Classic
Date: 10/22
The largest sandcastle competition in Northern California is not only fun for the family and a great excuse to get the community together out on the beach. It also raises money for a fantastic organization, Leap, that brings hands-on learning experiences to over 6,000 students across the Bay Area.
Head on over to Ocean Beach between 11am and 4pm to witness some dazzling sand creations! Visit the event website to see pictures and find out more
Open Studios
Date: 10/22 - 11/13
Open Studios runs all month long, so you can take your time getting to know over 800 artists and their work all over the city. Each weekend will feature different districts, where you can wander in and out of the studios in that area to chat with the artists and purchase pieces on display.
This one of the unique San Francisco events in October that gives you the opportunity to get a behind-the-scenes look at the art scene in SF.
Fashion Week
Date: 10/21 - 10/30
As one of the world's leading hubs of innovation and a melting pot of cultures, it seems only natural that the theme of this year's annual SF Fashion Week be Innovating Fashion's Diverse Culture.
This week-long convention will show how diversity became the battle cry of the fashion industry. Check out the full schedule of events and find out how you can launch your own fashion product. 

Hotel Deals in SF

Are you planning to stay a night or two (or more!) as you enjoy these San Francisco events in October. If so, then make sure to check out the great deals below before booking your room. You will find top deals in Fisherman's Wharf, Union Square, and other top districts around SF.

Booking: Find great deals all around San Francisco for your upcoming stay! 

TripAdvisor: What's the #1 hotel in San Francisco? Read reviews & find hotel deals on TripAdvisor!
VRBO: In addition to hotels, you'll also find some great places to stay locally through VRBO. Book an apartment or a room and feel more like a local. Find some great places to stay on VRBO here. 
SF Cruises in October
A cruise on the SF Bay
Head down to SF's beautiful waterfront for one of the top San Francisco events in October. This month, spend an hour or two on the water as you soak in the views around the SF Bay.
You will find more than a dozen cruises leaving SF daily. After leaving SF, many of them cruise under the Golden Gate Bridge, near Sausalito, and around Alcatraz. Some include food and drinks, some include narration, and all offer an unforgettable experience.
Here are just a few of the most popular.
SF Bay Cruise: This 60-minute Bay Cruise is by far the most booked cruise. It runs several times a day, which allows you to choose what time works best for your schedule. You'll cruise along the SF coast, under the Golden Gate Bridge, near Alcatraz, and back to Fisherman's Wharf. Find tickets for your upcoming stay! 
Sunset Sailing Cruise: This is one of the most popular cruises each month and one of my favorites in October. This 1.5 hour sunset catamaran cruise takes sail from Pier 39 nightly at 5:30pm this month. Make sure to arrive at least 30 minutes in advance. Find tickets for all dates.
Wine Tours from San Francisco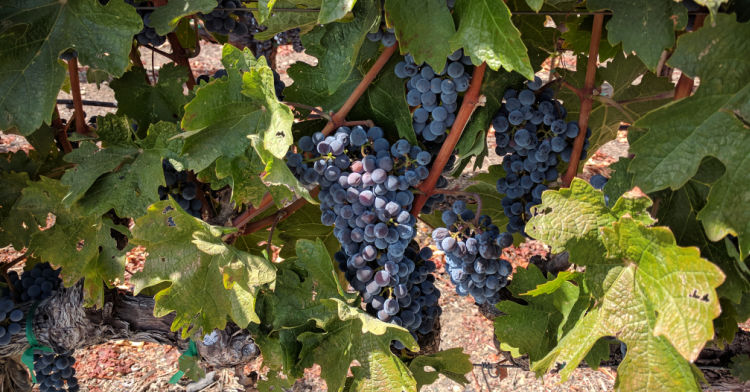 Ripe grapes on the vines in Napa Valley during harvest.
One of the best San Francisco events in October is our wine tours. These tours take you up to two famous regions in Northern California: Napa Valley & Sonoma. 
This time of year, you will find both regions buzzing with last minute harvest activities. You can also get some great pictures of those last bundles of fully ripe grapes on the vines.
I love heading up on one of these tours as I don't have to worry about driving back to SF. It makes it a great way to do some tasting and not have to think about getting back to San Francisco afterwards.

In addition, you will learn quite a bit about one or both regions from your knowledgeable guide. 

Here are a few of my top picks this month.

Sonoma & Napa Wine Country Tour: This full day tour takes you to three wineries. It leaves SF at 9am daily. You will also have an hour for lunch on your own, so you can enjoy a tasty meal or do a little more tasting on your own. Find availability here.

Small Group Wine Tasting Tour: If you prefer to head up with a smaller group, then check out this tour. You will stop at three wineries in Napa including a tour of the Castello di Amorosa's medieval castle. Find availability here. 

>> Find additional tips for visiting these two popular regions

Additional Tips to Visit San Francisco in October

Things to Do: Are you looking for additional fun things to do during your visit? If so, then check out my full list of the best things to do this month in SF. It includes the top cruises, tours, and other activities. Additional things to do in SF in October
What to Wear in SF in October: Are you unsure of what you will need to pack for your stay in October? My guide to the weather in October is just what you need to prepare. It includes information on what to expect from the weather throughout each day and the month. Tips on what to pack for your stay in October
Comments? Questions? Suggestions?
I would love for you join me in my private Facebook group! 
It's a great place to interact with me and others that know the area well.
You can ask questions, get advice for your upcoming stay, and then share your photos and advice with others when you return home. It's a great community and the fastest way to get answers to those nagging questions about your visit!