Halloween San Francisco 2022: Fun Things to Do for All Ages

by Jill Loeffler  •

Updated: September 30, 2022
San Francisco is the place to be again for this year's 2022 Halloween celebrations. Whether you are looking to party or for some family friendly events, you will find them all here. 
Highlights this year include several popular ghost tours, more than a dozen 21 and older events, and several museum sponsored events for the kids. You will also find some fun places to go trick-or-treating, haunted houses, and a few other fun activities all weekend long.
Other top picks include concerts, theater performances, sporting events, and more.
This year, it falls on a Monday, so most events are throughout the weekend including quite a few options on both Friday and Saturday. You will also find handful of fun events on the holiday itself.
Scroll down to the bottom for additional Halloween events around the SF Bay Area.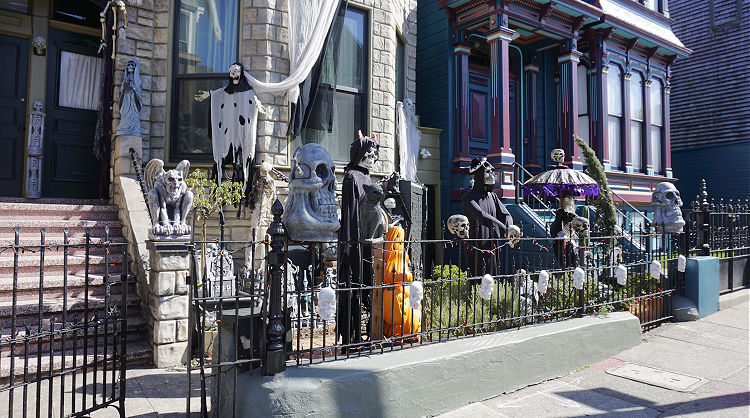 Halloween decorations at a house on Divisadero Street in San Francisco.
Disclaimer: I receive a small commission from some of the links on this page.

Top 21+ San Francisco Halloween Parties 

This year, you will find dozens of 21 and older Halloween Parties. Most are on Friday and Saturday night at some of San Francisco's largest venues.
You'll find smaller events this year than in past years, but there are still plenty of options.
These parties often include music by some of SF and the Bay Area's top DJs, cocktails throughout the night, and a chance to mingle with other Halloween lovers. Almost all require costumes.
>> Full List of the Best 21+ Parties in SF

Ghost Tours in San Francisco

San Francisco is said to be one of the most haunted cities in the US. This makes it the perfect place for fun, yet spooky ghost tours. They range from a visit to one of SF's most ghostly spots, Alcatraz Island, to a walking tour through City Hall.
All of them offer chilling stories about the dark events that led to today's mysterious and unusual occurrences. Many run all year long with a few extra special tours just for Halloween.
>> Ghost Tours of San Francisco
Halloween Events for Kids

Enjoy several kid-friendly activities for Halloween 2022. These events fall both on the weekend before and on the big holiday, so you can celebrate both weekends.
Highlights this year include the SuperNatural Halloween Event at the California Academy of Sciences and other fun kid-friendly events.
Fun Tours Around SF
Other Fun Events on Halloween Weekend

Here are a few additional events this Halloween in San Francisco!

Theater on Halloween San Francisco

This Halloween you will find  a few theater performances. 
Moulin Rouge! The Musical
Head over to the Orpheum Theatre for a performance of Moulin Rouge! The Musical. It's about a young writer that leaves London for Paris in search of a better life.
The writer mingles with local celebrities and falls in love, but ends up in a love triangle. What will happen at Moulin Rouge and who will win in the end? Find out this Halloween in San Francisco.
Jagged Little Pill
The other Broadway show on stage this weekend is Jagged Little Pill. Based on the album by Alanis Morissette, this show goes behind the scenes of what looks like a normal household in a suburb in America.
However, things look a a little different when you know what's really going on with each member inside the house. It has some dark themes but offers hope in the end.
>> Find additional shows this month in SF

Concerts on Halloween in San Francisco & the Bay Area

You will find dozens of other concerts all weekend long in San Francisco and the Bay Area. Here are just a few of the top shows this weekend:
10/28, 10/29, & 10/30: The B-52s and The Tubes at The Masonic
10/30: Death from Above 1979 at The Great American Music Hall
10/31: Turnstile, Jpegmafia & Snail Mail at the Warfield
10/31: Psyched! Fest Halloween at The Great American Music Hall
Click the link below for additional shows in SF and around the Bay Area
>> October & Halloween concerts in the SF Bay Area
Into the Dark at the SF Mint
Dates: Most nights through 10/7 - 11/5
Location: SF Mint at 88 5th Street, San Francisco
This interactive haunted experience is part haunted house and part theater. You will be immersed into a story that includes 4D effects, haunted mazes, and more. You will also be part of a real live séance. It's not your typical Halloween adventure! 
The experience lasts about an hour and each group will include up to eleven people. The actors will take you through the experience including walking, climbing steps, and breaking through the 4th wall. 
Make sure to arrive at least 15 minutes before your reserved entry time for check in. You will also need to wear a mask the entire time during the performance.
>> Visit this site to learn more and pic up your tickets today
Sporting Events this Halloween
There are two sports events this weekend in the SF Bay Area.
Saturday, October 29, 2022: San Jose Sharks take on the Tampa Bay Lightening at the SAP Center in San Jose.

>> Find additional sports events around the SF Bay Area
Comedy Shows
You will also find some great comedy shows this Halloween in San Francisco. 
10/28 & 10/29: Nick Swardson at Cobb's Comedy Club
10/30: Kurtis Conner at The Palace of Fine Arts
>> Find additional comedy shows around SF
Symphony Performances

Head to Davies Symphony Hall the weekend of Halloween San Francisco for a fun night of live music. The show this weekend is Frankenstein & Psycho. You will find a show on Thursday, Friday and Saturday.
>> Find a full schedule of symphony performances in SF
Find Halloween Costumes

If you are looking for the perfect Halloween costume, then check out my list of my five favorite places to shop. You can design your own look or find the perfect pre-made option. All are open year around.
>> 5 Places to Find Costumes in SF
10 Most Haunted SF Places

Would you like to investigate some of SF's most haunted locations? On this list, you will find a list of the most haunted places in San Francisco that are open to the public. This allows you to stop by and investigate these ghostly sightings for yourself!
>> 10 More Haunted SF Locations
Free Walking Tours

Find a variety of free walking tours all weekend long. These tours, given by SF City Guides, give you the chance to learn even more about San Francisco. Top tours include the Golden Gate Bridge, Fisherman's Wharf, and Chinatown.
>> Find out more about these and other tours all around SF
Additional Halloween Events Around the SF Bay Area
East Bay
Some of the best Halloween events in the Bay Area this year are in the East Bay including Oakland. You will find haunted houses, Boo at the Zoo, and plenty of 21+ costume parties.
Here are just a few of my top picks for Halloween events in the Bay Area for 2021.
"Boo at the Zoo" at the Oakland Zoo

One of my favorite Halloween events in Oakland is the daytime event, "Boo at the Zoo" at the Oakland Zoo. It's held over several weekends throughout the month including: 10/22 - 10/31

The normal price of admission allows you to ride the spooky zoo train, try out treats and if your kid wears a costume, they get a free ride ticket! Ghouls and goblins of all ages are invited! 
Attendance is limited and you must purchase tickets in advance. It runs from 10 am to 4 pm.
Ghosts of Dublin

What better place to spend Halloween than in a cemetery at night in the quaint city of Dublin? I can't think of one. The "Ghosts of Dublin 2022" tour is without question one of the scarier places to be if you are afraid of ghosts, ghouls or goblins since one never knows who, or what, may pop up from the graves. 

Popcorn and cider are available and tours are from 7:30 pm to 10:30 pm. Doors open at 7pm. Tours are about one hour long.

This year's dates are October 21 and 22.
Halloween Midnight Costume Party Cruise

DJ Bullo and DJ Slappy will entertain you all night long on this midnight cruise leaving from Jack London Square on Friday, the 28th. On this 3-hour party boat, you can enjoy drinks from 2 fully stocked bars, panoramic views, live music, and 2 levels of entertainment and fun.

This riverboat style vessel has two levels and hold only around 150 people. It leaves from 2 Broadway Street near Jack London Square at 10:30pm SHARP. Check in and board early to make sure you don't miss out on the fun!
Fear Overload Haunted House

Voted the scariest haunted house in California, Fear Overload Haunted House includes 2 haunted houses for the price of one. This attraction runs from early October to early November and is not for the faint of heart. 

This event has been featured in Forbes, and on CBS, ABC and Fox, this is a truly serious horror and scream fest. Just to give you an idea of how scary these houses are, pregnant women or people in casts are NOT allowed to enter.
It's new location is at 2086 Newpark Mall in Newark, CA.
South Bay & Peninsula

Dead Time Dreams

Dead Time Dreams in San Jose, CA is known for their horrifying mazes and madhouses that scare everyone that enters them. This event runs several days a week between October 1 to October 31. This gives you plenty of chances to see how much you can handle this Halloween season. 

There is also the Midway of Terror for you to hang out at before or after going through "The River Styx" and "The Deathworx" adventures. 
Winchester Mystery House's  Hallows' Eve

This famous haunted house is always spooky and scary, even in the day time, but it becomes especially so when it is Halloween. This year's special event is called Hallows' Eve. At night, you will head through an indoor theatrical investigative paranormal adventure. 
Your ticket also includes the outdoor Jack O'Lantern Trail. 
Tours runs a new nights a week from mid-to late October.
Tickets must be purchased in advance.
Harvest Faire (Rescheduled for 2023)
Ride the train to the pumpkin patch to pick out that perfect pumpkin at Roaring Camp in Felton. 
The Forest Train includes a 75-minute ride with fun activities at the faire such as a Scarecrow Craft Table, Jack-o-Lantern Mask Decorating, Trick-or-Treating and so much more! 
Gilroy Gardens (Gilroy)

Located in the Garlic Capital of the world (isn't that scary enough already?), the Gilroy Gardens are home to numerous Halloween events this season. These include tricking or treating, wacky characters, and other fun Halloween surprises all around Boo Alley! 
It runs on Fridays, Saturdays and Sundays from October 1 - 30. It also runs Monday - Thursday from October 24 - 28.
North Bay & Wine Country 

Petaluma Pumpkin Patch and Amazing Corn Maze (Petaluma)

With over 5 acres of home grown pumpkins and corn mazes, you and your little ghouls are sure to enjoy this annual Halloween experience. If you need pumpkins for your own, there are over 50 varieties to choose from including some that are massive!

The maze walls are about 10 feet tall so anyone can try to figure them out. There is a viewing platform in case you want to see the maze and get some help.

They open on Friday, September 30, 2022 and and stays open through the holiday. The Pumpkin Patch hours are Sunday to Thursday 10 am to 6 pm, and Friday to Saturday from 10 am to 10 pm.
Six Flags Discovery Kingdom Fright by Night (Vallejo)
There is no place to hide when you enter Fright by Night as the entire theme park is inhabited by ghouls, goblins, and other scary monsters.
Featuring haunted houses, stage shows, and scare zones throughout the park, you and your little ones will be sure to have a great time as you check out the rides and thrills all day, and night, long. This year's event runs from September 24 to October 31.
Blind Scream Haunted House (Santa Rosa)

Head over to 98 Santa Rosa Plaza for this terrifying Halloween Haunted Houses. 
This year's event is called The Witch House which will take you on a thrilling, yet scary journey. It's home to 3 terrible sisters and each one is more evil than the next! 

It's open Friday, Saturday and Sunday nights from October 7 - 31.
Goblin Jamboree at BADM (Sausalito)

The Bay Area Discovery Museum is home to the fun for all ages Goblin Jamboree each year. Happening October 22 and 23 and October 26 - 30, it features pony rids, glow-in-the-dark trains, a broom obstacle course, and so much more for everyone to enjoy. 

There is also a costume contest and live music throughout the event. The Goblin Jamboree has three sessions each day.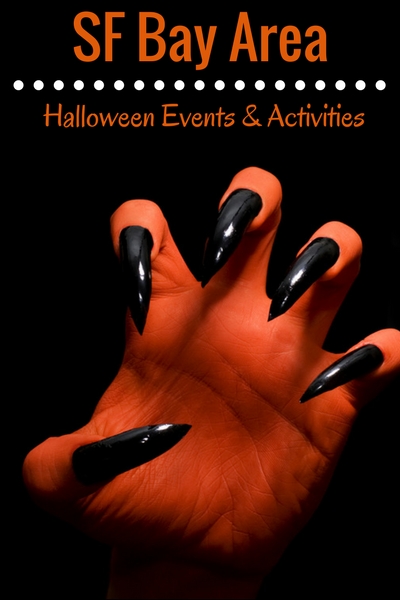 Comments? Questions? Suggestions?
I would love for you join me in my private Facebook group! 
It's a great place to interact with me and others that know the area well.
You can ask questions, get advice for your upcoming stay, and then share your photos and advice with others when you return home. It's a great community and the fastest way to get answers to those nagging questions about your visit!