8 Ghost Tours in San Francisco: Learn More About SF's Dark History

by Jill Loeffler  •

Updated: June 8, 2023
San Francisco has a long, dark history with murders, mysteries, and mayhem. All of these events fuel our fun and interesting ghost tours.
You can walk through Chinatown to learn about its mysterious past, walk through the Haight to hear its ghost stories, and even head out to Alcatraz at night to visit one of the ghostliest spots in the city.

Most of these tours are informational and not meant to scare you too much (although the stories are dark and chilling)!

All will help you understand more about the people and places that make this city one of the most haunted in the US!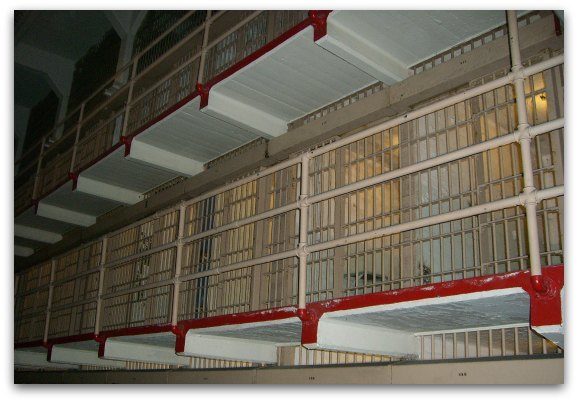 A picture of the dark cells during the night tour of Alcatraz
Disclaimer: I receive a small commission from some of the links on this page.

1. The Haunt - Ghost Hunting Walking Tour

This popular haunted tour of San Francisco takes you through the historic Gold Rush-era neighborhoods on foot, after dark, equipped with EMF (electromagnetic field) meters and other ghost hunting tools.
As you make your way through Chinatown and North Beach, your guide will tell you about the city's largest massacre at the Golden Dragon, a mysterious death at an old theater, and the forgotten graves and ships buried beneath your feet.
While learning about SF's dark past of true crimes and tragedies, you may notice paranormal activity on your meter, and your guide may invite you to investigate further using dowsing rods and a Spirit Box. 
This 90-minute tour takes you to the dark side and is only recommended for adults (children are welcome at your discretion, but it is not suitable for age 13 and under). It runs most days after dark through Union Square.
>> Find ticket availability for upcoming dates
2. Nob Hill Vampire Tour

Walk through one of SF's first and most famous districts, Nob Hill. On this walking tour, you will learn more about the dark events that occurred over time in places such as the Fairmont Hotel, the Pacific Union Club, Grace Cathedral, and the Mark Hopkins Intercontinental Hotel.
This two-hour tour that starts at 8 pm and ends at around 9:30 pm.
>> Find tickets for upcoming dates on Viator
3. Alcatraz Night Tour

Let's start with one of my favorites, Alcatraz. This former federal prison housed some of the most notorious criminals in the U.S. including Al Capone, Robert Stroud (the Birdman), and George "Machine Gun" Kelly.
Before it was a federal prison, it was a U.S. Military Prison. During both periods, many prisoners died on the island and now there are reports of mysterious noises and occurrences. This isn't technically a ghost tour in San Francisco but heading over at night is the best way to experience this haunted attraction.
>> Learn more about this fun Alcatraz tour
4. SF Ghost Tour

The SF Ghost Tour offers you a chance to learn more about the mysterious past of San Francisco's Nob Hill and Union Square Districts. Hear stories about our haunted hotels, locations, and office buildings. 
Top stops include the Westin St. Francis and Fairmont Hotel. You'll also hear stories from SF's Gold Rush Days of 1849 and what happened when the 1906 Earthquake hit.
This tour runs for one hour (or you can add on 30 minutes for an extended tour) and usually runs a couple of times each night.
>> Find tickets for all dates on GetYourGuide
5. Haunted Haight Walking Tour

The Haunted Haight Walking Tour teaches you all about supernatural occurrences and mysterious events reported in SF's Haight Ashbury District.
As you tour the neighborhood, you will also walk past the locations where some of SF's most infamous murderers and cult leaders used to live.
The tour starts at 7 pm and runs mostly on Saturdays. Click the link below for exact dates and information on how to register.
>> Visit the Official Haunted Haight Walking Tour Website
6. Boos and Booze Haunted Pub Crawl
If you want to taste the dark history of the city's early days, take this guided tour through San Francisco's historic district, where the eight haunted sites you'll visit include four bars.
Your "boo"zy pub crawl starts off with sipping aged bourbon at High Horse, where you'll learn how the famed Barbary Coast got its name. With a nice buzz, you'll visit a shipwreck saloon and wander down Gold Street where miners were often attacked and robbed.
The tour lasts about two hours, and you'll want to bring your ID to toast to the ghosts of San Francisco's past.
>> Find out more about this fun tour
7. SF - Ghosts and Hauntings Audio App Walking Tour
For a cheaper, go-at-your-own-pace option, consider taking this self-guided audio walking tour, complete with the perfect music to set the mood for your ghostly encounters.
This is a fun option because you'll hear lots of stories as it takes you through a variety of San Francisco's haunted neighborhoods, including Union Square, Nob Hill, Chinatown, and the Barbary Coast.
From the Gold Rush to the 1906 earthquake to the Jazz Age and beyond, this 70-minute tour-in-an-app is thoroughly entertaining and full of history, tragedy, and mayhem.
>> More about this self-guided option
8. Walk with Spirits - A Haunted Pub Crawl in San Francisco
This 2.5-hour evening tour gives you another option for a thrilling pub crawl during which you'll learn about the city's dark history of crime and unsettled souls.
As your guide takes your small group through the San Francisco neighborhoods that date back to the Gold Rush and withstood the 1906 earthquake, you'll have the chance to sip on spirits while meeting others.
The tour starts at Jackson Square highlights five spots: The Old Ship Saloon, a part of North Beach known as "The Devil's Acre," the haunted streets of Chinatown, and finally the Lion's Den Lounge and Bar.
>> Find out more about this fun pub crawl
10 of The Most Haunted SF Locations

Would you prefer to venture out on your own? If so, then check out my list of the 10 most haunted places in San Francisco that are open to the public. They range from the woman that roams around Stow Lake in the evenings to the ghosts of City Hall.
Learn More: Discover 10 Haunted SF Locations
Comments? Questions? Suggestions?
I would love for you to join me in my private Facebook group! 
It's a great place to interact with me and others who know the area well.
You can ask questions, get advice for your upcoming stay, and then share your photos and advice with others when you return home. It's a great community and the fastest way to get answers to those nagging questions about your visit!