Ghost Tours in San Francisco: Top Tours that Run All Year Long & Those Just for Halloween

by Jill Loeffler  •

Updated: January 19, 2023
San Francisco has a long, dark history with murders, mysteries, and mayhem. All of these events fuel our fun and interesting ghost tours.
You can walk through Chinatown to learn about its mysterious past, walk through the Haight to hear its ghost stories, and even head out to Alcatraz at night to visit one of the ghostliest spots in the city.

You will also find two special tours in October for Halloween. One is a Segway tour that you will show you the dark hidden alleys of some of our top districts. The other is a special tour of City Hall offered by SF City Guides. This one is only once a year and it's super popular, so make sure to arrive early (and it's free!).
Most of these tours are informational and not meant to scare you too much (although the stories are dark and chilling)!
All will help you understand more about the people and places that make this city one of the most haunted in the US!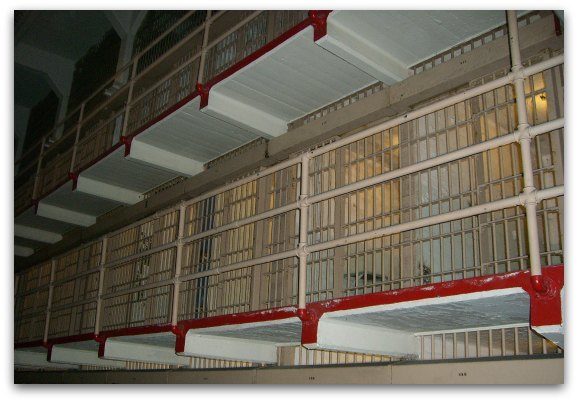 A picture of the dark cells during the night tour of Alcatraz
Disclaimer: I receive a small commission from some of the links on this page.

All Year Long Ghost Tours in San Francisco

1. Haunted SF: Ghosts, Murder and Mystery

Union Square is one of the most popular places for tourists to visit, but did you know it has a long, dark history? On this tour, you will stop sights where a brutal murder took place as well as several places where ghosts have been reported. You will also walk by buildings that once housed SF's most visited brothels.
You will learn all about the Pinecrest Dinner's 'poached eggs' murder. You will also walk past the Curran Theatre and the St. Francis Hotel and learn about their secret past.
This 90-minute tour takes you to the dark side and is only recommend for adults. It runs most days after dark through Union Square.
>> Find ticket availability for upcoming dates
2. Nob Hill Vampire Tour

Walk through one of SF's first and most famous districts, Nob Hill. On this walking tour, you will learn more about the dark events that occurred over time in places such as the Fairmont Hotel, the Pacific Union Club, Grace Cathedral, and the Mark Hopkins Intercontinental Hotel.
This two-hour tour that starts at 8 pm and ends at around 9:30 pm.
>> Find tickets for upcoming dates on Viator
3. Alcatraz Night Tour

Let's start with one of my favorites, Alcatraz. This former federal prison housed some of the most notorious criminals in the U.S. including Al Capone, Robert Stroud (the Birdman), and George "Machine Gun" Kelly.
Before it was a federal prison, it was a U.S. Military Prison. During both periods, many prisoners died on the island and now there are reports of mysterious noises and occurrences. This isn't technically a ghost tour in San Francisco but heading over at night is the best way to experience this haunted attraction.
>> Learn more about this fun Alcatraz tour
4. SF Ghost Tour

The SF Ghost Tour offers you a chance to learn more about the mysterious past of San Francisco's Nob Hill and Union Square Districts. Hear stories about our haunted hotels, locations, and office buildings. 
Top stops include the Westin St. Francis and Fairmont Hotel. You'll also hear stories from SF's Gold Rush Days of 1849 and what happened when the 1906 Earthquake hit.
This tour runs for one hour (or you can add on 30 minutes for an extended tour) and usually runs a couple of times each night.
>> Find tickets for all dates on GetYourGuide
5. Haunted Haight Walking Tour

The Haunted Haight Walking Tour teaches you all about supernatural occurrences and mysterious events reported in SF's Haight Ashbury District.
As you tour the neighborhood, you will also walk past the locations where some of SF's most infamous murderers and cult leaders used to live.
The tour starts at 7 pm and runs mostly on Saturdays. Click the link below for exact dates and information on how to register.
>> Visit the Official Haunted Haight Walking Tour Website
Halloween Specific Tours

6. Time Travel Segway Tour

October 1 - 31 at 7:30pm starting at 757 Beach Street in Fisherman's Wharf
This journey is part ghost tour, part history tour and all-around fun. Your tour begins with a 40 to 45-minute lesson on the Segway so you are comfortable with it before you begin.
You will then venture your way around San Francisco. You will explore the back alleys of Chinatown. You will find out more about the fortunes made during the 1849 Gold Rush. You will also hear ghost and horror stories from the places you pass by in Chinatown, North Beach, and Fisherman's Wharf.
It will be a night that you will never forget!
7. Ghost Walk at City Hall

This is one of my favorite Halloween San Francisco walking tours. From the outside, few realize the history and ghostly stories that lie inside San Francisco's City Hall.
From the assassination of Harvey Milk and Mayor Moscone to exhumed remains, the Ghost Walk at City Hall will fill you in on all the jaw dropping tales about this iconic building.
You will also hear about some little-known facts such as the cemetery that once covered parts of the Civic Center Area and you'll hear chilling stories from those that work the night shift.
Tickets: FREE, just show up and sign in with the City Guides tour guide
>> Click here to visit the SF City Guides site to learn more
10 of The Most Haunted SF Locations

Would you prefer to venture out on your own? If so, then check out my list of the 10 most haunted places in San Francisco that are open to the public. They range from the woman that roams around Stow Lake in the evenings to the ghosts of City Hall.
Learn More: Discover 10 Haunted SF Locations