Alcatraz Night Tour: What to Expect from this Popular Tour of The Rock


by Jill Loeffler  •

Updated: April 6, 2023
The Alcatraz night tour offers a more personalized option for visiting this top San Francisco attraction. This is also a great option for anyone who has already visited during the day and is looking to experience something a little different. 

I love visiting Alcatraz at night because the groups are smaller and the only people on the island are the people from your ferry. This way, you can get around quite a bit better and squeeze in more photos that aren't crowded with other visitors. 

This is one of the photos I took during my last visit. It's a rare look at the prison cells without anyone standing in front of them.
One question I get a lot is if I like the day or night tour better. My response is always the Alcatraz Night Tour.
It's such a cool feeling to be on the island at night and you get a better idea of what it was like to be a prisoner here. I also like it better because there are fewer people around.
It costs a little more than the Alcatraz Day Tour and does not run as many ferries (or every day), so it's a little more difficult to fit it into most people's schedules. 
However, if you do have the choice between the two, go on the night tour. I know you will have a great time and LOVE it! 
Disclaimer: I receive a small commission from some of the links on this page.

What to Expect on the Alcatraz Night Tour

After you get off the ferry at Pier 33, the Alcatraz night tour starts with a brief overview of what to expect given a park ranger. This is the same as during the day but includes information on additional things to do that evening.
Even though they call them night tours, they are really evening tours as you will arrive on the island before it gets dark and leave shortly after dark.

Special Programs at Night
As you walk up the steep hill to the main cell house, additional rangers are on hand giving details on the history of this old federal and military prison and its famous prisoners.
Just to give you an example of what to expect, during my last visit, they had a very informative talk about Al Capone (learn more about him and why he ended up here) at a stop along the steep hill to the cell house.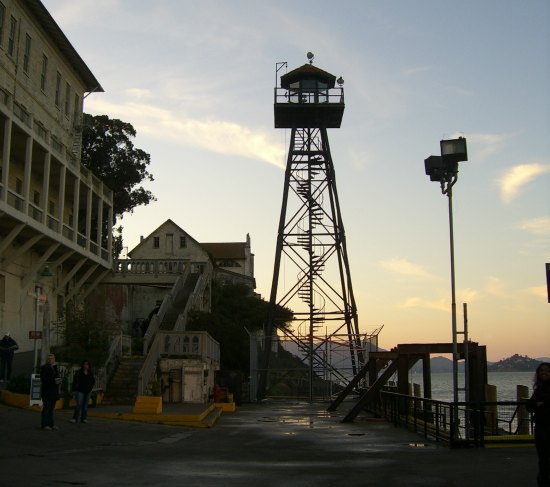 Even though it's called the night tour, most of the time you will arrive as the sun is setting (or shortly before). This is from my last Alcatraz night tour - just as we got off the ferry.
After two or three stops for these talks, you will reach the main cell house. This is where you will pick up your self-guided audio tour headset for your walk around this iconic landmark.
Self-Guided Cellhouse Audio Tour
Once you pick up your audio you will head to the main floor of the cell hours on a self-guided tour at your own pace. The audio tour takes you on a designated path where you will learn even more about Al Capone, Machine Gun Kelley, and Robert Stroud, the Birdman of Alcatraz. 
On the Alcatraz Island night tour, you will explore this former federal prison to see what it was like to be a prisoner here. You will walk past and get the chance to enter a few of their solitary confinement cells. 
You will see the cell block and the cells where Frank Morris, John Anglin, and his brother Clarence Anglin plotted and attempted their escape. Learn more about this and other escape attempts here before your visit.
Along the way, you will see the library where they stored books for the inmates. You will also spend some time in the food service area where they ate all three meals daily. 
Even though it's a self-guided tour, it usually takes about 45 minutes. 
Want to learn more about the history of Alcatraz before you visit? Check out this page here which talks more about the prisoners and life in this maximum-security prison in the middle of San Francisco bay.
Finishing Up Your Tour
Once you complete your audio tour, you will have some time to explore on your own. You will find a few more special programs given by the forest rangers. You will also have access to a few special areas that aren't open during the Alcatraz day tour.
During my last Alcatraz night tour, they opened some of the rooms in the medical area upstairs, where many prisoners stayed when they were ill. Rangers were also on hand to answer questions and provide additional information about these areas.

You can also roam around outside. You will get some great views of the Golden Gate Bridge, San Francisco city lights, and all around the San Francisco Bay Area.

They don't publish which area will be open during these tours, but you can expect to see more of the island on the Alcatraz night tour.
Alcatraz Night Tour Tickets

The challenge with the night tours is getting tickets. They only run a few nights a week and only one or two ferries a night.
Not only do they run on a limited schedule, but they also only allow around 300 people per tour. This creates a more intimate visiting experience, but it also creates a high demand for these tickets.

Limited access to these tickets and this tour also make it a more special trip. 
Alcatraz is part of the National Park Service. However, you cannot visit with your National Parks Pass. You must purchase tickets before your visit.
Winter Schedule: November - Early April
During the winter months, Alcatraz City Cruises only runs one tour a night to the island. The departure time is 3:50 pm and it  returns around 6:30 pm or 7 pm. 
They do offer a second tour during the busy holiday weekends. 
They also only run it Tuesday through Saturday nights. This means only 300 people a day can take this tour.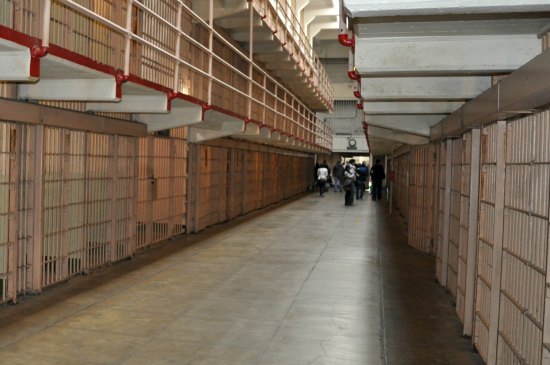 More pictures of the small crowds in the evenings.
Summer Schedule (Early April - late October)
In the summer, they run two ferries. The first one usually leaves around 6 pm and the second one leaves around 6:30 pm. 
There are also two return ferries. The final ferry leaves around 9:30 pm.
They will tell you all of this when you arrive, so you don't have to worry about writing it all down or bringing it with you. I just want to give you an idea of how long you get to stay on the island during the Alcatraz night tour.
Tickets for the Alcatraz Night Tour
In the past, tickets would only go on sale 90 days in advance. Right now, they are releasing them about six months in advance so you can book them earlier. I don't know when or if they will switch back to the 90-day lead time, but wanted to make you aware in case you don't see any tickets for your time frame.
Here is the current pricing (subject to change at anytime):
Adults: $56.30
Juniors, 12 - 17 Years: $55.15
Kids, 5 - 11 Years: $33.00
Seniors (62+): $52.25
The only place to purchase these is directly through the official site on Alcatraz Cruises (find tickets). Book them as soon as you can, so you don't miss out on the amazing adventure!
Your Alcatraz night tour will leave from Pier 33 at Alcatraz Landing, which is an easy walk from San Francisco's Fisherman's Wharf district.

Disclaimer: I receive a small commission from some of the links on this page.

Other Alcatraz Tickets

In addition to the Alcatraz night tour tickets, you will also find these other official ticket options. You can purchase all of these directly through the official website for Alcatraz City Cruises. There are some retailers that are also allowed to sell Alcatraz combo tickets that I explain in the section below. 
Day Tours: The day tour is the most popular Alcatraz cell house tour. They run daily (except on Thanksgiving, Christmas, and New Year's Day. Several tickets are available each day. All Alcatraz Prison tickets include roundtrip ferry transportation. Learn more about this tour here. 
Behind the Scenes Tour: The Behind the Scenes tour is another great option. This one offers a personally guided tour that lasts about 1.5 to 2 hours. It's also a small group tour with only about up to 20 people per tour. It runs during the day, costs a bit more, but is an amazing way to really get to see a lot of Alcatraz.
Angel Island Combo Tour: If you want to visit Angel Island too, then this is a great tour for you. It only runs a few times a day but includes a day tour of Alcatraz (with the self-guided audio tour), a ferry ride from Alcatraz to Angel Island, a one-hour guided tram tour of Angel Island, and then transportation back to Pier 33 in San Francisco. It lasts about 5.5 hours but is a really fun way to enjoy both islands in one day.
Note: I get questions all the time about purchasing Alcatraz day and night tours from other venues. There are a handful of designated resellers that will allow you to find tickets when they are sold out (a few are recommended below). However, not all tickets are legitimate. If you are unsure, please reach out to me and I'll help you decide if where you plan to buy is offering real tickets. I usually answer back within 24 hours.

More Alcatraz Combo Ticket Options
If you find that the Alcatraz night tour is booked or you would prefer to go during the day, then check out some of the great combo tour tickets available. These are also great for last minute purchases or if the day tours are sold out as well.
The one I recommend often is the one through GetYourGuide. This Alcatraz tour package includes the day trip to Alcatraz as well as a 1-day ticket for their Hop On Hop Off Bus Tour. You can see several of our most popular attractions with the ease of their bus tour that takes you right to each one. Find out more about the tickets on GetYourGuide.
Other combo tickets are available on GetYourGuide. They've created a round-up of the best offerings from agencies all around town. Some include a visit to Alcatraz as well as a ferry ride to Sausalito, a wine tour, or a bike ride over the Golden Gate Bridge. Find their ticket selection here.

Comments? Questions? Suggestions?
I would love for you to join me in my private Facebook group! 
It's a great place to interact with me and others who know the area well.
You can ask questions, get advice for your upcoming stay, and then share your photos and advice with others when you return home. It's a great community and the fastest way to get answers to those nagging questions about your visit!