10 Most Haunted Places in San Francisco: Discover these Ghostly Places for Yourself
SF has a colorful present, but a dark and stormy past. There are hundreds of stories that range from mysterious disappearances to untimely deaths. This is why many people are curious about the most haunted places in San Francisco.

My list of haunted SF places is different from any others you will see. There are many ghostly places in the city, but my list only includes the most haunted places that you can visit.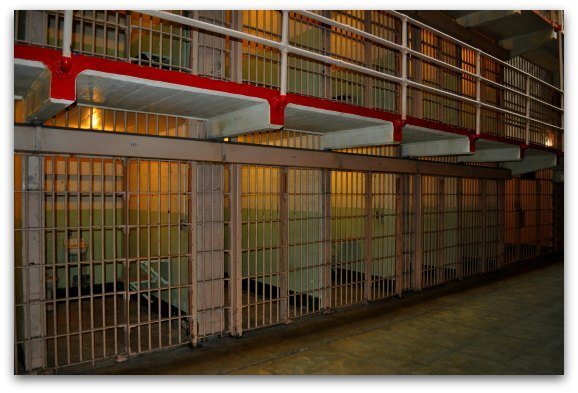 They range from the stories about the Curran Theater to hotels where people often experience spooky events. You will also learn more about the ghosts that are said to roam the halls of Alcatraz and what really happened in City Hall in 1978.

Disclaimer: I receive a small commission from some of the links on this page.

1. Alcatraz

Let's start with the most popular place of all. Even though I've visited Alcatraz many, many times, I still get a slight chill every time I step into the main prison house. I feel it more at night, when there are fewer people around, the wind is whistling through it's cracked windows, and the reality of what went on here sinks in.
Alcatraz was built as a Military Prison and later converted into a Federal Prison. It's seen hundreds of prisoners over the years. Many have been killed here during prison fights and prisoner takeovers. There is no doubt that this place could have many spooks hanging around.
People have reported voices, footsteps, and the sound of cell doors opening and closing. When they turn around to investigate, no one is there. Visitors have reported feeling "cold spots" throughout the building, mainly in the Dining Hall.
If you want to experience them for yourself, book your tickets early and take a night tour. You get the chance to head into lesser-used areas and break away from the crowds. Click here to learn more about the night tours.
2. Stow Lake

Another one of the most talked about haunted places in San Francisco is Stow Lake. This man-made lake sits on the eastern side of Golden Gate Park. It's a popular place for people to hang out and relax, hike to the top of Strawberry Hill, and ride the boats around the lake.
However, many visitors report seeing an unusual woman during their visits in the evening and after dark. She is always described as glowing, with long hair, and a white dress.
Although the image that people see is the same, the real story of Stow Lake is unknown. There are two versions of the story that lead into why she roams the area.
Some believe that this woman, from the 1920s or 1930s, became pregnant. To hide her pregnancy, she disposed of the baby and then killed herself here. It's said that she roams the area looking for her baby.
Others have said that a mother walking the park lost control of her stroller and, with her baby inside, it rolled into the water. She then entered the lake to desperately save her child. Neither was seen again.
Both stories send chills down my back.
If you want to attempt to encounter this ghostly figure, head over in the late evening hours. She is often found either on the trail around the lake or on top of Strawberry Hill. Discover details on visiting Stow Lake here.
Fun Ghost Tours in SF
3. Golden Gate Park

Another often sighted unworldly figure in Golden Gate Park is a police officer. This police officer pulls over unsuspecting traffic violators in the park.
When people go to pay their fine, they find the officer listed on the ticket has been dead for years. It's a strange experience for both the person receiving the ticket and the local police station.
If an officer is following you in the park, simply head outside of the park. If it's this ghostly officer, he will disappear the minute you leave. If not, then, well, I guess you have a real ticket coming your way.
Click here to learn more about visiting Golden Gate Park.
4. Neptune Society Columbarium

The Columbarium is a place where people lay the ashes of their loved ones to rest. It's on the western side of SF in the Richmond District.
Many people visit this place every day, and some have reported ghostly sightings inside. A caretaker speaks of the hauntings of a little girl whose ashes are behind glass in one area of the building.
People have reported feeling a hand touch them. When they turn around, no one is there. The occurrences are most common in the area where this little girl's urn sits.
The Columbarium is open to the public. It's also the resting place for many of San Francisco's founding families as well as important people of the city over time.
Click here for more details on visiting the Columbarium.
5. San Francisco Art Institute (Temporarily Closed)

The San Francisco Art Institute is a gorgeous building near both North Beach and Russian Hill. It was built in 1900 and it is said that the building was built on the site of an old graveyard.

The tower of the building is said to be very haunted. Students and visitors have reported many strange and spooky encounters. They hear screams or footsteps when no one else is around. They also see ghostly images at times. During the renovation of the tower, workers reported several encounters with what seemed like "frustrated ghosts."
The San Francisco Art Institute is open to the public. It's also the home of one of three Diego Rivera frescos inside the city limits.
6. Ocean Beach Sutro Bath

The Sutro Baths were completed in 1896. It was a large swimming pool complex open to the public. At the time, this area was far away from San Francisco, so it attracted mainly the wealthy and those visiting for weekend holidays.
The baths burned down in the 1960s. Due to the severe damage, it was closed for good. The ruins still stand and everyone is welcome to stop by for a visit.
However, the tunnel of the Sutro Baths is said to be haunted. It's said that many sacrifices have taken place here. If you visit at night and light a candle, a ghostly image will take it away and throw it in the water. This often happens around nightfall.
You will find the Sutro Baths near Ocean Beach at the meeting of Geary Boulevard and the Great Highway.
>> More about visiting Sutro Baths
7. Curran Theater

The Curran Theater hosts some of San Francisco's top theater performances all year long. Hundreds of people walk through its doors each week and many have reported seeing the ghost of a ticket taker in the lobby of the theater.
In 1933, a ticket taker was shot and killed here during a robbery. Many suspect the figure seen by theater attendees in the mirror is the ghost of this ticket taker.
Some also say the spirit of a little girl killed across the street also haunts this theater.
8. Queen Anne Hotel

If you enjoy being spooked during your stay, then check out the Queen Anne Hotel near both the Japantown and Pacific Heights districts. This historic Victorian was built in the 1890s. It was originally a school for young girls. It's passionate teacher, Miss Mary Lake, lived in Room 410.
When the school was shut down, she was devastated. She moved out, carried on with her life, and died several years later. The building changed hand many times and turned into the Queen Anne Hotel in 1980.
Many visitors have reported seeing Miss Mary Lake roaming the hallways and hanging out in her old room. It's said that she still can't get over the closing of the school and is not happy about the building being occupied by anyone else.
If you want to see her for yourself, stop by for a visit, head out on the nightly ghost walking tour that begins here, or book her room for a night or two (click here to check out the nightly room rates for the Queen Anne Hotel).
9. City Hall

San Francisco's City Hall in the Civic Center district has quite a history. This building opened in 1915, just less than a decade after the last City Hall building was destroyed by the 1906 Earthquake and Fire.
This building is home to the office of the Mayor of San Francisco as well as all of the City Supervisors. The darkest and most tragic event took place here on the second floor in 1978.
The story of this dark night began months before the incident, when tension arose between Dan White, a conservative Supervisor, and Harvey Milk, the first gay Supervisor to sit on San Francisco's City Council. After quite a bit of conflict, White resigned from his post. A few days later, he returned, asking Mayor Moscone to reinstate him.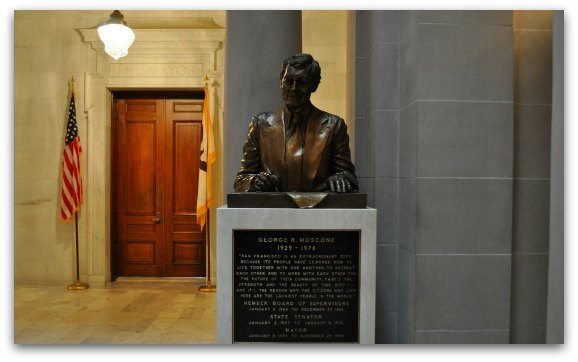 After the discussion, Moscone refused to reinstate White. A few days later, White returned to City Hall on a mission of vengeance. He crawled through a first story window with a .38 revolver in hand.
He went directly to Moscone's office to plead one more time for his seat. When Moscone refused a final time, White shot and killed him. He then walked down the hall to Harvey Milk's office where he shot and killed him too.
Many of the late-night security guards now report unusual noises and other behavior when few people are around. No one knows if it's the ghost of these or other notorious politicians that once frequented City Hall.
The best way to learn more about the ghosts of City Hall is on the annual walking tour given by the Public Library right before Halloween. When the hallways are empty, you can sense that something sinister happened here and it will give you a chill on the back of your neck.
You can also visit anytime during the week and/or participate in one of the day walking tours. While it's not as spooky during the day, but just thinking about the incident will give you the goose bumps.
Click here to learn more about visiting City Hall.
10. Presidio

The Presidio is another hot spot of ghostly activity. This old army post is home to dozens of old officer's quarters, the National Cemetery, and other historic buildings.
One of the most haunted places here was the old army hospital. However, it was torn down and is now the location of the Letterman Digital Arts Center. While few new reports have surfaced about this building, a handful of employees have mentioned "cold spots" throughout the building.
For years, visitors and employees have reported ghostly figures in the Presidio National Park Service Visitor's Center. Many have reported seeing Army men knocking on doors of empty rooms. Others have reported seeing guards still on duty.
The Presidio is also home to an old Indian burial ground. Others have mentioned strange experiences in and around the Presidio's pet cemetery.
You can learn all about the Presidio's hauntings on the Fire Engine Ghost Tour of the Presidio. It's a 90-minute tour that takes you past these and other haunted areas within the Presidio as you hear stories about those that have reported ghostly encounters. Click here to visit Viator.com to learn more.
Enjoy More Stories on SF's Ghost Tours

Would you love to experience even more of the most haunted places in San Francisco? If so, then check out our great guided ghost tours. You will find them all over the city from Pacific Heights to Chinatown.
While there is no guarantee you will see a ghost on your tour, you will hear more stories of SF's dark past including deadly events that led to some of the hauntings mentioned above.
Some run all year long, while an additional set of ghost tours run only around Halloween time. Discover the entire list here.
Other Pages for You

Comments? Questions? Suggestions?
I would love for you to join me in my private Facebook group! 
It's a great place to interact with me and others who know the area well.
You can ask questions, get advice for your upcoming stay, and then share your photos and advice with others when you return home. It's a great community and the fastest way to get answers to those nagging questions about your visit!