Brunch in San Francisco: 10 Top Breakfast & Brunch Spots Around Town

by Jill Loeffler  •

Updated: September 19, 2022
Brunch in San Francisco is always a treat. There are several amazing places where you can find everything from a classic omelet to soul food.

My favorites include both everyday spots and specialty breakfast options for an elegant Sunday brunch, Mother's Day, or other celebrations.

Disclaimer: I receive a small commission from some of the links on this page.

Eight Am
This is without doubt my favorite place to have breakfast anywhere in the City.
The food is amazing, it is family owned, and everyone is friendly beyond belief. You will feel like you are all friends and they are so happy that you've come here.
It is a small restaurant, with only about 10 to 12 tables inside and about 6 tables outside, so you will want to give yourself time as there is sometimes a line. But trust me, it is absolutely worth the wait.
Specialties: Frittatas, Waffles, and the best Avocado Toast in the Bay!
Address: 1323 Columbus Ave in Fisherman's Wharf

Mama's on Washington Square

Many people claim that the breakfast at Mama's is the best in the city. This might be the case, but you'll have to wait for it.
This small restaurant only has a handful of tables and you will almost always find a line outside. At times, the wait is one to two hours.
The food is very good, but I only recommend heading over here if you have a lot of extra time on your hands. They are open for brunch every day except Monday.
Specialties: Omelets, eggs benedict
Address: 1701 Stockton Street in North Beach

Buena Vista Cafe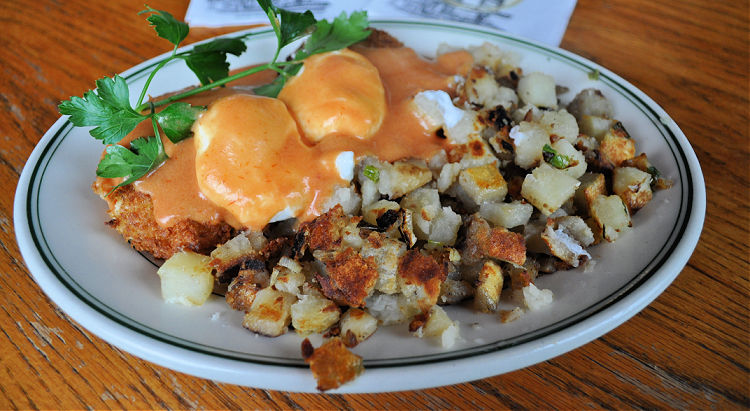 The Buena Vista Cafe is a world-famous restaurant in Fisherman's Wharf. They were the first cafe in the US to recreate the famous Irish Coffee. I'll have to admit, they make one of the best in the city. In addition, they also serve some great breakfast items.
I recommend ordering something with crab, since it's all fresh from the Pacific Ocean (just outside the SF Bay). Sit at the bar if you are only coming in for some Irish Coffee.
Specialties: Irish coffee, breakfast
Address: 2765 Hyde Street (Corner of Hyde and Beach Streets)

>> More great options around Fisherman's Wharf
Mo's Grill

Another one of my favorite spots for brunch in San Francisco is Mo's Grill. This small, welcoming grill in North Beach offers brunch every morning. It's simple, but yummy. They serve the classics such as omelettes, eggs and pancakes. They also serve breakfast every day until 3 pm.
Specialties: Pancakes, omelettes, burgers
Address: 1322 Grant Avenue in North Beach

Sweet Maple

This neighborhood gathering place lives up to its name with a range of creative, sweet and fusion twists on classic breakfast items. Some of the dishes have a delightful Asian or Latin flair, which makes for a really unique culinary experience.

They are famous for their Millionaire's Bacon, a hearty dish of extra-thick sweet and spicy bacon, cooked to perfection with brown sugar and hot peppers.
They also have fun variations of french toast: cornflake-crusted, deep fried, or with Gran Marnier batter. 

Specialties: Millionaire's Bacon, french toast
Address: 2101 Sutter Street in Lower Pacific Heights

Brenda's French Soul Food

These are the beignets from Brenda's, and there are three in each order. You can choose from the traditional molten chocolate (this is the one pictured above) or a few other flavors. They come out hot, and fresh and are so delicious!
My mouth is watering just thinking about the brunch at Brenda's. Her combination of French and Soul Food makes this place unique and it's highly rated.
You have to try at least one of the beignets, which are New Orleans-style donuts. Her egg scrambles and omelettes are also delicious.
Another great part is that they serve breakfast until 3 pm.
Specialties: Beignets, shrimp & grits
Address: 652 Polk Street between Turk and Eddy Streets

Hollywood Cafe

The Hollywood Cafe is more of a traditional brunch location. They have all the classics and the food is really good. It's casual, the wait staff is friendly, and it's simply one of the best places in the Fisherman's Wharf neighborhood.
On their menu, you will find some fun names, too, such as the James Dean or the Audrey Hepburn breakfast.
Also, make sure you try the Hollywood's Hash Browns. They are different from their standard hash browns and cost a little more but are very yummy.
Specialties: Hollywood's Hash Browns, eggs benedict
Address: 530 North Point Street in Fisherman's Wharf
Special Weekend Brunch Options

This list includes some of the places that offer specialty brunch on the weekends. Many of these are perfect for a special Sunday brunch or for holidays such as Mother's Day or Easter. They all offer reservations and a more elegant experience.
Top of the Mark: The Top of the Mark restaurant (in the Mark Hopkins Hotel) also offers a Sunday Brunch Buffet. This Champagne Brunch offers both breakfast and lunch items including eggs benedict, prime rib, and seared sea bass. It's more upscale and offers some great city views. Brunch is served from 10 am to 1 pm and costs $79 for each adult. Reservations are highly recommended. They are at 1 Nob Hill.
Palace Hotel: Another classic place for Sunday brunch in San Francisco is the historic Palace Hotel. It's served in their beautiful garden court dining room. It's elegant and offers everything from sushi to fresh pastries. It's served from 10:30 am to 1:30 pm every Sunday. Call to make a reservation at 415.546.5089. They are located at 2 New Montgomery near Union Square.
EPIC Steak: This is a great spot for brunch on both Saturdays and Sundays. This upscale restaurant offers nice waterfront brunch in San Francisco. They serve the classics and are open for brunch from 11 am to 2:30 pm. They are at 369 Embarcadero.
Disclaimer: I receive a small commission from some of the links on this page.

Weekend Champagne Brunch Cruise

Another fun way to enjoy your brunch in San Francisco is on a Bay Cruise. This special two-hour weekend cruise includes Champagne, a brunch buffet and amazing views.
With your Champagne glass in hand, you will depart Pier 3 and cruise along the SF waterfront. As you nibble on fresh pastries, scrambled eggs and other goodies, you will cruise under the Golden Gate Bridge, near Alcatraz Island and by the small coastal town of Sausalito.
It's a great way to see the sights and enjoy a hearty breakfast. It is sure to be a brunch to remember!
Find tickets: Weekend Champagne Brunch Cruise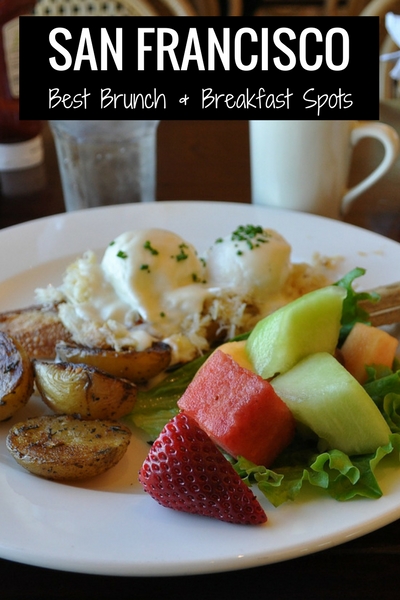 Comments? Questions? Suggestions?
I would love for you to join me in my private Facebook group! 
It's a great place to interact with me and others who know the area well.
You can ask questions, get advice for your upcoming stay, and then share your photos and advice with others when you return home. It's a great community and the fastest way to get answers to those nagging questions about your visit!