Japantown San Francisco: Discover the Best Things to Do & See
The Japantown San Francisco District was originally established in 1906. This historic neighborhood is the oldest of the three Japantowns left in the United States.

In this small but thriving neighborhood, you will find plenty of things to see and do. Here you can shop for authentic Japanese foods and gifts. You can also go on a Japantown History Walk or relax in Peace Plaza.

Japantown is also home to one of the most beautiful festivals every year - the Cherry Blossom Festival. It's a two-weekend long festival every April and a great way to learn more about the Japanese culture.

Disclaimer: I receive a small commission from some of the links on this page.

Top Attractions & Activities

Here are a few more details on my favorite things to see and do in Japantown.

1. Shop for Authentic Japanese Goods

One of the key draws to Japantown is its large shopping center. Here you will find a variety of Japanese stores selling everything from Japanese clothing to books.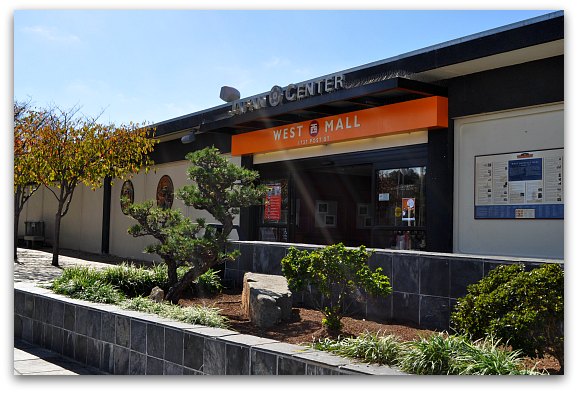 The large Japan Center Mall is more than two blocks long with dozens of shops. This is the main shopping area and the place where most activity in the neighborhood is found.
You will find the Japan Center's East and West Malls at 1737 Post Street.
2. Sample Japanese Food

In the Japan Center, you will also find several authentic Japanese restaurants. Many of these are found in the area called Restaurant Row. This is found in Japan Center's West Mall.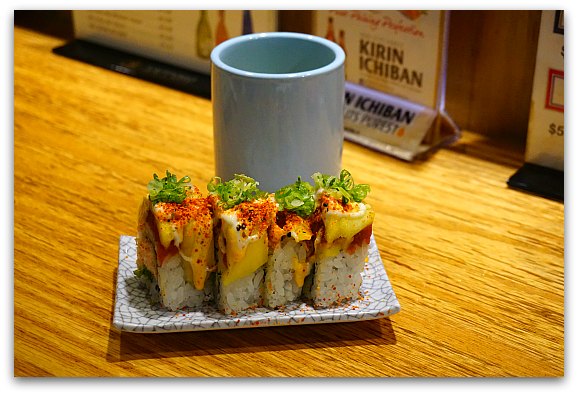 Another way to sample the great Japanese food here is by taking a guided food tour. With your local food guide, you'll discover some of the Japantown San Francisco hidden spots and sample 6 to 7 authentic Japanese foods. This three-hour walking food tour is offered most Fridays and Saturdays starting at 11 AM.
3. Relax in the Peace Plaza & Admire the Peace Pagoda

Situated between the Japan Center's East and West Malls is Peace Plaza. This block-long courtyard is a perfect place to come and relax. This large outdoor area has plenty of seating, so it's also a great place to enjoy lunch or just hang out and watch the crowds.

It's also the location of the iconic Japantown San Francisco Peace Pagoda. The city of Osaka, Japan gifted the Peace Pagoda to the people of San Francisco in 1968. Since that time, it has called the Peace Plaza home.

4. Walk a Historical Path Through the Japantown District

One of the best ways to learn even more about Japantown San Francisco is to take its self-guided historic walking tour. The walking tour has several stops throughout the Japantown neighborhood. Each stop has a large plaque describing the events that happened at that location.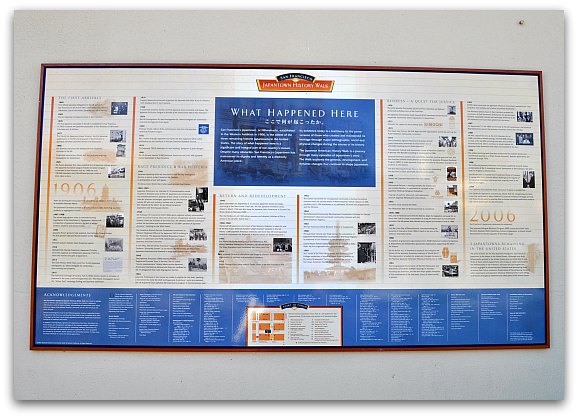 You will find the first plaque for the walk on the eastern side of the Peace Plaza. Here you will also find a quick history for this neighborhood and a few of the things you will see on this tour. 
The route is easy to follow as each plaque also gives you the name, location and a small map to the next plaque on the route. There is nothing you need to do in advance to take this walking tour. 
5. Catch a Movie at the Kabuki Theater

My favorite place to catch a movie in San Francisco is at the Sundance Kabuki Movie Theater in Japantown. They have several screens that usually feature the top-rated shows as well as some great independent movies. 
This theater was recently renovated so they have huge, comfortable seats which makes watching a movie here very enjoyable. Some of the theaters at the Kabuki also offer food and beverage service (including wine and beer) in their balcony area. You will find the theater on the corner of Post and Fillmore Streets.
San Francisco Cherry Blossom Festival

One of the biggest events every year in Japantown San Francisco is the annual Cherry Blossom Festival. This is when the cherry blossoms are in bloom, which means it's time to celebrate the Japanese culture.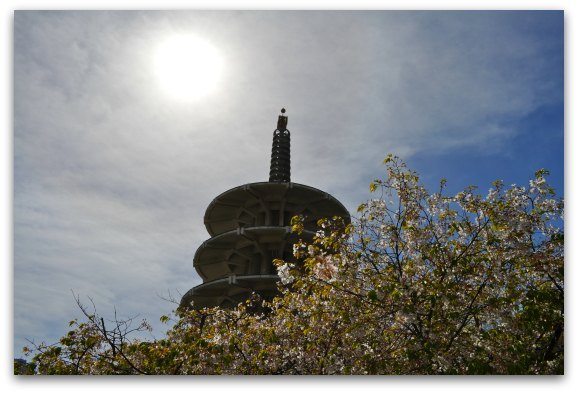 During this two-weekend long event, you will get the chance to sample traditional Japanese food, listen to Japanese music and watch Japanese Folk Dancers. You'll also get the chance to hear the Taiko Drummers, watch and learn about the ancient Tea Ceremony and more.
Find Dates, Times & Other Festival Details: SF Cherry Blossom Festival
Other Top Annual Events in Japantown

Origami Palooza: A one-day event where you can show off your best Origami. You can also learn from experts and participate in contests. It's usually in the middle of June.
Japan Day: A one-day street fair that celebrates SF's Japantown. It's usually the middle of July. 

Japan Film Festival: A nine-day festival in July featuring only movies that discuss Japan or the Japanese culture. Most are in Japanese with English subtitles. 
Nihonmachi Street Fair: A two-day festival that celebrates the entire Pan-Pacific American community. You will find live music, performances, food, and other fun activities. It's usually the first weekend in August.

Spooktacular Halloween Event: Grab the kiddies and come on over to the Japantown Center Malls for their annual trick-or-treating event. It's a safe place for kids to enjoy some free candy, a bouncy house, face painting, and more. Click here to visit the Halloween for kids' page for this year's date and details.

Hotel Recommendations

There are a few great places to stay that are only a couple of blocks from the heart of Japantown San Francisco. Here are your top-rated options.

Kimpton Hotel Enso

Address: 1800 Sutter St.

Room Rates: Rooms here start at around $190 a night in the winter months and around $270+ in the summer
The Buchanan is a three-star hotel about a block away from the Peace Plaza in Japantown. It's a modern facility with 125 rooms.

Hotel amenities include a fitness center, business center, and free high-speed Internet access. You will find both a bar and a restaurant on-site. Suites are also available in this hotel.

Compare reviews and rates and find the best prices for Kimpton Hotel Enso.

Hotel Kabuki

Address: 1625 Post Street
Room Rates: Start at around $189 in the winter and $295+ in the summer
This 3.5-star hotel is also in the heart of Japantown. It's offers a great location with large, clean rooms.
It has many local touches also including the cute Japanese court gardens in the center of the hotel. 

It has 218 rooms, allows pets, and offers all of its guests' access to the business center. There is a fitness center on site as well as free high-speed internet in all the rooms.

Compare rates for this hotel and find the best price for Hotel Kabuki.

The Queen Anne Hotel

Address: 1590 Sutter St.
Room Rates: Rooms start at around $145 a night in the winter and around $199+ in the summer months
Another popular hotel near Japantown is the three-star Queen Anne Hotel. It is just two blocks east of the Peace Plaza.
This small hotel has an interesting décor - and each room has its own unique style. At this historic Victorian hotel, you will find free high-speed Internet, free breakfast, and room service. The hotel also has a business center and suites are available.

Find the best deal and read reviews for the queen Anne Hotel.

How to Get to Japantown

From Union Square

You have several options to get to Japantown San Francisco from Union Square. Since parking in the neighborhood is tight, I recommend taking the bus. Here are the three best options:

38 Geary: This bus picks up at several stops along Market Street. Take it to the Geary and Laguna stop - which is on the eastern side of Japan Center. Note: Make sure you catch the regular 38 as the 38L has a limited number of stops.
2 Sutter: These buses pick up all along Sutter Street - just a block from Union Square. They will take you all the way to the Sutter and Buchanan stop. Walk one block south (down the hill) to get to the Japan Center and the Peace Plaza.
From Fisherman's Wharf

49 Mission: Your best bet from Fisherman's Wharf is to take the 49 bus. Pick it up on the western end of Fisherman's Wharf at North Point Street and Van Ness. Take it all the way to Van Ness and Sutter Streets. From here, you have two options: 
Walk: The Peace Plaza is about five blocks away from this stop. You can walk by heading one more block down Van Ness Street to Post Street. Head west on Post Street until you see the Japantown signs.
Transfer to the 2: You can also transfer to another bus here. The 2 picks up on Van Ness and Sutter. It will take you four blocks to Sutter and Buchanan - where you will then walk just one block down the hill to the heart of Japantown.
Comments? Questions? Suggestions?
I would love for you to join me in my private Facebook group! 
It's a great place to interact with me and others who know the area well.
You can ask questions, get advice for your upcoming stay, and then share your photos and advice with others when you return home. It's a great community and the fastest way to get answers to those nagging questions about your visit!