San Francisco Walking Tours: The 10 Best Guided Walks

by Jill Loeffler  •

Updated: May 10, 2022
Are you looking for the best San Francisco walking tours? With so many options are you not sure which one to choose? 

My list of the top 10 offers you the chance to easily find the right tour option for you. They give you the chance to get an up-close and personal look at our major attractions and learn more about the neighborhoods that made SF famous. 
San Francisco has quite a few interesting guided walks, from the popular Golden Gate Bridge trips to food tours where you taste your way through a specific neighborhood or market. 
The best part about many of these guided walks is that you will get access to places you normally wouldn't find on your own or that only allow guided tours to visit.

You will also find out about hidden spots and little-known facts for each SF district or tourist attraction.

What to Expect During These Walks

San Francisco walking tours last between one and three hours. I've found that most hit the spot in between and are around two hours long. During this time, you do quite a bit of standing and walking, since the guide is explaining a lot along the way. 
On average, the tours usually cover around one to three miles. The city is very hilly, but many tours try to take the flattest route. If any tour requires climbing a steep hill or set of stairs, I've included it in the description, so you know what you are getting yourself into before you book.
Make sure you always wear comfortable shoes and clothing for the walk, since there isn't always a place to sit down and rest.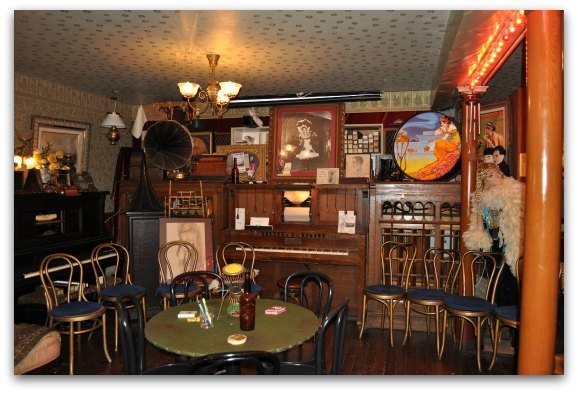 This is a rare look inside one of the painted ladies in Alamo Square. The owner offers a look inside, at times, for those on the Alamo Square Walk offered through SF City Guides.
Disclaimer: I receive a small commission from some of the links on this page.

1. Golden Gate Bridge

The first of the San Francisco walking tours on my list is a free Golden Gate Bridge walk. It's offered through SF City Guides every Sunday and Thursday at 11 am.
On this stroll, you will learn more about the history of the Golden Gate Bridge, walk through its outdoor museum, and then walk on the bridge to the first tower.
The walk lasts about two hours and starts at the Strauss Tower on the southern end of the bridge near the Visitors Center.

It's a great way to learn all about this amazing structure and the people that built it.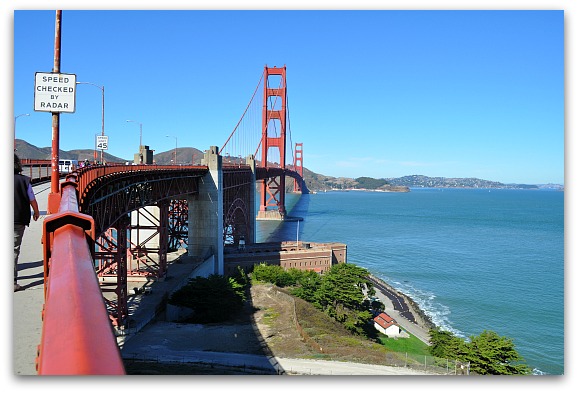 You do not need to register for this tour ahead of time. Simply show up at the meeting location a few minutes before 11am. 
They will ask you to sign their form and where you found out about this walk.
At the end, they will ask for a small donation to help support their work. I usually give about $7 to $10 per walk. 

The only downside of this walk is that they don't limit the number of people, so come early and stand in front so you can hear everything the guide describes.

>> Find additional guided walks offered for free by SF City Guides 

2. Little Italy & North Beach

The San Francisco North Beach District, also called Little Italy, is where you will find some of the most amazing Italian treats and quite a bit of history. And, this walking tour gives you a sample of both!
Stroll through the streets of North Beach as you sample some of its tasty pastries and desserts from locally popular bakeries and delis. Indulge in fresh roasted coffee, Italian sodas, and teas.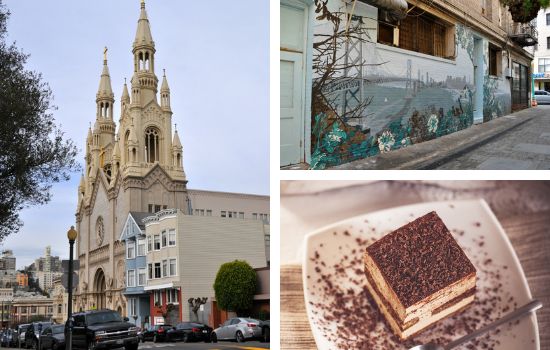 You will also learn all about this historically significant neighborhood from your local guide. Take a peek inside some of the Beat Generation's favorite stops. Step inside one of the most beautiful neighborhood churches, Saints Peter and Paul Church. 
At the end of this tour, you will know North Beach, Little Italy and it's most treasured stops like a local!
The tour runs for about 3 hours on mostly flat streets. It runs twice a day almost every day of the year.

>> Find tickets to this tour on GetYourGuide

>> More of my favorite food tours around SF

3. Explore the Mission, Castro, & The Haight

One of the hottest new San Francisco walking tours is called The Surreal San Francisco Tour. It tells stories about three of our most interesting and diverse neighborhoods: The Castro, The Mission, and the Haight.
Your tour starts in the Castro where you'll then walk through Mission Dolores and up to Dolores Park. You'll hear two fascinating stories along the way.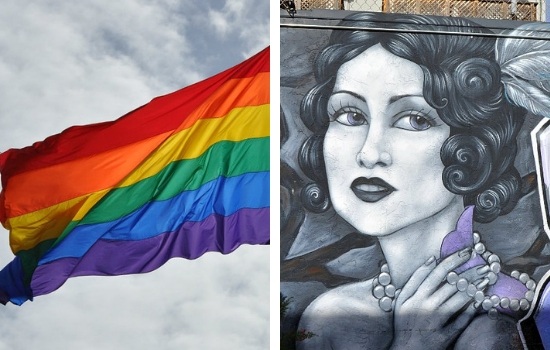 You will then head back over to the Castro with a stop at Harvey Milk Plaza where you'll hear another fascinating story from this district. 
The tour continues with stops for additional stories at Corona Heights, Duboce Triangle, and the Lower Haight.
You will end your tour where you began. This is NOT a family-friendly walking tour.
The tour runs about 2-hours and is an easy walk with no hills. 
>> Find tickets to this tour on Viator

4. Night Walking Tour of Chinatown & North Beach

Spend your evening getting to know two of our top districts: Chinatown and North Beach. These two very different neighborhoods sit side-by-side and are the topic of one of one of the most popular San Francisco walking tours at night.
Your journey begins in Chinatown, one of the oldest and largest outside of Asia. You'll start by sampling fresh dim sum at a local bakery. 
You will then hear all about this district's culture and intriguing stories. Before you leave, you will also get the chance to sip on some tasty Chinese tea.

You will emerge from China and step into Italy as you enter North Beach. This part of your walking tour includes stops at some of the Beat Generations favorite watering holes and a chance to sample handmade pizza.
You will savor some of this district's best locally roasted coffee. You will also get the chance to see where "The Godfather" was written.
Your ticket for this 2-hour tour includes all the food and drink samples along the way. Don't eat too much before you arrive as you want to leave room for all of the samples along the way!

This is one of the San Francisco walking tours that runs almost every night of the year.

>> Find tickets for this tour on GetYourGuide

5. Haunted SF: Ghosts, Murder & Mystery

Union Square's dark history comes to light on this interesting and fun ghost tour. This district was a common stop for visitors looking for a little fun during the Gold Rush era. 
Its popularity continued throughout the years and has been the location of many dark, historic events. 
On this tour, you will hear tales from the Gold Rush era including an upscale shopping district that used to be the home of many of this era's most frequented brothels. 

You'll visit the sites of many infamous murders including the St. Francis Hotel, the Curran Theater, and the Pinecrest Dinner.

This tour isn't so much scary, but more of a chilling look back at this district's better-known events.

This tour is offered most nights and runs for about 90-minutes.

>> Find tickets for this spooky tour on GetYourGuide

6. Craft Beer Walking Tour in Fisherman's Wharf & North Beach

Are you a craft beer lover? Are you curious about the craft brews that San Francisco has to offer? If so, you are going to love this fun walking tour!
On this fun adventure, you will spend around 4 hours sampling some of the area's best craft brews in the Fisherman's Wharf and North Beach districts.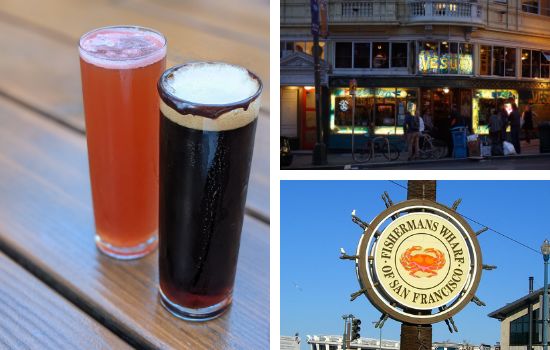 You will get the chance to stop and sample at three breweries. As you sip, you will also learn all about the history of craft beers in both SF and California.
It's a great way to get to know some of our top district as well as our hot craft brewery scene.
This tour runs several times a week.

>> Visit Viator to check for ticketing availability

7. Castro LGBTQ Walking Tour

Want to explore one of the world's largest LGBTQ districts? 
On this tour, your local guide will tell you all about the Castro. You'll learn about its history, some of the most important spots around the district, and its ongoing role in the civil rights movement.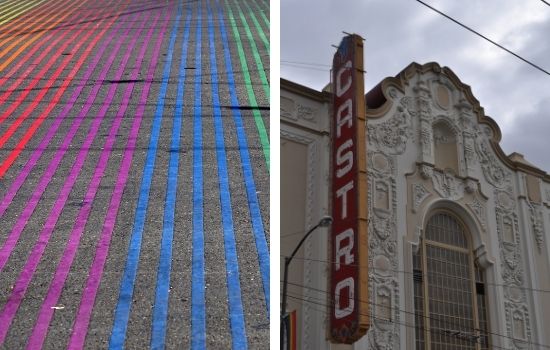 You'll also learn more about one of the district's most interesting, late residents, Harvey Milk and what led to his untimely death.
Other top stops include the Rainbow Honor Walk, Pink Triangle Park, and Harvey Milk Plaza.
The tour is about two hours long with no large hills. It runs two to three days a week.
>> Find out more and book your tickets on this tour today
8. Mission District Walking Food Tour

This tour takes you to some of the best food spots around the Mission District. On this 3-hour tour, you'll stop at 5 local, mom and pop shops and restaurants. Along the way, you'll sample everything from the best marinated meat tacos in town to the best falafel around.
You'll also sample pizza, samples from an award winning French bakery, and more.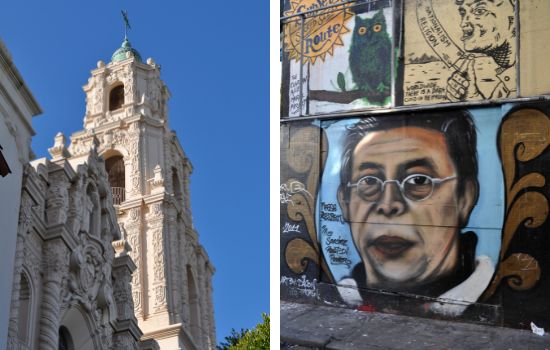 As you stroll through this diverse neighborhood, you'll also learn more about its history and the stories behind its colorful street art. 
The tour includes all food tastings and snacks, so you don't have to worry about paying at each location. Wear comfortable shoes as you will be on your feet for the full two hours. 
It runs most Fridays and Sundays.
>> Find out more about this tour including availability during your stay
9. San Francisco Telegraph Hill & The Old Waterfront Tour

Learn all about the history of the old waterfront along San Francisco's eastern side. Your three+ hour tour starts at the Ferry Building and takes you along the waterfront. 
You will then head up the Filbert Street Stairs as you learn about the history of the Telegraph Hill District as well as some of its most famous residents, the wild parrots.
You will walk up to Coit Tower to learn more about this tall tower on the hill. You'll learn about its history and the person that donated the money to build it.
You will then descend down the Greenwich Stairs as you learn even more about this interesting, historic area.
The walk includes about four miles and quite a few stairs. It takes about three to three and a half hours.

You will then return to the Ferry Building at the end of the journey. This tour runs two days a week.

>> Find tickets to this interesting San Francisco experience

>> Find additional unusual experiences around SF

10. Urban Jungles & City Heights

The final option on my list of the 10 best San Francisco walking tours is the Urban Jungle & City Heights Walk. 
Step off the beaten path and get your heart pumping on this 3-hour tour. Your guide will take you to the top of several hills with views for miles.
Hike to the top of Kite Hill, Tank Hill, and Twin Peaks for views of the Golden Gate Bridge, downtown SF, and the surrounding Bay Area. Slide down the popular Seward Slides near the Castro. 

Your tour will also include time walking through lovely stairways, quaint streets, and other hidden areas that would be impossible to find on your own.
The hike is about 5 miles (8 kilometers) and is offered most Saturdays.
>> Visit GetYourGuide to book your spot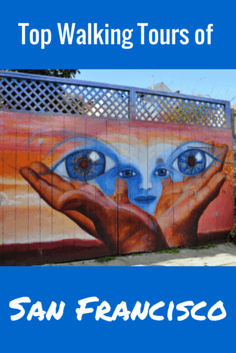 Comments? Questions? Suggestions?
I would love for you to join me in my private Facebook group! 
It's a great place to interact with me and others who know the area well.
You can ask questions, get advice for your upcoming stay, and then share your photos and advice with others when you return home. It's a great community and the fastest way to get answers to those nagging questions about your visit!