Food Walking Tours San Francisco
Savor the Goodies of SF
Do you love trying new food? If so, you will love these food walking tours San Francisco.
During each one, you will savor several treats while learning more about the local neighborhood or market. This is one of my favorite ways to try different cuisines while on vacation and find some great restaurants to check out during my stay.
Below is a list of the top food walking tours San Francisco.
Disclaimer: I recieve a small commission from some of the links on this page.
Half-Priced Food Walking Tours of San Francisco
You will find several fun walking tours at a discount on Goldstar. This site offers up to 50% off. Many of these tours include tastes at three to four places, and the samples are often included in the price. These are just a few of the tickets currently available at a discount.
*Small service fee will apply.
Ferry Building and Ferry Plaza Farmers Market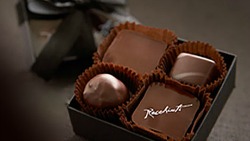 The Ferry Building in San Francisco is a gourmet food lover's dream. This renovated ferry terminal is home to dozens of speciality shops selling everything from fresh baked bread to locally produced chocolates. Many local and famous chefs shop here frequently to create their daily masterpieces.
During this 2-hour walk, you get the chance to sample your way through the Ferry Building's delicacies while you learn more about each one. Here are just a few of the shops this tour typically features:
Cowgirl Creamery: Gourmet local cheeses (my favorite is their Mt. Tam triple cream brie)
Acme Bread: Freshly baked bread including the legendary sourdough breads of San Francisco
Boccalone: House cured fennel salami and freshly made mortadella
Mijita: Mouth-watering Baja-style fish tacos
Recchiuti: Handmade chocolates in beautifully wrapped packaging--these make great gifts
Miette: French pastries including some of the best macaroons in the city
The Ferry Building food tour runs twice a week: on Tuesday at 10am and on Saturday at 9:30am. Tuesday's tour includes some time to sample wines at the Ferry Plaza Wine Merchant. On the Saturday tour, you get the chance to taste organic, locally crafted preservatives from June Taylor.
This is one of the most popular food walking tours in San Francisco due to both the location and the quality of samples available at the Ferry Building. All tastings are included in the price.
Cost: $68 per person
Japantown Tasting Tour Featuring Asian Specialities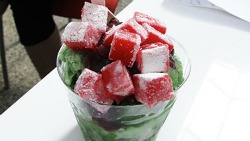 One of the newer food walking tours in San Francisco is the Japantown Tasting Tour. This one walks you through Japantown, where you will sample Asian specialities.
During this 3.5-hour adventure, you will sample goodies such as sweet potato latte, onigiri (rice balls), and okonomiyaki (savory pancakes). You will also find out more about this neighborhood's hidden restaurants and ethnic markets.
The tour will stop at up to seven places. Some of the most common stops include:
Benkyodo Confections
Cafe Hana
Mifune Don Restaurant
New People
Onigilly
Super Mira Market
YakiniQ Cafe
The Japantown food tour runs twice a week: on Friday and Saturday mornings starting at 11am. Get your tickets today!
Cost: $92 per person, $55 special (when available)
Savings Tip: Before you book any tour tickets for your visit, make sure to check out the discounts on Goldstar. They offer dozens of tickets at up to 50% off for all types of tours from these food walking tours to SF bay cruises. Check out their selection today!
"Taste the Mission" Walking Tour of San Francisco
The Mission District in San Francisco has an unprecedented mix of ethnic cuisines due to the rich diversity of its community. While most people are familiar with their Latin inspired dishes, here you will also find dishes from places such as Italy, Germany, and Vietnam.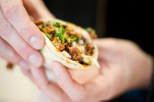 On this 3-hour journey, you get to walk the streets of this eclectic neighborhood while you learn more about its cuisines. Along the way, you get to sample everything from Venezuelan wraps (cornmeal flatbreads filled with cheese and pulled meat) to cinnamon horchata cupcakes. You will also get the chance to try some Vietnamese coffee and Italian prosciutto, among other sweet and savory dishes.
Once you are done sampling the foods of the neighborhood, you will then get a chance to see some of its most colorful murals. The Mission District has hundreds of beautifully crafted murals that celebrate the history of the area and its people. See some photos of the Mission District murals here.
This is one of the food walking tours in San Francisco that is only on Saturdays. It starts at 11am. You can buy tickets for this tour on Viator, one of the top online travel agencies and one that I use quite often.
Cost: $97 per person
Little Italy and North Beach Walking Tour
Do you love Italian food? If so, then this San Franciso food walking tour is a must for you!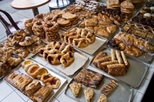 This 3-hour walk heads through the North Beach neighborhood, which is also called Little Italy. During the trip, you will taste several Italian goodies from cappuccinos to authentic Italian pizza. You also get to sample chocolates, olive oils, and Italian pastries.
As you are sampling, you will learn a little about the history of the neighborhood, see how coffee is roasted, and watch as chocolates are made. You will also get an insiders peek at 130-year-old ovens and explore some of the places where the Beat Generation hung out in the 1960s.
This tour is so popular that it runs twice a day, at 10am and 2pm. All food and drinks sampled during the trip are included in the price. It covers around seven to eight blocks, all on a flat path.
The Little Italy food tour was recently rated "Best Tour for 2011" by the San Francisco Bay Guardian.
You can find tickets for this North Beach walking tour on Viator.
Cost: $69 per person
Chinatown and North Beach Night Walking Tour
Another one of the best food walking tours in San Francisco is the combined Chinatown and North Beach night tour. During this one, you get the chance to taste authentic Italian and Chinese treats.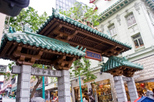 This 2-hour trek starts at 6pm in Chinatown, where you will enjoy dim sum from Chinatown's oldest bakery, see how fortune cookies are made, and even savor some traditional Chinese teas.
You will also explore the real Chinatown. You will learn more about its culture, sculptures, and architecture.
After the Chinatown portion, you will head just a couple of blocks to North Beach. Here you will savor Italian coffees, explore the Beat Generation's favorite hangouts, and sample some delicious authentic Italian pizza and wine.
This is another tour that was named "Best Tour of 2011" by the San Francisco Bay Guardian.
Tickets for this daily tour are available on Viator. Reserve your spot today!
Cost: $69 per person
---
Night Tours: Are you looking for something fun to do at night? Here you will find the best night tours, including everything from neighborhood-specific ghost walks to romantic sunset cruises.
North Beach: This SF district is also known as Little Italy. It's also where the city started. On this page, you will find some of the top walking tours in this neighborhood, including ones for Coit Tower and a fun pub crawl that visits hidden, historic nighttime gems.
Chinatown: Chinatown is considered a city within a city. There is a lot to see and do in this thriving neighborhood. Find a variety of options to learn more about this area's history, top attractions, and traditional culture.
Other Guided Treks: Here you will find a wide range of walking journeys in San Francisco. Find options for Fisherman's Wharf and some of the most visited SF attractions. This is also where you can find a list of the current discounted tickets offered on Goldstar.
Self-Guided: Do you prefer to head out on your own, while still learning more about where you are visiting? If so, then these self-guided trips might be your answer.