Fort Mason: Top Things to Do at this San Francisco Attraction

by Jill Loeffler  •

Updated: January 10, 2023
The Fort Mason Center is an old US Army Base along San Francisco's northern waterfront. The Spanish Army originally established it for their army in 1797. The US Army took it over in 1864.

Today, this National Historic Landmark houses a few small museums and one of the best vegetarian restaurants in the city, Greens.
However, its main draw is its large annual events, including the San Francisco Chronicle Wine Competition, the Renegade Craft Fair, and the SF International Beer Festival.

The red-roofed buildings make up the Fort Mason Center. This picture is from a flight I took with friends over the SF Bay.
Disclaimer: I receive a small commission from some of the links on this page.

5 Top Attractions & Activities

Here are all the things to see and do at the Fort Mason Center.

1. BATS Improv at the Bayfront Theater

Laugh the night away during a BATS Improv performance. They offer a variety of shows including head-to-head improv battles, long-form murder mysteries, musicals, and more. You will never see the same show twice!
The BATS Improv performances are every Friday and Saturday night at 8pm.
Full Comedy Calendar: Other Comedy Shows in SF
2. Italian American Museum (Museo Italo Americano)

Another small, yet impressive museum is the Italian American Museum (Museo Italo Americano). It features works from both Italian and Italian American artists.
In their permanent collection, you can see works from John Grillo, Emilio Tadini, and Benny Bufano. You can also attend one of their popular Italian cultural events.
Learn More: Italian American Museum
3. Greens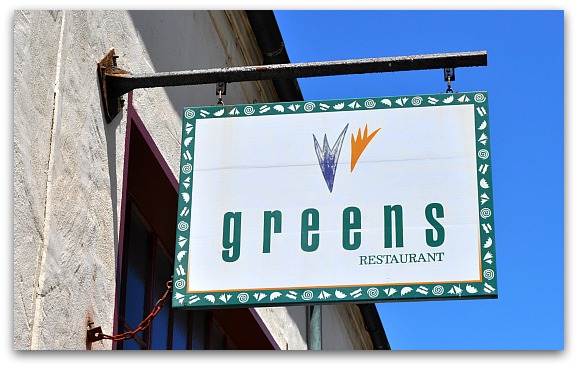 There is no question that Green's is one of the best vegetarian restaurants in San Francisco. Not only does it have delicious food, it also has amazing views of the SF waterfront, including the Golden Gate Bridge. Head over for lunch, brunch, or dinner.
Lunch Days & Hours: Tuesday - Friday from 11:30 am - 2:30 pm
Brunch Days & Hours: Saturday and Sunday from 10:30 am - 2:30 pm
Dinner Days & Hours: Tuesday - Thursday from 5:30 pm to 9 pm; Friday - Sunday from 5:00pm - 9:00pm
4. History Walking Tour with the SF Public Library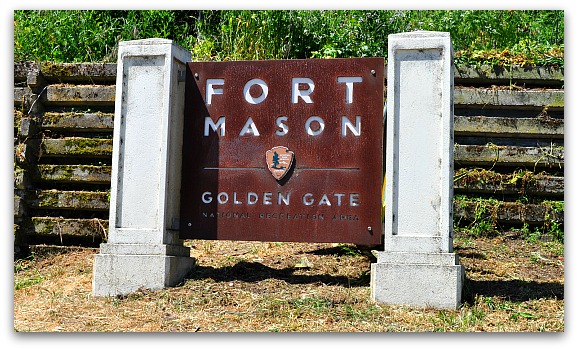 If you want to learn more about the history of Fort Mason, I recommend taking one of their history walking tours. On this guided two-hour tour, you will learn more about the fort's early life as a Spanish Army base and its role as the army's main logistics center for World War II.
The SF Public Library offers these free walking tours two to three times a month.
>> Find a schedule of upcoming tours on the SF City Guides (part of the SF Public Library)
>> Find additional free tours around SF
5. Farmer's Market

The weekly Farmer's Market is another big draw for the Fort Mason Center. Every Sunday morning, dozens of vendors fill the parking lot to sell their goodies.
You can find everything from fresh veggies to homemade jams.
On a Sunday afternoon, it's also a fun place to grab lunch.
The Farmer's Market lasts from 9:30 am to 1:30 pm.
Events at the Fort Mason Center

In addition to the activities and attractions mentioned above, you will also find events here almost every day of the week. Its warehouse building, the Festival Pavilion, attracts large festivals, fairs, and other events.

Here are some of the biggest Fort Mason events every year.
Chronicle Wine Competition
The San Francisco Chronicle Wine Competition is the largest American wine competition in the world.
It's hosted by the San Francisco Chronicle every February which ends with a large public tasting event at Fort Mason.
Find out more about this event.
Ocean Film Festival
The Ocean Film Festival is an annual event in March.
It features four full days of independent films on topics related to the ocean such as sharks, the impact of climate change, and surfers.
International Beer Festival
The International Beer Festival is one of the largest events here. This annual beer festival offers you the chance to sample some of best SF, Bay Area and California craft beers.
It's also an annual fund-raiser for a local non-profit school. It's usually in April but will also sometime fall in May.
San Francisco International Arts Festival
The San Francisco International Arts Festival is a two-week festival designed to bring together the arts and artists from around the world. It features a variety of performances, art shows, and so much more. It starts in late May and ends in early June. Learn more here.
West Coast Craft Fair
The Fort Mason Center is also home to several craft fairs throughout the year. One of the biggest is the West Coast Craft Fair. It's twice a year in both the Summer and around the holidays.
They feature handmade items from local artists around the West Coast.
More about this and other craft fairs around SF.
Renegade Craft Fair
The Renegade Craft Fair is another popular event. It's held twice a year in July and around the holidays.
They feature about 200 hand selected artists from around the US and internationally with unique and interesting pieces for sale.

>> Visit the Fort Mason website for a full list of upcoming special events
More SF Events

Find out more about upcoming events in SF each month. Click the links below to learn more.

Hotels Nearby

If you are attending one of these events or a conference here, your best bet is to find a hotel in either Fisherman's Wharf or the Marina District. Both are within walking distance or a short bus ride away. Here are a few of my top picks.
HI San Francisco Fisherman's Wharf
This hostel is the perfect spot for those with budget in mind. It's right in Fort Mason and offers both dorm beds and private rooms.
You will stay in one of the historic buildings on this amazing site.
Click to learn more about the HI San Francisco Fisherman's Wharf.
Hotel del Sol
In the Marina District, you will find this funky 3-star hotel. It's just a 10 to 15-minute walk (mostly flat).
It offers a family-friendly environment with colorful rooms, a swimming pool, and its pet friendly.
Argonaut Hotel
Heading over to the Fisherman's Wharf side, you will find the 4-star boutique hotel, the Argonaut. This stylish hotel sits inside an old warehouse and offers exposed brick walls with all the modern amenities.
Here are additional recommendations for each district.
Fisherman's Wharf
The Fisherman's Wharf area sits just to the east of Fort Mason. This SF neighborhood has dozens of hotels from four-star gems along the waterfront to affordable and highly-rated 2-star options.
Discover a list of my hotel recommendations for this neighborhood.
Marina District
The Marina District is on the western side of Fort Mason. This is where you can find several affordable motels and hotels along Lombard Street.
Uncover my favorites and a few other tips on things to do in this SF district.

Book Your Stay: If you are ready to book your room, then you can also head directly to read recent guest reviews and compare hotel prices on several sites. Click here to start your search today!

Tips to Prepare for the Weather

Fort Mason sits along the northern waterfront in San Francisco. It benefits from the breezes off the water, so you will find that it's often quite pleasant here.
In the Summer months, it's often in the mid to upper 60s. In the cooler winter months, it's often in the mid to upper 50s.
It will cool off about 10 degrees at night throughout the year.
>> Find tips on what to wear as you visit SF and the Fort Mason Center
How to Get to Fort Mason
From Fisherman's Wharf
The easiest route from Fisherman's Wharf and Pier 39 is to walk. There is a shortcut that takes you along the waterfront.
This path offers amazing views of Alcatraz, the Golden Gate Bridge, and the cute seaside town of Sausalito.

From Union Square
You have a few options to get here from Union Square.
Powell/Hyde Cable Car: Take this cable car from Union Square to the western side of Fisherman's Wharf. It's a beautiful ride that includes breathtaking views of the SF bay. It takes about 30 minutes. Find tips for taking the SF cable cars. Once you arrive in Fisherman's Wharf, use the walking map above to get to Fort Mason.
F Streetcar: Another option from Union Square is the F Streetcar. Pick it up near the Powell Street Station at 5th and Market Streets. Take it all the way to the last stop. From there, head back one block to Jefferson Street and then use the walking map above.
From BART
If you plan to arrive to SF by BART, you have a couple of options to get here.

30 Muni Bus: Take BART to the Montgomery Street Station. From here, walk to the corner of Sutter and Kearny Streets to pick up the #30 bus. Take this bus to the corner of Laguna and Marina Boulevard. From here, you can either head to the park to hang out or to one of the events inside Fort Mason.
>> More tips for getting around SF
Where to Park Near the Fort Mason Center

If you plan to drive, you will find parking on-site. You will also find a few lots less than a 10 to 15-minute walk away.
On-Site Parking
The Fort Mason Center has a limited number of spots on-site. These spots are very popular and are offered on a first come, first served basis. You are allowed to park here between 7 am and midnight.
Overnight parking is not allowed. You can enter their on-site parking at Marina and Buchanan Streets.
Since the on-site parking fills up quickly or is even more limited due to outdoor events, here are a few other options for you. DO NOT park in the Safeway lot across the street. They do ticket and tow.
2055 Lombard St
This lot is about a half mile away. It offers garage parking and is open from 7 am to 12 am with hours until 3 am on Friday and Saturday. It has more than 200 spaces with prices ranging from $3 an hour to up to $40 events for the day.
Check the sign when you enter for information on parking for that day. They will charge more for certain events.
Ghirardelli Square
The lot at 900 Northpoint Boulevard is inside Ghirardelli Square in Fisherman's Wharf. This is a great spot if you plan to visit Fort Mason and then continue on to visit more attractions in Fisherman's Wharf.
It's another large garage lot with almost 400 spaces. It is open all day and you can park for up to 24 hours.
Even though this looks close on the map, you will have to tackle one steep hill to walk here.
3236 Pierce Street
Another place to park nearby is in the Marina. This garage has parking for just over 100 cars. It's open from 9 am to 10 pm daily. It's about a mile walk to Fort Mason from this lot, but it's mostly flat.

>> More tips for parking around SF

Comments? Questions? Suggestions?
I would love for you to join me in my private Facebook group! 
It's a great place to interact with me and others who know the area well.
You can ask questions, get advice for your upcoming stay, and then share your photos and advice with others when you return home. It's a great community and the fastest way to get answers to those nagging questions about your visit!