Fort Mason
Top Things to Do at this San Francisco Attraction
The Fort Mason Center is an old US Army Base along San Francisco's northern waterfront. The Spanish Army originally established it for their army in 1797. The US Army took it over in 1864.
Today, this National Historic Landmark houses a few small museums and one of the best vegetarian restaurants in the city, Greens. However, its main draw is its large annual events, including the San Francisco Chronicle Wine Competition, the Renegade Craft Fair, and the SF International Beer Festival.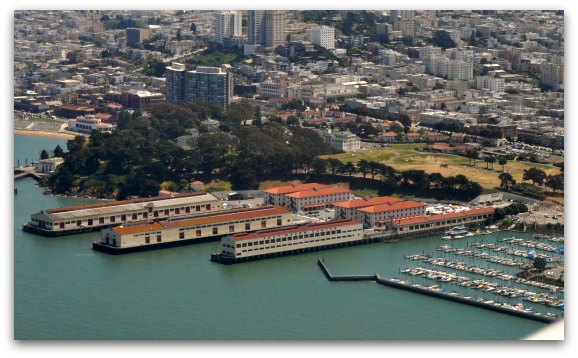 The red-roofed buildings make up the Fort Mason Center.
This picture is from a flight I took with friends over the SF Bay.
For some of the links on this page, I receive a small commission when you purchase. You don't pay more when you buy through me and it gives me the chance to offer you all this great content for free!
9 Top Attractions & Activities
Here are all the things to see and do at the Fort Mason Center.
1. Mexican Museum
Stop by the Mexican Museum in Building D for a look at one of the only museums in the US dedicated to Mexican and Latin American art and culture. See pieces spanning from the early Pre-Columbian time period (Maya, Inca and Aztec) through the modern day. You will also get the chance to see works from famous artists such as Diego Rivera, Carlos Merida, and Carmen Lomas Garza.
Learn More: Mexican Museum an Fort Mason
---
2. Italian American Museum
Another small, yet impressive museum in Fort Mason is the Italian American Museum (Museo Italo Americano). It features works from both Italian and Italian American artists. In their permanent collection, you can see works from John Grillo, Emilio Tadini, and Benny Bufano. You can also attend one of their popular Italian cultural events.
Learn More: Italian American Museum
---
3. SFMOMA Artists Gallery
A new museum in Fort Mason is the SFMOMA Artists Gallery. It features pieces from several Bay Area artists at all stages of their careers. The exhibits change frequently, so there is always something new to see. The gallery is in Building A. It is open to the public Tuesday - Saturday from 10:30am to 5pm.
---
4. BATS Improv at the Bayfront Theater
Laugh the night away during a BATS Improv performance. They offer a variety of shows including head-to-head improv battles, long-form murder mysteries, musicals, and more. You will never see the same show twice!
The BATS Improv performances are every Friday and Saturday night at 8pm.
Find Half Price Tickets to All Performances on Goldstar: BATS Improv Tickets
Full Comedy Calendar: Other Comedy Shows in SF
---
5. History Walking Tour with the SF Public Library
If you want to learn more about the history of Fort Mason, I recommend taking one of their history walking tours. On this guided two-hour tour, you will learn more about the fort's early life as a Spanish Army base and its role as the army's main logistics center for World War II. The SF Public Library offers these free walking tours two to three times a month.
Upcoming Tour Dates: SF Public Library Schedule
---
6. Off the Grid
Every Friday night, Off the Grid food trucks set up in the main Fort Mason parking lot. From 5 - 10pm, select gourmet international dishes from up to 32 different vendors. You can also enjoy classic cocktails, craft beer, and local wines from one of the four outdoor bars. No reservations required, simply stop by to savor some of the best food in San Francisco on Friday nights from March to October.
---
7. Greens
There is no question that Green's is one of the best vegetarian restaurants in San Francisco. Not only does it have delicious food, it also has amazing views of the SF waterfront, including the Golden Gate Bridge. Head over for lunch, brunch, or dinner.
Lunch Days & Hours: Tuesday - Friday from 11:45am - 2:30pm
Brunch Days & Hours: Saturday from 11am - 2:30pm; Sunday from 10:30am - 2pm
Dinner Days & Hours: Sunday - Friday from 5:30pm - 9:00pm
---
8. Farmer's Market
The weekly Farmer's Market is another big draw for the Fort Mason Center. Every Sunday morning, dozens of vendors fill the parking lot to sell their goodies. You can find everything from fresh veggies to homemade jams. On a Sunday afternoon, it's also a fun place to grab lunch.
The Farmer's Market lasts from 9am to 1:30pm.
---
9. Events at the Fort Mason Center
In addition to the activities and attractions mentioned above, you will also find events here almost every day of the week. Its two large warehouse buildings, the Festival Pavilion and Herbst Pavilion, attract large festivals, fairs, and other events.
>> Visit the Fort Mason website for a full list of upcoming special events
Hotels Nearby
If you are attending one of these events or a conference here, your best bet is to find a hotel in either Fisherman's Wharf or the Marina District. Both are within walking distance or a short bus ride away.
Fisherman's Wharf: The Fisherman's Wharf area sits just to the east of Fort Mason. This SF neighborhood has dozens of hotels from four star gems along the waterfront to affordable and highly-rated 2-star options. Discover a list of my hotel recommendations for this neighborhood.
Marina District: The Marina District is on the western side of Fort Mason. This is where you can find several affordable motels and hotels along Lombard Street. Uncover my favorites and a few other tips on things to do in this SF district.
Book Your Stay: If you are ready to book your room, then you can also head directly to TripAdvisor.com to read recent guest reviews and compare hotel prices on several sites. Click here to start your search today!
How to Get to Fort Mason
From Fisherman's Wharf: The easiest route from Fisherman's Wharf is to walk. There is a shortcut that takes you along the waterfront. This path offers amazing views of Alcatraz, the Golden Gate Bridge, and the cute seaside town of Sausalito.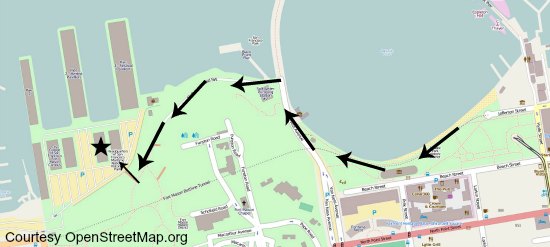 From Union Square: You have a few options to get here from Union Square.
Powell/Hyde Cable Car: Take this cable car from Union Square to the western side of Fisherman's Wharf. It's a beautiful ride that includes breathtaking views of the SF bay. It takes about 30 minutes. Find tips for taking the SF cable cars. Once you arrive in Fisherman's Wharf, use the walking map above to get to Fort Mason.


F Streetcar: Another option from Union Square is the F Streetcar. Pick it up near the Powell Street Station at 5th and Market Streets. Take it all the way to the last stop. From there, head back one block to Jefferson Street and then use the walking map above.
Other Pages to Explore