San Francisco Events in November 2022


by Jill Loeffler  •

Updated: June 3, 2022
Enjoy the best San Francisco events in November 2021. This month, you will find dozens of fun activities from free walking tours to holiday lights celebrations.
Other highlights this month include the festivals, SF 49ers games, and Thanksgiving Day and Weekend activities. You can also enjoy a night out at the theater, opera, or symphony. Read on for more about what's on this month in SF.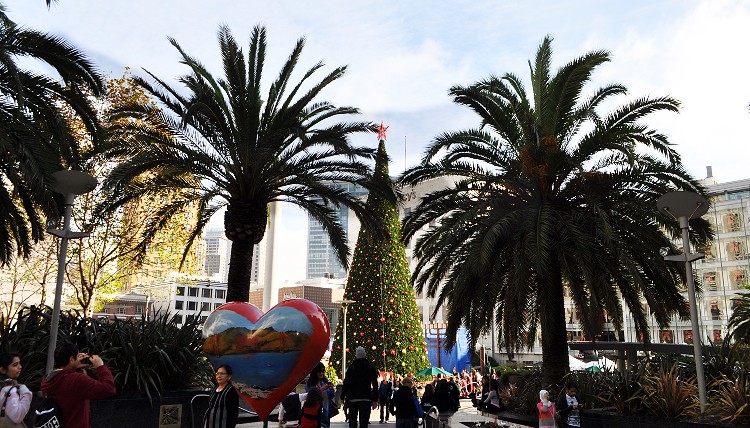 Holiday Tree in Union Square in November
In addition, you will find special ice skating rinks in the city this time of the year. 

Disclaimer: I receive a small commission from some of the links on this page.

Thanksgiving Day and Weekend Activities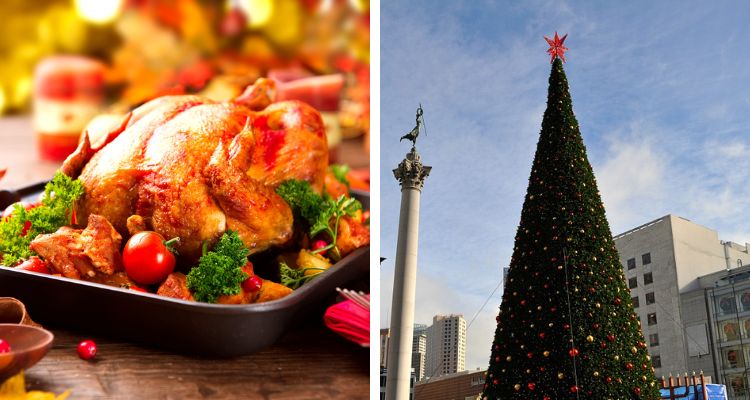 Date(s): Thanksgiving Day is November 24; Weekend is November 24 - 27
You will find dozens of fun events this Thanksgiving in San Francisco. Use my planning guide to find the best places for a traditional or not-so-traditional holiday meal. 
You will also find many other fun things to do on Thanksgiving Day from riding a bike over the Golden Gate Bridge to cruising around the SF Bay on boat. Many of our top attractions are open also including the California Academy of Sciences, the Palace of Fine Arts, Botanical Gardens and others.

The holiday weekend is also full of fun activities and most attractions, tours and activities offer a regular schedule all weekend long.

My guide also gives you recommendations on what do to all weekend long.

>> Find out what to do on Thanksgiving Day & Weekend
Holiday Tree Lighting & Other Holiday Events
Tree Lighting Ceremonies: This November make sure to check out one of the tree lighting ceremonies and/or holiday celebrations in San Francisco and beyond. The tree lighting ceremonies typically begin the weekend before Thanksgiving. You will also find several large celebrations the weekend of Thanksgiving as well as in early December. Click the link below for this year's schedule of San Francisco events in November and December. See the entire schedule of events this year. 
Ice Skating Rinks: Though it doesn't snow in San Francisco, the city has ways of bringing wintry fun right to the heart of downtown. People of all ages love the holiday ice rinks all around SF and the Bay Area. These 60 to 90-minute sessions are refreshing and a great break from all the hustle and bustle of this part of town. Find a list of the 12 top rinks in the SF Bay Area.
Great Dickens Fair: Celebrate the holiday season at this unique festival. The Great Dickens Fair is a recreation of Victorian London and includes costumed characters, lively entertainment, and food and drink. It's a great place to also pick up some interesting holiday gifts for those on your list. The event is held at the Cow Palace and runs from 10 am to 7 pm. You can either pick up tickets from their website in advance or buy them at the door when you arrive. Visit their site for more event details.
Santa Claus in SF: Santa Claus is coming to town! He will be making his way all around San Francisco in both November and December. Some of his most popular stops are at the Westfield Mall, the Japantown Center Malls, and the SF Zoo. You can also see him at tree lightning ceremonies around town. Don't miss your chance to let Santa know if you've been naughty or nice! Uncover a list of places Santa plans to stop this year. 
Golden State Warriors Basketball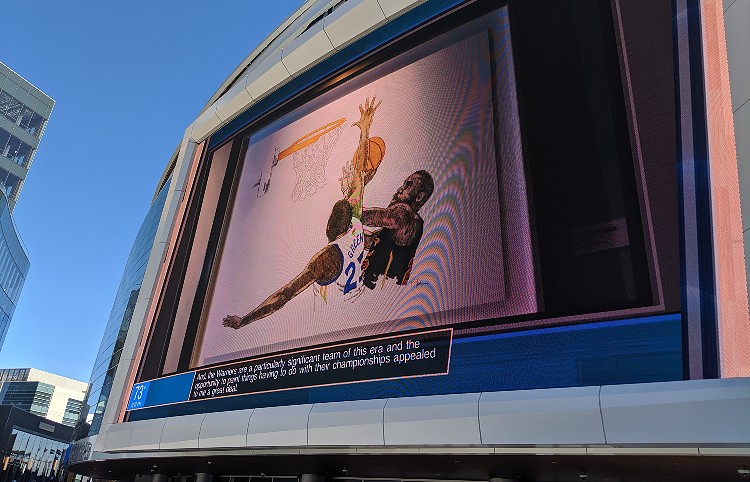 Big Screen outside the Chase Center where the Warriors Play in SF.
Dates: TBD
Tickets: Find tickets for all games this month
Some of the best San Francisco events in November also include games at the Chase Center. 
The 2017/2018 NBA Champs play almost a half a dozen games this month against teams such as the Charlotte Hornets, Houston Rockets, and Chicago Bulls.

All games are played in the new facility here in San Francisco, the Chase Center. It's an easy train ride from Union Square or bus ride from other locations throughout the city. Head over to cheer on (or against!) the Warriors. 
>> Read more about attending a Golden State Warriors game
49ers Football
Dates: 11/13 & 11/27
Location: Levi's Stadium in Santa Clara
Tickets: Find tickets to all three games

Head over to Levi's Stadium to watch the San Francisco 49ers play their sixth season at this new stadium in Santa Clara. 

The stadium is about an hour south of San Francisco and is easy to get to by both public transit and by car.

This month, the 49ers will be taking on the Los Angeles Chargers (11/13) and New Orleans Saints (11/27).

>> Click here for the full schedule and links to tickets
San Jose Sharks Hockey
Dates: TBD
The San Jose Sharks hockey games are another one of the more popular SF Bay Area events in November. This month they take the ice at home for seven home games.
They play host to teams such as the Buffalo Sabres, St. Louis Blues, and the Toronto Maple Leafs. 
>> Full schedule and more details to attend a game in San Jose
Broadway Shows & Theater Productions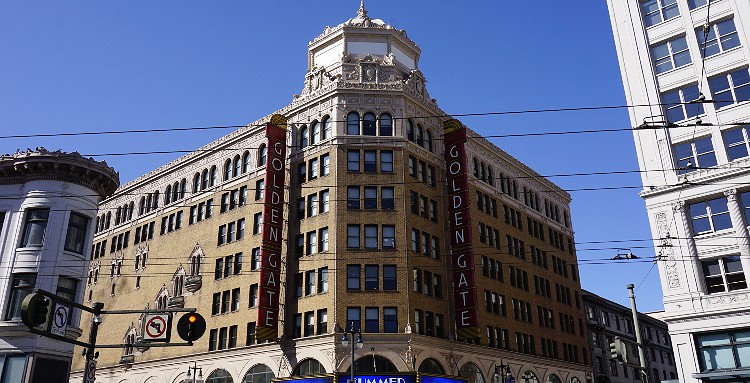 Dates: Several in November
You will find two Broadway shows on stage this month including Ain't Too Proud and Disney's Frozen. Some of the top San Francisco events in November include these and other theater performances. 
Ain't Too Proud - The Life and Times of The Temptations (11/8 - 12/4): Follow the story of The Temptations from their early years to how they made it big. Listen to some of their most famous hits including "My Girl" and "Papa Was a Rolling Stone." If you always wanted to know more about this famous group, this November in San Francisco is the perfect time to learn about them! 
Disney's Frozen (11/18 - 12/30): Head to the Orpheum Theater to see this popular show on stage. Frozen is the story about Princess Anna's adventure to find her sister Elsa. Her harrowing journey leads here into many situations where she need to draw on all of her internal strength. It's a wonderful musical and one you must see! 
>> Find additional shows around SF this month

>> More about the theater district
San Francisco Events in November: Concerts
Dates: Nightly in SF
Every night of the week, you will find a variety of great concerts all around San Francisco.
Top performances are at venues such as the Bill Graham Civic Auditorium, the Nob Hill Masonic Center, and the Fillmore. Additional top venues include the the Independent and the Great American Music Hall. 

Below are just a few of the top shows. Make sure to visit the November concert page for a full list of performances this month. Click the names of each performer for ticketing information.

>> Full November concert calendar
Museums: Free Days & Exhibits for November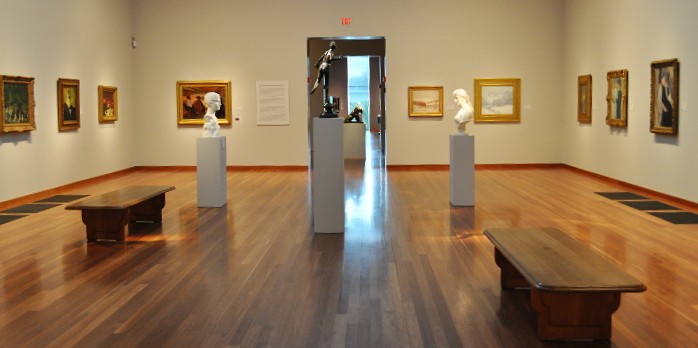 Exhibits inside the de Young in SF
Free Museum Admission Days in November: This is your chance to visit some of SF's top museums for free! Toward the beginning of the month museums such as the Asian Art Museum, the de Young, and the Conservatory of Flowers invite you to visit their exhibits for free. On free days, they open their permanent collection to all visitors. You can spend just an hour cruising around or all day long. Some of their temporary exhibits do require a paid ticket even on free days. Discover the schedule of free days for November.
Museum Exhibits: Take advantage of SF's world-class museums, each offering unique exhibits throughout the year. These are a few of the top exhibits scheduled for display this month. 
Contemporary Jewish Museum: Tikkun, For the Cosmos, the Community, and Ourselves
de Young Fine Arts Museum: Ramses the Great and the Gold of the Pharaohs 
Museum of Modern Art: Contemporary Optics
Click the links below for a full schedule of upcoming San Francisco events in November at our top museums.

>> See the full list of top museums and their exhibits
SF Comedy Shows
Dates: Several
San Francisco has a fantastic comedy scene. You can enjoy live performances of improv or stand-up nearly every night of the week. 
This month, you can catch both international and local comedians on stage at SF's biggest comedy clubs. 

Our comedy shows are some of the best San Francisco events in November.

>> See the full calendar of upcoming shows 
Additional Festivals in SF in November

SF Coffee Festival (11/12 & 11/13): This is the perfect festival for those that are in love with coffee! Sample unique flavors from a large variety of exhibitors. You can also listen to live music as you savor your coffee samples. The event is at the Fort Mason Center and starts at 9 am.

San Francisco Ski & Snowboard Festival (11/5 - 11/7): The ski season is almost here and this festival is a great chance to stock up on new gear. This annual event features discounts on clothing, skis and everything else you need for a season in the mountains.
You can also test your skills on the climbing wall, watch the BMX and skate ramp show, and mingle with other snow lovers. The event is at Pier 35.
Renegade Craft Fair (TBD): This year's holiday Renegade Craft Fair is on November 11 and 12 at the Fort Mason Center. More than 300 artists will be on hand showing and selling their handmade goods.
The event is free to enter and lasts from 11am to 6pm both days. Find out more about this November's event

SF International Hip Hop Dancefest (11/11 - 11/13): This year marks the 24th annual SF International Hip Hop Dancefest, the first festival of its kind to honor the artistry of hip hop in a non-competitive environment. The festival features performances by professional dance companies from all over the world.
This all-ages event takes place at the Palace of Fine Arts Theater over the course of three days. Check out the festival website for details.
Film Festivals in November
Arab Film Festival (TBD): This year's Bay Area Arab Film Festival will host screenings in San Francisco, Berkeley, Oakland, and Palo Alto. For over a week, you will have the chance to catch a glimpse of Arab culture not often seen on mainstream TV, movies, or the news.
Delve into these stories brought to you by Arab filmmakers, representing the complexity of Arab communities around the world. 
South Asian Film Festival (TBD): This film festival is a can't-miss event for anyone intrigued by South Asian cultures--including stories from India, Pakistan, Sri Lanka, Bangladesh, Bhutan, Nepal, Tibet, and Afghanistan.
Enjoy everything from documentaries to Bollywood over four days of screenings online.
American Indian Film Festival (11/4 - 11/12): If you are curious about American Indian culture, traditions, and current struggles, join the American Indian Film Festival this November.
This festival lasts over a week, showing a variety of short stories, documentaries, and feature films, several of which have been directed by American Indian filmmakers.
Transgender Film Festival (TBD): Each day of this annual film festival offers a different program that includes four to seven films selected from independent filmmakers internationally.
These works of art showcase and raise awareness about the transgender community. 
Save the Waves Film Festival (TBD): If you are fascinated by the ocean, its wildlife, surfing, or coastal communities, you will appreciate the Save the Waves Film Festival. Not only do you get an evening full of shorts, documentaries, and feature films about the sea--you also help raise money for a good cause. The San Francisco event takes place at the Victoria Theater in the Mission District. 
Additional San Francisco Events in November
Golden Gate Half Marathon (11/6): The Golden Gate Half Marathon is an annual event that takes runners over the Golden Gate Bridge during the race. Your run starts near Fisherman's Wharf at the Municipal Pier. You will then run along the waterfront, up and over the Golden Gate Bridge, and return back to San Francisco. The race ends in the beautiful Presidio. Click here to visit their site and to register today
San Francisco International Auto Show (11/23 - 11/27): This is the 63rd year for the San Francisco Chronicle International Auto Show. It will once again be held at the Moscone Center in SF's SOMA District. For five straight days, check out the latest vehicles on display throughout the showroom. See up and coming models from Chevy, Ford and BMW. You will also get the chance to see unique cars all weekend long. It's a fun way to spend some time this Thanksgiving Day Weekend and one of the most highly anticipated San Francisco events in November. Visit their site for the full schedule of events and ticketing info
Discovery Day at Oracle Park (TBD): A great outing for the whole family, Discovery Day at Oracle Park is a free event that transforms the ballpark into a science wonderland. This event draws thousands each year to conclude the larger Bay Area Science Festival. Ignite the inner scientist in you with over 150 hands-on exhibits all over the field. It runs from 10am to 4:30pm. It's an all ages event and one of the top family friendly San Francisco events in November! Find out more on the Bay Area Science Festival website. Additional free things to do this month in SF. 
SF Opera (Several dates from 11/11 - 11/30): This November, you will find two performances by the SF Opera. The first is La Traviata with seven performances this month. The second is Orpheus and Eurydice with five performances this month. All shows are at the War Memorial Opera House in the Civic Center District. Visit the SF Opera page for more information.
Day of the Dead (TBD): SF's Mission District has been celebrating Dia de los Muertos (Day of the Dead) since the 1970s. Every year, the community sets up a festival of altars in Garfield Park from 4pm - 11pm, and holds a procession at 7pm starting from 22nd and Bryant. If you want to see what this Latin American tradition is all about, head over to check out the art and music. If you want to honor a deceased loved one yourself, feel free to bring flowers, mementos, and candles. Read more about the SF celebration.
SF Vintner's Market (TBD): Calling all wine lovers! This month's SF Vintner's Market is a great place to sample new wines and purchase your favorites from more than 200 wineries. You will find several local producers from Napa, Sonoma, Mendocino, and more. It runs from 3pm to 6pm both for two days. Don't miss out on our chance to pick up some great presents for your friends, family, and yourself! This year's event will once again be at the Golden Gate Club in the Presidio.
SF Symphony (Several performances between 11/3 - 11/26): Spend an evening at the elegant Davies Symphony Hall, steps away from City Hall, for a performance of the world renowned San Francisco Symphony. Some of the top San Francisco events in November with the SF Symphony include Capucon Plays Danny Elfman (11/11 - 11/13), MTT & Emanuel AX (11/17 - 11/19), and The Godfather Live (11/25 & 11/26). See the complete schedule of performances
SF Bay Cruises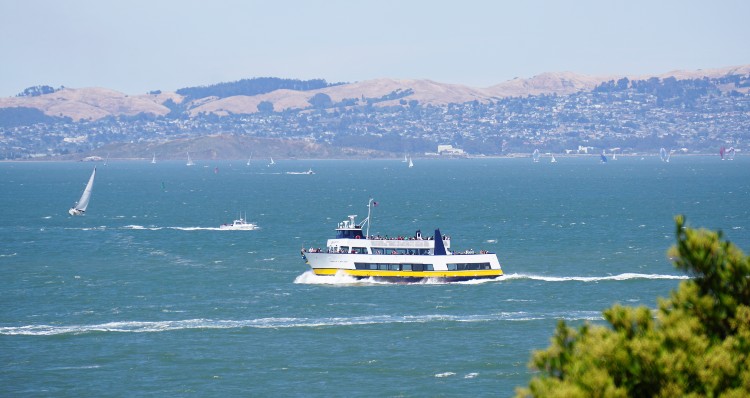 Daytime cruise on the SF Bay
Some of the top San Francisco events in November are our daily cruises. You can head out on the SF Bay for an hour or two and enjoy the amazing views all around you.
Many of these cruises leave from Fisherman's Wharf and return to the same place they started. Almost all of them cruise under the Golden Gate Bridge, along the San Francisco shoreline, and make their way near or around Alcatraz Island.
Some of the cruises also offer dinner, dancing or a few drinks along with your ticket. The sunset or evening cruises are also popular.

Here are a few of my top picks for November.

Sunset Sailing Cruise: This 90-minute sunset tour is a fun way to relax and unwind during your stay in November. This month, it runs every Friday, Saturday, and Sunday and leaves at 4pm. Also included with your ticket, you will get two complimentary beverages and some light appetizers. Find availability for the Sunset Sailing Cruise.

60-Minute Bay Cruise: The most popular cruise all year long is the 60-minute Bay Cruise. This one provides you with a great highlight of the bay. It takes you under the Golden Gate Bridge and around Alcatraz. It starts and ends in Fisherman's Wharf. It leaves several times every day of the year. Find tickets for this cruise.
Additional Fun Cruise for November

Bus & City Tours

Our bus and city tours are also very popular San Francisco events in November. You will find a variety of options that take you all around town to learn more about our top attractions.
The Hop On Hop Off buses are great for those visiting for the first time. In one or two days, you will get a great lay of the land and be able to easily get from one attraction to the next.
Our city tours are also popular. In just a few hours, you will drive past and learn all about places such as the Golden Gate Bridge, Fisherman's Wharf and others. Many of them offer photo stops along the way.

Here are a few more details and some of my recommendations.

Big Bus Tours Hop On Hop Off: Big Bus Tours is one of my top picks for hop on hop off bus tours. They offer 1- and 2-day tickets which will give you plenty of time to get around SF. They include more than 20 stops and the entire round trip tour is just over 2-hours. Find out more about their options.

SF Movie Sights Tour: If you love movies, you are going to really enjoy this fun movie tour around San Francisco. You will drive past and learn more about spots around town that were featured in movies and shows such as Mrs. Doubtfire, The Princess Diaries, Full House, and Interview with the Vampire. Find more details here.

More SF Bay Area Events in November
Big Sur Food & Wine Festival (11/3 - 11/5): The Big Sur Food & Wine Festival is known is without question one of the premier festivals in Northern California. If you are looking for great views, food, wine, and music, this is definitely the place for you. Not only are there 4 days of wine and food, but there are also special tours, trips and the always amazing, "Wine and Swine at the Henry Miller Library" where you will have a special celebrity chef dinner, with over 20 different wine makers and bands all night long. Visit their site for more details. More events in the Monterey Bay Area this month. 
Napa Valley Film Festival (TBD): A favorite of all the SF Bay Area events in November includes the incredible Napa Valley premiere film festival. This event hosts more than 300 directors, 100 films and more events than you could ever imagine for 5 full days. With movies ranging from massive box office releases to the some of the smallest artistic films, you will have your pick of what to watch. There are also food and wine demos from some of the top chefs and, of course, wine tasting and dinners. Full calendar of Napa events this month. 
Hands-on History Days: Happy Birthday San Jose (TBD): Time travel back to the days when San Jose was just starting up with a visit to the Peralta Adobe at the Peralta Adobe-Fallon House Historic Site. This one day event, starting at 11 am and ending at 4 pm, includes live music, live performances, and tours of the Peralta House. You can also try your hand at bull roping, building your own corn husk doll, or making a leather bracelet. 
Berkeley Artisans Holiday Open Studios (TBD): This free event features over 100 artisans, showing and selling their wares that range from ceramics, to leather goods, to photography, to paintings and pretty much anything else you can imagine! The studios open at 11 am and close at 6 pm each day every weekend starting on November 30th and concluding on December 22th. Therefore, you will have many chances to see everything and get all your holiday shopping done in one place! 
Calistoga Food & Wine Festival (TBD): The Calistoga Food & Wine Festival is another one of the fun and delicious SF Bay Area events in May. The Friday event will feature a farm-to-table dinner paired with local wines at the cave at Fairwinds Estates. The Grand Tasting on Saturday will feature live music, samplings from 40 Calistoga wineries, and small bites and live cooking stations from top chefs of the area's best restaurants. Visit their site for details 
Additional Things to Do in SF in November

More Things to Do in SF in November: In addition to all of our fun San Francisco events in November, you will also find a variety of other fun things to do. These include cruises, tours, and free activities. You can also head out on a day trip, visit one of our top museums, and shop at some in some of our most popular districts. Find 50+ fun things to do this month
What to Wear in November: Do you need some advice on what to wear in November? To make sure you are prepared for these San Francisco events in November, you will want to bring along a jacket and some great walking shoes. What else should you bring? Check out my insider's guide on what to expect from the weather and some tips on what to pack for your stay. Tips on what to pack and wear in SF.