San Francisco Tree Lighting & Holiday Events 2018
Festivals and Celebrations All Around the SF Bay Area
Kick off your 2018 holiday celebrations at one of these colorful events in San Francisco. This year's activities include tree lighting ceremonies as well as holiday winter wonderland festivals. You can also participate in one of several Menorah Lighting celebrations.
The list includes events both in San Francisco and other popular festivals throughout the Bay Area.
Pier 39's tree at night
Union Square
This year's Union Square Tree Lighting Ceremony (Macy's 29th Annual Tree Lighting Ceremony) is on Friday, November 23, 2018. Festivities begin at 6pm with the tree lighting scheduled for 6:40pm. Get to Union Square early for the best spot. The tree illuminates every night throughout the holidays.
>> Information on this year's tree lighting ceremony
>> Find additional fun things to do in Union Square
Pier 39
Pier 39's annual tree will be lit for the first time of the season on Wednesday, November 21. Once an hour from 5pm to 10pm, the tree will lite up again with a kalidoscope of colors. The tree lights up nightly once an hour from 5pm to 10pm throughout the holiday season, ending on January 1.
>> Read more about this year's holiday tree
>> More things to do at Pier 39
Rainbow World Tree of Hope Lighting at City Hall (2017)
This year's Rainbow World Tree of Hope will once again be at SF City Hall. The lighting of this tree will take place on Wednesday, December 4. Events will kick off at 5:30pm with a concert by the Grammy Award winning SF Boys Choir. The tree lighting is at 7pm. This year's emcees are Cheryl Jennings and Donna Sachet. The party will last until 8pm. Admission is free. The tree will continue to be on display throughout the holiday season.
The Ritz-Carlton, San Francisco (2017)
The Ritz-Carlton, San Francisco kicks off the holiday season on Thursday, November 30 from 5:30pm to 7:30pm with their tree lighting ceremony. Join others in their lobby to see them light their 40-foot tree. Santa and his helpers will illuminate the tree. The ceremony begins with Dickens-era costumed carolers and ends with kids getting their picture taken with Santa. They will also offer cider, hot chocolate, and cookies.
Presidio
Head over to the Presidio for their annual Holiday Tree Lighting Ceremony on Friday, December 7. Activities start at 5pm and include free holiday craft activities for kids as well as caroling from the Golden Gate Carolers. Light refreshments will be available. The ceremony will be followed by a guided lantern walk through the forests (don't forget your flashlight!) at 6pm. All activities are free. Meet at the Main Post (just past the Presidio Y) to join in on the fun. The event runs until 6:45pm.
>> Additional things to do in the Presidio
Tree Lighting at Westfield Mall (2017)
This year's holiday tree lighting at Westfield Mall is scheduled for Thursday, November 30. From 6pm to 8pm, enjoy live music, hosted holiday treats and beverages, and the unveiling of a new holiday decor. It's free and open to the public.
Ghirardelli Square (2017)
Head over to Ghirardelli Square on Friday, November 24 for their annual Christmas Tree Lighting Celebration. From 4pm to 9pm, enjoy mulled wine, Irish coffee, hot chocolate, live music, and plenty of gifts and other treats. The tree lighting starts at 7pm.
>> More things to do at Ghiradelli Square
More Tree Lighting Events Around San Francisco
Tree Lighting at McCoppin Square Park (TBD): This local park in the Sunset District will be hosting their annual tree lighting ceremony on Friday 12/2. It starts at 5:30pm and they invite the public to help them decorate the tree, sing carols, and enjoy some hot chocolate.
Civic Center Tree Lighting Ceremony (TBD): Head over to the Civic Center for this year's tree lighting event. Activities run from 5pm to 7pm and include performances by The Tap Dancing Christmas Trees, a visit from Santa, and free candy canes & popcorn for the kids. Jason Brock, a finalist on the X-Factor will also be performing and they will have Irish Coffee and hot chocolate as well as a few other items for sale.
Winter Lights in Golden Gate Park (TBD): This event runs from 4pm to 8pm and is part of the annual tree lighting ceremony at John McLaren Lodge. Will include kids activities such as carnival rides, arts & crafts, cookie factory, and more. Also includes a lighting of the Conservatory of Flowers at 7pm.
Bill Graham Menorah Project (2017)
Stop by Union Square on Tuesday, December 12 at 5pm for the 1st lighting ceremony. Bill Graham Menorah Day is on Sunday, December 17. The ceremony starts at 3pm with the candle lighting at 5pm. You can then stop by daily at 5pm for the daily lighting ceremony. The final lighting is on Tuesday, December 19.
Upcoming Events by Month
Are you looking for additional fun things to do in San Francisco? Click the links below to visit the calendar of events for that month.
Other Holiday Festivals in SF
Great Dickens Christmas Fair
The annual Great Dickens Christmas Fair starts on November 17. Every weekend through December 23 (plus the day after Thanksgiving), head over to the festival for a journey back in time. The event is set in Dicken's London where you can shop, eat, and enjoy live entertainment.
Embarcadero Center Winter Carnival and Building Lighting
The Embarcadero Center invites you to join them on Friday, November 16, 2018 from 4pm to 7pm for their Building Lighting Ceremony and Carnival. As the sun sets, all four Embarcadero Center buildings will be lit, followed by a grand fireworks display. The carnival also includes children's activities, a visit from Santa Claus, and a special show by Disney on Ice.
Union Street Fantasy of Lights (2017)
Swing by Union Street in the Marina on Saturday, December 2 for their annual Fantasy of Lights Holiday celebration. This year, thousands of lights will illuminate the Victorians in this district transforming it into a magical wonderland for the holidays. The event lasts from 3pm to 7pm with cupcake decorating from 3pm to 5pm and a visit from Santa from 5:30pm to 7pm.
Hotel Deals: Are you planning on spending the holidays in San Francisco? If so, then check out the holiday hotel specials on TripAdvisor. They offer dozens of hotel deals so you can save on your room or get something free, such as parking, during your stay. Click here to check out their holiday specials and to save on your stay today!
Zoo Lights at the SF Zoo (2017)
Stop by the San Francisco Zoo from December 15 - 31 for Zoo Lights (no lights on December 18, 24 or 25). Each day, you will get the chance to see this beautiful place lit up with holiday lights. Stop by Elinor Friend Playground for playtime under the stars, then pay a visit to Santa's reindeer at Playfield Lawn. It will also be snowing!
Gingerbread House at the Fairmont Nob Hill
Admire one of the best Gingerbread House displays in the entire Bay Area at the Fairmont in Nob Hill. This 2-story, 25 foot tall adobe house features more than 1,500 pounds of candy! It's an amazing site to see. The display will open on November 23 and stay open until January 1.
>> More about the Fairmont on Nob Hill
Westin St. Francis Sugar & Enchanted Castles (2017)
Back by popular demand, the Westin St. Francis will feature both their famous sugar castle and their enchanted castle in their Landmark Lobby. Instead of just one, this year again they will showcase both castles. These large castle will have more than 1,000 pieces of candy made from sugar. The it opens to the public on November 23 at 11am. It will then be on display through January 2.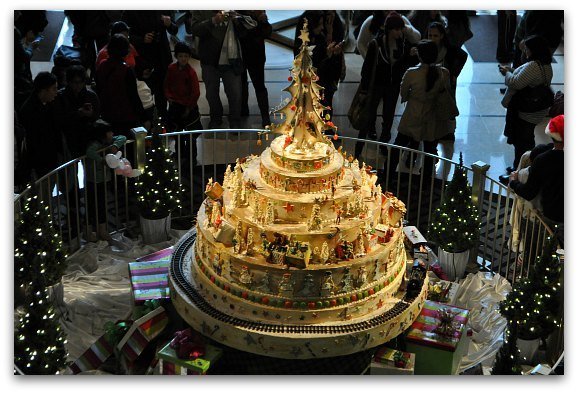 The St. Francis Enchanted Castle
Market Street Annual Snowflake Lighting (2017)
Head to cable car turnaround at Powell and Market on Monday, November 20 for the Market Street Annual Snowflake Lighting Ceremony. It starts at 6:30pm. Local officials will count down to the illumination. You can also enjoy live music.
2018 Holiday Events Around the Bay Area
San Rafael Parade of Lights and Winter Wonderland
On Friday, November 23 and Saturday, November 24, Fourth Street in San Rafael will fill with holiday cheer. Starting at noon both days, the Market Place opens for holiday shopping and stays open until 8pm. On Friday, the kids can enjoy snowsleding between Noon and 4:30pm and from 6pm to 8pm. On Saturday, the kids activities last from 9am to Noon. This year's parade starts at 5:30pm on Friday.
Monterey Cannery Row Tree Lighting
The beautiful waterfront town of Monterey will celebrate the holidays on Friday, November 23. This free event features live reindeer from 5pm to 8:30pm, a tree lighting ceremony at 5:45pm, and a visit from Santa Claus from 6pm to 9pm. All events will be in Steinbeck Plaza and the area in front of Bubba Gumps. Click here for additional holiday events around Monterey.
Half Moon Bay Night of Lights
The 2018 Night of Lights in Half Moon Bay is on Friday, December 7. From 6pm to 9pm, enjoy the parade of lights down Main Street, live music, roasted chestnuts and activities for the kids. Many of the stores will stay open late, so you can also get in a little holiday shopping during your visit.
Jack London Square in Oakland
On Friday, November 30, Oakland's Jack London Square will light up for the holidays. Join them for this annual celebration from 5pm to 8pm at the foot of Broadway. In addition to the tree lighting ceremony, you can also see musical performances, live reindeer, holiday surprises, and more. The tree lighting is at 7:15pm. Come early for a special visit from Santa starting at 5:15pm.
Tiburon Holiday Festival
Tiburon's Holiday Festival is on Saturday, December 1. This all day event (2pm to 6pm) features professional photos with Santa, holiday activities, arts & crafts from local artists, and Merrie Olde Christmas Carolers. The tree lighting is at 6pm at the Fountain Plaza in downtown Tiburon.
Add Your Event
Do you have a tree lighting ceremony or other holiday event you would like to add? Click this link for details on how you can add your ceremony to this list! It's easy and the best part is that it's free!
On a Search for Santa?
In addition to the places mentioned above, Santa will make dozens of additional stops all around San Francisco. He will be taking pictures at the Japantown Center Malls, Stonestown Galleria, and the Westfield Shopping Center. He will also stop by to celebrate the season at the Hyatt Regency and the SF Zoo.
Learn More: Full List of Places to See Santa
More Pages You Will Enjoy