San Francisco Tree Lighting & Holiday Events 2022


by Jill Loeffler  •

Updated: November 29, 2022
Kick off your holiday celebrations at one of these colorful events in San Francisco. This year's activities include tree lighting ceremonies as well as holiday winter wonderland festivals. You can also participate in one of several Menorah Lighting celebrations.

The list includes events both in San Francisco and other popular festivals throughout the Bay Area.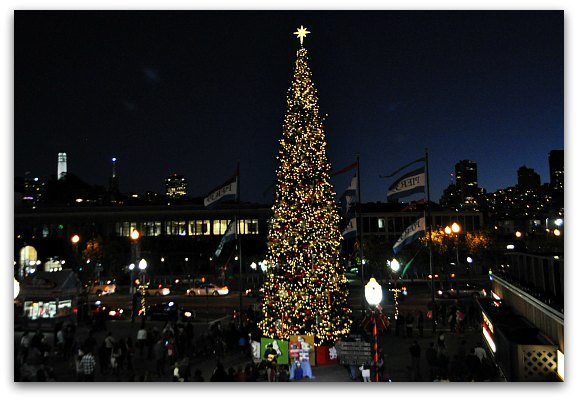 Pier 39's tree at night
Disclaimer: I receive a small commission from some of the links on this page.

Union Square

This year's Union Square Tree Lighting Ceremony will not take place, but the tree will be lit from November 25 - January 1 and you are welcome to visit it. For safety, they will not be having their large, annual lighting event on Black Friday.
The tree will be illuminated every night throughout the holidays.
>> Find additional fun things to do in Union Square

Pier 39

Pier 39's annual tree will be lit for the first time of the season on Tuesday, November 22. They will not host a large ceremony, but instead light the tree for all to see for the first time on this night.
They will light the tree for the first time at 5 pm. It will then offer a light show every half hour from 5 pm to 10 pm nightly.
For the rest of the season the tree light up for all to enjoy with the last night of the season on January 8, 2023.
>> More things to do at Pier 39
Civic Center Tree Lighting Ceremony

Head over to the Civic Center for this year's tree lighting event on December 7. Activities run from 4 pm to 7 pm and include performances, and a visit from Santa.
The toy giveaway is from 4 pm to 5 pm and the first 400 children under 12 will receive a free toy.
The official tree lighting is at 5:15 pm. 
Stay warm with some Irish Coffee, mulled wine, or hot chocolate which will be for sale. Other festive bites will also be for sale throughout the event.
'Tis the Season for Science' at the California Academy of Sciences
It might not snow in San Francisco, but the city's popular science museum in Golden Gate Park makes sure that guests get to experience a polar wonderland during the holiday season.
From November 18 to January 8, you can learn about ice and the animals that live in cold climates, enjoy indoor snow flurries, and observe snowflakes under microscopes, among other scientific explorations.
There are also special nighttime events, including the Nightlife Holiday Bazaar for the 21+ crowd on December 1, and the Welcome Winter Night for all ages on December 6, offering cookie decorating, winter crafts, and much more.
Rainbow World Tree of Hope Lighting at Grace Cathedral

This year's Rainbow World Tree of Hope will once again be at Grace Cathedral. The lighting of this tree will take place on Monday, December 5.
Events will kick off at 6:30 pm with performances by the San Francisco Boys Chorus, the Lesbian/Gay Chorus of San Francisco, and others.
The tree lighting is around 7:15 pm. All activities will wrap up at 8 pm. Admission is free. The tree will continue to be on display throughout the holiday season. 
Dollie + Me Tea Event at the Westin St. Francis Hotels

The Westin St. Francis Hotel and kit & sisTM are partnering to host a Dollie + Me Tea event on December 17 & 18. It's a great time for children, families, mother/daughter duos, and other loved ones to celebrate the holiday season.
The kids will enjoy hot chocolate, Dollie + Me sweet treats, and assorted tea sandwiches while they create fun holiday crafts with kit & sis. Champagne will be served for the adults too! 
>> Visit Eventbrite to learn more and to book your spot
Holiday Crafts Day at the Randall Museum

The Randall Museum is one of San Francisco's hidden gems for families with children, as its hands-on activities promote creativity and curiosity about science, nature, and art, with no entry fee.
The annual Holiday Crafts Day is no exception: this is a free event for children of all ages to get into the holiday spirit, crafting one-of-a-kind gifts and decorations for the season. This includes building toy trains, rolling beeswax candles, soap-making, candy house creation, and much more.
The event will take place on Saturday, December 10, from 10 am to 2 pm.
>> Visit their website for more details
Presidio

Head over to the Presidio for their annual Holiday Tree Lighting Ceremony on Friday, December 2. They will again add lights to their 55-foot-tall Norfolk Island pine. 
This is always the first Friday in December. 
They will light the tree every night through the month of December.
>> Additional things to do in the Presidio

Fun SF Tours & Activities

More Holiday Events Around San Francisco

Nob Hill Tree Lighting (11/28): The annual lighting of the tree at Huntington Park in Nob Hill starts at 6:30 pm. This one-hour event will include the tree lighting, light snacks, and live music. 
Holiday Tree Lighting at McLaren Lodge (12/1): This event runs from 4 pm to 8 pm at John McLaren Lodge in Golden Gate Park. Will include kids activities such as carnival rides, arts & crafts, cookie factory, a visit from Santa and more.
National AIDS Memorial Lighting Ceremony (11/30): This is the first time the National AIDS Memorial Grove will be lit up for the holidays. The ceremony is on World AIDS Day and the event runs from 4:30 pm to 9 pm.
Bill Graham Menorah Project

Stop by Union Square on Sunday, December 18 at 5 pm for the 1st lighting. The live ceremony runs from 2 pm to 6 pm. You can then stop by daily at 5 pm for the daily lighting ceremony.
The lighting on Friday, December 23rd will be early at 2:30 pm. The lighting on Saturday, December 24 will be late at 8 pm. Both are rescheduled due to Shabbat. 
The final lighting is on Sunday, December 25th.
Each night, the music and celebration runs from around 4:30 pm to 5:30 pm with the candle lighting at around 5 pm. The two exceptions are on December 23rd (2:30 pm) and December 24th (7:30 pm to 8:30 pm).
>> Visit their site to learn more
Upcoming Events by Month

Are you looking for additional fun things to do in San Francisco? Click the links below to visit the calendar of events for that month.

Other Holiday Festivals in SF

Great Dickens Christmas Fair

The annual Great Dickens Christmas Fair will look a little different this year. This year's event will feature a drive through version of this popular activity.
Ride through as you enjoy delicious foods, entertainment, handmade crafts and more.
There will also be a variety of at home options such as entertainment and shopping! 
It will run for five weekends starting the weekend of Thanksgiving.
Embarcadero Center Building Lighting Ceremony and Carnival

The year, the Embarcadero Center will once again host their annual Building Lighting Ceremony and Winter Carnaval. The event kicks off on Friday, November 18 at 4 pm.
It's a family-friendly event with carnival games, a special appearance from Santa and Frozen the Musical themed photo ops. 
It will end with the illumination of the 17,000 lights around the Embarcadero Center.
The lights will be lit throughout the holiday season.
Gingerbread House at the Fairmont Nob Hill

Admire one of the best Gingerbread House displays in the entire Bay Area at the Fairmont in Nob Hill. This 2-story, 25 foot tall adobe house features more than 1,500 pounds of candy! It's an amazing site to see.
The display will open on Thanksgiving and stay open through the end of the year.  
>> More about the Fairmont on Nob Hill
2022 Holiday Events Around the Bay Area

Monterey Cannery Row Tree Lighting

The beautiful waterfront town of Monterey will celebrate the holidays on November 25.
This year's event runs from 5 pm to 7 pm with the tree lighting set for 5:45 pm.
This year, Santa will be on hand for pictures. 
Other fun things to do include checking out the holiday lights, checking out the local shops, and grabbing a bite to eat. 
All events will be in Steinbeck Plaza and the area in front of Bubba Gumps.
Click here for additional holiday events around Monterey.

Half Moon Bay Nights of Lights

The Nights of Lights is Fridays starting on November 25 and running through December 16.
The 2022 Night of Lights Christmas Tree Lighting in Half Moon Bay is on Friday, November 25.
Their annual Lighted Parade down Main Street is on December 2. From 6 pm to 8 pm, enjoy the parade of lights down Main Street, live music, roasted chestnuts and activities for the kids. Many of the stores will stay open late, so you can also get in a little holiday shopping during your visit.

Jack London Square in Oakland

On Saturday December 3, Oakland's Jack London Square will light up for the holidays.
Join them for this annual celebration from 5:45 pm to 8 pm on the plaza near Plank .
In addition to the tree lighting ceremony, you can also see musical performances, holiday surprises, and more. Santa will also make an appearance.

On a Search for Santa?

In addition to the places mentioned above, Santa will make dozens of additional stops all around San Francisco. He will be taking pictures at the Japantown Center Malls, Stonestown Galleria, and the Westfield Shopping Center. He will also stop by to celebrate the season at the Hyatt Regency and the SF Zoo.
Learn More: Full List of Places to See Santa
Comments? Questions? Suggestions?
I would love for you to join me in my private Facebook group! 
It's a great place to interact with me and others who know the area well.
You can ask questions, get advice for your upcoming stay, and then share your photos and advice with others when you return home. It's a great community and the fastest way to get answers to those nagging questions about your visit!