Thanksgiving in San Francisco 2022


by Jill Loeffler  •

Updated: November 1, 2022
Are you spending Thanksgiving in San Francisco? If so, you will be excited to learn that there are a lot of fun things to do on Thanksgiving Day and throughout the weekend. In 2022, this popular holiday falls on Thursday, November 24. 

Several restaurants open their doors to serve up a variety of gourmet dishes. You can also do something a little different and enjoy your meal while cruising around the bay. In addition, many tour companies run most of their fun adventures throughout the day.
The rest of the weekend (11/25-11/27) is also full of activity including a chance to check out our holiday lights and Black Friday Shopping.

Disclaimer: I receive a small commission from some of the links on this page.

Attractions Open on Thanksgiving Day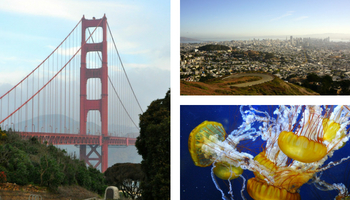 While many museums and a handful of attractions close this day, you will still find several that open their doors to visitors. Here are some of our biggest attractions and museums open on Thanksgiving in San Francisco.
Aquarium of the Bay: The Aquarium of the Bay on SF's Pier 39 is open on Thanksgiving Day. All day long, you can watch their playful jellyfish swim around their tanks, walk through the tunnels within the aquarium or touch a starfish. It's one of the best family-friendly options this holiday. Pick up advanced tickets for your visit.
Botanical Gardens: The weather is usually lovely in SF on Thanksgiving and it's a fun time to walk around our colorful Botanical Gardens. You will find them in Golden Gate Park and admission is free all day long.

California Academy of Sciences: Our most visited museum is also open. The California Academy of Sciences is a perfect stop and a wonderful experience for the entire family. You can stop by and say hello to Claude, the rare white alligator, walk through the 4-story Osher Rainforest or visit the Steinhart Aquarium. You are required to have a ticket before you arrive. Find them online here. 

Golden Gate Bridge: You can stroll across the Golden Gate Bridge 365 days a year. It's cool and windy this time of year, but it's an experience you will never forget. Make sure to stop by the Welcome Center for a few souvenirs to remember your visit.

Japanese Tea Garden: Visit one of the oldest Japanese Tea Garden in this US this Thanksgiving in San Francisco. The gardens are open and welcome visitors all day. You will find them in Golden Gate Park.

Muir Woods: Another attraction just north of SF that is open every day of the year is Muir Woods. It's home to some of our famous redwood trees that are hundreds of years old. You can walk along the flat paved paths or get your heart pumping on one of the more challenging trails. You can also head up on a guided tour and leave the driving to someone else. You must make reservations in advance. You can also head out on this guided tour. 

Twin Peaks: Another fun attraction open all day this holiday is Twin Peaks. From the top, you will get some of the best views of all of the SF Bay Area. You can climb to the top of one or both peaks or just soak in the views from the parking lot nearby.

>> Click here for hours & more details on attractions open on Thanksgiving 

Lunch & Dinner Recommendations

You will find dozens of restaurants open on Thanksgiving in San Francisco. 
Many will offer a prix-fixe meal with turkey, dressing, and all of the fixings. Some also offer you the chance to choose a meal from their menu.
Here are a few ideas for this holiday.

Buena Vista: Fisherman's Wharf, will be offering both a special Thanksgiving Day meal in addition to items off their menu. Open from 10 a.m. to 11 p.m. (kitchen closes at 9:30 p.m.).

Park Chalet: Ocean Beach, 3 course menu for $85 per person, does not include taxes or tip

Zingari Restorante & Rooftop: Downtown/Union Square, offering a three course menu for $95 per person

54 Mint: SOMA, traditional meal for $75 per person, seatings available for lunch and dinner

>> Find additional details on my top picks for lunch or dinner this Thanksgiving 

SF Cruises & Tours Running on Thanksgiving Day & Weekend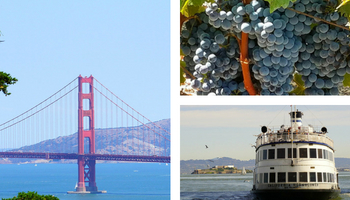 Most tours run regular schedules on Thanksgiving in San Francisco. You can bike across the Golden Gate Bridge, enjoy a lovely meal on a cruise, or head up to Napa for some wine tasting. 
Here are a few ideas to help you get started.
Golden Gate Bay Cruise: This 60 minute bay cruise takes you out for a relaxing time on the water. The cruises starts in Fisherman's Wharf. You will then slowly cruise along the northern shore of SF as you make your way to the Golden Gate Bridge. After you cruise under the bridge, your boat will turn around and head back under the bridge a second time. You'll then head over to Alcatraz Island. After a loop around the island, you will return to Fisherman's Wharf. Along the way, you will listen to narration about SF, our top attractions, and a little about our history. Learn more here. 

Go Car Tour: Cruise around SF on these cute, two-seater Go Cars. Their preprogrammed tour will allow you to easily drive past the best attractions where you can make a quick stop for a picture perfect opportunity. The tour lasts 2 hours and offers audio in six different languages. Learn more and book yours today.
San Francisco Hop On/Hop Off Tour: Spend the day visiting some of SF's top attractions. On Thanksgiving Day, you will find many of our top free attractions such as the Golden Gate Bridge, Lombard Street, and the Painted Ladies of Alamo Square open. It's a fun day to explore the city on this Hop On/Hop Off tour as you learn more about SF's history. More about the 24-hour tour option.

Additional Tours Running Thanksgiving Day Weekend

Hotel Recommendations

Book your hotel early and save! Click the links below to find the best deals currently running during your stay.

Booking: Find great deals all around San Francisco for your upcoming stay! 

TripAdvisor: What's the #1 hotel in San Francisco? Read reviews & find hotel deals on TripAdvisor!
VRBO: In addition to hotels, you'll also find some great places to stay locally through VRBO. Book an apartment or a room and feel more like a local. Find some great places to stay on VRBO here. 
Are you visiting with kids? Here is a quick guide to the 25 most kid friendly places in the city. All offer a fun experience for both your kids and you! 

Shopping Options for Thanksgiving Day 2022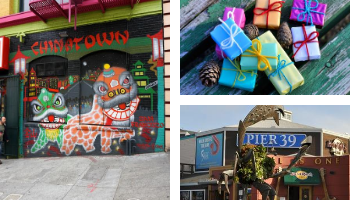 If you plan on going shopping, I recommend heading over to the Fisherman's Wharf area. Most shops in that area are open this holiday.
Chinatown is another great option as most of the shops and restaurants run their regular hours.
If you head to Union Square, plan on most shops being closed as they prepare for Black Friday. 

Ghirardelli Square: The management here lets the shops decide if they want to open or not on Thanksgiving Day. However, they did confirm that at least some of the shops will be open on Thanksgiving Day. More about shopping at Ghirardelli.

Pier 39: Several shops on Pier 39 are also open on Thanksgiving in San Francisco. You will find about 75% are open this day and many are open from mid-morning to mid-evening. You will also find some great restaurants here and don't miss your chance to stop by and check out our famous sealions. 

Union Square: A few shops in Union Square area also open, but it's more hit or miss in this neighborhood. 

Chinatown: Here you will find inexpensive items such as San Francisco gifts, clothing and jewelry. Most places are open on the holiday and throughout the weekend. It's a fun place to come for some great bargains! More about shopping in Chinatown.

Other Fun Things to Do for Thanksgiving in San Francisco
Turkey Trots: You will find several great Turkey Trots around the SF Bay Area on Thanksgiving Day. Top picks include those in Silicon Valley, San Francisco, Marin, and wine country. Find my top picks here.
Outdoor Ice Skating Rinks: If you want to get out and exercise a bit, there are more than a dozen different ice skating rinks around the bay area. They range from San Jose, Monterey, San Francisco, Marin, and and over to the East Bay. If you want to find out more about them, visit this page with my top picks each year.

San Francisco Weather for Thanksgiving

The San Francisco weather for Thanksgiving and the weekend is usually temperate during the day with temperatures in the mid to lower 60s. It's often partly cloudy with some sun throughout the weekend. At night, the weather will dip into the lower 50s. 
The wind here will make both the day and night feel a bit cooler.
I do recommend that you check the weather a few days before you arrive. November is the start of our rainy season, so it could also be rainy for a day or two this weekend. 

>> Find more information on the weather this month as well as tips on what to wear

Details for Thanksgiving Weekend

You will find many other fun things to do all weekend long in San Francisco. Even though there aren't any events on the calendar, you will find lots of outdoor activities, additional tours, and museums open throughout the weekend.

Here are just a few additional recommendations for Thanksgiving in San Francisco.
de Young & Legion of Honor: Both of our fine arts museums will be open this Thanksgiving Weekend in San Francisco. The de Young is situated in Golden Gate Park just across the street from the California Academy of Sciences. The Legion of Honor is on the northwestern side of the city near Lands End. Both offer several hour of fun for those that love the fine arts. 

SF Museum of Modern Art: The SF Museum of Modern Art is also open all weekend long. This modern arts museums features pieces from several well known modern artists including Henri Matisse, Georgia O'Keeffe, and Andy Warhol. It's located in the South of Market District. Buy your tickets in advance. 

Lombard Street: You can also head over to Lombard Street. This free, outdoor attraction is open 365 days a year and is a fun sight to see! 

Painted Ladies of Alamo Square: Another free, outdoor attraction sits along Alamo Square. The Seven Sisters or Painted Ladies of Alamo Square as they are called are seven beautifully painted Victorians. Six are almost identical (except for their paint colors) and a larger one sits on the northern end. If you find just the right spot, you will get that picture perfect view with downtown San Francisco in the background.

SF City Guides Walking Tours: SF City Guides, which is part of the SF Public Library, is also offering a handful of free walking tours this weekend. They cover topics and districts such as Fisherman's Wharf, Pacific Heights Mansions, and the 1906 Earthquake and Fire. The walks are free, but they do request a donation. I usually donate about $10 per person I'm with. Reservations are required. Visit their site here for more details and to register for a walk.

Little Italy & North Beach Walking Tour: You can also head out on a walking tour to explore San Francisco's famed North Beach District. On this tour, you will learn all about this Italian district. From food to history, you will know this place like a local at the end of your tour. Find out more here. 

Holiday Lights Tour: This fun, small group tour takes you around San Francisco to see the colorful holiday and Christmas lights. You'll cruise around the streets in a fun, 70s-themed van. It will take you from Fisherman's Wharf to Union Square and beyond. The tour runs nightly and lasts for around 2 hours. Find tickets.
Wine Tasting in Napa or Sonoma: You can also head up to Napa or Sonoma for a day of wine tasting. Each region is home to several hundred wineries, so you will have plenty to choose from. You can sample only sparkling wines or spend the day enjoying just reds. It's up to you! If you don't want to drive, you can also head up with a guided tour. This is one of my favorites. 

Events, Theater, and Other Shows for Thanksgiving Weekend in San Francisco
Ain't Too Proud: The Life and Times of the Temptations
Tickets: Ticketmaster | TicketNetwork
You will find several performances for Ain't Too Proud over the Thanksgiving Day Weekend. You will find a show on Thanksgiving Day at 7:30 pm. Other performances are on Friday, Saturday (2 shows), and Sunday.
It's the perfect show for this holiday weekend. 
San Francisco 49ers
Tickets: Ticketmaster | TicketNetwork
On Sunday, the San Francisco 49ers play hose to the New Orleans Saints. They play at Levi's Stadium in Santa Clara. The game kicks off at 1:25 pm.
Concerts
You will find all kinds of great music events this Thanksgiving Weekend. Mana is playing at Oracle Arena in Oakland and that's one of the biggest shows this weekend.
You will also find top performances at venues all around the SF Bay Area.
Make sure to check the list below and see everyone that is coming to the SF Bay Area during Thanksgiving weekend as you may want to see more than one. Find a full schedule of top Thanksgiving weekend concerts.

Black Friday Shopping in San Francisco

Black Friday is a big shopping day in SF. This is when you'll want to head back to the places with larger retail stores for the best deals.
Union Square: Here you will find several shops with great Black Friday deals. Macy's is the anchor store here - with several others that surround it.
Westfield Shopping Center: There is also a large shopping center about five blocks from Union Square. It's an indoor mall with dozens of stores. It is on the corner of Market and Fifth Streets. 
Read more about the 8 places I recommend for you to shop on Black Friday.

Find more details, maps and tips for shopping in the Union Square area.
Other Fun SF Bay Area Thanksgiving Weekend Events
Cannery Row Tree Lighting (11/25): Cannery Row is home to Monterey's best tree lighting. As well as seeing the tree being lit, you can also meet Santa, his reindeers and hear carolers welcome in the season. The lighting is on Friday and starts at 5:45 ending at 6:45 pm. More events in Monterey this month.
Gobble Con (11/25 - 11/27): Ready to meet some new people and play a lot of games? Then this is the place for you with over 52 hours of board games, role playing, miniatures (even if you don't play games, these are so cute to see), and so much more that your day will fly by without even realizing it. This event is family friendly and fun for all to attend. It runs from Friday the 29th through Sunday, December 1st. It's at the Hyatt Regency in Burlingame.

Point Reyes Open Studios (11/25 & 11/26): The beauty of Point Reyes is a must see for everyone and especially when the artist allow you in to see their ceramics, painting, sculptures and other pieces of art in person. If you are looking for gifts for the holidays, or just something for yourself, you will be glad you came and enjoyed this event. The event runs Friday, the 29th to Sunday, December the 1st. The open studio event is free and a great place to buy gifts for the upcoming holiday season.

Gilroy Gardens - Holiday@Night (Select Nights from 11/25 - 12/30): Gilroy Gardens is truly unlike any other place in the world with it's amazing designed trees and gorgeous gardens. Enjoy live entertainment, gourmet food, and delicious drinks as you take in the winter sights. There are also some rides that are open during Holiday@Night. This is a family friendly event but it is designed for adults to have fun and celebrate. This event runs specific nights usually between late November until the end of December.

Santa Rosa Winter Lights (11/25): Santa Rosa's Downtown Courthouse Square is home to this wonderful tree lighting event. Starting at 4 pm on Friday the 25th, Santa will arrive on top of a fire truck for all to enjoy. There is food and drink for all, including adult beverages, and kids can play in a bouncy house, do arts and crafts, and much more. It ends at 7 pm.

Six Flags Holiday in the Park (11/26 - 1/2): An annual event not to be missed, you will want to experience the shows, games, and rides on select days starting November 26th until January 2nd, 2023. You will want to make sure and check for specific dates and times. You can meet Santa, and check out the new displays, rides and shows that are only around for this holiday season. You will not believe how much there is to do and see!

Christmas in the Park (11/26): Starting on Saturday, the 26th at 6 pm and continuing through to January 1st, 2023, you are invited to San Jose's Plaza de Cesar Chavez to watch the beautiful tree lighting at night. Many special guests will be there to perform and make your holiday experience the best you can ever imagine! The event will run nightly with both walk through and drive through options.

SF Bay Area Kids & Family-Friendly Activities this Weekend
Lake Merritt Boats: Depending on the weather, you might want to take a boat out on the lake in Oakland and enjoy the relaxation and scenery. You can rent canoes, rowboats, kayaks and more depending on your skill level. All rentals are cash only.
Oakland Zoo: Open Friday, Saturday and Sunday, the Oakland Zoo is a great way to get outside, enjoy lots of wildlife, ride the train, fly over the zoo in the gondola, and check out other events that are going on all day long. Food and drink is available to purchase. The zoo opens at 10 am each day and closes at different depending on the day you visit it. The Oakland Zoo is closed on Thanksgiving Day.
Berkeley's Victory Point Cafe: Want to play a few games and have a few adult beverages at the same time? Then this is where you want to be this weekend. Costing just $5, and giving you the ability to play as many games as you want, and stay as long as you want, this is a great deal and a great time. They have a full menu of food and drinks so you can stay all day long and escape the shopping crowds.

Children's Fairyland in Oakland: Time to become a kid again and enjoy one of the most famous places in Oakland's long history at Fairyland. Open the day before Thanksgiving, and the whole weekend after it, this magical playland has been a joy for kids of all ages for as long as anyone can remember. It opens at 10 am and closes at 4pm and you MUST be accompanied by a child to enter and no child is admitted without a parent. The cost for anyone over 1 year old is $10. 

East Bay Region Parks Family & Kids Activities: There are so many activities happening this weekend that it will be hard to decide which ones to choose. They range from butterfly exhibits and talks, the Hazel Atlas Mine tour, to Meet the Newts (the rainy season brings out this cute little guys), and so much more. Check the schedule each day for what seems best for you and your family.