Legion of Honor San Francisco: Hours, Parking, Free Days, Discounts & Other Tips to Visit

by Jill Loeffler  •

Updated: January 12, 2023
The Legion of Honor San Francisco is a fine arts museum on the northwestern side of the city. Here you can see thousands of pieces of ancient and European fine art spanning more than 4,000 years.

Some of the most famous works of art on display here include Auguste Rodin sculptures, paintings by Claude Monet, and an interesting piece by Pablo Picasso. You will also see exhibits with ancient art from the Egyptian, Greek, and Roman empires.
During your visit, make sure you take a little time to view not only the art on display but also the beautiful building that houses it, which is, in itself, an historic work of art.
Built in the early 1920s, the building is a replica of the Palais de la Legion d'Honneur, a distinguished 18th-century landmark in Paris. Alma de Bretteville Spreckles built and gifted the palace to the city of San Francisco in honor of the Californians who died during World War I.
Highlights for a Visit to the Legion of Honor San Francisco
Open Tuesday - Sunday from 9:30 am to 5:15 pm.
Admission starts at $15 for adults. Youth 17 and under are free.
Their café is open from 11 am to 3 pm for both indoor and outdoor dining.
Museum is located on the northwestern end of San Francisco near the Lincoln Park Golf Course.
Disclaimer: I receive a small commission from some of the links on this page.

Everything You Need to Know to Visit the Legion of Honor San Francisco

The Legion of Honor in San Francisco is another one of my personal favorites. I love everything about this museum from the exhibits to the setting to the views from many of its windows. This fine arts museum takes about two to three hours to fully explore. On a beautiful day, don't miss your chance to soak in some of the views from the surrounding Land's End area.
How much is admission to the museum? Is there an extra fee for special exhibits? 
Does the Legion of Honor San Francisco offer free days? What other discount tickets are available? 
What are the hours and what days are you closed?
Do you offer docent led tours and how much do they cost?
What exhibits are in their permanent collection? Where is a calendar of their current and upcoming special exhibits?
When is the best time to visit the museum? How long should I set aside for my visit? 
Do they have a café and what's on their menu?
What is the best way to get to the museum? Do they offer parking near the Legion of Honor San Francisco and how much does it cost? 
How do I get between the Legion of Honor and the de Young? 
Is the museum ADA accessible? 
What are the best restaurants nearby? 
How are the Legion of Honor and the de Young different? 
What is the history of the Legion of Honor San Francisco? 
Tickets to the Legion of Honor San Francisco

Adults: $15
Seniors (65+): $12
Students (w/ valid ID): $6
Youth and Children (17 and under): Free
Tickets to the Legion of Honor San Francisco also include same day admission to the de Young Museum. You can start at either location and then show your ticket to the second museum for admission at no additional cost.
It's easy to squeeze both of them in just one day. You can spend up to three hours in each location with a one to two-hour lunch break in between. This will give you plenty of time to see quite a bit of both of these San Francisco fine arts museums.
Extra Cost for Special Exhibits
In addition to the entrance fee, there is an extra cost if you want to see some of their special exhibits. 
The cost for these varies based on what's on display. They can range from $15 to $40 per person. 
Some of these sell out in advance as well, so make sure to pick up a ticket for any special exhibit that you do not want to miss. If you are okay with deciding at the time of your arrival, you can always add this onto your ticket (if tickets are available).
Free Days at the Legion of Honor San Francisco

Both of the San Francisco fine arts museums offer free admission on the first Tuesday of the month. This includes free admission into their permanent collection all day long. There may be an additional charge for any special exhibits on display that day.
These days are extra busy so make sure to arrive early to ensure access to the Legion of Honor San Francisco on their free day.
Anyone who lives in the nine Bay Area Counties and are age 17 and under are free to the permanent galleries year round.
Each month there are free Saturdays for Bay Area Residents.
If you receive Medi-Cal and SNAP benefits, you are given free general admission. You must show your Medi-Cal or SNAP benefits card.
The "Discover and Go" California Library Card holders are given free admission to the permanent collection galleries.
>> Find a full calendar of free days at SF museums
Discounts and Passes

Admission to the Legion of Honor San Francisco is included with several of our popular discount passes. You purchase these passes for a set price and then you will gain access to a variety of museums, attractions and tours. In total, you will spend up to 50% less than purchasing individual tickets for all of these activities.
Here is my top pick that includes the Legion of Honor San Francisco.
Go City: Admission to the Legion of Honor is included with the Go City card. This pass includes admission to more than 25 San Francisco and Bay Area attractions.
It also includes admission to the Asian Art Museum, the SF Museum of Modern Art and the California Academy of Sciences. You can also get a ticket for a bay cruise and the Oracle Park Tour.
>> More details and ticketing information
Other Discounts for the Legion of Honor San Francisco

In addition to the discount passes that include admission to the Legion of Honor San Francisco, there are a few other ways to save on your admission.
Public Transportation: You can receive up to $2 off admission when using public transportation to arrive to the museum. You will need to show your ticket stub or transfer as proof. You will then receive $2 off when you purchase your ticket at the door.
Bank of America Museums on Us: The Legion of Honor San Francisco is once again participating in the Bank of America Museums on Us program. It offers one free admission to the cardholders of both Bank of America and Merril Lynch cards. Admission is free on the first weekend of each month.
Hours

Tuesday - Sunday: 9:30 am - 5:15 pm
Monday: Closed
They typically close early on July 4, Christmas Eve, and New Year's Eve. Check this page to learn more.
Closed on Thanksgiving and Christmas Day
Legion of Honor San Francisco Location
The Legion of Honor in San Francisco is located at 100 34th Avenue.
It's on the north western side of SF just north of the Outer Richmond District. It's right next to the Land's End Trail and the Lincoln Park Golf Course.
Free Docent Tours

The Legion of Honor San Francisco also offers daily docent-led tours of some of their exhibits. These tours are included with admission and begin in the rotunda.

Some of the tours you can expect on your visit include:
Highlights of the European Collection
Three Masterpieces in 30 Minutes
Ancient Art
They also offer tours for some of their paid special exhibits. These tours are only included with the special exhibit tickets.
They are offered Tuesday - Friday and Sunday from Noon to 1 pm and 2 pm to 3 pm. They meet in the Rotunda.
No reservations are required for any of these tours. Pick up a daily tours guide when you arrive for the most up-to-date list.
Galleries in the Legion of Honor in San Francisco

The Legion of Honor in San Francisco is well designed and one of my favorites. Below you'll find some information and pictures of the key galleries from my last visit.

Medieval, Renaissance, and Mannerist Art

In this gallery, you will find a number of sculptures, tapestries, and paintings. There is also an amazing 15th century Spanish ceiling, so don't forget to look up as you walk through.
Here are just a few of the beautiful pieces on display in this gallery.
Also make sure you stop by El Greco's famous painting of St. John the Baptist.

French and Italian Baroque and Rococo

This gallery showcases both 17th and 18th century paintings. You will also see a number of sculptures and French furniture.
Here's just one example of the types of pieces you will see in this gallery.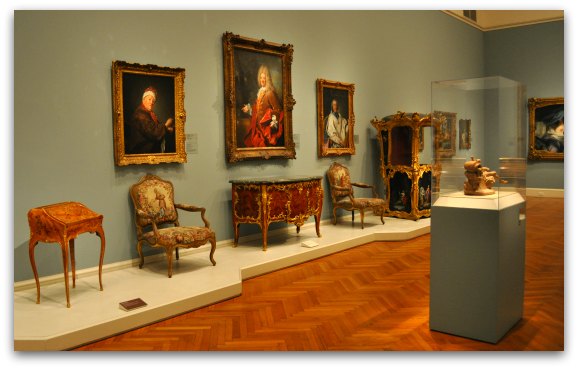 Sculptures

One of my favorite galleries within the Legion of Honor is the sculpture gallery. Here you can see more than 100 pieces of Rodin's famous works of art.
Below are just a couple of his pieces on display in the three rooms dedicated to Rodin.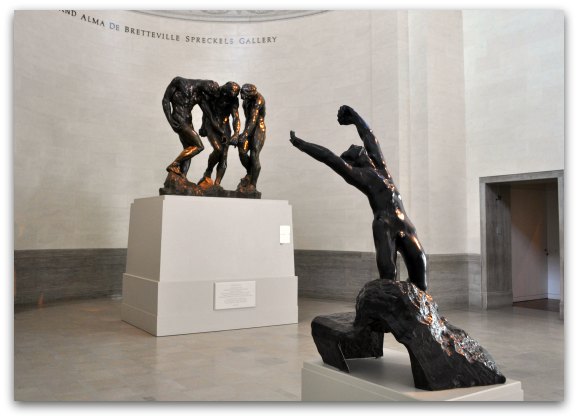 18th to 20th Century Neoclassical Art through Post Impressionism

This is another amazing gallery with works of art from famous European artists including Monet, Picasso, and Renoir. Here you can also see a beautiful Faberge tea table.
You'll find four rooms that make up this gallery. The final room, shown below, is where the most famous works of art in this gallery are on display.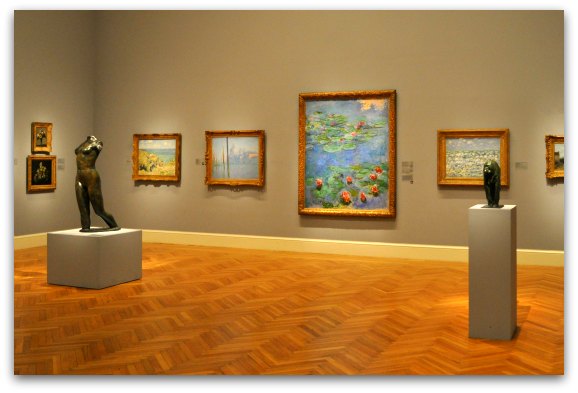 Ancient Art

This is a fairly small exhibit located in the lower level of the Legion of Honor. Here's where you'll find the oldest artwork in the museum, including an 18th Dynasty Egyptian torso of a God and other sculptures and jewelry that are thousands of years old.
Here are two of my favorite pieces from this collection.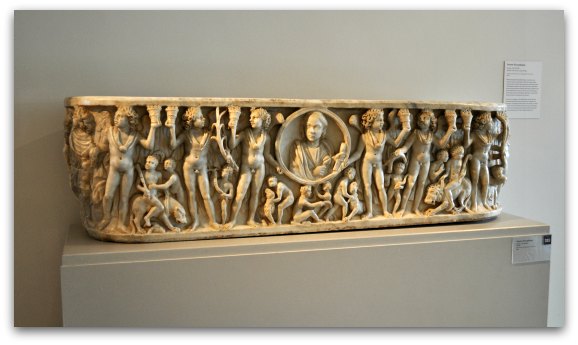 Porcelain Gallery

The Legion of Honor also has a fairly large collection of porcelain. Here you can see several works of art including those from the famous Chelsea, Bow, and Worchester Factories. You will also find pieces of porcelain from both Italy and China.
Here's a view of some of the pieces in the gallery.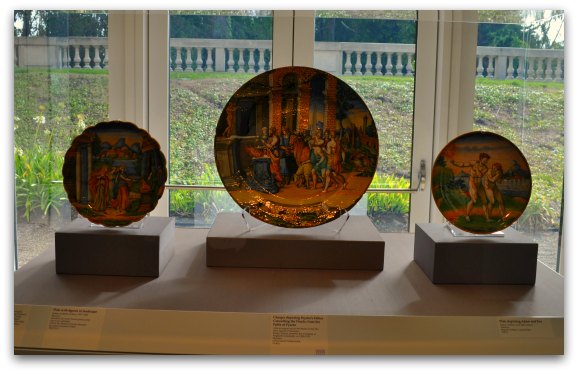 Other Galleries

Other galleries at this San Francisco art museum include the British Art Gallery, 17th Century Dutch and Flemish Paintings, and the Reva and David Logan Gallery of Illustrated Books.
There is also a graphic arts gallery that includes nearly 100,000 prints, drawings, photographs, and artists books. This is called the Jacqueline and Peter Hoefer Print Study Room and is available for viewing by appointment only.
Special Exhibits

The Legion of Honor in San Francisco also attracts some amazing special exhibits. They usually have more than one special exhibit on display at any given time. You'll find these in designated rooms, one on the main level and the rest in the lower level.
During my last visit, I was excited to get to see the Gifts from the Gods exhibit. It included several pieces of art from or supporting the Olympics.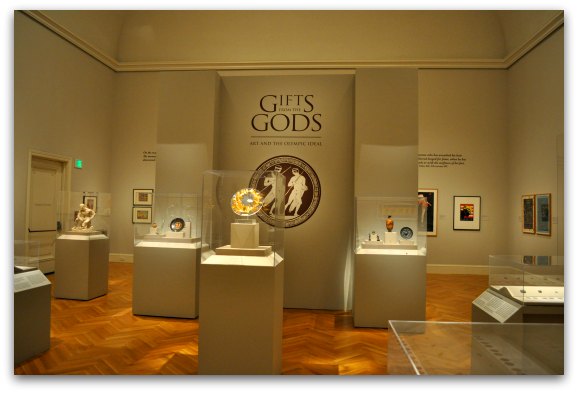 Since the exhibits change all of the time, I've created a calendar so you can see what's schedule during your visit.
Find a full list of current exhibits for the Legion of Honor museum.
Best Times to Visit
You will find there are several great times to visit the Legion of Honor San Francisco. 
During the Week: Wednesday is the slowest day of the week for this museum. Tuesday and Thursday are a little busier, but it's usually still not too crowded on these days. The busiest day of the week is Saturday, so if you don't like crowds, you'll want to avoid visiting on a Saturday.
Off Season: It also slows down quite a bit from January through March. This is when there are fewer visitors around San Francisco and it's a great time to visit this wonderful museum. During this time, you will find that Wednesday is still the slowest day and Saturdays are still the busiest. 
How Long It Takes to Visit
I usually spend a couple of hours here when I visit just their permanent collection. If it's your first time, I would leave at least two to three hours for the permanent collection.
I'd add on an hour for each special exhibit you plan to check out as well. Visiting a special exhibit could extend your visit out to about 3 to 4 hours. 
Legion of Honor Café
If you want to relax, grab a bite to eat or have a drink, then you will want to stop by the Legion of Honor Café. You will find a wide range of delicious foods ranging from American to European cuisine. Most of the ingredients are locally sourced so you know you will only have the best of the best for your meal.
The hours of the café are Tuesday through Sunday starting at 11 am and closing at 3 pm. Reservations are not accepted.
Getting to the Legion of Honor San Francisco

There are two easy ways to get to this art museum: public transportation and driving.

Public Transportation: You will need to take two buses to get to the Legion of Honor. First, hop on either the 1-California or the 38-Geary. Both of them have stops at 33rd Avenue. This is where you will transfer to the 18-Legion of Honor. If you love walking, you can also walk the half mile or so up the hill from this transfer spot.
BART: Unfortunately, BART does not have a stop near the Legion of Honor. However, you can easily get over here with just a couple of bus transfers. My recommendation is to take BART to the Montgomery Street Station and follow the public transportation route outlined above.
Driving: Although I usually don't recommend driving for those visiting San Francisco, it is an option for the Legion of Honor since parking here is easy.
You will find parking for the Legion of Honor San Francisco right in front of the building. They are metered spots and this lot gets full on busier days. If you can't find a spot here, simply head toward the SF Bay and park along Lincoln Highway. You will find signs all along this road that show you the best places to park. It's a little more of a walk to get to the museum, but not too bad.
Getting Between the Legion of Honor and the de Young

If you decide you want to visit both of the San Francisco fine arts museums in the same day, here is the best route via public transportation. There are other options, but this route involves the least amount of walking.
18-Legion of Honor & 5-Fulton: Pick up the bus at the stop in the parking lot of the Legion of Honor.
Take this to the La Playa Street and Cabrillo Avenue bus stop - near the Safeway.
From this same stop, you'll hop on the 5-Fulton.
Take this bus to 8th Avenue. It is about a 10-minute walk into the park from this stop.
On the map below, the Legion of Honor is the pink star and the de Young is the blue star.
Legion of Honor ADA Accessibility
The Legion of Honor Museum is dedicated to make your visit as easy as possible. Some of these options for the deaf or hard of hearing include assistive listening devices, ASL tactile interpreter, open and close captions and more. Others include large print labels (size 16 font), and braille or tactile museums guides and maps.
Service animals are allowed at the Legion of Honor. They request you keep your service animals well behaved. Please phone them in advance if you have a service animal that is something other than a dog.
You are welcome to use your motorized scooter in either museum. If you need a wheelchair, you can get one at the coat check or the admissions counter when you arrive. However, they are first-come, first-serve and can not be reserved beforehand.
To make the museum even more accessible, they offer wide sized wheelchairs. If you need just something to sit and rest on while in the museum, you can borrow stools here also.
All bathrooms are fully accessible. They also are gender neutral and have baby changing stations if needed.
There are specific parking areas marked with blue signs to make it easier to access it.
If you have other questions, please feel free to see their website or call them in advance.
Restaurants Near the Legion of Honor
Garden House Café
This is one of our favorite classic deli stops when we want a yummy sandwich and some cool décor. The food is very reasonably priced, and you will come away full.
Since it is so well known, even to locals, you may have to wait a bit on busier days. You will love the books, old furniture, and the garden seating. Their bread is freshly made each day.
We love their croissants in the morning!
3117 Garden House Café
Pizza Joint
If you are a pizza lover, then you must hit this joint. There are so many varieties of pizza here (about 12 to 15), that you are going to have a hard time choosing which one is right for you.
If you aren't feeling like having a pizza, then you can check out their salads, calzones, freshly baked sandwiches (there are around 20 of them!), pastas, and of course, desserts.
It is honestly a "can't miss" restaurant when in this area.
3088 Balboa Street
Hard Knox Café
This is one of their two locations in the city, and both are great. They have pretty much everything you would expect from your usual restaurants, like sandwiches, eggs benedicts, and salads.
However, the reason we always like to eat here is the "downhome" southern style BBQ, fried, or blackened choices. Some of these include Chicken 'n Waffles, Country Fried Steak, BBQ Pork Spareribs to name just a few.
If you are a vegetarian, you are still in good hands as they have a few dishes just for you.
2448 Clement Street

>> Additional options around the Richmond District
Difference Between the de Young and the Legion of Honor
What is the difference between the de Young and the Legion of Honor? 
These two museums make up what is called the "Fine Arts Museums of San Francisco." While they both offer fine arts, they focus on different regions in the world. Here's a little snippet about the types of exhibits at each location.
de Young: The de Young offers exhibits from the Americas, Africa, and Oceana. They also have a collection of Textiles and American art from the 17th through the 20th century. 
Legion of Honor: The Legion of Honor's collection that covers 4,000 years of ancient art. They also focus on European art. 
Which one should you visit if you can only see one? This is a tough one since it's really about personal preference. If you like art from the Americas, then head over to the de Young. If you are more into ancient or European art, then head to the Legion of Honor.
Both feature an extensive collection of pieces in their respective areas.
Legion of Honor History
This magnificent building and area around it was given to the city as a gift from Alma de Bretteville Spreckels. If you don't know about the Spreckels family, they are famous for being producers of sugar for many years around this area. The building was supposed to be built in the early 1910s, but because of World War One , it was delayed until 1924.
During 1992 and 1995, the Legion had a major renovation because of the possibilities of earthquakes in this area. They also added a 35,000 square foot underground area at the same time.
One of the reasons that this museum is so special is that it has such a massive amount of art from around the world and throughout history. It includes pieces from over 6,000 years ago and up to today.
Some fun history facts are that the Legion of Honor has been used in a number of movies. These include Vertigo by Alfred Hitchcock, Tales of the City by Armistead Maupin, and Raising Cain by Brian De Palma, among others.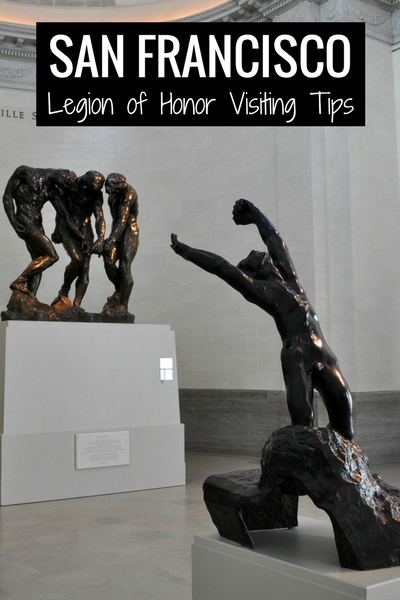 Other Popular San Francisco Museums

Comments? Questions? Suggestions?
I would love for you to join me in my private Facebook group! 
It's a great place to interact with me and others who know the area well.
You can ask questions, get advice for your upcoming stay, and then share your photos and advice with others when you return home. It's a great community and the fastest way to get answers to those nagging questions about your visit!