San Francisco Museum Exhibits: Top Traveling Shows for 2023

by Jill Loeffler  •

Updated: February 1, 2023
Discover a full calendar of current and upcoming San Francisco museum exhibits. My schedule offers a monthly look at the top upcoming shows at popular museums such as the de Young, the SF Museum of Modern Art, and the Asian Art Museum. 

The calendar includes traveling and temporary exhibits with the dates they will be open to the public. For many of the art exhibits, you will need to buy a ticket in addition to the general admission tickets. You can pick these up when you arrive or in advance online.
Click the links below to jump ahead to a certain month: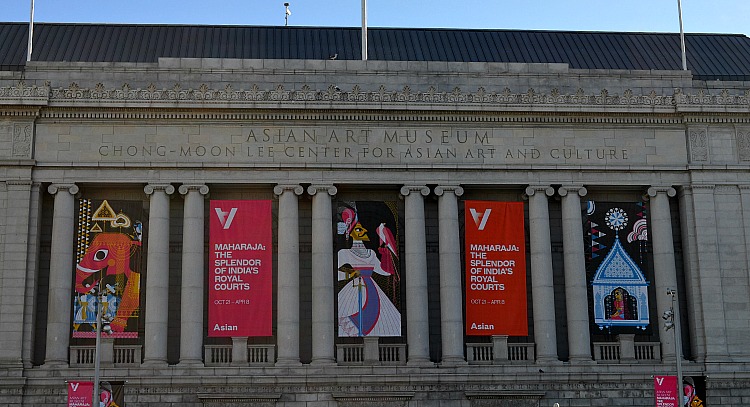 Disclaimer: I receive a small commission from some of the links on this page.

February 2023
Contemporary Jewish Museum
Gillian Laub: Family Matters, October 13 - April 9
Oz is for Oznowicz: A Puppet Family's History, through March 5
Cara Levine: To Survive I Need You to Survive, 2/16 - 6/30
L'chaim: Celebrating Our Building at 15, 2/16/2023 - 6/9/2024

de Young Museum of Fine Art
Nampeyo and the Sikyatki Revival: Through 9/15/2024
Lhola Amira: Facing the Future, through December 3
Ramses the Great and the Gold of the Pharaohs: 8/20 - 2/12
Richard Diebenkorn in Color the Crow Point Press, 9/10 - 2/12
To Teach and Inspire: The Julia Brenner Textile Collection, 10/23/2021 - 7/9/2023
Legion of Honor
Bookworks: Selected Recent Acquisitions, 1/7 - 4/16
Michelle Erickson: Wild Porcelain, through 4/2
Sargent and Spain, 2/11 - 5/14
Paperworks: Fifteen Years of Acquisitions, through 6/25
Museum of Modern Art (SF MOMA)

Alexander Calder: Dissonant Harmony, July 3, 2021 - May 2023

Sightlines: Photographs from the Collection - 8/6 - 5/7
(a)way station: Paul Kariouk and Mabel O. Wilson - 7/16 - 5/21
Bernd & Hilla Becher: Opens 12/17
Accion Latina: The 80s Matter in the Mission, 10/6 - 6/27
Conversation Pieces: Contemporary Furniture in Dialogue through 6/25
Julian Charriere: Erratic, through 5/14
2022 SECA Art Award Exhibition: 12/17 - 5/29
Joan Brown: 11/19 - 3/12
Ragnar Kjartansson: The Visitors, 11/5/2022 - 1/2/2024
The Walt Disney Museum
Walt Disney's The Jungle Book: Making a Masterpiece, 5/23 -3/8
Chris Miller: Kaleidoscope, 11/17 - 3/19

Find Tickets to Our Top Museums
Hop On Hop Off Bus: One of the best ways to explore the city and these San Francisco museum exhibits is with the Hop On Hop Off Bus. It will take you directly from attraction to attraction with ease. Learn more about the tour options here.

March 2023
Asian Art Museum
Beyond Bollywood: 2000 Years of Dance in Art, opens 3/31
Contemporary Jewish Museum
Gillian Laub: Family Matters, October 13 - April 9
Oz is for Oznowicz: A Puppet Family's History, through March 5
Cara Levine: To Survive I Need You to Survive, 2/16 - 6/30
L'chaim: Celebrating Our Building at 15, 2/16/2023 - 6/9/2024
We Become [Vessels], 3/23/2023 - 1/28/2024

de Young Museum of Fine Art

Nampeyo and the Sikyatki Revival: Through 9/15/2024
Lhola Amira: Facing the Future, through December 3
To Teach and Inspire: The Julia Brenner Textile Collection, 10/23/2021 - 7/9/2023
Kehinde Wiley: An Archaeology of Silence, 3/18 - 10/15
Legion of Honor
Bookworks: Selected Recent Acquisitions, 1/7 - 4/16
Michelle Erickson: Wild Porcelain, through 4/2
Sargent and Spain, 2/11 - 5/14
Paperworks: Fifteen Years of Acquisitions, through 6/25
Museum of Modern Art (SF MOMA)

Alexander Calder: Dissonant Harmony, July 3, 2021 - May 2023

Sightlines: Photographs from the Collection - 8/6 - 5/7
(a)way station: Paul Kariouk and Mabel O. Wilson - 7/16 - 5/21
Bernd & Hilla Becher: Opens 12/17
Accion Latina: The 80s Matter in the Mission, 10/6 - 6/27
Conversation Pieces: Contemporary Furniture in Dialogue through 6/25
Julian Charriere: Erratic, through 5/14
2022 SECA Art Award Exhibition: 12/17 - 5/29
Joan Brown: 11/19 - 3/12
Ragnar Kjartansson: The Visitors, 11/5/2022 - 1/2/2024
The Walt Disney Museum
Walt Disney's The Jungle Book: Making a Masterpiece, 5/23 -3/8 (closed due to rain damage from 1/5 - 2/1)
Chris Miller: Kaleidoscope, 11/17 - 3/19
April 2023
Asian Art Museum
Beyond Bollywood: 2000 Years of Dance in Art
Contemporary Jewish Museum
Gillian Laub: Family Matters, October 13 - April 9
Cara Levine: To Survive I Need You to Survive, 2/16 - 6/30
L'chaim: Celebrating Our Building at 15, 2/16/2023 - 6/9/2024
We Become [Vessels], 3/23/2023 - 1/28/2024

de Young Museum of Fine Art

Nampeyo and the Sikyatki Revival: Through 9/15/2024
Lhola Amira: Facing the Future, through December 3
To Teach and Inspire: The Julia Brenner Textile Collection, 10/23/2021 - 7/9/2023
Ansel Adams in Our Time, 4/8 - 7/23
Kehinde Wiley: An Archaeology of Silence, 3/18 - 10/15
Legion of Honor
Bookworks: Selected Recent Acquisitions, 1/7 - 4/16
Michelle Erickson: Wild Porcelain, through 4/2
Sargent and Spain, 2/11 - 5/14
Paperworks: Fifteen Years of Acquisitions, through 6/25
Museum of Modern Art (SF MOMA)

Alexander Calder: Dissonant Harmony, July 3, 2021 - May 2023

Sightlines: Photographs from the Collection - 8/6 - 5/7
(a)way station: Paul Kariouk and Mabel O. Wilson - 7/16 - 5/21
Bernd & Hilla Becher: 12/17 - 4/2
Accion Latina: The 80s Matter in the Mission, 10/6 - 6/27
Conversation Pieces: Contemporary Furniture in Dialogue through 6/25
Julian Charriere: Erratic, through 5/14
2022 SECA Art Award Exhibition: 12/17 - 5/29
Ragnar Kjartansson: The Visitors, 11/5/2022 - 1/2/2024
May 2023
Contemporary Jewish Museum

Cara Levine: To Survive I Need You to Survive, 2/16 - 6/30
L'chaim: Celebrating Our Building at 15, 2/16/2023 - 6/9/2024
We Become [Vessels], 3/23/2023 - 1/28/2024
Mika Rottenberg: Spaghetti Blockchain, 5/18 - 10/22

de Young Museum of Fine Art

Nampeyo and the Sikyatki Revival: Through 9/15/2024
Lhola Amira: Facing the Future, through December 3
To Teach and Inspire: The Julia Brenner Textile Collection, 10/23/2021 - 7/9/2023
Ansel Adams in Our Time, 4/8 - 7/23
Kehinde Wiley: An Archaeology of Silence, 3/18 - 10/15
Legion of Honor
Sargent and Spain, 2/11 - 5/14
Paperworks: Fifteen Years of Acquisitions, through 6/25
Museum of Modern Art (SF MOMA)

Alexander Calder: Dissonant Harmony, July 3, 2021 - May 2023

Sightlines: Photographs from the Collection - 8/6 - 5/7
(a)way station: Paul Kariouk and Mabel O. Wilson - 7/16 - 5/21
Accion Latina: The 80s Matter in the Mission, 10/6 - 6/27
Conversation Pieces: Contemporary Furniture in Dialogue through 6/25
Julian Charriere: Erratic, through 5/14
2022 SECA Art Award Exhibition: 12/17 - 5/29
Ragnar Kjartansson: The Visitors, 11/5/2022 - 1/2/2024
June 2023
Contemporary Jewish Museum

Cara Levine: To Survive I Need You to Survive, 2/16 - 6/30
L'chaim: Celebrating Our Building at 15, 2/16/2023 - 6/9/2024
We Become [Vessels], 3/23/2023 - 1/28/2024
Mika Rottenberg: Spaghetti Blockchain, 5/18 - 10/22

de Young Museum of Fine Art

Nampeyo and the Sikyatki Revival: Through 9/15/2024
Lhola Amira: Facing the Future, through December 3
To Teach and Inspire: The Julia Brenner Textile Collection, 10/23/2021 - 7/9/2023
Ansel Adams in Our Time, 4/8 - 7/23
Kehinde Wiley: An Archaeology of Silence, 3/18 - 10/15
Legion of Honor
Paperworks: Fifteen Years of Acquisitions, through 6/25
Museum of Modern Art (SF MOMA)

Accion Latina: The 80s Matter in the Mission, 10/6 - 6/27

Conversation Pieces: Contemporary Furniture in Dialogue through 6/25
Ragnar Kjartansson: The Visitors, 11/5/2022 - 1/2/2024
July 2023
Contemporary Jewish Museum

We Become [Vessels], 3/23/2023 - 1/28/2024

Mika Rottenberg: Spaghetti Blockchain, 5/18 - 10/22

de Young Museum of Fine Art

Nampeyo and the Sikyatki Revival: Through 9/15/2024
Lhola Amira: Facing the Future, through December 3
To Teach and Inspire: The Julia Brenner Textile Collection, 10/23/2021 - 7/9/2023
Ansel Adams in Our Time, 4/8 - 7/23
Kehinde Wiley: An Archaeology of Silence, 3/18 - 10/15
Museum of Modern Art (SF MOMA)

Ragnar Kjartansson: The Visitors, 11/5/2022 - 1/2/2024