San Francisco Events in March 2018
Theater, Ballet, Warriors Basketball & More
San Francisco events in March 2018 include Saint Patrick's Day celebrations, numerous performances on stages throughout the city, and Golden State Warriors basketball. Other highlights include several performances by the SF Ballet and SF Symphony, the Ocean Film Festival, free walking tours, and lots of great museum exhibits.
Among these events, you'll find some that are completely free and others that are rather expensive. Don't miss my tips below on how to save money during your stay!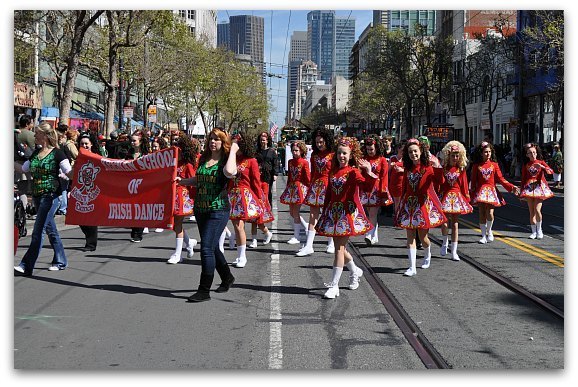 Disclaimer: I recieve a small commission from some of the links on this page.
Book of Mormon at the Orpheum Theater
This month starts off with the hit Broadway show, The Book of Mormon for 4 days only at the Orpheum Theatre. It's a hilarious musical about two Mormon's on a mission in Africa created by the writers from South Park. The Book of Mormon runs from March 1st to March 4th with two shows a day on Saturday, the 3rd and Sunday, the 4th.
If you aren't able to catch that blockbuster, you are in luck since there are many smaller shows this month in San Francisco including Heisenberg at the Geary Theatre. This is a story about a women in her 40s who falls in love with a man in his 70s, and then the search for his son. If you are looking for other choices and theater performances during the month of March, make sure to click the link below and find what is available.
Dates: Several in March
More: Additional theater performances this month in SF
Golden State Warriors
Watch the Bay Area's one and only pro basketball team light up the court at the Oakland Coliseum, just a 20-minute train ride away from SF. In this last full month of regular season home games, the Warriors will face the Brooklyn Nets, San Antonio Spurs, Los Angeles Lakers, Sacramento Kings, Atlanta Hawks, Utah Jazz, Indiana Pacers, and the Milwaukee Bucks. Go Dubs!
Dates: 3/6, 3/8, 3/14, 3/16, 3/23, 3/25, 3/27, and 3/29
Ticket Deals: Find good prices on tickets for sold out games on TickPick
More: Full schedule and game day details
Other Sports: Additional information on sports events in SF and the Bay Area
Two Perfect Days in San Francisco
What would I do if I only had two days in San Francisco? A LOT! I would visit the Golden Gate Bridge, Alcatraz, and sooooo much more. Read my Two Perfect Days in San Francisco self-guided tour itinerary to get a feel for everything you can see and do in just 48 hours!
Dates: Any day of the month
Learn More: Click here to read my Two Perfect Days in SF Itinerary
Cochon555 Heritage BBQ
Don't miss out on the Heritage BBQ, a unique culinary experience offered by Cochon555, an organization dedicated to educating chefs and diners about the importance of using locally sourced ingredients, especially heritage breed pigs and old world livestock. Here, you will taste amazing creations by chefs honoring BBQ traditions from all over the world. In addition, you will taste craft cocktails, artisanal brews, and boutique wines. This year's event is at AT&T Park.
Dates: 3/4
More: More information about the organization and event
SF Ballet
These San Francisco events in March include two different, stunning performances by the oldest ballet company in the country. Program 3 of the 2018 Season runs from March 6th - 11th and features Frankenstein, the adaptation of Mary Stravinsky's classic horror story. Program 5 runs from March 20th - 25th and features Robbins - Ballet and Broadway. This opera is a showcase of 4 different Jerome Robbins and Leonard Bernstein dances performances.
Dates: 3/7 - 3/25
More: More about the renowned SF Ballet
Ways to Save
In addition to attending some of these fun San Francisco events in March, you will also find several fun activities throughout the month. These are just a few ways to save while you are here.
48-Hour Hop On Hop Off Bus Tour: Save $5 per ticket when you book online through City Sightseeing. You can select their most popular 48-hour ticket or their 24- or 72-hour options. It's a great way to easily get from attraction to attraction around town.


60-Minute Bay Cruise: Enjoy a cruise around the SF Bay, runs several times a day and leaves from Fisherman's Wharf, up to 50% off on Goldstar


2-Hour Sunset Cruise: See San Francisco, the Golden Gate Bridge, and the rest of the Bay Area at night during this twilight cruise. Includes light appetizers and one drink per ticket (additional drinks available for purchase). Tickets up to 50% off. Leaves each evening from Fishmerman's Wharf.
Live Music in SF
While in San Francisco, head out to one of the awesome concert venues around town to enjoy some live music. There's something happening almost every night of the week, from the hottest bands to local artists. This month, you can watch They Might Be Giants at The Fillmore, Coin at the Fillmore, Gabrielle Aplin at Slims, Galatic at the Warfield, OMD at The Regency Ballroom, and more.
In the greater Bay Area this month, you can attend concerts by huge stars Lorde at the Oracle Arena in Oakland and Buddy Guy at the Paramount Theater which is also in Oakland.
Dates: Several
More: Find a list of upcoming concerts and ticket info
International Ocean Film Festival
One of the top San Francisco events in March is the SF International Ocean Film Festival. This year marks the return of this annual festival, featuring dozens of ocean-themed independent films from around the world. The festival is designed to raise awareness about the environmental, social, and cultural significance of the sea. Two very popular subcategories are sharks and surfing.
Expand your knowledge of the ocean and enjoy four days of documentaries, shorts, narratives, and animations at the Cowell Theater at the Fort Mason Center.
Dates: 3/8 - 3/11
More: Info on this year's festival
More: Additional festivals this March
Free Museum Days: San Francisco Events in March
Plan ahead before paying to visit any SF museums! Several of them offer free admission days each month, so you can view their world-class collections and exhibits without spending a lot of money. Click the link below to find out which days in March you can visit the Asian Art Museum, Conservatory of Flowers, de Young Museum of Fine Arts, Legion of Honor, and others for free.
Dates: Several toward the beginning of the month
Schedule: A detailed schedule of free museum days
International Chocolate Salon
The SF International Chocolate Salon is the premier chocolate event on the west coast, inviting hundreds of artisan chocolatiers to show off their culinary achievements and share them with the public. In addition to decadent chocolate samples, the festival also includes spirits, local brews, and wine, and appearances by celebrity chefs. This is an all-day event at the Hotel Kabuki on Post Street.
Date: 3/11
More: Find details on the International Chocolate Salon website
Saint Patrick's Day
It's that time of year again, when SF turns green! Whether you're looking for parties, pub crawls, cultural festivals, or family fun, you'll find plenty of ways to celebrate Saint Patrick's Day in the city. One of the biggest San Francisco events in March is the annual parade and festival (this event has now been running over 160 years!), which will take place on Saturday, March 17th in the downtown/Civic Center neighborhood. Also, watch live entertainment, explore Irish culture, and hit up the more than one dozen Irish bars and restaurants around town!
Festival & Parade: Saturday, March 17th
Holiday Date: Saturday, March 17th
More: Get more details about Saint Patrick's Day festivities in SF
SF Vintage Fashion Expo
Enjoy a full weekend of fashion exhibition and marketplace at the SF County Fair Building. For 30 years, the Vintage Fashion Expo has been partnering with over 50 prominent dealers to showcase the best in vintage clothing, jewelry, and accessories ranging from the late 18th century to the 1990s. Here, you are sure to find unique and inspiring items.
Date: 3/17 & 3/18
More: See photos and get details on their website
Game Developers Conference
With over 27,000 attendees, GDC is the largest professional game industry event in the world. The week-long conference is hosted at SF's Moscone Center and attracts everyone involved in the industry, from game designers to programmers, artists and producers. This is the premier event to attend lectures, panels, tutorials, and round-table discussions about computer, online, and smart phone games.
Dates: 3/19 - 3/23 (Conference), 3/21 - 3/23 (Expo)
More: More details about the conference
SF Comedy Shows
Have you ever wanted to see comedians like Louis CK, Dana Carvey, Russell Peters, Anjelah Johnson, or Zach Galifianakis live on stage? SF's two largest comedy clubs, the Punch Line and Cobb's, both regularly host standup's biggest stars, including those mentioned above and more. This month, catch Nemr, Nate Feuerstein, and the hilarious drag queen and comedian Bianca Del Rio perform in the city.
In addition to standup, San Francisco also offers improv, comic theater, and hilarious musicals like the one and only Beach Blanket Babylon.
Dates: All month long
More: Check out the schedule of upcoming performances
Coit Tower Murals & Other Free Walking Tours
Every Wednesday and Saturday at 11am, the SF Public Library offers free tours of the Coit Tower Murals in the North Beach/Telegraph Hill District. All you have to do is meet them at the entrance to Coit Tower and follow along to learn about the controversial Diego Rivera-inspired works depicting life in California in the 1920s an 30s.
In addition to the Coit Tower murals, you can explore the Mission District murals, City Scapes & Public Spaces, the Japanese Tea Garden, Fisherman's Wharf, and so many more San Francisco neighborhoods and themes, on these free walking tours. You will find several options offered every single day.
Dates: Every day in March
More: Check out the schedule of free tours offered daily by SF City Guides
Hotel Deals
Click the links below to find great hotel deals all around town. Plus, read recent guest reviews to make sure you find the right hotel for you!
TripAdvisor: What's the #1 hotel in San Francisco? Read reviews & find hotel deals on TripAdvisor!
Booking: Find great deals all around San Francisco for your upcoming stay!
SF CityPASS
To save on your San Francisco adventure, check out the SF CityPASS, which includes admission to three top attractions, as well as a 60-minute cruise on the bay, and free public transit rides for multiple days. You'll get access to the California Academy of Sciences, the Aquarium of the Bay, and either the Exploratorium or the SF Museum of Modern Art, in addition to other discounts.
Buy Tickets: Find out more and get your CityPASS today
SF Symphony Performances
The elegant Davies Symphony Hall will feature several San Francisco events in March in the Civic Center district. Watch the renowned conductor Michael Tilson Thomas conduct Mahler's 5th, catch a performance of Gershwin's Rhapsody in Blue, enjoy the talents of the Itzhak Perlman and Martha Argerich, and much more. A night at the symphony is a great excuse for getting a little dressed up, going out for a nice dinner or drinks nearby, and relishing SF's high culture.
Dates: Several this month
Schedule: Full schedule for this month and tips to attend a performance
Legion of Honor: Casanova-The Seduction of Europe
One of SF's most famous museums, the Legion of Honor, is currently hosting a fantastic exhibit called Casanova: The Seduction of Europe. Giacomo Casanova was a famous 18th century painter and was known as quite the man about town also. This show includes not only his works, but also features over 90 pieces of art, from many different artists of the period and ranging from paintings, to sculptures, to period furnishings, and so much more. Get a feel for what it was like during this period and how the romance was brought to life through art and grand personalities.
Dates: All month long
More: Full schedule of all exhibits in SF
Museum: Learn more about visiting the Legion of Honor
Whiskies of the World
Whisky lovers, here's your chance to taste more than 200 varieties of Scotch, Bourbon, Canadian, Irish, and other imported whiskies from around the world. You can also attend seminars and learn how to pair certain whiskies with food and cigars. This grand event will be held from 5 pm - 9 pm on the Belle Yacht at Pier 3, and your participation will benefit the Breast Cancer Emergency Fund. There is also a Whiskies of the World event in San Jose on the 22nd starting at 6 pm - 10 pm at the San Jose Marriott.
Date: Friday, 3/24
Tickets: Available on their official website
Bay Area Brew Fest
The annual Bay Area Brew Fest features dozens of international and domestic beers, as well as the top gourmet food trucks in SF. The event is held at Pier 35 with two afternoon sessions, one for general admission and one for VIP tickets only. All tickets include unlimited pours.
Date: 3/24
More: Read more on the festival's website
SF Giants Exhibition Games
This month, Spring Training comes to a close and the SF Giants will come home to prepare for their 2018 season. On the last few days of March, you can watch them take on their Bay Area rivals, the Oakland A's of the American League, at AT&T Park. You can also catch a game in Oakland at the Oakland Coliseum. Baseball fans, that time of year is finally here!
Dates: 3/25, 3/26, & 3/27
More: Find out more about the Giants, ballpark, and tickets
More March Activities
What else is happening this March in SF? You will find tons of fun things to do this month from cruises around the bay to trips to Yosemite to a chance to see whales just off the coast.
I've pulled together a list of the best things to do this month, so you can find even more fun during your vacation.
>> More fun things to do this March
Tips to Pack & Weather in March
Are you looking for tips on what to wear in March? On my weather page, you will find recommendations on what to pack for your stay. It includes typical highs and low as well as a few additional fun things to do this month.
More: Find more tips to visit in March
Free Things to Do in March
Check out these budget-friendly ideas for your trip. My list of 25 of the best free things to do includes top events, museums, and a few of our best attractions. Click the link below to learn more and to add some of these items to your list.
>> Best free things to do this month
SF Bay Area Calendar of Events
In addition to all of the great San Francisco events in March, you will also find so much going on around the Bay Area. This month, get ready to laugh all night long with Jeff Dunham in San Jose, see Disney on Ice at the Oracle Arena in Oakland, or sip some of the best wines in the world as you go Barrel Tasting in Sonoma County.
>> Calendar of SF Bay Area events this month
More Fun Things to Do in San Francisco