San Francisco Weather in March: What to Wear & Tips to Prepare for Your Stay
The San Francisco weather in March is cool with some rain. Most days are pleasant with a little wind so it's a great time to visit.

As you plan for your trip, you will want to prepare for temps in the upper 40s to the lower 60s. You will also want to bring along some rain gear in case it rains for a few days during your stay.
On this page, you will find additional information to help you prepare for your stay in March. You will also find some of the best things to do during the month.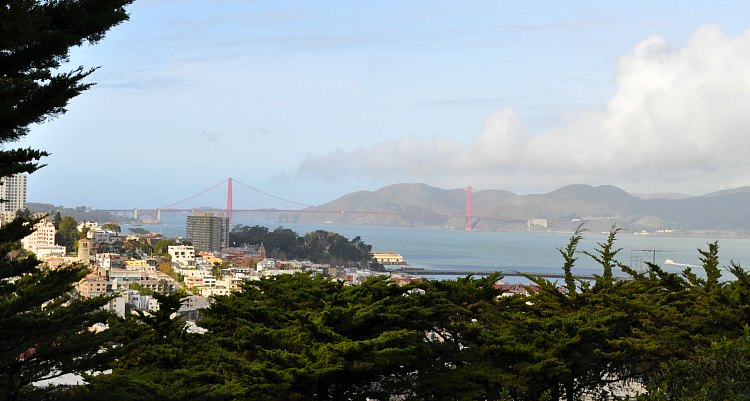 The picture above was taken in early March. It's a view of the Golden Gate Bridge from Coit Tower during mid-morning. As you can see, it's a little overcast and hazy most days, but you can still get some great pictures.
Since March is before the busy travel season it means it will take you less time to get in and around our most popular attractions. There usually aren't any problems getting tickets to places such as Alcatraz, the SF MOMA, or California Academy of Sciences. Even though they are less crowded this time of year, I still recommend booking them as soon as you have your trip confirmed.
San Francisco weather in March is usually a little warmer than most of the US and the rest of the northern hemisphere. This is what you can expect during your visit this month.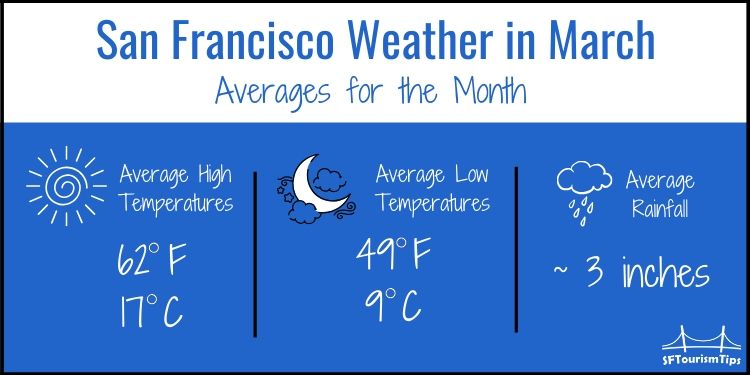 Average High in March: 62° F/17° C
Average Low in March: 49° F/9° C
Average Monthly Rainfall: 3.3 inches
Record High: 84° F/ 29° C (3/17/2004)
Record Low: 39° F/-4° C (3/11/2006)
Disclaimer: I receive a small commission from some of the links on this page.

What to Pack for the San Francisco Weather in March

With highs in the 60s and lows in the 40s, my best piece of advice to you is to pack layers for your visit. The San Francisco weather in March can keep you guessing as some days are cool and breezy and others are warm and sunny. Bringing along layers will allow you to add and remove pieces as needed.
I often wear a light sweater, or shirt, with a thin jacket during the day. I also wear jeans or light pants along with them. The wind can feel a bit chilly, so for me, it's too cool to wear skirts or shorts.
For the evenings, I'll change into a heavier sweater or grab a coat that is a little thicker. I also recommend bringing along some items to stay dry during the rainy days in March.
>> Additional details on what to wear in March
5 Top Things to Do in SF in March

As the rainy season winds down and it starts to warm up just a bit, you will find plenty of things to do in SF both inside and out. Here are a few of my favorites.
1. Attend the Saint Patrick's Day Festival: The biggest event this month is the Saint Patrick's Day Festival and Parade. It's always the Saturday before or after the holiday. It's an all-day event in the Civic Center that includes food, music, and fun. Click here for details on this year's event.
2. Head to the theater: Since the evenings are cool, it's a great time to head to the theater at night. You will find everything from award winning Broadway shows to local improv performances. Click here for a full schedule of March shows.
3. Enjoy a walking tour: If you love to learn about the history of the places you visit, then I recommend heading out on one of our walking tours. SF City Guides offers free tours which are great. You will also find a large selection of paid tours that include information about local food, craft beers, and some of San Francisco's darker days. Click here for more details.
4. Check out our colorful murals: The streets of San Francisco are covered with about 1,000 murals (the number is always changing as new ones are added and others fade away). You will find them throughout our top districts including Chinatown, North Beach, and the Mission. Click here to learn more about our street art and a few places with murals and frescoes inside.
5. Cheer on our local sports teams: March is a time when the winter teams are wrapping up their season and the summer teams are in pre-season play. Throughout the month both the Golden State Warriors and the San Jose Sharks play several home games. The SF Giants and Oakland A's teams also have a few games. Find details on all upcoming sporting events this month here.
More Fun Tours & Activities for March

Hotel Deals in March

With fewer visitors in March, you can also find some great hotel deals this month. Click the links below to find current offers.

Booking: Find great deals all around San Francisco for your upcoming stay! 

TripAdvisor: What's the #1 hotel in San Francisco? Read reviews & find hotel deals on TripAdvisor!
VRBO: In addition to hotels, you'll also find some great places to stay locally through VRBO. Book an apartment or a room and feel more like a local. Find some great places to stay on VRBO here. 
Should you stay in Union Square or Fisherman's Wharf? This question comes up a lot. You can check out this page with my recommendation on which of these districts is best for you.
Getting Around SF in March

With the mild San Francisco weather in March, you will probably find yourself walking around quite a bit. However, with our hilly streets and our few days with rain, you might want to take local transportation. Here are a few ideas.
Buses & Light Rail: These are a great option for those wanting to get around the city inexpensively while still being very convenient. Our public transit system is easy to use, and most transit lines run every 15 to 20 minutes.
You can either pay as you go or buy a pass for a few days. More about getting around SF.
Cable Cars: While you are here, make sure to go on at least one cable car ride. It's a slower transit option, and there are only three lines still running, but it's an experience you will never forget. Make sure to dress warm as much of the seating is outside. Find more details on taking one of our cable cars here.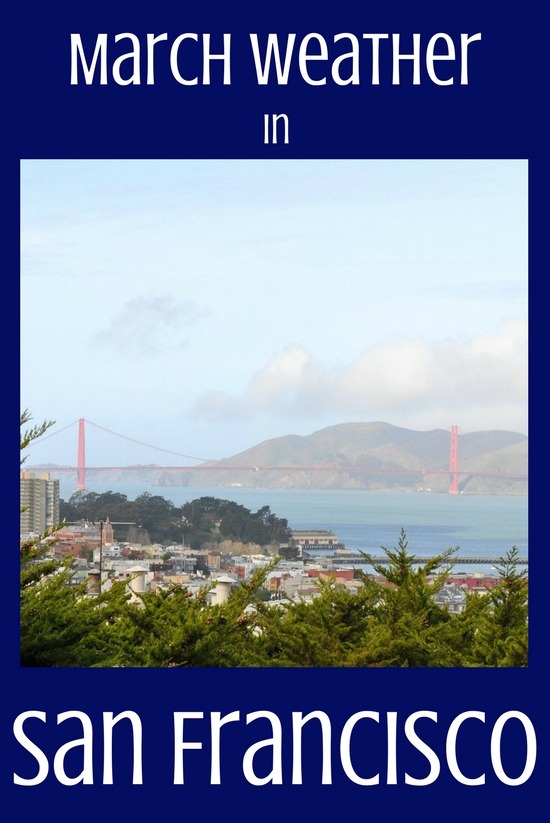 Comments? Questions? Suggestions?
I would love for you to join me in my private Facebook group! 
It's a great place to interact with me and others who know the area well.
You can ask questions, get advice for your upcoming stay, and then share your photos and advice with others when you return home. It's a great community and the fastest way to get answers to those nagging questions about your visit!