Saint Patrick's Day Parade: Details on the Annual Celebration in San Francisco

by Jill Loeffler  •

Updated: March 2, 2023
Every year, San Francisco is home to one of the largest Saint Patrick's Day celebrations in the world. The parade draws more than 100,000 people.

Since it's so large, it's always held on a weekend. The 2023 event date is March 11.
This year's block party is on March 12 at the United Irish Cultural Center.
Disclaimer: I receive a small commission from some of the links on this page.

About The Parade

The Saint Patrick's Day Parade features a number of local Irish dance companies, bands, and groups. You will also see many important San Francisco officials, politicians, police, and firemen.
The parade starts at 2nd and Market Street, then makes its way down Market to the Civic Center Plaza, the location of the festival. Below, you'll see the route they usually follow for the parade.
The parade starts around 11:30 am and lasts about two hours. There is usually plenty of room to see the parade clearly along Market Street, but it gets more crowded the closer you get to Civic Center Plaza.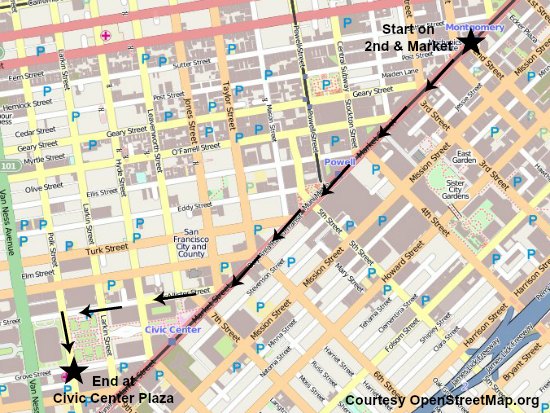 Insider's Tip: If you are watching the parade with your kids, I recommend finding a spot around Market and McAllister. This is where the parade route turns to head to Civic Center. There is usually plenty of room here, so you don't have to fight the crowds to get a good look.

Here are just a few of pictures from previous years.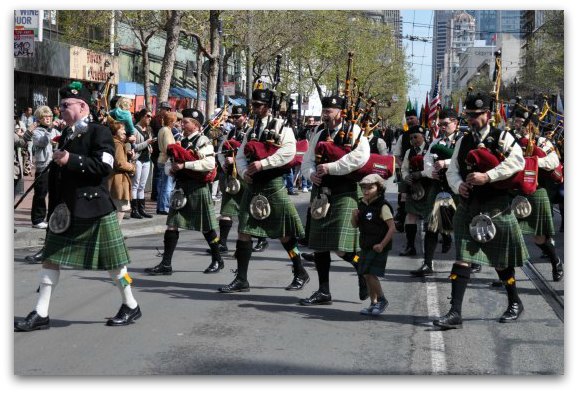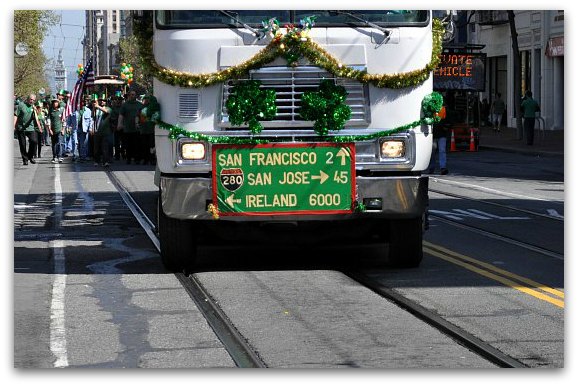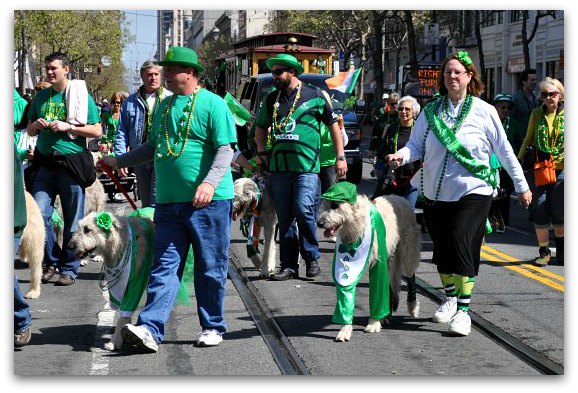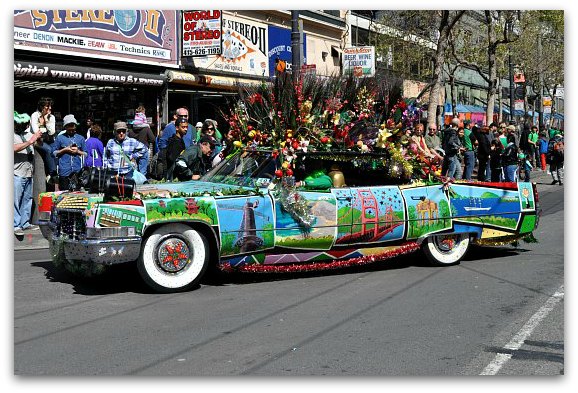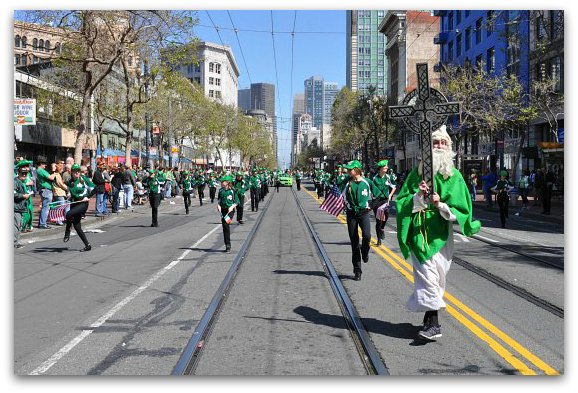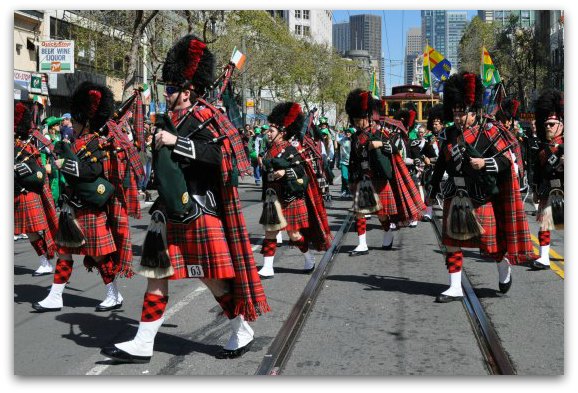 2023 Block Party Details
For the second year in a row, they will have a Block Party the day after the parade instead of the large festival they used to have on the same day.
This year's Block Party will be on 3/12 at the United Irish Cultural Center at 2700 45th Avenue. It will run from 11 am to 4 pm.
About the Festival (No Festival in 2023)

At the end of the parade route is the annual Irish Festival, which starts around 10 am and lasts until 5 pm. The festival is for all ages.

The main festival area is where you will find the food, beer, and live bands. Everyone is welcome to enjoy this area, but you will have to go through security to enter.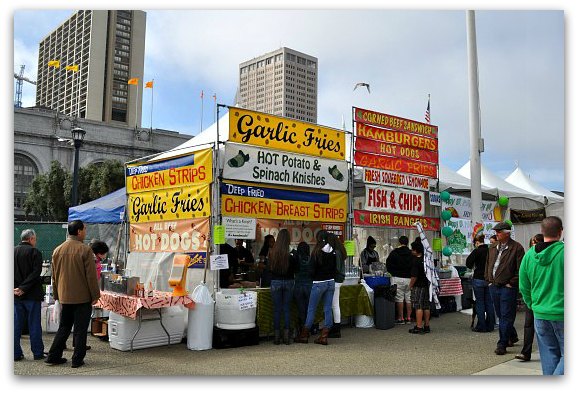 Here you'll find the typical street fair food vendors, as well as some Irish Pubs serving Irish nachos, bangers, and fish n' chips.
At this festival, the beer is also flowing. The beer booths have three options: a lighter beer, Guinness, and Irish Coffee. The lines are long, but you usually don't have to wait too long.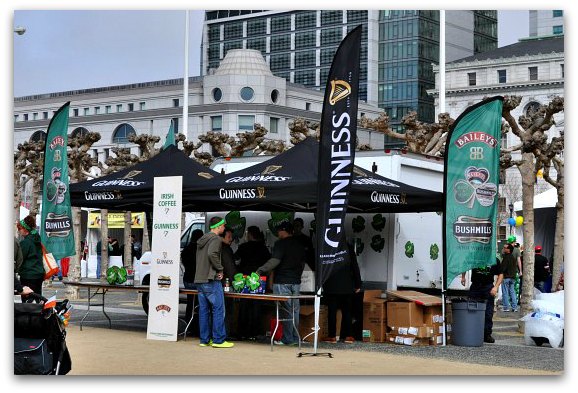 Outside food and drinks are not allowed inside the food area. They are strict on this and will not let you into this area if you have any food or drink with you.
There is one main stage at the festival where different Irish bands play all day long.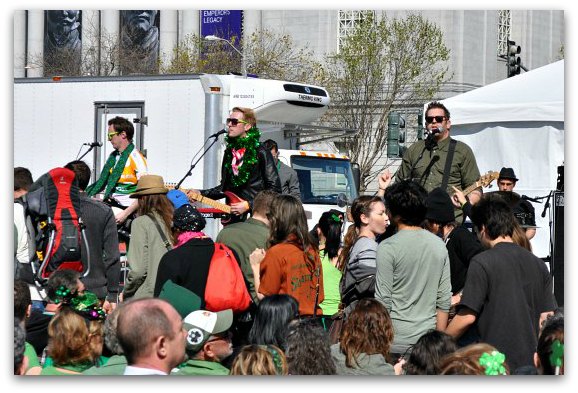 Kids' Area at the Festival

There is another part of the festival just for children. This area includes games, candy, and other fun kid-friendly activities.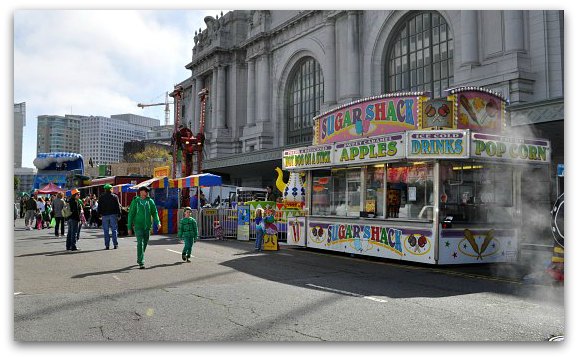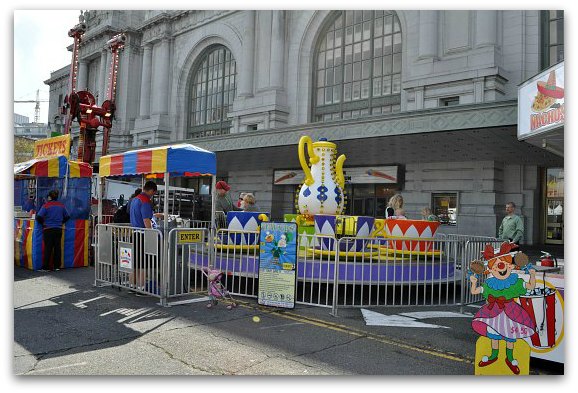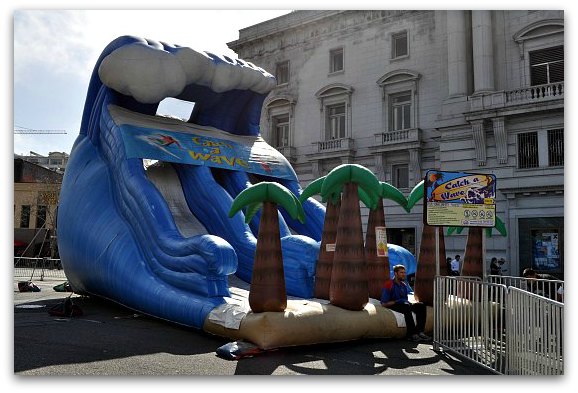 You will find the kids' activities and rides on Grove Street, which is south of Civic Center Plaza. You do not need to go through security to get to this point.
Keep in mind that although the parade and festival are family friendly, St. Paddy's Day does get a little crazy later in the afternoon.
I like to leave the festival no later than 4pm, so I can catch the bus or train to another neighborhood. This way I don't have to share too much space with those who've had a little too much to drink.
Other Fun SF Festivals

Cherry Blossom Festival: One of the largest festivals every year is the spring Cherry Blossom Festival. Every April, when the cherry blossoms are in bloom, it's time to celebrate. Over two weekends, the Japantown district comes to life with music, traditional Japanese cuisine, and more. This is one festival you don't want to miss!
Carnaval Festival: On Memorial Day weekend, you will find the colorful Carnaval Festival in SF's Mission District. This Latin American-inspired event offers Caribbean and Latin American food, dancing, and other entertainment. The highlight is the parade, which happens the Sunday morning before Memorial Day.
Annual Wine Tasting Festivals: Since we are so close to Northern California wine country, SF is often selected for large wine tasting events. Every year, you can sample zinfandel at the ZAP Festival, raise your glass of pinot at Pinot Days, and spice things up with tempranillo and other Spanish varieties at the TAP festival.
All Festivals & Street Fairs: You will find dozens of festivals and street fairs in SF all year long. Some of the most popular include the Pride Festival in June, the Fillmore Jazz Festival in July, and the Stern Grove Festival which lasts all summer long.
Comments? Questions? Suggestions?
I would love for you to join me in my private Facebook group! 
It's a great place to interact with me and others who know the area well.
You can ask questions, get advice for your upcoming stay, and then share your photos and advice with others when you return home. It's a great community and the fastest way to get answers to those nagging questions about your visit!