Cable Cars in San Francisco: Discover Their History, Routes and Tips for Riding

by Jill Loeffler  •

Updated: June 17, 2022
Do you want a fun way to get around the city? If so, then the cable cars in San Francisco are the way to go!

This tourist attraction is VERY popular - so you'll probably have to wait in line for a little while for a seat (unless you take advantage of my local's secret below!). It's a ride that you will never forget!
The SF cable cars run seven days a week including holidays. They are a popular form of transportation not only for tourists but also for residents.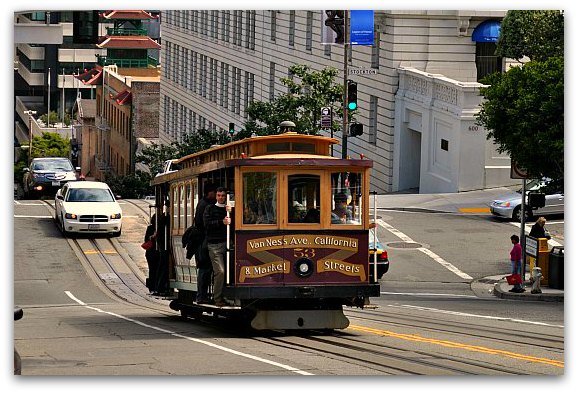 The first SF cable car line was put on the tracks on August 2, 1873. Horses and carriages had a very tough time getting up and down the steep hills, especially when it was raining. So, the system was built to get San Franciscans around safely.
The city kept adding more and by 1889 it consisted of eight different lines. Over the years, the use of the cable cars in the city declined as faster transportation was developed. 
In 1947, the city attempted to close down all of the San Francisco cable car lines. The locals protested and were able to retain the remaining three cable car lines that still run today.

The oldest line still in operation is the California cable car line. It currently runs up and down California Street from Nob Hill to the Financial District.

San Francisco Cable Car Routes

The map below shows you each of the three San Francisco cable car routes. The arrows indicate the starting/ending point of each line.
The green arrows are for the Powell/Hyde line, the red arrows are for the California line and the blue ones are for the Powell/Mason line.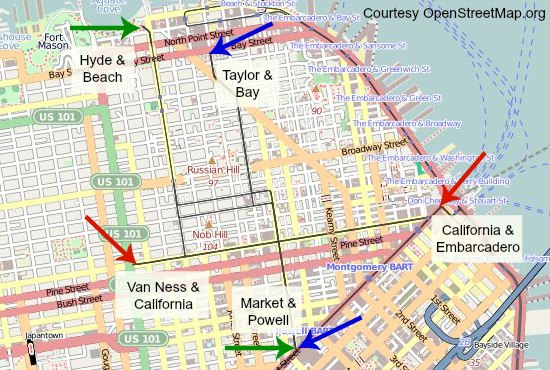 Disclaimer: I receive a small commission from some of the links on this page.

How to Use the San Francisco Cable Cars

How do you use the cable cars in San Francisco? If this is your first visit or the first time riding the cable cars, there is no need to worry. They are easy to pay, ride and use. Here are a few things to keep in mind before your first ride.
Climbing Aboard: You will board the cable cars on either the front or the back. The first step is quite steep, so grab one of the railings to help you climb aboard. You are welcome to sit either inside or out.
There are also several places for those interesting in standing. If you waited in line for a while, the outside seats and standing spots will fill up first. You are welcome to stay in line for the next cable car if you decide you want a better seat than what is available.
Paying: You can either pay in cash (exact change is required) or with your Muni card. You can also use your Muni passport to ride the cable cars in San Francisco. An attendant on board will be available for payment.
They are typically in the front of the cable car. You can't miss them, and their job is to find you to collect for boarding. Riding the cable cars is not free.

Standing Riders: If you get a coveted standing spot, there are a few things to keep in mind. First, you will need to stand for the entire trip or for about 35 to 40 minutes. Make sure to keep your hands and feet inside the cable car and don't lean out. Make sure to hold on tight!

Exiting: The cable cars stops are very different from our other public transit options. The cable car lines are in the middle of busy streets and the cars do not stop when the cable cars stop to let off passengers.
Before you step off the car, check for traffic before you proceed. You will then want to hurry over to the sidewalk to avoid any oncoming traffic. Also, make sure to wait until the cable car has come to a full stop before exiting. 

These are just a few quick things to help you prepare for a safe ride on our historic cable cars. 

Powell/Hyde Line: Union Square, Lombard Street to Fisherman's Wharf
The Powell/Hyde line is one of two cable cars in San Francisco that run from Union Square to Pier 39 and Fisherman's Wharf.
This is my favorite line, since you get the chance to pass by Lombard Street and see amazing views of the bay on the final hill of the ride. It's the one I always recommend when you ride from Union Square to Fisherman's Wharf.
The Powell/Hyde line beings near Union Square at the turn style at Powell Street and Market Street. Powell dead ends right before Market Street and you'll see the starting point for this line once you arrive. This line goes up Powell Street for about a mile.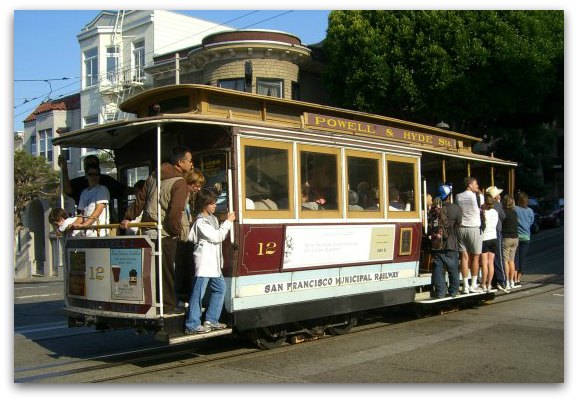 It then turns west and goes forward for about five blocks. Then it turns north again onto Hyde Street. It then follows Hyde Street all the way down to Jefferson Street and ends in the wonderful Fisherman's Wharf neighborhood.

Local secret: Try to sit in the front of the cable car on the east side. This gives you the best view. If you aren't sure which way is east, your seat will face away from Sephora. 

By sitting here, you are in the best position to get a look at the famous Lombard Street. You are also in a great position to see the SF bay as you head down Hyde Street toward Fisherman's Wharf. 
Double check the signs for this SF cable car when you board. The Powell/Mason line picks up in the same location, so make sure you read the signs before boarding.
The stop at Lombard Street give you the opportunity to hop off and take pictures. This cable car is an excellent choice to select if you are heading straight to Lombard Street, Ghirardelli Square, Aquatic Park or other location on the west end of Fisherman's Wharf.

If you hop off at Lombard Street to take some photos or to walk down "the most crooked street in SF", you have a few options to get to Fisherman's Wharf:

Use Your Muni Pass & Jump on Another Cable Car: If you plan on taking the cable cars or public transit a lot (and visiting a few of the top museums), look into the Muni Passes (make sure it's the one that includes the cable cars). The card is a great bargain as it is valide for 1-, 3- or 5-days which includes unlimited rides on all cable cars, buses and street cars. Show you card and hop back onto the cable car to the Fisherman's Wharf stop.
Walk to Fisherman's Wharf: This is a great option if you don't mind a short walk. Fisherman's Wharf is only about six blocks from Lombard Street. I would recommend walking to the bottom of Lombard Street, taking your photos then walk north on Leavenworth Street. This is flatter than Hyde Street and takes you right into the west side of Fisherman's Wharf.
Pay Again and Hop Back on the Next Cable Car: If you only buy a one trip ticket, you can still take the cable car from Hyde Street to Fisherman's Wharf. You'll need to pay for another full ticket, but you can pay once you hop onto the cable car. Wait on Hyde Street for the next cable car and jump on where ever you can.
Without question, the Powell/Hyde is my favorite of the cable cars in San Francisco. The ride has the most hills and it is fun to see Lombard Street along the way. 

Local Secret: When picking up this cable car from Fisherman's Wharf, do not stand in line at the turn style at Hyde and Beach Streets waiting for your turn.
Simply walk up Hyde Street to the stop at North Point Street. When the cable car leaves the turn style, there is always a little room to pick up passengers along the way.
This locals' technique will save you up to two to three hours of time standing in line! You can also use this technique for any stop on the routes. Even though you won't get the best seat, at least you don't have to wait in line as long.

Powell/Mason Line

The Powell/Mason line runs from Union Square to Fisherman's Wharf. This line takes a slightly different route to get to Fisherman's Wharf. 
I recommend taking this one on the trip from Fisherman's Wharf to Union Square. By taking the Powell/Hyde line one direction and this one other direction, you get to see some different sights in the city.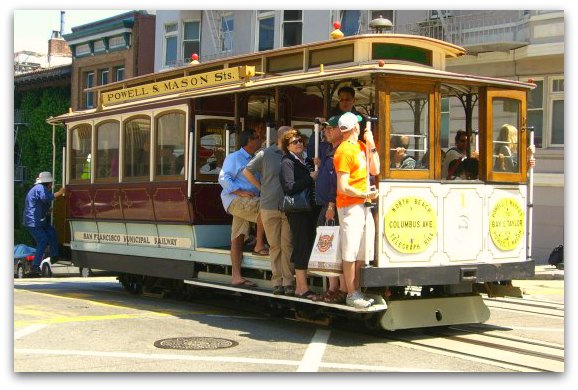 I would recommend the same seating location as the Powell/Mason line. This allows you to look out over the east side of San Francisco. 
This line heads up Powell Street. It does a quick turn on Jackson Street and after one block it then turns again north up Mason Street.
If you are heading towards North Beach or Fisherman's Wharf for the day, this is the line to choose. You can jump off at Columbus Street in North Beach. 

You can also ride all the way to Bay Street and walk just three blocks to Jefferson Street (the main street in Fisherman's Wharf).

An added attraction for this line is the Cable Car Museum. It stops right in front on the museum, so you can quickly jump off and head inside for a visit.

California Line

The California line is the only line to run east to west. It starts at California and Market Streets in the Financial District. This is the cable car in San Francisco that heads up and over Nob Hill and ends at Van Ness and California Streets.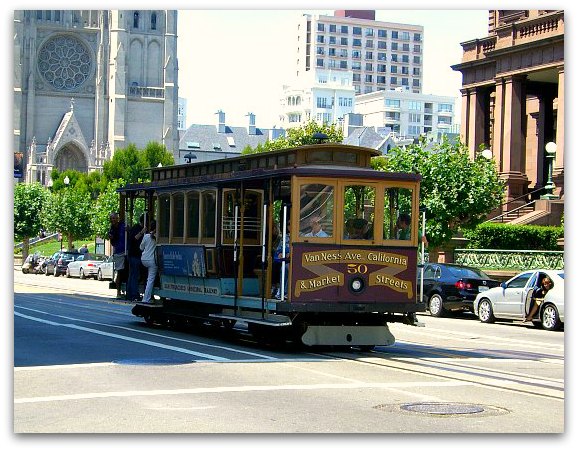 Seating Tips for Market Street: If you pick the cable car up at Market Street, find a seat in the back on the north side facing the Hyatt Hotel. From these seats, you will get a great look down the hill as you head up California Street.
Seating Tips for Van Ness: If you catch the cable car at California and Van Ness, I recommend you sit in the front on the north side of the car. You know you are in the right seats if you are facing away from Starbucks and Wells Fargo.
These seats afford you a view of Grace Cathedral, the Fairmont Hotel and one of the old 'Big Four' mansions (the Flood Mansion) at California and Mason Streets. You also great some great views of the city as you head up or down the steep hill of California Street.

San Francisco Cable Car Schedule

The cable cars in San Francisco run 365 days a year including holidays. You will find that tourists aren't the only ones that use them to get around the city, so they are always in operation.
All three San Francisco cable car lines start around 7 am and run until around 10:30 pm daily.
All of them run often and leave about every 15 to 20 minutes.

Payment Options, Tips & Discount Passes

There are a couple of payment options for the cable cars San Francisco. The first is a one-time ride ticket. This ticket is $8 and allows you to ride one way on one line. You can pay at the ticket booth (if there is one at your stop) or just pay once you board. They only accept exact change.
If you decide to hop off, you will have to pay again to re-board and finish the route. The cable cars do not offer transfers.
How to the San Francisco Cable Cars Work?

How do the cable cars in San Francisco work? Cable cars do not have a motor or an engine.
They are pulled along the streets in San Francisco by large cables which are pulled by large wheels. These large cable wheels are powered by engines in a wheel-house inside the Cable Car Museum and Barn in the heart of San Francisco. 
This museum is free, and you are welcome to come and watch these wheels in action every day of the week. Each cable's wheel has a sign above it, so you can see which cables are currently pulling cars around the city streets.

---
Alcatraz Tours: If you have not booked your trip to Alcatraz, then read this section before you book. It tells you all you need to know about the difference between the morning and night tours. This information will help you decide which tour is right for you.
Attractions by Neighborhood: Discover some of the top attractions by neighborhood. If you want to plan out your trip by neighborhood, I recommend reviewing the information on this page. You can find some great places to visit during your stay.
Museums: There are a number of great museums in San Francisco. Are you looking for history museums? What about art museums? Check out this page to find more about some of the best San Francisco museums.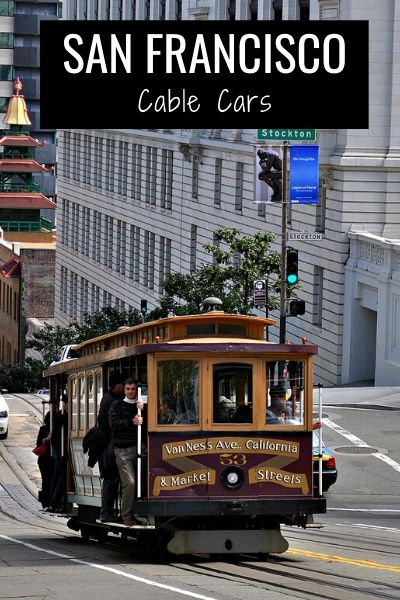 Comments? Questions? Suggestions?
I would love for you to join me in my private Facebook group! 
It's a great place to interact with me and others who know the area well.
You can ask questions, get advice for your upcoming stay, and then share your photos and advice with others when you return home. It's a great community and the fastest way to get answers to those nagging questions about your visit!